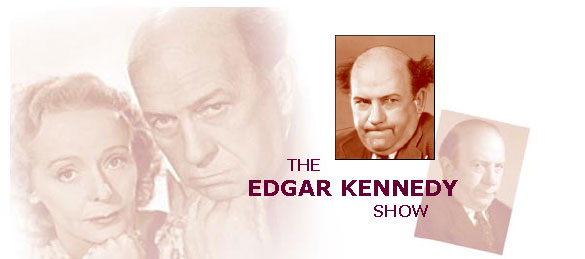 The Edgar Kennedy Restoration Project
Project Description
"The Edgar Kennedy Restoration Project" aims to restore Edgar's RKO "Average Man" comedy shorts made between 1931 and 1948 and release them in a new series called will The Edgar Kennedy Show. Each half-hour episode will showcase one of Edgar's best shorts shown in its entirety along with a mini-biography segment drawn from Edgar's 35-year film career working with Chaplin, Laurel & Hardy, Our Gang, the Marx Bros., the Keystone Kops and dozens of feature films.
Mark Livingston Kennedy, Edgar's grandson, will introduce his famous grandfather in the pilot episode. The EKS pilot show will feature Edgar's 1931 RKO short Thanks Again. This hilarious short was not sold to TV in the 1950's, as were many of Edgar's other RKO shorts, and has been unseen since its original release beyond a single screening a few years back at Cinefest in Syracuse, NY.
The Edgar Project explained on Kickstarter!
The Edgar Kennedy Restoration Project is a labor of love by many in the classic film industry who appreciate Edgar's remarkable legacy. In order to assure Kickstarter funding, all associated with this worthy project are waiving traditional fees and salaries for creating the pilot episode on an extremely modest $9,700 budget, which is our Kickstarter goal. Our secondary goal is to exceed the primary KS goal enough to actually produce the first 6 episodes of The Edgar Kennedy Show. Compensation will follow on the back end for restoring and releasing as many of the 103 RKO Edgar shorts for the series as we can find.
To turn this vision into reality, Team Edgar is currently preparing a Kickstarter campaign to "crowd-fund" the Edgar Kennedy revival. The launch date for The Edgar Kennedy Restoration Project is October 1 with a robust 30-day KS campaign. Our goal for the KS campaign will be to produce the pilot episode of The Edgar Kennedy Show for consideration by Turner Classic Movies and PBS as potential broadcast homes for the series. Kickstarter is ideally suited for funding The Edgar Kennedy Show, but we are taking nothing for granted. Those familiar with Kickstarter know that it is an all or nothing fundraising platform. So to assure success we are seeking the smallest amount necessary to get the ball rolling.
Kickstarter contributions will cover these expenses:
Shipment and other costs for use of the Library of Congress 35mm print of "Thanks Again."
Transfer of the 35mm print to high definition.
Additional film restoration as needed.
Production set and crew to film host and mini-bio segments.
Costs to bring Mark Kennedy to Oregon to film host segments.
Creation of opening and closing segments. Original theme song has been contributed at no cost.
Editing and related video lab procedures to produce a professional HD broadcast master.
Edgar's "slow burn" signature act of frustration is timeless and universal. A "Slow Burn Challenge" is in the works that will invite old and young alike to film and submit their own interpretation of Edgar's famous slow burn. Videos will be limited to 10-seconds or less and the top 5 slow burns will be featured in The Edgar Kennedy Show pilot. The Slow Burn Challenge is planned as a regular feature of the series. Imagine Edgar's signature gesture going viral and sparking a national Slow Burn craze. 
---
Meet Edgar Kennedy!
While few know his name, most recognize Edgar Kennedy fondly as the bald-headed comedian from countless classic films. Edgar was America's first "sitcom" star who played himself in 103 two-reel shorts produced by RKO Radio Pictures between 1931 and 1948. In each short Edgar is surrounded by a zany dysfunctional family consisting of dizzy wife, meddling mother-in-law and shiftless brother-in-law. Sound familiar?
Every Edgar Kennedy short revolves around a typical sitcom plot with Edgar at the center of the action, often caught up in domestic turmoil, a household emergency, mistaken identity, or the latest get-rich-quick scheme certain to bankrupt the household or put them all in jail.
Here are some clips of Edgar at work accompanied by an original song "Slow Burn" contributed to the project by film composer Charlie Barnett:
---
The Edgar Team
The Edgar Kennedy Show is being developed by Bijou Productions, the creators of the original 1980s hit PBS series Matinee at the Bijou and Festival Films. Included on The Edgar Team is a growing roster of classic film industry and media professionals, film distributors, archivists and private film collectors who are joining the team to help restore the film legacy of Edgar Kennedy. They include:
BOB CAMPBELL
Bob is co-creator and producer of the original Matinee at the Bijou PBS series (1980-88) and The Uncle Sam Movie Collection film anthology series
(2000-03). Bob is a former front-row kid, a lifetime film buff, and recognized as a leading authority in classic American film history and content.
RON HALL
Founder-owner of Festival Films, Ron is co-creator and producer of the Lost & Rare Film and TV Treasures series. Also a leading authority on classic film history, Ron brings to The Edgar Kennedy Show a lifetime of experience in locating and acquiring rare cinematic treasures - many of which will be showcased on upcoming episodes.
PHIL HOPKINS
Phil is co-owner of Film Chest Media Group and Process Blue film restoration services. Phil's knowledge of classic film combined with his sales and marketing expertise will help assure broadcast and home consumer platforms are in place for The Edgar Kennedy Show when production is complete.
CHARLIE BARNETT
Award-winning film and television composer Charlie Barnett has written an original music video homage to Edgar Kennedy called "Slow Burn" that will be modified to serve as The Edgar Kennedy Show theme song. You can enjoy the music video at the top of this page.
MARK LIVINGSTON KENNEDY
Mark is Edgar Kennedy's grandson and serves as a consultant on the series. Not only does Mark bear a striking resemblance to his grandfather Edgar, but he also does a definitive "slow burn" and will help manage and serve as one of the judges for the slow burn competition we are planning to spark a national fad called "Show us Your Slow Burn."
DEREK MYERS
Derek is co-creator and producer of the Lost & Rare Film and TV Treasures series and a dedicated film collector and media producer who provides public domain TV shows and vintage features to WGGS-TV in Greenville, SC. His private film collections include many lost and rare Edgar Kennedy shorts and features.
PETER BEDELL
Pete is an editor and producer on the original Matinee at the Bijou PBS series and The Uncle Sam Movie Collections series and will bring his experience and expertise to The Edgar Kennedy Show series.
Special Consultants
Dennis Atkinson - Edgar collector who has released many Edgar shorts at his RKO Comedy Classics site.
Joe "Shorty" Caruso - World's biggest Edgar Kennedy fan whose modest goal in life is to see the last 14 (of 103) Edgar shorts he has yet to see.
Lou Sabini - Film collector, scholar and teacher who manages "My Reel Life" on Facebook.
Cliff Weimar - Vociferous vintage film fan who keeps the world up to date on new/old releases at "In The Balcony" website.
---
It's been said that everything old is new again, and Edgar Kennedy, "Father of the Sit-Com" and "Master of the Slow Burn" may just turn out to be America's next big sitcom star.
You can read more about the project and enjoy an abundance of film clips of Edgar in action in scenes from some of his RKO comedy shorts by visiting "The Edgar Kennedy Show" on Facebook and "Like Edgar" to receive updates. Also consider leaving a comment and posting a link on your own Facebook page to help spread the word.
More Edgar fun and news is available here at The Bijou Blog and Café Roxy Blog.
Enjoy vintage Edgar Kennedy in "Hold Your Temper" (1943).
(Yes, that is Irene (Beverly Hillbillies) Ryan playing Edgar's wife)
---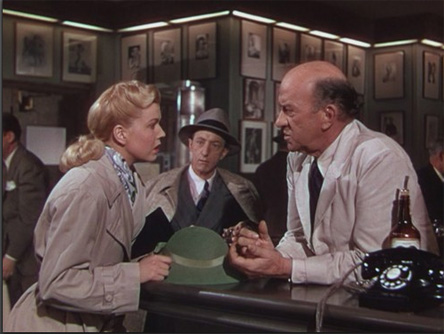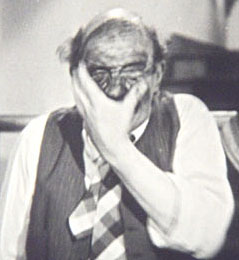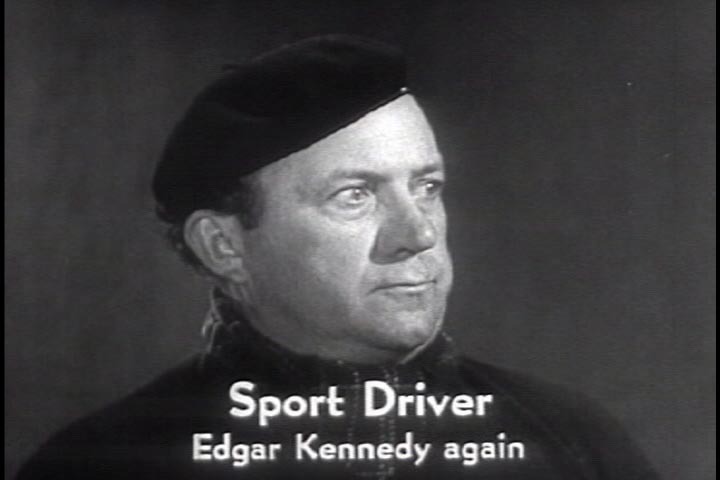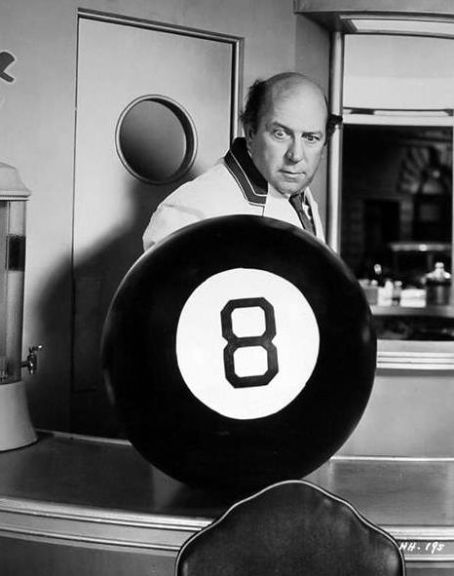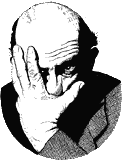 ---
Visit Edgar on Facebook
View all Edgar Clips of the Week
---