Black Heritage Programs

Special DVD Programs!
The following programs contain all-black feature films, black cartoons and musical shorts featuring legendary black performers. They are ideal entertainment for television, movie theaters and schools. Public performance rights are included. Use the posters to promote your showings.
An on-screen introduction at the start of each program reads:
In the 1930s, '40s and '50s many films were made with all-black casts, to be shown in "blacks only" movie theaters. Although largely forgotten, these minor classics reflect a culture and vibrant people that deserve reappraisal. They also preserved classic jazz numbers by such immortals as Cab Calloway, Louis Armstrong, Duke Ellington, Lena Horne, Bessie Smith, Louis Jordan and Ethel Waters. Some caricatures and racist jokes are remnants of a regrettable past that society has moved far beyond. They are part of history that should be learned from rather than erased, so as never to be repeated.
The films may also be watched, shown or streamed online without the introduction.
Return to Black Heritage Home Page.
---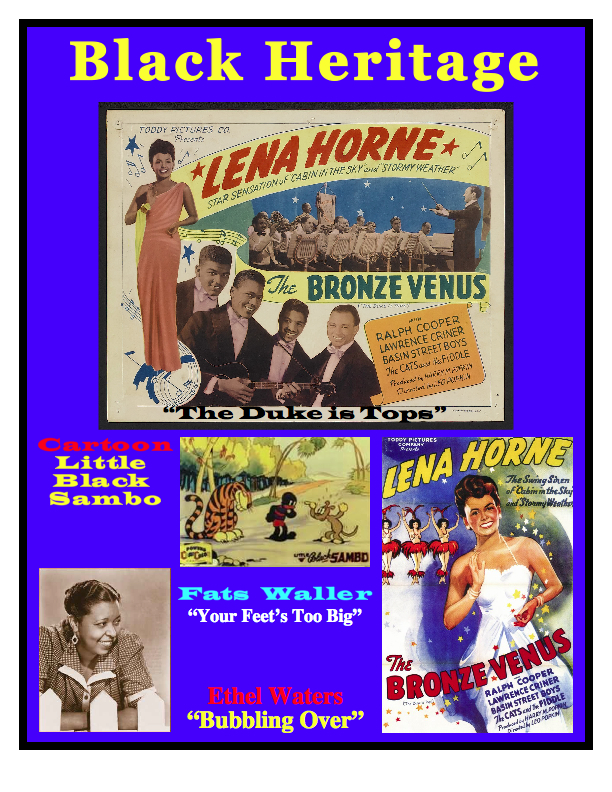 Lena Horne Becomes a Star!
Bronze Venus
(1938) 73 min. Cast: Lena Horne, Ralph Cooper. Aka. "The Duke is Tops." Duke Davis has invested all his savings to back his sweetheart, Ethel, in a road show over the old T.O.B.A. circuit. Marshall, a New York talent scout, makes an offer to Ethel as a single and, to induce her to take it, Duke writes a fake check, made out to him, for $5000 pretending he has sold his contract with Ethel to Marshall. Resentful and heartbroken, she accepts and becomes a big hit in New York. When Duke is down on his luck, Ethel returns to help his new show.
"Little Black Sambo"
(1935) 8 min. Cartoon version of the famous children's story about a little black boy and his run in with a real tiger.
Fats Waller (1941) 3 min. Fats swings the Soundie version of "Your Feet's Too Big."
"Bubbling Over"
(1934) 18 min. All-black musical comedy short starring the great blues singer Ethel Waters. Her husband is so lazy she can stick a pin in him without him waking up... but announcing lunch gets him up pretty fast. She's also saddled with a bevy of his lazy relatives. Four more come by and sing as a quartet. After the wife learns they had been traveling men, she advises them to keep traveling and kicks them out.
---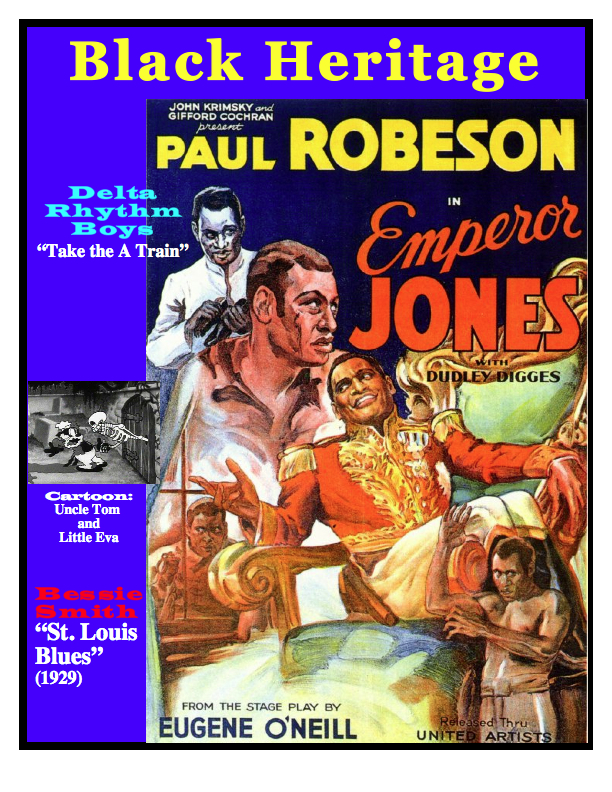 Paul Robeson Classic!
Emperor Jones
(1933) 72 min. Cast: Paul Robeson, Dudley Diggs. The unlikey rise of a Pullman porter from the fields of South Carolina to the despotic command of a Caribbean island nation is portrayed with brutal realism in this screen adaptation of the Eugene O'Neil play. Brutus Jones lies, gambles, cheats, murders and takes advantage of his fellow African-Americans as he rises above his simple origin to eventually take control of an entire island nation. When the populace rises up and revolts, escapes into the jungle to face his fate.
"Uncle Tom and Little Eva"
(1932) 7 min. Van Beuren cartoon spoof of the famous story.
Delta Rhythm Boys
(1941) 3 min. Soundie version of Duke Ellington's "Take the A Train."
"St. Louis Blues"
(1929) 20 min. In this all-black cast short, legendary blues singer Bessie Smith finds her gambler lover Jimmy messin' with a pretty, younger woman. When he leaves she sings the famous blues title song with chorus and dancers. This is the only film appearance of Bessie Smith.
---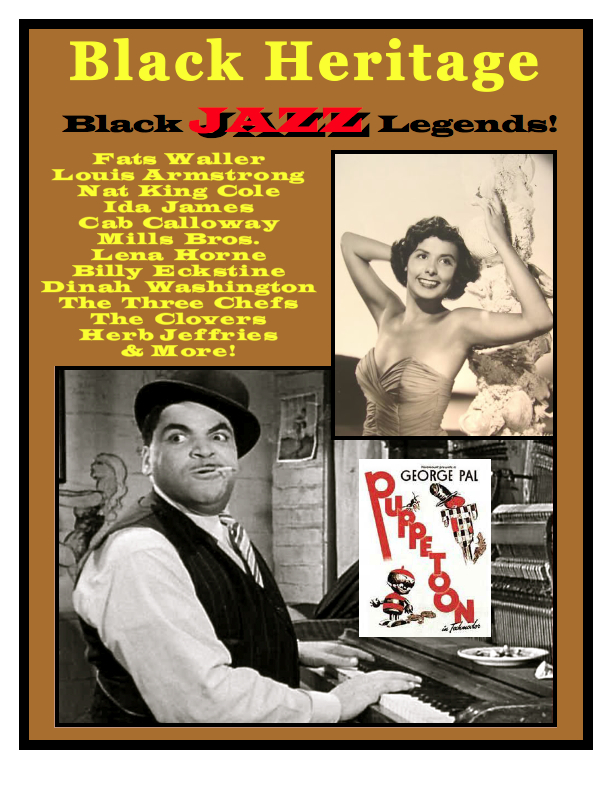 Black Jazz Legends
Musical Numbers by Black Jazz Legends!
Rare, restored musical "Soundies" that were played on special juke boxes in the 1940s called Panoram machines: Fats Waller - "Ain't Misbehavin' " (1941), Louis Armstrong - "Shine" (1942), Nat King Cole & Ida James: "Is You Is or Is You Ain't My Baby?" (1944), Cab Calloway - "Minnie the Moocher" (1942), Mills Bros. - "Cielito Lindo" (1944), Billy Eckstine - "Prisoner of Love" (1946), Count Basie - "Take Me Back Baby" (1941) and The Three Chefs - "Breakfast in Rhythm" (1943). Color Puppetoon Cartoon: "Phillips Broadcast of 1938."
"Boogie Woogie Dream" (1944) 13 min. Lena Horne, Albert Ammons, Pete Johnson and Teddy Williams' band. After hours at a nightclub, the hired help have a jam session, which proves to be just what a couple of belated customers wanted to hear.
Show Time at the Apollo (1955, TV series, 26 min.) Nipsey Russell, Duke Ellington, The Clovers, Larry Darnell, Herb Jeffries, Dinah Washington, Amos Milbourn.
Rock 'n' Roll Revue (1955, 40 min.) Duke Ellington, The Clovers, Larry Darnell, Coles & Atkins, Dinah Washington, Nat King Cole.
---
Black Jazz Legends BONUS
More Musical Numbers by Black Jazz Legends!
Lionel Hampton, Bill Bailey, Herb Jeffries, The Larks, Delta Rhythm Boys, Nat King Cole, Sarah Vaughn Count Basie, Joe Turner, Cab Calloway and Many More!
"Uncle Tom and Little Eva" 1932 Cartoon
Scrub Me Mama With a Boogie Beat
(1941) 7 min. Color Cartoon. A riverboat arrives in Lazy Town with a red hot mama on board who quickly has everyone moving to a Harlem boogie beat, dancing, scrubbing clothes and eating watermelon.
Two episodes of Show Time at the Apollo (1955, TV series, 26 min. each)
Rhythm & Blues Review Feature with Showtime at the Apollo Acts. (1955, 72m.)
---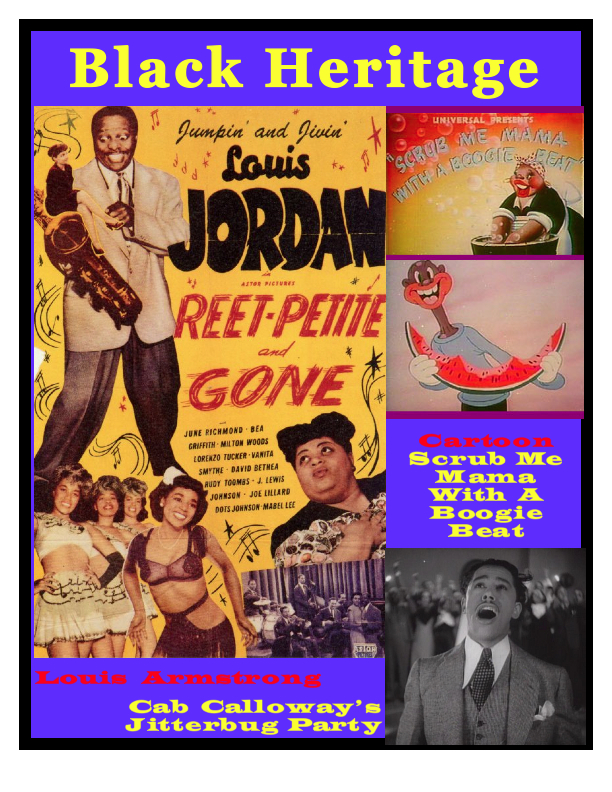 Louis Jordan, Satchmo & Cab!
Reet, Petite and Gone
(1947) 67 min. This all African-American film stars bandleader Louis Jordan in a dual role as father and son. Schyler Jarvis, a successful old-time musical star, dies and wishes to leave his fortune to his son, Louis, and Honey, the daughter of his long-lost love. Henry Talbot, a crooked lawyer tries to swindle the funds away from the rightful heirs and take the money for himself. When Talbot meets an untimely end suspicion falls upon Louis as the killer. Everything works out in the end for this film featuring plenty of music provided by Louis Jordan's Tympany Five.
Louis Armstrong: "Swingin' on Nothin'"
(1942) A musical "Soundie" shown in juke boxes in the 1940s.
Scrub Me Mama With a Boogie Beat
(1941) 7 min. Color Cartoon. A riverboat arrives in Lazy Town with a red hot mama on board who quickly has everyone moving to a Harlem boogie beat, dancing, scrubbing clothes and eating watermelon.
Cab Calloway's Jitterbug Party
(1935) This entry in Paramount's "Headliner" series of musical shorts features Cab Calloway, His Orchestra and Ethel Moses. They do some numbers at Harlem's "Cotton Club," and following the show they go over to a Harlem rendezvous and shimmy at a jitterbug party.
---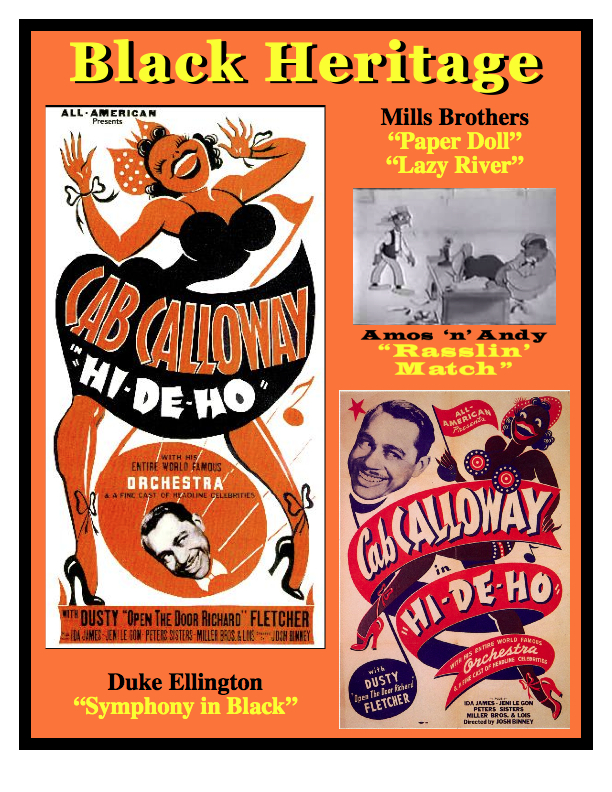 Cab Calloway & Friends!
Hi-De-Ho
(1947) 64 min. Cast: Cab Calloway, Ida James, Jeni Le Gon, William Campbell, Dusty Fletcher. Cab Calloway stars as a band leader pressured to leave his new gig at The Brass Hat Club to work for a gangster establishment across the street. Caught between two women, he dumps his girlfriend Minnie because of her jealousy over his female manager. The grand finale features a host of swing numbers, dancing acts and great songs by Cab.
"Rasslin' Match"
(1932) Amos 'n Andy cartoon featuring the radio voices of Charles Correll and Freeman Gosden.
The Mills Brothers
Two Soundies by the famous quartet. "Paper Doll" (1942) features Dorothy Dandridge in the title role, followed by one of their biggest hits "Lazy River" (1944).
Duke Ellington "Symphony in Black"
(1935) Duke Ellington plays his symphonic jazz piece ('A Rhapsody of Negro Life') with his orchestra against slice-of-life background scenes. The four movements: 1) The Laborers, 2) A Triangle: Dance, Jealousy, Blues, 3) A Hymn of Sorrow, 4) Harlem Rhythm. Billie Holiday sings one blues.
---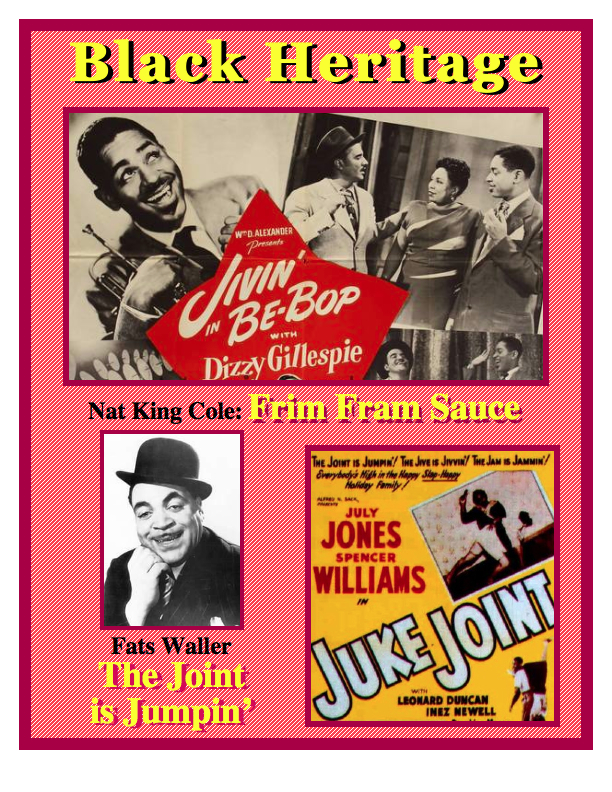 Jivin' Joints!
Jivin' in Be-Bop
(1946) 58 min. Dizzie Gillespie and his musical friends have a ball. Well-crafted hour full of solid entertainment with singers, instrumentalists, dancers both male and female, even comedy. Add to that getting to see such performers as Milt Jackson, Ray Brown, Benny Carter and Gillespie himself, along with many more, in what amounts to a front-row seat for a very cool variety show, photographed intelligently and orchestrated to please. Includes Salt Peanuts and Night In Tunisia.
Juke Joint
(1947) 58 min. Spencer Williams is con man Bad News Johnson. He and July Jones arrive in a Midwestern small town with a capital of 25 cents. Taking a room with Mama Lou, whose daughter is entered in a local beauty contest, they pose as Hollywood actors who can train Honey Dew in stagecraft. Meanwhile, Mama's other daughter Florida prepares to elope to Chicago with Johnny, owner of the Juke Joint. After a jitterbug contest, Mama herself takes a hand.
Fats Waller & Nat King Cole
Soundie of "The Joint is Jumpin' " by the great Fats, plus "Frim Fram Sauce" by Nat King Cole.
---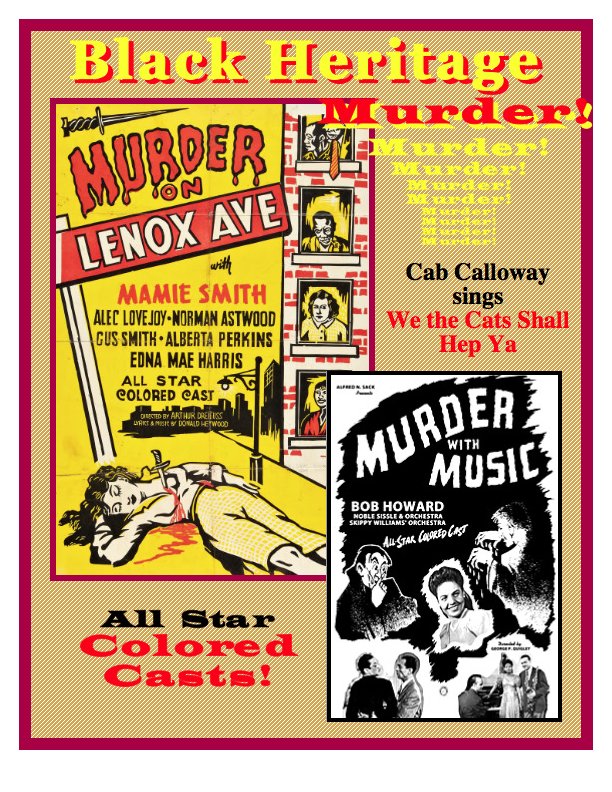 Harlem Murder Spree!
Murder on Lenox Ave.
(1941) 65 min. Mamie Smith, Alec Lovejoy. Dramatic events in a Harlem apartment house center around Pa Wilkins, chosen by the Better Business League to replace their ousted, crooked leader Marshall...who wants revenge; and Pa's ward Jim Bracton, a two-timing Romeo whose affairs are coming to a crisis. And hanging around is Marshall's murderous junkie henchman, Lomax. Will it all end in someone's being killed?
Murder with Music
(1941) 57 min. Night club singer Nelle Hill has many suitors -- an escaped convict, a piano player and a newspaper man. One is killed and one of her men committed the crime. Who? During it all great singing and dancing speciality numbers with the incomparable Noble Sissle and his orchestra and other hot bands. The wonderful Bob Howard appears and also pretty Ruth Cobbs.
Cab Calloway sings "We the Cats Shall Hep Ya (1945).
---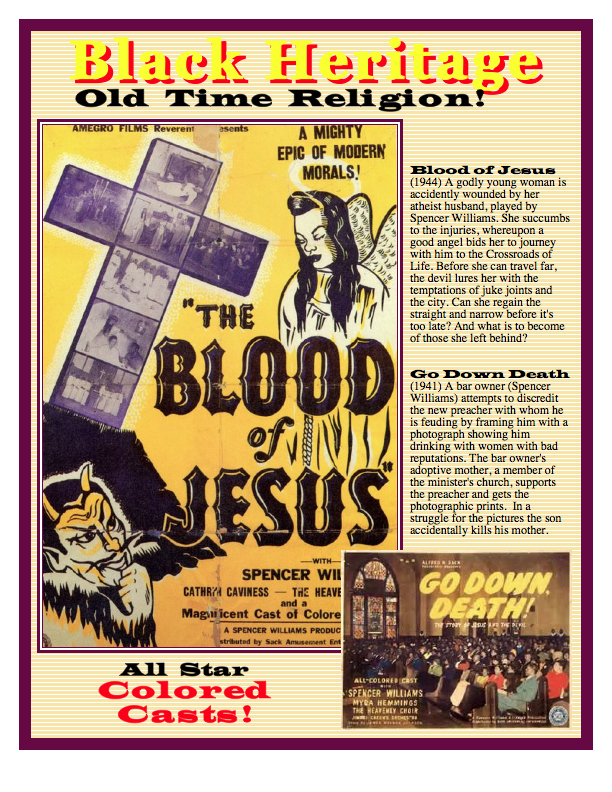 Old Time Religion!
The Blood of Jesus
(1944) 57 min. A godly young woman is accidently wounded by her atheist husband, played by Spencer Williams. She succumbs to the injuries, whereupon a good angel bids her to journey with him to the Crossroads of Life. Before she can travel far, the devil lures her with the temptations of juke joints and the city. Can she regain the straight and narrow before it's too late? And what is to become of those she left behind?
Go Down Death
(1940) 56 min. Myra D. Hemmings, Samuel H. James, Spencer Williams. A bar owner attempts to discredit the new preacher with whom he is feuding by framing him with a photograph showing him drinking with women with bad reputations. The bar owner's adoptive mother, a member of the minister's church, supports the preacher and gets the prints. In a struggle for the pictures the son accidentally kills his mother.
---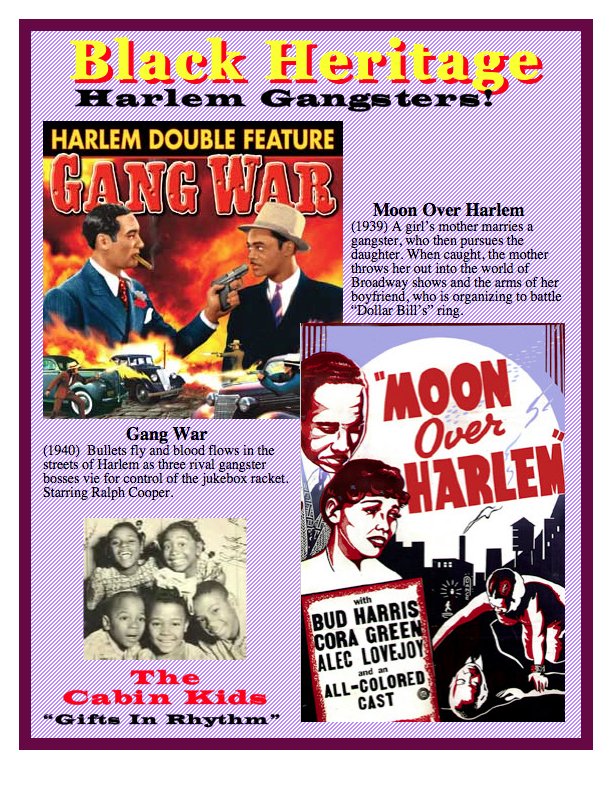 Harlem Gangsters!
Gang War
(1940) 51 min. Bullets fly and blood flows in the streets of Harlem as three rival gangster bosses vie for control of the jukebox racket. Starring Ralph Cooper.
Moon Over Harlem
(1941) 68 min. (1939) A girl's mother marries a gangster, who then pursues the daughter. When caught, the mother throws her out into the world of Broadway shows and the arms of her boyfriend, who is organizing to battle "Dollar Bill's" ring.
The Cabin Kids
Popular singing group from the mid-1930s featuring 5 young black children. They sing "Dinah" in the Gene Autry film "Round-Up Time in Texas" and are featured in the rare short "Gifts in Rhythm," both from 1937.
---
Price, each: $25


For further information or to order, please contact:

Ron Hall
Festival Films
6115 Chestnut Terrace
Shorewood, MN 55331

Phone: (952) 470-2172
E-mail: fesfilms@aol.com
Return to Black Heritage Home Page.