Gang Busters!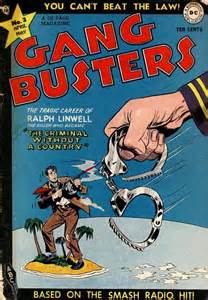 (1952) Action-packed crime stories on the apprehension of major criminals, taken from actual police and FBI files and presented in semi-documentary style. There was no continuing cast, but creator and writer Phillips H. Lord narrated each show. Each show concludes with the search for a real criminal currently at large.
Vol. 1 The Durable Mike Malloy Case Petty crooks try their best to kill an indigent man to collect insurance on him, but Mike keeps coming back for more free, but poisoned, liquor.
The Rocco Case A psychotic crook engages an innocent womenin a bizarre scheme to kill his wife.
The Bayless Case A bank robber escaping by plane resembles another man on the same flight.
Alvin Karpas A machine-gun wielding gangster joins the Ma Barker gang to rob banks.
Vol. 2: The Phantom Case A masked phantom and his gang commit a series of payroll robberies, and the police can't seem to find a trace of them.
The Burl Case Exploits of a lone wolf jewel bandit.
Dillinger John Dillinger was Public Enemy #1. One by one all his friends were caught or killed.
The Suma Case Eyeglasses found near a murdered policeman are the only clue at the grisly crime scene!
Vol. 3: The Blonde Tigress A policewoman goes undercover to infiltrate a gang of armed and dangerous criminals led by a vicious but beautiful blonde.
O'Dell-Griffen Police in Buffalo, NY, mount a search for a ring of deadly jewel thieves believed to be hiding across the border in Canada.
The Dennis Case Charming, gymnastic thief burgles during parties.
The Red Dress The day her boyfriend is released from jail, a power-mad femme fatale puts the old gang back together and leads them on a murder spree!
Vol. 4: Edward Menduro Criminal mastermind (and unlikely doting father) Edward Menduro and his partner use deadly poison gas to strike terror in Chicago's Southside currency exchanges.
Billot Flaschette Detectives work tirelessly to locate members of an international gang of jewel thieves after they make off with over a million dollars in loot stolen from a New York estate.
The Unholy Three Three hoodlums on a crime spree use a church mission as their unlikely hideout.
The Scissors Gang A cross-dressing mob in Connecticut escalates their crimes from robbery to extortion!
Vol. 5: Horner Van Meter Notorious criminal Homer Van Meter joins forces with gangster John Dillinger, while police follow a trail of murder and mayhem perpetrated by the two violent gangsters.
Quirley Gang A look at the gang run by Robert Quirley and his son, Robert Jr. as they rampage through Oregon robbing banks, making the largest theft in the State at that time.
Little Duke Lukini Three hoodlums on a crime spree use a church mission as their unlikely hideout.
Three Kid Chase A cross-dressing mob in Connecticut escalates their crimes from robbery to extortion!
---
Gang Busters Feature Films!
We also have these two feature films that were released to theaters. Each contains three episodes of the TV show with new introductions.
Gang Busters
(1955) This feature contains all three parts of "THE PINSON GANG." Master criminal and escape artist, John Pinson, breaks out of the Oregon State Prison and aided by thugs commits more crimes. With the police hot on his trail, his freedom is short lived. Director Martin Scorsese said that he watched the "Gang Busters" series and it was this episode that inspired some of the scenes he used in "Taxi Driver."
Guns Don't Argue
(1957) A composite of three re-edited episodes from the 1952 TV series, Gangbusters, released to theatres in 1957 as a feature film. Gang Busters (1954) was a similar effort. The three unconnected episodes feature crimes with John Dillinger, Ma Barker, Alvin Karpis, Pretty Boy Floyd and Bonnie and Clyde.
---