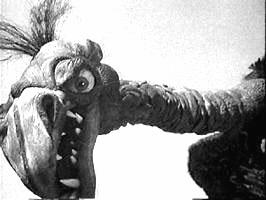 12 Golden Turkeys!
12 Weeks of the Worst Movies Ever Made!
Not boring, just so BAD that they're FUN like our mascot on the right -- The Giant Claw!
Each Contains an Episode of the Serial "Flash Gordon Conquers the Universe!"
Many contain a 3 Stooges Cartoon with live-action Stooges!
Plus TV Shows, Trailers and Special Added Attractions!
You can download these actual posters, print them and add your name and other info to promote each showing.
---
Click on any poster image below to download a full size version!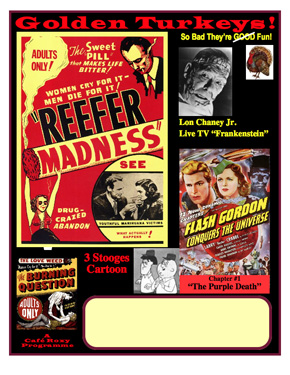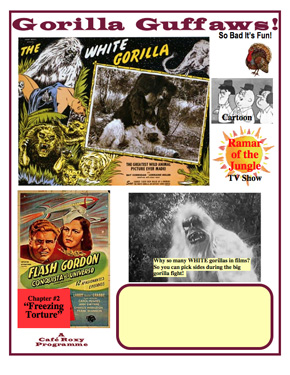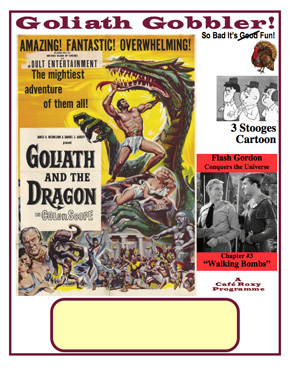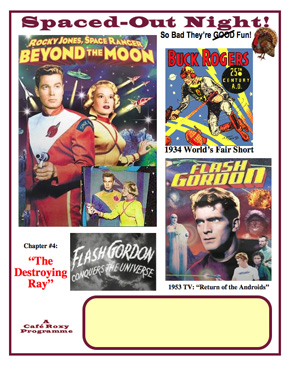 ---
Free Bonus / Alternate 12th Show!
Not all audiences can cope with the innocent cross-dressing and sex-change themes in Ed Wood's camp classic Glen or Glenda. We will include it as a free 13th program with each purchase of the entire Turkey series and you can decide for yourself which feature to run.
You can save Santa Claus Conquers the Martians for the holidays, if you don't use it now, or use it to replace any other Turkey you don't like. Of course no one will come unless it is part of a Camp/Turkey/Bad Film Festival. What a triumph to serve a turkey where nobody comes because your savvy audience knows their bad movies! Although for free, they might drop off the kids anyway!
Let us assure you there is absolutely nothing offensive to anyone in Santa Claus show, other than boredom if your audience doesn't find the cheap special effects and atrocious acting funny. The initial reaction may be to go to the lobby or bar for more food and drink, and what's wrong with that? A later reaction might be "Flash Gordon was pretty good and it's a free show. Let's go home now!" It is good for a few laughs, just don't expect any uplifting Christmas-time kiddie-fare. No one over five even liked this turkey in 1964!
---
---
Cafe Roxy is an enterprise of Festival Films
Phone or fax: 952-470-2172
Email: fesfilms@aol.com
---