Comedy Gems in Public Domain!
All films are available in DVD-R and Mpeg2 digital file formats.
---
Sophisticated Snickers!
Angel in a Taxi (1958, Italy) 90m. English dubbed version. Delightful Italian comedy/fantasy about a six-year-old orphan boy who runs away to find his mother, who he believes is a ballerina star whose picture he saw in a newspaper. The great director Vittorio DeSica plays 3 roles (as God) who tries to bring the lost souls together.
As You Like It (1936) 97m. Laurence Olivier does Shakespeare.
Behave Yourself (1951) 81m. Comedy with Shelley Winters, Farley Granger and a cute dog!
Colonel Effingham's Raid (1945) 71m. Charles Coburn, Joan Bennett. Retired colonel campaigns to save Confederate Monument Square.
Eternally Yours (1939) 88m. Loretta Young marries magician David Niven.
Father's Little Dividend (1941) 84m. Father Spencer Tracy sweats as daughter Elizabeth Taylor expects her first baby.
His Girl Friday (1940) 92m. Cary Grant vs. Rosalind Russell in newsroom chaos!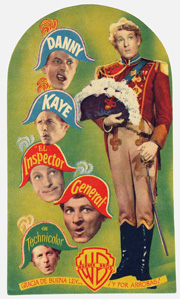 Indiscreet (1931) 75m. Gloria Swanson, Ben Lyon, Arthur Lake. A young woman jeopardizes the relationship with the man she loves when a no-account from her past shows up.
The Inspector General (1949) Color, 105m. Danny Kaye musical comedy romp.
Judge Priest (1934) 81m. John Ford Americana with Will Rogers as small-town judge.
Life With Father (1947) Color, 118m. William Powell, Irene Dunne in celebrated Broadway hit.
Love and Larceny (1960, Italy, dubbed) 92m Vittorio Gassman is a brilliant con artists who pulls off many hilarious scams.
Love Laughs at Andy Hardy (1946) 93m Mickey Rooney, Lewis Stone. Andy goes to college after WW-II duty.
My Dear Secretary (1948) 95m. Kirk Douglas, Laraine Day, Keenan Wynn. Bestselling novelist, recruits aspiring writer. The stars in her eyes fade when she finds she is to work in his apartment, with a constant parade of eccentric visitors.
My Man Godfrey (1936) 93m. Rich Carole Lombard takes in apparent tramp William Powell, who proceeds to transform the household.
Nothing Sacred (1937) Color, 75m. Carole Lombard vs. Fredric March!
Pot O' Gold (1941) 86m. James Stewart, Paulette Godard. Jimmy, owner of a failed music shop, befriends Irish family who is his uncle's worst enemy.
The Rage of Paris (1938) 80m. Douglas Fairbanks Jr. and Louis Hayward battle over Danielle Darrieux.
The Smallest Show on Earth (1957, British) 81m. A young couple inherits decrepit movie theater. With Peter Sellers, Margaret Rutherford.
The Stork Club (1945) 99m. Night club singer Betty Hutton befriends Barry Fitzgerald.
That Uncertain Feeling (1941) 84m. Ernst Lubitsch romp with Merle Oberon, Melvyn Douglas and Burgess Meredith.
Topper Returns (1941) 89m Roland Young helps ghost Joan Blondell catch her murderer.
---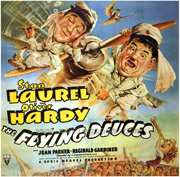 Those Lovable Clowns!
Africa Screams (1949) 70m. Bud Abbott and Lou Costello on a jungle safari.
All Over Town (1937) 62m. Ole Olson & Chic Johnson. Two zanies stage show in a jinxed theater.
Affairs of Cappy Ricks (1937) 56m. Starring Walter Brennan as a sea captain.
Country Gentlemen (1936) 56m. Ole Olson & Chic Johnson. Con-men sell worthless stock in small towns.
Flying Deuces (1939) 66m. Stan Laurel and Oliver Hardy in the Foreign Legion.
The Gorilla (1939) 66m. Ritz Brothers try to solve mystery in spookky mansion and avoid killer ape.
The Great Rupert (1950) 88m. Jimmy Durante aided by George Pal animated squirrel at Christmas time. Aka. "A Christmas Wish."
Jack and the Beanstalk (1952) Color, 82m. Abbott and Costello spin on the fairy tale.
The Kid (1921) 68m. Charlie Chaplin, Jackie Coogan. The Little Tramp cares for an abandoned child, but events put that relationship in jeopardy.
Lay That Rifle Down(1955) 71m. Judy Canova vs. con men in small town.
The Medicine Man (193) 66m. Jack Benny is medicine man carny who falls for abused frontier girl.
My Favorite Brunette (1947) 88m. Bob Hope turns detective to save Dorothy Lamour.
Palooka (1934) 86m. Stu Irwin is comic-strip boxer Joe Palooka, managed by Jimmy Durante.
Road to Bali (1952) Color, 92m. Bob Hope, Bing Crosby, Dorothy Lamour in the South Seas.
---
Harold Lloyd in --
Grandma's Boy (1922) 56m. Harold Lloyd, Mildred Davis. Sissy Harold gets courage from his grandma's magic talisman to confront a bully and win his girl.
The Milky Way (1936) 88m. Harold Lloyd is mild milkman turned prize fighter.
The Sin of Harold Diddlebock (1947) 90m. Harold Lloyd cuts loose in middle age.
---
Buster Keaton in --
Silent Comedy Shorts:
Balloonatic (1923)
Blacksmith (1922)
The Boat (1921)
Cops (1922)
Electric House (1922)
Goat (1921)
Haunted House (1921)
High Sign (1921)
My Wife's Relations (1922)
Neighbors (1920)
One Week (1920)
Paleface (1922)
Playhouse (1921)
Scarecrow (1920)
College (1927) 65m. Buster Keaton. To reconcile with his girlfriend, a bookish college student tries to become an athlete.
The General (1926) 76m. Buster Keaton. When Union spies steal an engineer's beloved locomotive, he pursues it single-handedly and straight through enemy lines.
Parlor, Bedroom and Bath (1931) 73m. Buster Keaton becomes entangled in a rich man's scheme to marry off his aggressive sister-in-law.
Speak Easily (1932) 81m. Buster Keaton, Jimmy Durante, Thelma Todd -- putting on a show.
---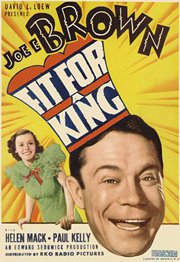 Joe E. Brown in --
Earthworm Tractors (1936) 69m. Joe E. Brown is a go-getter but no-nothing salesman of tractors.
Fit for a King (1937) 73m. Joe E. Brown is a reporter who falls in love with a crown princess and exposes an assassination plot.
Riding On Air (1937) 70m. Two small-town newspaper reporters are both after a local girl and the real story about a mysterious device.
When's Your Birthday? (1937) 76m. Joe E. is a mild-mannered astrologer who becomes a prizefighter.
Bert Wheeler and Robert Woolsey in --
Dixiana (1930) 100m. Wheeler & Woolsey, Bebe Daniels in period comedy set during Mardi Gras, with color sequence.
Half Shot at Sunrise (1930) 78m. Wheeler and Woolsey are two soldiers AWOL in Paris.
Hook, Line and Sinker (1930) 75m. Comics Wheeler and Woolsey play fast-talking salesmen who help an innocent young hotel operator.
---
Romantic Screwballs!
The Admiral Was a Lady (1950) 87m. Edmond O'Brien, Wanda Hendrix. Ex-WAVE encounters four fun-loving, work-hating men, all of whom want to marry her.
The Amazing Adventure (1936, Britain) 62 min. Rich Cary Grant feigns poorness to discover life.
Beyond Tomorrow (1940) 84m. Romantic story of two lovers brought together on Christmas eve by three ghosts.
The Front Page (1931) 101m. Adolphe Menjou, Pat O'Brien in first filming of the famous stage comedy.
Her Favorite Patient (1945) 79m. Aka. "Bedside Manner." Beautiful doctor Ruth Hussey meets handsome patient John Carroll.
Hi Diddle Diddle (1943) 73m. Adolphe Menjou, Martha Scott. When the bride's mother is supposedly swindled out of her money by a spurned suitor, the groom's father orchestrates a scheme of his own to set things right.
His Private Secretary (1933) 60m. John Wayne, Evalyn Knapp. Dick Wallace wants to marry a minister's grand-daughter but his father wants him in the family business.
Lost Honeymoon (1947) 69m. Franchot Tone, Ann Richards, Tom Conway. Returning GI suffers from amnesia.
People Are Funny (1946) 84m. Jack Haley, Ozzie Nelson, Rudy Vallee in film version of the Art Linkletter radio show.
Perils of Pauline, The (1947) Color, 93m. Betty Hutton in musical comedy as silent movie heroine Pearl White.
Reaching for the Moon (1931) 67m. Douglas Fairbanks woos Bebe Daniels on a cruise.
Road Show (1941) 87m. Adolphe Menjou, Carole Landis. Rich playboy Drogo Gaines is in imminent danger of marrying a gold digger, and escapes by feigning insanity.
Sin Takes a Holiday (1930) 80m. Constance Bennett, Basil Rathbone. Dowdy Sylvia marries and turns into uninhibited swan.
Texas, Brooklyn and Heaven (1948) 77m. Guy Madison, Diana Lynn. A would-be playwright and a young woman escaping from a job at a gas station meet cute and fall in love.
Three Broadway Girls (1932) 79m. (aka "Greeks Had a Word for It") Joan Blondell, Ina Claire, Madge Evans are money hungry women who have sugar daddies who keep them in the lap of luxury.
Three Guys Named Mike (1951) 92m. Jane Wyman dates 3 men named Mike. With Van Johnson, Howard Keel.
---
Color Comedies - "Not Registered"
These films made since 1964 are in the public domain because they were never registered with the Library of Congress. Read more about Not Registered titles.
Catch Me a Spy(1971) Color, 94m. Kirk Douglas smuggles microfilmed Russian documents in other people's luggage.
Congratulations, It's a Boy! (1971) Color, 74m. TV movie starring Bill Bixby, Diane Baker, Jack Albertson. A bachelor's life is interrupted by the appearance of a teenager who claims to be his son.
The Fat Spy (1966) Color, 81m. Jack E. Leonard as twins with Jayne Mansfield, Phyllis Diller on an island.
Hard Knox (1984) Color, 96m. Robert Conrad. A retired fighter pilot becomes head of his alma mater military school for two weeks, with hilarious consequences.
It Seemed Like a Good Idea at the Time (1975, Canada) Color, 90m. Anthony Newley plays a poor avant-garde artist who struggles with an ex-wife's remarriage to a building contractor.
Loose Shoes (1978) Color, 74m. Aka Coming Attractions. Bill Murray. Comedy satire through series of movie trailers.
Lovers and Liars (1980, Italy) Color, 96m. Goldie Hawn. It's about this world-weary, chain smoker, bag-eyed, married guy, who drives to his dad's house (the dad is dying) and takes Goldie along--he finds her at his mistress's house.
The Nasty Rabbit (1964) Color, 90m. Arch Hall Jr. in spoof of spy films.
Rescue from Gilligan's Island (1978) Color, 95m. Bob Denver and the gang in feature version of the TV show.
There Goes the Bride (1979, Britain) Color, 91m. Tommy Smothers, Twiggy and Jim Backus.
Wackiest Wagon Train in the West (1976) Color, 88m. Bob Denver western spoof, compiled from TV show "Dusty's Trail."
Wake Me When the War is Over (1969) Color, 75m. Pilot hidden by baroness (Eva Gabor) at tail end of WW-2. She doesn't tell him the war ends so she can keep him.
---
Many More B-Picture Comedies!
Baby Face Morgan (1942) 60m. Richard Cromwell, Mary Carlisle , Robert Armstrong.
Big Show-Off, The (1945) 60m. Dale Evans, Arthur Lake in night club romance.
Bill Cracks Down (1937) 53m. With Grant Withers. Ranny Weeks. Burly steel worker must make man of owner's son.
A Bride for Henry (1937) 57m. with Anna Neagel. Jilted bride marries lawyer instead, but he always loved her.
Broadway Limited (1941) 75m. Victor McLaglen, Marjorie Woodworth, Dennis O'Keefe. Publicity mix-ups with star and adopted/kidnapped baby.
Danger! Women at Work! (1943) 59m. Patsy Kelly, Mary Brian and Isabel Jewell inherit a ten-ton truck and go into business.
Eegah! (1962) Color, 91m. Arch Hall Jr. Teenagers stumble across a prehistoric caveman, who goes on a rampage.
False Pretenses (1935) 65m. Irene Ware aspires to crash high society.
Freckles Comes Home (1942) 59m. with Johnny Downs and Gale Storm. Freckles back from college meets gangsters and murder.
Frolics on Ice (1939) 65m. Young girl ice skater (Irene Dare) makes good with help from Uncle Edgar Kennedy.
The Girl from Calgary (1932) 63m. Canadian girl bronc rider and nightclub singer is discovered and heads for NYC to make good.
Girl O' My Dreams (1934) 63m. Mary Carlisle, Sterling Holloway in college campus centering on a track star.
Goodbye Love (1933) 65m. Wealthy Charlie Ruggles involved with some women with ulterior motives.
The Great Mike (1944) 64m. Stuart Erwin tries to turn a milk horse into a race horse.
Hay Foot (1942) 46m. William Tracy, Joe Sawyer in the army.
Heading for Heaven (1947) 72m. Stuart Erwin thinks he is about to die.
Here Comes Trouble (1948) 50m. William Tracy, Joe Sawyer are reporters involved in murder.
His Double Life (1933) 68m. Artist Roland Young changes identities when his valet dies. With Lillian Gish.
Hillbilly Blitzkrieg (1942) 64m. Edgar Kennedy, Bud Duncan in Snuffy Smith story set during WW-2.
Hollywood and Vine (1945) 58m. Small town girl heads to Hollywood.
I'm From Arkansas (1944) 67m. Slim Summerville, El Brendel in low brow country comedy with music. Mayhem ensues in a small town when a sow gives birth to a Guinness Book of World Records' litter.
It's A Joke Son (1947) 63m. Kenny Delmar is Senator Claghorn.
Killer Dill (1947) 72m. Salesman Stuart Erwin is an exact double for a notorious gangster.
King Kelly of the USA (1934) 67m. Guy Robertson, Edgar Kennedy in mythical kingdom.
Lady Says No (1951) 83m. Joan Caulfield, David Niven. A woman writes a best-selling book for women warning them about the "dangers" of men, then meets photographer who comes to do story on her.
Let's Go Collegiate (1941) 62m. College comedy/musical with Gale Storm, Mantan Moreland and Frankie Darro.
L'il Abner (1940) 73m. The comic strip comes to life, with Buster Keaton, Edgar Kennedy.
Lonely Wives (1931) 86m. Edward Everett Horton, Esther Ralston and Laura La Plante in comedy of mistaken identity.
Make a Million (1935) 66m. Charles Starrett, Guy Asher, Jimmy Aubrey. Economic professor fired, but uses crazy theories to make money.
Meet the Mayor (1932) 63m. Frank Fay, Ruth Hall in small town mayor race.
Money Means Nothing (1934) 64m. Tire salesman Wallace Ford falls for debutante, with Edgar Kennedy.
Niagara Falls (1941) 43m. Tom Brown, Zasu Pitts, Marjorie Woodworth, Slim Summerville. An old and young couple meet on way to Niagara Falls and have mix-ups in a motel.
The Nut Farm (1935) 67m. Actor Wallace Ford tries to get sister's money back from con men.
Peck's Bad Boy With the Circus (1938) 67m. Tommy Kelly, Edgar Kennedy, Spanky McFarland. Billy Peck and his gang descend on the circus when it hits town.
Private Snuffy Smith (1942) 66m. The comic strip comes to life. Snuffy Smith, moonshining hillbilly, grows tired of dodging revenue agents and enlists! With Edgar Kennedy and 3 cartoons.
Reg'lar Fellers (1931) 65m. Billy Lee, Carl Switzer in film version of comic strip about gang of kids.
The Royal Bed (1941) 73m. Lowell Sherman, Mary Astor. Troubles with the Royals in mythical kingdom.
Sitting On the Moon (1936) 53 min. Musical romance with Grace Bradley, Roger Pryor.
So's Your Aunt Emma! (1942) 61m. A dizzy old spinster (Zasu Pitts) gets involved in the boxing racket and gangland murders and is falsely accused of being notorious murderer "Ma Parker."
St. Benny the Dip (1951) 81m. Dick Haymes. 3 con men disguise as priests to escape police, then start doing good.
Sweetheart of the Navy (1937) 61m. Eric Linden, Cecilia Parker. Girl opens a bar catering to sailors on shore leave, runs into problems.
That's My Baby (1944) 68m. Richard Arlen, Ellen Drew. Family gathers ex-vaudvillians to cheer up father suffering from melancholia.
Too Many Women (1942) 66m. Neil Hamilton and June Lang can't afford to get married.
The Town Went Wild (1944) 65m. Young engaged couple may have been mixed up at birth.
Uncle Joe (1941) 51m. Gale Storm visits relatives in country. With Zasu Pitts, Slim Summerville.
The Villain Still Pursued Her (1940) 67m. Buster Keaton, Hugh Herbert, Billy Gilbert in spoof of old-fashioned melodramas.
We're in the Legion Now (1936) 54m. Two American gangsters find themselves in the Foreign Legion and use mob skills to prevail.
Zis Boom Bah (1942) 62m. Grace Hayes, Mary Healy, Peter Lind Hayes.
---
The East Side Kids & Little Tough Guys
Engaging comedy adventures starring former Dead End Kids Leo Gorcey, Huntz Hall, Bobby Jordan, Gabriel Dell, Billy Benedict and Sammy Morrison.
Bowery Blitzkrieg (1941) 63m. Muggs escapes a life of crime to become a Golden Gloves boxing champ.
Boys of the City (1940) 63m. Muggs & gang meet haunted house in the country.
East Side Kids (1940) 61m. Slum kids take on counterfeiters. First in the series, but it does NOT star Huntz Hall, Leo Gorcey and the other kids.
Flying Wild (1941) 64m. Working in aviation factory, the gang suspects a spy.
Ghosts on the Loose (1943) 67m. Kids vs. Nazi spy Bela Lugosi in spooky house. With Ava Gardner.
Junior G-Men (1940) 103m. Feature version of the 12-chapter Universal serial. The gang, led by Billy Halop, joins G-Men to fight foreign saboteurs.
Kid Dynamite (1943) 66m. Muggs and Danny battle throughout.
Let's Get Tough (1942) 63m. Kids expose ring of Japanese spies out to overthrow USA!
Little Tough Guy (1938) 84m. Not a comedy, but a serious drama about boys in trouble. This continuation of the Dead End Kids series features Billy Halop, Huntz Hall, Gabriel Dell and Bernard Punsley. No Leo Gorcey!
'Neath Brooklyn Bridge (1942) 61m. Bobby Jordan framed for murder.
Pride of the Bowery (1941) 60m. Muggs goes into boxing.
Smart Alecks (1942) 66m. Kids steal baseball uniforms.
Spooks Run Wild (1941) 64m. Kids invade spooky mansion haunted by Bela Lugosi in his Dracula cape.
---
Dr. Christian Series
RKO's pleasant drama-comedies star Jean Hersholt as kindly country doctor Dr. Christian, with Dorothy Lovett as his nurse.
Meet Dr. Christian (1939) 68m. Jean Hersholt stars as a small-town doctor who solves difficulties.
Courageous Dr. Christian (1940) 66m. An epidemic breaks out in Shantytown.
Dr. Christian Meets the Women (1940) 59m. Rod LaRoque plays a fake doctor with a diet scam. With Edgar Kennedy.
Remedy for Riches (1940) 66m. Scam artist tries to take the town with phony land deal.
Meoldy for Three (1941) 66m. The doctor helps a single mother with a young violin protege.
They Meet Again (1941) 66m. The doctor aids a bank teller accused of stealing.
---
Lum and Abner
Rural comedies centered around Lum and Abner's "Jot-Em-Down" general store in Pine Ridge, Arkansas. Based on a popular radio show of the 1940s.
Dreaming Out Loud
(1940) 66m. Chester Lauk and Norris Goff as Lum and Abner get involved in the lives of various residents of their small town.
The Bashful Bachelor
(1942) 77m. Abner trades for a race horse while Lum proposes to the wrong woman.
Two Weeks to Live
(1943) 75m. After the boys claim a railroad, Abner is wrongly given two weeks to live, so he volunteers to go to Mars in a rocket.
So This Is Washington
(1943) 63m. Boys invent synthetic rubber to help the war effort.
---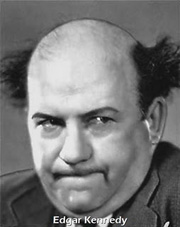 Comedy Shorts
Lotsa Laffs! 105m. Hilarious shorts and cartoons in one giant laff-fest for movie theaters or Internet streaming. "Our Gang Follies of 1938," W.C. Fields in "The Dentist," 3 Stooges "Disorder in the Court" and Abbott and Costello "Who's On First? -- plus cartoons "Arctic Giant" with Superman, Betty Boop in "Is My Palm Read?" and "Popeye Meets Ali Baba" and more! Check out these additional short comedy collections of Lotsa Laffs!
Clark and McCullough Comedy Festival (1930's) Starring: Bobby Clark and Jimmy Finlayson: The Gay Nighties, Snug in the Jug, False Roomers and Jitters the Butler.
Three Stooges Shorts -- four shorts -- Disorder in the Court, Sing a Song of Six Pants, The Brideless Groom, Malice in the Palace -- plus a 1949 pilot TV show and color skits. 110m.
W.C. Fields Festival -- The Great Man in "The Golf Specialist" (1930), "Fatal Glass of Beer" (1933) and "The Dentist" (1932) plus the 1931 all-star comedy "The Stolen Jools."
Leon Errol Festival Leon Errol 2-reel comedies: Twin Husbands (1946), Pretty Dolly (1942), His Pest Friend (1938), The Dummy Owner (1938), Bested by a Beard (1940), Man-I-Cured (1941)
Bing Crosby at Mack Sennett -- Bing Crosby's first starring comedies were made for Mack Sennett: I Surrender Dear (22m/1931), One More Chance (20m/1931), Dream House (19m/1932), Billboard Girl (21m/1932), Blue of the Night (16m/1933), and Sing, Bing, Sing (13m/1933)
Edgar Kennedy Shorts
Some of the funniest shorts that comedian Edgar Kennedy made for RKO where he played an "Average Man."
Apple in His Eye 1941 Edgar makes pies for wife's bazaar.
Baby Daze 1939 Edgar mistakenly believes he is about to become father.
Big Beef 1945 Edgar struggles to put beef on the table during wartime.
Drafted in the Depot 1940 Edgar gets accidentally drafted in the reserve.
Edgar Hamlet 1935 The family argues over Shakespeare
Feather Your Nest 1944 Lost ring leads to conflict with neighbor chicken farmer.
Gasoloons 1936 Family buys and runs a gas station.
Good House Wrecking 1933 Kennedy family becomes interior decorators.
Hold Your Temper 1943 Edgar told he can't lose his temper anymore.
I'll Fix it 1941 Edgar tries a home plumbing job himself.
It's your Move 1945 Edgar tries to sell Florence's washing machine.
Kennedy the Great 1939 Edgar becomes amateur magician.
Mad About Moonshine 1941 Edgar acquires southern plantation.
Motor Maniacs 1946 Old beau Tom Kennedy visits Dot Farley.
Mutiny in the County 1940 Edgar must appear in court on day boys rule on cases.
Never the Twins Shall Meet 1932 Roscoe Ates plays twins who meet after years apart.
Next Door Neighbors 1931 Composer Edgar battles with neighbor for quiet.
The Other Fellow 1937 Educational film on safe driving by Chevrolet.
Poisoned Ivory 1934 Family strife and medicine mix-up on Christmas Eve.
Radio Rampage 1944 Family strife and medicine mix-up on Christmas Eve.
Rough on Rents 1942 Edgar rents his apartment to a party animal.
Slightly at Sea 1940 Edgar buys a boat but has problems getting it into the water.
Sock Me to Sleep 1935 Edgar has problems with boxer Tom Kennedy.
What No Cigarettes 1945 Gags about the smoking shortage during WW-2.
Will Power 1936 Mystical will power is scheme to get brother-in-law a job.
Wrong Direction 1934 Edgar directs a movie, with the family ruining every take.