"Exploitation" Films!
Once-sensational but now campy "public service" films that unveil the sordid worlds of sex, drugs, juvenile delinquency and having babies. All films are available in DVD-R format. Inquire about higher end masters such as BetaSP and DVCam.
Atrocities of the Orient
(1948) A docu-drama recreating the rape and plundering conducted by WWII Japanese troops against the Phillipine people. A curious mixture of documentary and exploitation, with shots of Japanese soldiers ripping shirts off young women.
Blonde in Bondage (1957) Sweden, 87m. American reporter doing a story on Swedish nightlife gets involved with a drug-addicted nightclub singer.
Child Bride (1938) 62m. Schoolteacher in a rural community campaigns to stop the practice of older men marrying young, underage girls. Bonus film: Hold That Woman! (1940) 63m. Standard B-pic crime-comedy.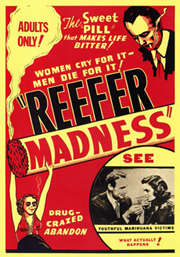 Cocaine Fiends (1935) 68m. Aka. "The Pace That Kills." Drug dealer on the run from the law meets an innocent young girl and her brother, and turns them into "cocaine fiends." Bonus film: Test-Tube Babies (1948) 53m. A happily married couple discover that the husband is sterile. They think about artificial insemination, which at the time was considered a scandalous choice.
Delinquent Daughters (1944) 72m. A town is shocked when a high school girl commits suicide. A reporter and a cop team up to investigate and find out exactly what is going on among the youth of the town.
Flesh Merchant (1956) 60 m. Aka. "The Wild and the Wicked." A girl visiting her sister in Hollywood hopes for a modeling career, but is tricked by pimps into working at a brothel. Bonus film: Confessions of a Vice Baron. (1943) 60 m. On the eve of his execution, a vice-rackets bigshot recalls his various exploits in crimes such as abortion and white slavery, in which he frequently operated under an alias.
Gambling with Souls (1936) 70m. Young girls are cheated in rigged gambling games and then forced into prostitution to pay off their debts.
I Accuse My Parents (1944) 68m. Ignored by his alcoholic parents, Jimmy Wilson starts hanging around with some shady characters. After falling in love with a lounge singer, Jimmy tries to impress her.
Maniac (1934) 51m. Delirious dementia by director Dwain Esper. An ex-vaudeville actor gifted at impersonation assists a mad scientist to reanimate corpses and soon goes mad himself. Bonus film: The Mad Monster (1942) 70m. George Zucco creates werewolf.
Naked Youth (1961) 73m. Three teenage criminals break out of juvenile prison and head south to Mexico.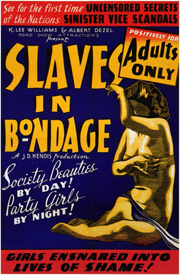 Reefer Madness (1936) 73m. Aka. "Tell Your Children." Cautionary tale features a fictionalized and highly exaggerated take on the use of marijuana. A trio of drug dealers lead innocent teenagers to become addicted to "reefer" cigarettes by holding wild parties with jazz music. Became a campy cult classic in the 1970s.
The Road to Ruin (1934) 62m. A young girl gets involved with a crowd that smokes marijuana, drinks and has sex. She winds up an alcoholic, pregnant drug addict and is forced to get an abortion. Bonus: Teenage JD shorts and trailers.
Sex Madness (1938) 57m. This sex exploitation film includes wild parties, sex out of wedlock, lesbianism, etc. After going to a "casting couch", a chorus girl contracts syphilis. The film then focuses on the effects this lifestyle and disease have on her marriage. Bonus film: Cocaine Fiends (1935) Drug dealer on the run from the law meets an innocent young girl and her brother, and turns them into "cocaine fiends."
She Shoulda Said No (1949) 70m. Aka. "Wild Weed." A chorus girl's career is ruined and her brother is driven to suicide when she starts smoking marijuana.
Slaves in Bondage (1937) 70m. Mary Lou manages to escape abduction by a prostitution ring. She tells the Chief of Detectives they were planning to take her to the Berrywood road house, a well-known den of iniquity.
Too Hot To Handle
(1950 or thereabouts!) Documentary-like filming of an actual burlesque show with bad comics, unattractive chorus girls (6) and striptease speciality acts by Dixie Evans and Jean Carter. Don't know where this came from but the quality is excellent! Bonus Film: A Virgin in Hollywood (1953) 63m. A young female newspaper reporter is assigned by her editor to investigate the seamier side of Hollywood.