Mysterious Mystery
Murder Most Foul! Whodunnit? These films involve crimes of murder and deception whose perpetrators are not readily apparent, so a detective must solve the case! A similar genre is Crime Films, which often lack any mystery. These are included with Film Noir.
All films are available in DVD-R format, some as double features or with the shorts listed on the DVD versions. All films are also available as Mpeg2 video files.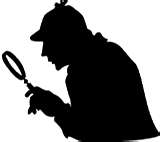 Classic Sleuths
Sherlock Holmes
Sherlock Holmes and the Secret Weapon (1942) 68m. Basil Rathbone and Nigel Bruce. With Ron Howard Holmes TV episode "Case of the Perfect Husband."
Sherlock Holmes in Dressed to Kill (1946) 71m. Basil Rathbone and Nigel Bruce. With TV episode "Case of the Baker Street Nursemaids."
Sherlock Holmes in Terror By Night (1946) 60m. Basil Rathbone and Nigel Bruce. With TV episode "Case of the Violent Suitor."
Sherlock Holmes and the Woman in Green (1945) 68m. Basil Rathbone and Nigel Bruce. With TV episode "Case of the Jolly Hangman."
Murder at the Baskervilles (1937) 67m. Aka. "Silver Blaze." Arthur Wontner as Holmes and Ian Fleming as Dr. Watson.
The Sign of Four (1932) 75m. Arthur Wontner as Sherlock Holmes. With TV episode "Case of the Night Train Riddle."
The Triumph of Sherlock Holmes (1935) 75m. Arthur Wontner as Holmes vs. Professor Moriarty. With TV episode "Case of the Cunningham Heritage."
A Study in Scarlet (1933) 72m. Reginald Owen as Holmes. With TV episode "Case of the Diamond Tooth."
---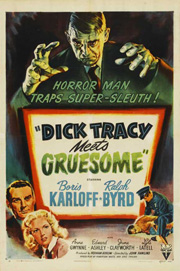 Dick Tracy
Dick Tracy, Detective (1945) 62m. Morgan Conway plays Chester Gould's comic book detective, and chases Splitface played by Mike Mazurki. With an episode of the 1950 Dick Tracy TV show.
Dick Tracy Vs. Cueball (1946) 62m. Morgan Conway again as Tracy, with Anne Jeffries. With 2 episodes of the 1950 Dick Tracy TV show.
Dick Tracy's Dilemma (1947) 60m. Ralph Byrd, Dick Tracy from the serials, stars in a feature film. With twomore episodes of Dick Tracy TV.
Dick Tracy Meets Gruesome (1947) 65m. Ralph Byrd pursues master criminal Gruesome, played by Boris Karloff! With "Joker" episode of Dick Tracy TV.
---
Mr. Wong
Mr. Wong, Detective (1938) 69m. Boris Karloff stars in the first of six films he made as the oriental sleuth.
Mystery of Mr. Wong (1939) 67m. Boris Karloff and assistant Grant Withers pursue a rare gem and murder.
Mr. Wong in Chinatown (1939) 71m. Boris Karloff. Wong investigates murder of Chinese princess by a poisoned dart.
The Fatal Hour (1940) 66m. Boris Karloff. Wong helps solve murder of police officer in San Francisco.
Doomed to Die (1940) 66m. Bonds missing. Shipping tycoon murdered! Karloff on the case.
The Phantom of Chinatown (1941) 61m. Keye Luke in his only film as Mr. Wong. Scroll, killer, oil! With second film on the DVD: British Intelligence (1940) 62m. Boris Karloff is a butler/spy for a British cabinet minister during World War-I who tangles with double agent Margaret Lindsay.
---
Bulldog Drummond
Hugh "Bulldog" Drummond is a British adventurer who solves crimes for the police and battles super fiends, all while trying to get married.
Bulldog Drummond at Bay (1937) 75m. John Lodge plays Drummond up against foreign agents trying to steal plans for a top-secret aircraft.
The Return of Bulldog Drummond (1934) 67m. Ralph Richardson plays Drummond straight, with Claude Allister as Algy. With TV pilot from 1957: "The Ludlow Affair" starring Robert Beatty as Drummond.
Bulldog Drummond Comes Back (1937) 59m. John Howard as Drummond rescues his fiance from crooks. With John Barrymore. Second film: Bulldog Drummond Escapes (1937) 67m. Ray Milland as BD infiltrates prison to protect lovely heiress from spies.
Bulldog Drummond's Secret Police (1939) 55m. John Howard. Ancient treasure in Drummond's home! With second film: Bulldog Drummond in Africa (1938) 58m. John Howard into the jungle to save the Inspector!
Bulldog Drummond's Revenge (1937) 55m. John Howard as Drummond tracks down theft of powerful new explosives. With John Barrymore. Second film: Bulldog Drummond's Peril (1938) 66 min. John Howard and John Barrymore. A synthetic diamond formula and murder interrupt Drummond from wedding.
Bulldog Drummond's Bride (1939) 57m. John Howard and Heather Angel. A bank-robbery in London prevents - again - the marriage of Bulldog Drummond with his girlfriend. Second film: Baby Face Morgan (1942) 60m. (Not a Drummond film!) Crime comedy about Richard Cromwell mistaken for gangster. With Mary Carlisle.
---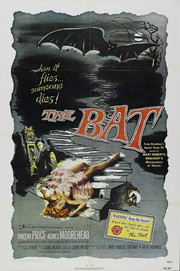 Mystery and Murder
And Then There Were None (1945) 98m. Agatha Christie mystery. Ten people die one by one on a lonely island.
The Bat (1926) 88m. Original silent version of classic mystery with spooky house, treasure, murder....
The Bat (1959) 80m. Hooded murderer seeks treasure. With Vincent Price, Agnes Moorhead.
Behind Green Lights (1946) 61m. Carole Landis and William Gargan. Body dropped at police station implicates the mayor's daughter.
Cat O' Nine Tails (1971, Itlay) Color, 112m. Violent murders investigated by blind Karl Malden and reporter James Franciscus. Directed by Dario Argento.
City of Missing Girls (1941) 73m. Phony art school gets girls gigs at a night spot where they are subsequently murdered, and it's up to a female reporter to help the D.A. find the killer.
The Crooked Circle (1941) 61m. Criminal masterminds vs. The Sphinx Club of good guys. With: Bridge of Sighs (1936) 64m. Girl tries to clear brother in prison for murder.
Dark Hour (1936) 64m. Two detectives sort through the suspects to solve a mystery of murder and arson.
Death from a Distance (1936) 68m. A detective and a reporter travel to a mountaintop observatory to solve the murder of an astronomer.
The Death Kiss (1933) 71m. A sinister murderer does away with his victims on the set of a Hollywood spectacular while the film is being shot. With Bela Lugosi.
Dementia 13 (1963) 75m. Crazed axe murderer rampant on island.
The Devil's Party (1938) 66m. Victor McLaglen. Four grown friends invovled in mightclub murder. With: Who Killed Doc Robbin? (1948) Color, 55m. Kid sleuths in creepy mansion with George Zucco and a gorilla.
Ellis Island (1936) 63m. A million dollars disappear in heist. Ten years pass. With: Hollywood Stadium Mystery (1938) 61m. A boxer is killed in the ring.
Eyes in the Night (1942) 80m. Blind detective Edward Arnold aids Donna Reed to clear Ann Harding.
Flight to Nowhere (1946) 64m. Alan Curtis, Evelyn Ankers. A couple on board a plane find themselves mixed up in a plot to steal atomic secrets.
Fog Island (1945) 70m. Released from prison, framed felon George Zucco seeks revenge.
The Ghost Walks (1934) 69m. June Collyer. Guests in country house during storm start dying.
Green Eyes (1934) 68m. Costume party in mansion turns to murder when the host is stabbed to death. With Charles Starrett.
Haunted House (1940) 68m. Office boy and niece of the editor turn amateur detectives in order to help a friend who is accused of murder. With: Irish Luck (1939) 58m. Frankie Darro is a bellhop in a hotel where a guest is murdered. He teams up with Mantan Moreland to solve it.
The Hooded Terror (1938) 70m. British detective Sexton Blake pursues master criminal played by Tod Slaughter.
House of Danger (1934) 63m. Onslow Stevens, Janey Chandler. Man investigates mysterious death while falling in love with friend's fiancee.
House of Mystery (1934) 62m. Curse of Kali and a gorilla invade old mansion. With Ed Lowry. With: Drums of Jeopardy (1931) 63m. Warner Oland sets out to avenge daughter's death.
House of Secrets (1936) 63m. Man inherits mansion and troubles begin. With: The Ghost and the Guest (1943) 55m. Comedy-mystery. Newlyweds beset by mysterious guests.
Jigsaw (1949) 70m. D.A. Franchot Tone pursues murderer of his journalist friend.
The Kennel Murder Case (1933) 73m. William Powell as detective Philo Vance solves locked room murder.
King Murder Case (1932) 64m. A ruthless young woman becomes involved with blackmail, then murder.
The Lady in Scarlet (1935) 65m. When a wealthy art dealer is murdered, the private investigator hired for the case discovers a web of blackmail, corruption and stolen bonds.
Lady of Burlesque (1943) 91m. Stripper Barbara Stanwyck traps killer in burlesque house.
The Lady Confesses (1949) 70m. Fiancee investigates mysterious death of her intended's first wife.
Midnight Manhunt (1945) 63m. Competing reporters investigate murder in wax museum. Ann Savage. With: The Moon Stone (1934) 62m. Fabulous gem stolen in mansion.
Midnight Warning (1932) 63m. Disappearance in a hotel calls in investigator William "Stage" Boyd. With Passenger to Bali (1950) 60m. Eerie episode of Westinghouse Studio One TV.
The Monster Walks (1932) 60m. Strange doings in old mansion during a storm. With Rex Lease, Vera Reynolds. With Life Returns (1935) 63m. Onslow Stevens is doctor who conquers death.
Mr. Moto's Last Warning (1939) 71m. Moto thwarts a ruthless band of international agents who try to mine the entrance to the Suez Canal and blame the British.
Murder at Dawn (1932) 52m. Weird science and murder at a reclusive hideaway. With second film: Midnight Limited (1940) 61m. Phantom criminal works the night train from New York to Montreal.
Murder at Glen Athol (1936) 68m. Irene Ware and John Miljan investigate murder at a fancy party.
Murder at Midnight (1931) 64m. Party in old mansion goes awry when gun in a game contains real bullets. With: Invisible Avenger (1958) 58m. TV pilot for a Shadow series, starring Richard Derr.
Murder by Invitation (1941) 61m. Matriarch gathers relatives, who start dropping dead. Wallace Ford. Second film: The Devil Diamond (1937) 61m. Frankie Darro, Kane Richmond. Thugs try to steal the cursed title gem from a jeweler who has been hired to cut it up.
Murder in the Museum (1934) 65m. Councilman investigating sideshow is murdered.
Murder in Soho (1940) 70m. Jack LaRue. Murder at Cotton Club. Scotland Yard steps in.
Murder with Pictures (1936) 69m. Lew Ayres newsman helps Gail Patrick clear her father.
Mystery Liner (1934) 62m. Mystery, intrigue and murder on an ocean liner. Bonus: Rare TV commercials from 1950s!
Murder on the Campus (1933) 73m. Campus reporter Charles Starrett looks into murder in tower. With Shirley Grey.
One Body Too Many (1944) 75m. An insurance investigator arrives at a creepy mansion to protect a millionaire who has had death threats made against him.
One Frightened Night (1935) 66m. Mary Carlisle, Regis Toomey, Charley Grapewin in a spooky house.
Officer 13 (1932) 62m. A motorcycle policeman's partner is deliberately run off the road and killed by a member of a syndicate. With: Seven Doors to Death (1944) 64m. A shot rings out; a woman screams and flees, tricking architect Jimmy McMillan into giving her a ride.
The Panther's Claws (1942) 70m. "The Panther Claw" strikes terror in the hearts of his victims in this classic who-done-it.
The Phantom (1931) 62m. Escaped convict terrorizes community. Guinn Williams, Allene Ray. With: Invisible Killer (1941) 60m. Female reporter Grace Bradley teams up with police detective to solve murders.
Phantom of 42nd St. (1945) 58m. A theatre critic (Dave O'Brien) teams up with a cop (Jack Mulhall) to investigate the murder of a Broadway actor. With: Yellowstone (1936) 63m. An ex-con is murdered in Yellowstone National Park while a bank robber's son is searching for the loot his father hid there 20 years before.
Pilot X: Death in the Air (1936) 69m. Aircraft are being shot down by a black plane with a big "X" painted on the wing. The chief suspects are invited for the weekend to an old dark mansion.
The Rogue's Tavern (1936) 70m. Wallace Ford, Barbara Pepper. A mad killer is on the loose in a hotel on a dark, gloomy night.
A Scream in the Night (1935) 58m. Lon Chaney Jr. plays a detective (posing as a deformed maniac) on the trail of a famous jewel thief. With: Law of the Sea (1931) 64m. A sadistic, evil ship captain lusts after a young girl, whose boyfriend's father he had cast adrift years before.
The Shadow: International Crime (1937) 64m. Rod LaRocque as mysterious crime fighter The Shadow. Includes The Shadow: TV Pilot: Case of the Cotton Kimono (1954) starring Tom Helmore.
The Shadow Strikes (1937) 61m. Rod LaRocque as the Shadow fights crime. With: The Moon Stone (1934) 62m. Fabulous gem stolen in mansion.
Shadow on the Stairs (1941) 63m. Turhan Bey in suspenseful tale of murder with many suspects. With Night Life in Reno (1931) 58m. Divorce in Reno meets murder.
A Shot in the Dark (1935) 70 m. Charles Starrett investigates his roommate's murder on college campus.
Shriek in the Night (1933) 66m. Ginger Rogers and Lyle Talbot and murder.
Slightly Honorable (1940) 83m. Pat O'Brien and Broderick Crawford involved in strange murders with corrupt politician Edward Arnold
The Sphinx (1933) 63m. Lionel Atwill -- murderer or mute? Someone done it! With: Seven Doors to Death (1944) 61m. Chick Chandler and June Clyde thrown into weird murder investigation.
Strangler of Blackmoor Castle (1963, Germany) 87m. Hooded killer invades Blackmoor estate seeking diamonds.
Sunset Murder Case (1938) 61m. Girl spies on night club to find father's murderer. With: Murder on the High Seas (1932) 60m. Blackmail and complications on a cruise voyage.
Svengali (1931) 81m. John Barrymore becomes obsessed with making young Marian Marsh a singing star. His secret weapon is a hypnotic spell.
The Terror (1939) 70m. Edgar Wallace mystery. Arch criminal leads rivals to spooky mansion.
The Thirteenth Guest (1932) 69m. Ginger Rogers, Lyle Talbott involved in murder mystery.
Tomorrow at Seven (1933) 62m. Psychotic mystery killer warns victims. Mansion meeting. Chester Morris. With: Midnight Phantom (1935) 59m. Police chief murdered. Reginald Denny and Claudia Dell seek phantom.