Film Noir / Crime Films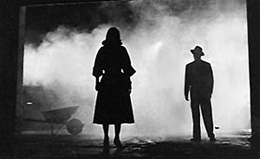 Film noir is a cinematic term to describe stylish and dark Hollywood crime dramas, particularly those that emphasize cynical attitudes and sexual motivations. Film noir from the early 1940s to the late 1950s is associated with a low-key black-and-white visual style that has roots in German Expressionism.
All films are available in DVD-R and MPEG2 digital formats.
To promote your shows, you can use posters at 13 Big Crimes and Film Noir Posters.
---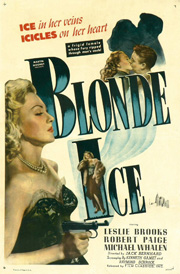 Behind the Green Lights (1935) 62m. Loose story of NY Police captain Cornelius W. "The Gang Buster" Willemse. Mary Kennedy, the daughter of police lieutenant Jim Kennedy, works for an unethical criminal attorney and is corrupted by the association.
The Big Combo (1955) 84m. Police Lt. Cornel Wilde vs. mob boss Richard Conte.
Big Town After Dark (1947) 70m. Crime reporter Hillary Brooke opposes local crime boss.
Blonde Ice (1948) 75m. Leslie Brooks marries wealthy men who die mysteriously.
Bluebeard (1944) 71m. Crazed puppeteer John Carradine murders women in medieval Paris. Directed by the legendary Edgar G. Ulmer.
Borderline (1950) 88m. Fred MacMurray and Claire Trevor are caught in Mexican dope-smuggling ring, fearing each other is involved, but both undercover agents.
Boss of Big Town (1942) 64m. John Litel, Florence Rice. A criminal plot to control produce and dairy products during the wartime emergency is foiled by an courageous undercover city market official.
The Capture (1950) 98m. Lew Ayres is an oil man who guns down a thief who may have been innocent.
Convict's Code (1939) 62m. Robert Kent, Anne Nagel. A man is framed and sent to prison for a crime he didn't commit. When he is let out on limited parole, he sets out to clear his name and find the real criminals.
Convicts at Large (1938) 58m. Ralph Forbes. An innocent man is bamboozled into trading places with a dangerous escaped convict.
Dark Mountain (1936) 57m. Ellen Drew unwittingly marries a mobster but must flee back to first boyfriend when hubbie commits a murder.
Detour (1945) 68m. Classic Edgar G. Ulmer B-pic. Innocent Tom Neal hitchhikes across country and is sucked into murder and blackmail.
D.O.A. (1950) 85m. "Dead On Arrival." Dying from a slow poison, Edmond O'Brien has 24 hours to track down his own killer! Directed by Rudolph Maté.
Door-To-Door Maniac (1961) 75m. Johnny Cash terrorizes family to extort money. Aka. "5 Minutes to Live."
Double Cross (1941) 63m. Gangland's glamorous gun moll...trapped by the man she loves...as the Motorcycle Squad closes in.
Escape by Night (1937) 56m. Runyonesque crooks on the lam hide out on blind man's pastoral farm and decide to go straight.
Fear in the Night (1947) 71m. Bank teller DeForest Kelly bothered by dreams of murder.
Gambler's Choice (1944) 66m. Bad gambler, Chester Morris, vs. childhood pal but now a cop, Russell Hayden.
Gang Busters (1952) 76m. 3 episodes of the Gang Busters TV series released as a feature film about vicious criminal Gabriel Heater.
Girl in Lover's Lane (1960) 77m. Two drifters contend with love and murder in a small town.
The Great Flamarion (1945) 78m. Vaudeville star Erich von Stroheim entangled with married assistant.
The Green Glove (1952) 89m. Glenn Ford seeks religious artifact in post-WW2 France.
Guilty of Treason (1949) 87m. Correspondent Paul Kelly in Hungary where commies persecute a liberal Cardinal.
He Walked By Night (1948) 79m. Genius/psycho killer Richard Basehart is hunted by the police. Told in semi-documentary style, this film inspired Jack Webb's "Dragnet."
The Hitch-Hiker (1953) 71m. Edmond O'Brien and Frank Lovejoy out for a hunting trip are taken over by a murderous fugitive. Directed by Ida Lupino.
Hold That Woman (1940) 65m. Man repossesses a small radio from a deadbeat who's skipped payments, but a gang that has stolen diamonds from a Hollywood movie star has stashed them inside the radio.
The Hoodlum (1951) 62m. Lawrence Tierney is career criminal who gets out of prison and gets back at it.
Impact (1949) 111m. Brian Donlevy's cheating wife plots to do him in.
Inner Sanctum (1948) 62m. Killer trapped in small town when flood washes out bridges.
Johnny One-Eye (1950) 77m. Pat O'Brien is a gangster who isn't quite the tough guy everybody thinks he is.
Kansas City Confidential (1959) 100m. Ex-con John Payne implicated in a bank heist.
Lady Gangster (1942) 62m. Faye Emerson, Julie Bishop, Jackie Gleason. The title tells it all.
Lady in the Death House (1944) 56m. Story of woman on death row told by letter she wrote on day of her scheduled execution.
The Limping Man (1953) 76m. Lloyd Bridges is innocent G.I. involved in murder case in London.
Ma Barker's Killer Brood (1960) 90m. Lurene Tuttle, Tristram Coffin. Ma Barker and sons terrorize South with crime in 1930s.
The Naked Kiss (1964) 91m. Constance Towers is a prostitute trying to start new in a small town. Directed by Sam Fuller.
Open Secret (1948) 68m. John Ireland stumbles on a Jewish hate group.
Parole Inc. (1949) 72m. Federal agent goes undercover. Michael O'Shea, Evelyn Ankers.
Please Murder Me (1956) 75m. Angela Lansbury, Raymond Burr in homicide yarn.
Port of New York (1949) 81m. Two narcotics agents go after a gang of murderous drug dealers who use ships docking at the New York harbor to smuggle in their contraband.
Quicksand (1950) 79m. Mickey Rooney steals $20 and sinks into robbery and blackmail.
The Red House (1947) 101m. Old house deep in the woods holds fearful secret for E.G. Robinson.
Roar of the Press (1941) 71m. While on their honeymoon, a reporter and his new bride stumble upon a ring of fifth columnists.
Scarlet Street (1945) 102m. Henpecked Edward G. Robinson is pulled into world of crime and deception by seductive Joan Bennett and her boyfriend Dan Duryea.
The Second Woman (1951) 91m. Brooding drama of architect Robert Young who feels responsible for girlfriend's accidental death.
Shock (1946) 70m. Vincent Price, Lynn Bari. A psychologically distraught woman is committed to a private sanitarium by the man she witnessed commit a murder.
Shoot to Kill (1947) 64m. Gangster framed by crooked DA. Wife and newspaper reporter team up.
Strange illusion (1945) 86m. B-movie update of "Hamlet" has troubled teen Jimmy Lydon doubting smooth-talker Warren Williams who is wooing his mother.
Strange Love of Martha Ivers (1946) 116m. Gripping melodrama with Barbara Stanwyck bound to her husband by a crime she committed long ago. Kirk Douglas' film debut!
The Stranger (1946) 95m. Orson Welles is an escaped Nazi war criminal hiding in small town and about to marry Loretta Young until E.G. Robinson tracks him down. Directed by Welles.
Suddenly (1954) 73m. Frank Sinatra leads a trio of assasins to shoot the President when he visits town.
They Made me a Criminal (1939) 92m. Boxer John Garfield flees believing he has comitted a murder while he was drunk. Pursued by Claude Rains, he meets up with the Dead End Kids.
They Made Me a Killer (1946) 65m. Young girl tries to prove man innocent of robbery and murder.
Three Steps North (1951) 81m. After a prison sentence an American GI stationed in Italy (Lloyd Bridges) discovers that his hidden loot has disappeared and goes searching for it.
Too Late for Tears (1949) 94m. Atmospheric thriller about a bag of cash dropped into car of bad-girl Elizabeth Scott and husband Arthur Kennedy. With Dan Duryea, Don DeFore.
Trapped (1949) 85m. FBI enlists con Lloyd Bridges to help trail counterfeiters.
Two Dollar Bettor (1951) 72m. An honest bank employee gets hooked on horse racing, and starts to embezzle bank funds in an attempt to recoup his losses.
Whistle Stop (1946) 82m. Gangster George Raft romances Ava Gardner in a small town.
The Wrong Road (1936) 53m. Spoiled young lovers rob bank and hide the loot. Lionell Atwill tries to find it. With Richard Cromwell and Helen Mack.
X Marks the Spot (1942) 53m. Private Eye seeks to uncover events that led to his father's death.