Classic Drama, Romance, and Literature
Many other films with dramatic and romantic overtones are found in Adventure, Musicals, War and every genre. All films are available in DVD-R and MPEG2 digital file formats.
---
Dramatic A-Films!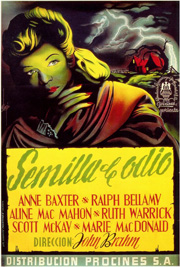 Abraham Lincoln (1930) 90m. Walter Huston is Lincoln in D.W. Griffith's last film.
Angel on My Shoulder (1946) 102m. Murdered convict Paul Muni is sent back to earth by Satan as a respected judge, then attempts to outwit him. With Anne Baxter, Claude Raines.
The Animal Kingdom (1932) 85m. Leslie Howard, Myrna Loy and marital discord.
The Big Lift (1950) 120m. Montgomery Clift in historic treatment of the Berlin air lift, filmed on location in bombed out Berlin.
The Bigamist (1953) 79m. Joan Fontaine, Ida Lupino, Edmund O'Brien marriage triangle!
The Black Book aka "Reign of Terror" (1949) 87m. Robert Cummings, Richard Basehart. Robespierrre, a powerful figure in the French revolution, is desperately looking for his black book, a death list of those marked for the guillotine.
Blood on the Sun (1945) 94m. James Cagney works in Japan in the 1930s, but is virtually helpless to stop the trouble he smells coming.
Carnival Story (1954) Color, 94m. High-diver Lyle Bettger takes young Anne Baxter on to teach her the ropes, but a romantic triangle develops.
Cause for Alarm (1951) 72m. Loretta Young. Invalid husband claims wife trying to kill him, then dies.
The Chase (1946) 84m. Robert Cummings, Michele Morgan. Chuck Scott gets a job as chauffeur to tough guy Eddie Roman; but Chuck's involvement with Eddie's fearful wife becomes a nightmare.
Cheers for Miss Bishop (1941) 94m. Martha Scott, William Gargan. Dedicated school teacher is distressed when her fiance leaves her for another woman, and then ends up caring for their child.
Dishonored Lady (1947) 85m. Hedy Lamar. Madeleine Damien is the fashion editor of a slick Manhattan magazine by day and a lively party girl by night. Unfortunately, the pressures of her job, including kowtowing to a hefty advertiser, and her bad luck with men are driving her to a breakdown.
Dr. Kildare's Strange Case (1940) 77m. Lew Ayres stars as Dr. Kildare, who tries to cure mental patient.
The Great Dan Patch (1949) 94m. Dennis O'Keefe and Gail Russell in true story of the famous harness-race horse.
The Great Gabbo (1929) 96m. Erich von Stroheim is a crazed puppeteer during Broadway musical with bizarro numbers.
Great Guy (1936) 73m. James Cagney is an inspector crusading against corruption in the meat packaging industry. With Mae Clark.
Great St. Louis Bank Robbery (1959) 89m. Steve McQueen. A gang's plans for a St. Louis bank robbery are complicated when the sister of one of the thieves starts voicing her well-founded suspicions.
Guest in the House (1944) 97m. Anne Baxter, Ralph Bellamy in gripping melodrama about neurotic young woman in household of her betrothed.
Home Town Story (1951) 62m. Donald Crisp, Jeffrey Lynn, Marilyn Monroe (in a small, early role). A journalist takes on big business.
I Cover the Waterfront (1933) 73m. Waterfront reporter Ben Lyon romances Claudette Colbert to trap her father, Ernest Torrence, who has been smuggling Chinese immigrants.
Jack London (1943) 91m. Biography of the author, with Susan Hayward.
Letter of Introduction (1938) 104m. Adolphe Menjou. An aging actor, trying to make a comeback on Broadway, is surprised when his estranged daughter shows up.
Man With the Golden Arm (1955) 119m. Frank Sinatra, Kim Novak. Junkie deals with demoralizing drug addiction.
Meet John Doe (1941) 123m. Gary Cooper, Barbara Stanwyck in Frank Capre classic. A man needing money agrees to impersonate a nonexistent person who said he'd be committing suicide as a protest, and a political movement begins.
Mr. Imperium (1951) 87m. Lana Turner, Ezio Pinza. A beautiful singer/dancer turned actress and playboy crown prince turned monarch have their clandestine romance interfered with by their changing circumstances.
Our Daily Bread (1934) 65m. Landmark experiment by director King Vidor. Displaced people band together in a communal farming project during the Great Depression.
Painted Hills (1951) Color, 69m. Paul Kelly in an adventure with the collie Lassie.
Patterns (1956) 83m. Van Heflin. Ethics and ambition at odds in NYC corporation board.
The Penalty (1920) 90m. Lon Chaney Sr. is deformed criminal mastermind who plans to loot San Francisco as well as revenge himself on the doctor who mistakenly amputated his legs.
Rain (1932) 94m. Joan Crawford, Walter Huston. Prostitute finds redemption in Pago Pago.
Salome Where She Danced (1945) Color, 90m. Yvonne De Carlo leg to stardom. During the Austrian-Prussian war, Anna Marie (De Carlo) is a dancer who is forced to flee her country after she is accused of being a spy.
Secret of Dr. Kildare (1939) 85m. Lew Ayres, Lionel Barrymore. Dr. Gillespie's cancer has gotten worse, and to force him to take a rest instead of pursuing a sulfa-drug/pneumonia study, Kildare refuses to assist Gillespie, and instead accepts a case of hysterical blindness.
Smash-Up -- Story of a Woman (1947) 104m. Susan Hayward (Oscar nomination) is excellent as an insecure night club singer who weds a radio star, then sinks into alcoholism.
The Southerner (1945) 92m. Superb drama by the great director Jean Renoir about a farm family struggling to survive against overwhelming odds. With Zachary Scott, Betty Field.
The Stars Look Down (1939, British) 101m. Carol Reed classic about Welsh coal miners.
Svengali (1931) 82m. John Barrymore controls voice of singing girl through hypnosis.
They Made Me a Criminal (1939) 92m. John Garfield thinks he has killed someone and lams out West with the Dead End Kids, pursued by Claude Rains. Directed by Busby Berkeley.
Tulsa (1949) Color, 88m. Cattlewoman Susan Hayward enters the wildcat oil business to avenge the death of her father, but loses her values along the way.
Woman on the Run (1950) 77m. Ann Sheridan, Dennis O'Keefe. Eyewitness to murder pursued around San Francisco.
Woman to Woman (1929) 78m. Betty Compson. Officer weds French ballerina, then gets amnesia.
---
Romance!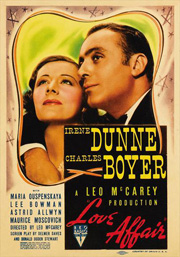 Affair in Monte Carlo (1952) 64m. Merle Oberon, Richard Todd. A writer tells a crowd in a café about a woman he knows, who once feel deeply in love with a desperate, compulsive gambler.
Algiers (1938) 99m. Hedy Lamarr and Charles Boyer have torrid romance in the Casbah.
Indiscretion of an American Wife (1953) 65m. American Jennifer Jones meets her Italian lover, Montgomery Clift, one last time in Rome's railway station. Directed by Vittorio De Sica.
The Last Time I saw Paris (1954) Color, 116m. Elizabeth Taylor and Van Johnson play two struggling lovers in the reckless gaiety of post-World War-II Paris.
Love Affair (1939) 88m. Irene Dunne and Charles Boyer meet on shipboard. Plans to continue the romance meet tragedy.
Made for Each Other (1939) 91m. Jimmy Stewart and Carole Lombard are a young married couple struggling with jobs, illness and lack of money.
Of Human Bondage (1934) 83m. The darker side of obsessive love finds Leslie Howard inexplicably pursuing an affair with vulgar waitress Bette Davis.
Penny Serenade (1941) 120 min. Classic tearjerker directed by George Stevens. Cary Grant and Irene Dunne, meet, love, marry and then drift apart when their unborn baby dies.
A Star is Born (1937) Color, 111 min. Star-struck Janet Gaynor gets a break in Hollywood thanks to movie star Fredric March. They fall in love and marry, but her star rises as his falls.
Swing High, Swing Low (1937) 83m. Carole Lombard and Fred MacMurray fall in and out of love.
---
Adapted from Literature!
Becky Sharp (1935) Color, 84m. Miriam Hopkins. Set against the background of the Battle of Waterloo, Becky Sharp is the story of Vanity Fair by Thackeray.
Cyrano de Bergerac (1950) 116m. Oscar-winning performance by Jose Ferrer as the tragic 17th century lover renowned for his nose but longing for love of a beautiful lady.
A Farewell to Arms (1932) 79m. Gary Cooper, Helen Hayes in Hemingway WW-I classic.
Little Lord Fauntleroy (1936) 102m. Young New Yorker Freddie Bartholomew suddenly finds himself a British Lord in this charming film from the classic story.
Little Men (1940) 84m. The Louisa May Alcott novel brilliantly brought to the screen with Kay Francis, Jack Oakie and Jimmy Lydon.
The Little Princess (1939) Color, 93m. Shirley Temple is orphan when her father goes to war during Victorian era.
Oliver Twist (1933) 72m. Dickie Moore is Oliver to Irving Pichel's Fagin in Dickens' classic.
Our Town (1940) 90m. Thornton Wilder's play brought to life starring William Holden, Martha Scott.
Rain (1932) 90m. Somerset Maugham's tawdry South Seas tale. Joan Crawford is trollop Sadie Thompson and the target of preacher Walter Huston's reform.
The Scarlet Letter (1934) 70m. Colleen Moore stars in Nathaniel Hawthorne classic.
Scrooge (1935) 78m. Faithful adaptation of Dickens' "A Christmas Carol" with Sir Seymour Hicks an impressive Scrooge. Bonus Christmas cartoons.
The Snows of Kilimanjaro (1952) Color, 114m. Hemingway adventure with Gregory Peck, Susan Hayward.
Street Scene (1931) 79m. Sylvia Sidney in play by Elmer Rice. Twenty-four hours elapse on the stoop of a Hell's Kitchen tenement as a microcosm of the American melting pot interacts with each other during a summer heatwave.
The Time of Your Life (1948) 101m. James Cagney, William Bendix, Broderick Crawford in Pulitzer-Prize winning play by William Saroyan.
Tom Brown's Schooldays (1940) 81m. Thomas Hughe's novel brought to life with Freddie Bartholomew in the title role. Life in a Victorian boy's school.
Winterset (1936) 78m. Burgess Meredith, John Carradine, Eduardo Cianelli in adaptation of Broadway play by Maxwell Anderson.
---
Tons More! Dramatic B-Pix!
Abe Lincoln of Ninth Avenue (1939) 69m. Aka. Streets of New York. Jackie Cooper is hard working newsboy in New York who studies to be a lawyer on the side.
Adventures of Chico (1938) 53m. Non-professional Mexican actors. A Mexican boy without young neighbors to play with, befriends a diverse group of desert animals.
Alimony Madness (1933) 66m. Helen Chandler, Leon Ames. A man's wife is put on trial for the murder of his first wife.
Basketball Fix (1951) 66m. John Ireland, Marshall Thompson. College basketball star shaves points for crime guys.
Behind Office Doors (1931) 83m. Mary Astor, Robert Ames, Ricardo Cortez. Secretary taken for granted until rival wants her.
The Big Chance (1933) 61m. John Darrow, Merna Kennedy. Young prizefighter wins fixed match. Gangsters move in.
Big News (1929) 67m. Robert Armstrong, Carole Lombard. Reporter with drinking problem goes after head of narcotics web.
Born to Fight (1938) 68m. Frankie Darro, Kane Richmond, Jack La Rue. Honest boxer fights with gambler and thinks he kills him.
Born to Gamble (1935) 63m. Onslow Stevens, H.B. Warner. A wealthy man relates how gambling had tragic consequences for his family.
Boys' Reformatory (1939) 60m. Frankie Darro, Grant Withers, Junior Coghlan.
British Intelligence (1940) 61m. Boris Karloff, Margaret Lindsay. Although the home of cabinet minister Arthur Bennett is a hotbed of spies, moles, and double agents, no one knows the true identity of notorious German spymaster Strendler.
By Appointment Only (1933) 57m. Wilson Benge , Lew Cody, Gladys Blake. Doctor's ward grows up and romance entangles.
Cheating Blondes (1933) 50m. Thelma Todd framed for murder but takes identity of twin.
City Without Men (1943) 75m. Linda Darnell, Edgar Buchanan. Stories of female residents in boarding house near prison.
Daughter of the Tong (1939) 54m. Evelyn Brent. A detective matches wits with the female leader of an Oriental crime ring.
Devil Diamond (1937) 61m. Frankie Darro, Kane Richmond. A group of thugs tries to steal the cursed title gem from a jeweler who has been hired to cut it into small, saleable pieces.
Exile Express (1939) 70m. Anna Sten, Alan Marshal. Spies will not stop at murder in their attempts to wrest a secret formula for a deadly poison away from American scientists.
Flirtation (1934) 55m. Jeanette Loft, Ben Alexander. A precode romantic melodrama about a burlesque dancer and a country boy who must pretend to be married.
Headline Crasher (1937) 56m. Frankie Darro, Kane Richmond, Muriel Evans. Darro is the care-free son of Senator Tallant, who feels compelled to help people he thinks are in distress and so stays in trouble of some kind.
Heart Punch (1943) 66m. Lloyd Hughes, Marion Shilling. Boxer kills man in ring, then falls in love with sister.
Heartbeat (1946) 101m. Pickpocket Ginger Rogers in Paris falls for Jean-Pierre Aumont.
Hearts in Bondage (1936) 73m. Civil War story leading to the batle between the Monitor and the Merrimac.
Hell's House (1932) 72m. Bette Davis, Pat O'Brien, Junior Coghlan. Jimmy idolizes bootlegger Matt, and when he refuses to implicate his friend, he is sent to reform school.
High School Caesar (1960) 71m. Matt Stevens is the big man at high school. He sweats the students for protection money, acquires copies of tests for a fee, and has rigged the votes so he can beat Kelly in the election ...
High Voltage (1929) 64m. William Boyd, Carole Lombard. A busload of passengers gets stranded in a snowstorm and take refuge in an abandoned church, where they run into a mysterious man who may be on the run from the law.
Hoosier Schoolboy (1937) 62m. Mickey Rooney, Anne Nagel. A schoolteacher comes to a new town and finds herself caught up in the town's problems and disputes.
Identity Unknown (1945) 71m. Richard Arlen, Cheryl Walker. A soldier survives a bombing in which his three fellow soldiers were killed. When he recovers he discovers he has amnesia.
I Live On Danger (1942) 73m. Chester Morris, Jean Parker. Eddie Nelson is wrongly accused of murder, and journalist Jeff Morrell and Nelson's sister, Susan Richards, fight to prove his innocence.
Kept Husbands (1931) 76m. Joel McCrea, Dorothy Mackaill. Steelworker marries into society and gets spoiled wife.
Kid Monk Baroni (1952) 80m. Leonard Nimoy is "Kid" Monk Baroni, the leader of a street gang who becomes a professional boxer to escape his life in "Little Italy" New York.
King of the Circus (This Woman is Mine) (1935) 69m. Gregory Ratoff. Circus lion tamer enamored of girl ward grown up.
Lady in the Death House (1944) 56m. A young woman is on death row for the murder of a man who was blackmailing her family, although she claims she was framed. Friends work to clear her.
Lady Refuses (1931) 72m. Betty Compson. Father hires a woman to lure his son away from a gold digger.
Law of the Sea (1931) 60m. William Farnum. A sadistic, evil ship captain lusts after a beautiful young girl he spots in town. It turns out that she's the girlfriend of a young man whose father the captain had blinded and cast adrift on the ocean many years before.
Life Returns (1935) 60m. Onslow Stevens. Doctor experiments to revive a dead dog.
Lost, Lonely and Vicious (1958) 74m. Ken Clayton. Rising male movie star preoccupied with death.
Millie (1931) 85m. Helen Twelvetrees. Millie's life begins to crumble when she finds out her husband is having an affair.
Million Dollar Weekend (1948) 73m. Gene Raymond, Francis Lederer. Young stockbroker, embezzles a million dollars worth of cash and stock, planning to flee to Shanghai, but en route he meets girl who is fleeing Los Angeles after the suspicious death of her husband.
Missouri Nightingale (1934) 63m. Aka. St. Louis Woman. Jeanette Loft, Johnny MacBrown. A college football player gets expelled after he gets into fight over beautiful singer St. Louis Lou.
My Dog Shep (1946) 69m. Tom Neal, Flame the Dog. Orphan boy befriends stray dog and old man.
Nation Aflame (1937) 71m. Noel Madison, Norma Trelvar. Believing they can make a ton of money, a gang of opportunists uses the country's racial and ethnic tensions to start a Ku Klux Klan-type organization.
Now or Never (1935) 55m. Richard Thorpe, Janet Chandler. A visitor to a big city gets involved in intrigue when a look-alike jewel thief sets out to doublecross his gang.
Officer 13 (1932) 60m. Policeman quits force to bring killer of partner to justice.
On Your Guard (1933) 57m. Richard Talmadge. Ex-con protects 3 orphans from land swindlers.
The Outer Gate (1937) 64m. Ralph Morgan, Kay Linaker. Bob Terry is in love with Lois Borden the daughter of his employer, John Borden. When some bonds are missing from the office, Bob is accused
Party Girl (1930) 62m. Douglas Fairbanks Jr., Jeanette Loff. Rich playboy gets caught up in web of escort service "Party Girls."
Peck's Bad Boy (1934) 68m. Jackie Cooper, Thomas Meighan. Visit by bratty cousin gets Bill Peck into trouble with his dad.
Police Rookie (1940) 66m. Aka. I Take This Oath. Gordon Jones, Joyce Compton. Trials of newly sworn in police officers.
Power Dive (1941) 69m. Richard Arlen, Jean Parker. Arlen plays a tough test pilot in this solid B action film. He and his brother develop a new secret aircraft made out of plastic
Public Opinion (1935) 71m. A scientist's obsessive jealousy about his wife, a professional opera singer, endangers their marriage.
Racing Blood (1936) 56m. Frankie Darro, Kane Richmond. Race horse story and track racketeers.
Ring Around the Moon (1936) 70m. Donald Cook is a high-flying newspaperman who falls into an engagement to a lady he does not love.
Shadow of Silk Lennox (1935) 57m. Lon Chaney Jr. A crooked nightclub owner, pretending to go straight, is forced to kill a henchman when the latter tries to run off with the gang's latest haul.
Should a Girl Marry? (1939) 60m. Anne Nagel, Warren Hull. A young woman and her doctor husband are victims of a blackmail scheme when it is discovered that she was born in prison.
Silver Horde (1930) 76m. Evelyn Brent, Joel McCrea. A salmon fisherman has to choose between a bad girl and a society doll.
Sins of the Children (1936) 87m. Eric Linden, Cecilia Parker. Young couple disowned by parents take up tenant farming.
State Department - File 649 (1949) Color, 86m. William Lundigan matches wits with a Chinese warlord to try to save American citizens threatened with execution.
The Stoker (1932) 70m. Monte Blue, Dorothy Burgess. A man whose wife has deserted him winds up saving a beautiful girl from the clutches of a murderous bandit on a Nicaraguan coffee plantation.
Stop Train 349 (1963) 94m. Jose Ferrer. At the height of the Cold War, an East German refugee slips aboard an American military duty train leaving West Berlin, deep inside East Germany.
Strange Marriage (1932) aka "Slightly Married" 68m. Evalyn Knapp. Walter Byron. Mary Smith is picked up by the police and is about to be sentenced to jail for vagrancy, but a stranger stands up and tells the judge they were about to be married, and they immediately are.
Stranger in Town (1943) 67m. Frank Morgan. While local attorney tries to break up corruption, a supreme court justice visits on vacation incognito.
Swamp Women (1956) Color, 69m. Marie Windsor, Beverly Garland. 3 female prisoners seek diamonds hidden in swamp.
Tango (1936) 70m. Marian Nixon, Barbara Bedford, Herman Bing. Destitute woman with child becomes tango dancer.
This is Not a Test (1962) 72m. Patrolman stops vehicles in country because nuclear attack is imminent.
This Rebel Breed (1960) 93m. Rita Moreno. Damon's in black-face as blacks take on whites who take on Hispanics in teenage gang war extravaganza.
The Thoroughbred (1930) 58m. Wesley Barry, Judith Barrett. Formulaic race horse film.
Those We Love (1932) 72m. Mary Astor, Kenneth MacKenna. A young author meets and marries the woman who bought the first copy of his new book. They live happily with their son, but later another woman moves in on the man.
Tokyo File 212 (1951) 84m. A Communist spy ring in Japan is hard at work trying to sabotage the American war effort during the Korean War, using kidnapping, murder and a disturbed former kamikaze pilot.
The Torch (1950) 84m. Paulette Godard, Gilbert Roland. Revolutionary and band take over small Mexican town.
Tough to Handle (1937) 59m. Frankie Darro, Kane Richmond. Phony lottery tickets by criminal ring vs. reporter.
Trapped by Television (1936) 64m. Mary Astor, Lyle Talbot. An inventor looking for backing for his television invention gets involved with a crooked businessman and gangsters who try to steal his invention.
Vengeance of the Deep (1938) 68m. Lloyd Hughes, Ann Richards. Concert pianist goes to South Seas to dive for pearls.
Violent Years, The (1956) 57m. Jean Moorhead, Barbara Weeks. Wealthy teenage girl leads girl gang to rob, steal, rape.
Wild Guitar (1962) 90m. A young Arch Hall, Jr. is given a shot at the big time by the unscrupulous owner of a small record company played by Arch Hall, Sr.
Woman Unafraid (1934) 57m. After putting away a gangster, a policewoman tries to turn around the lives of several young women with shady pasts.
World Gone Mad (1933) 71m. Pat O'Brien, Louis Calhern, Evelyn Brent, Mary Brian. Reporter tries to find killer of DA who uncovered stock fraud.
Yellowstone (1936) 63m. An ex-con is murdered in Yellowstone National Park while a bank robber's son is searching for the loot his father hid there 20 years before.
Youth on Parole (1937) 54m. Marion Marsh, Gordon Oliver. Two innocent strangers set up to take the fall in a jewelry robbery.