Cowboy G-Men
(1952-1953) Russell Hayden, one of Hoppy's early sidekicks, and silent kid star Jackie Coogan, roam the old west investigating crimes and evil doings against the US government, even though the actual FBI was not founded until the 20th century under Teddy Roosevelt.
---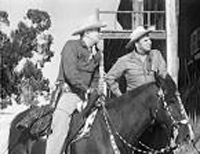 Vol. 1: Stolen Dynamite 5-16-1953
Spring the Trap 4-25-1953
Silver Fraud 3-14-1953
The Sidewinder 5-2-1953
Vol. 2: Salted Mines 12-20-1952
Ridge of Ghosts 1-10-1953
Center Fire 10-18-1952 Pat and Stoney are ordered to California to investigate reports of an anthrax epidemic and get involved in murder and a feud between neighboring ranchers.
Koniakers 12-6-1952
Vol. 3: Hangfire 3-21-1953
Ghost Town Mystery 4-4-1953
Double Crossed 5-30-1953
California Bullets 6-13-1953
Vol. 4: The Woman Mayor 5-23-1953
The Secret Mission
Sawdust Swindle 4-18-1953 Stoney and the son of the local Indian chief are attacked while escorting a gold shipment meant for the tribe. The nuggets are stolen, the Indian killed and Stoney is arrested for the murder and theft.
Rawhiders 2-14-1953 Pat and Stoney are assigned to investigate reports of an impostor posing as a U.S. Secret Service agent operating in Washington territory. In the guise of a government law officer, the man is shutting down all rivals of a saloon keeper's operating a crooked gambling establishment.
Vol. 5: Mysterious Decoy 1-3-1953
Hush Money 3-28-1953
Gypsy Traders 2-28-1953
Beware! No Trespassing! 11-1-1952 Pat and Stoney are ordered to San Pablo, Mexico, to find out what's behind the trouble an American tungsten mine is having. When they arrive, they discover the mine has been closed, the wells are all poisoned and the town is in the grip of a malaria epidemic.
---