Public Defender
(1954-55) "The Public Defender," deals with those attorneys appointed by the state to defend indigents. This time star Reed Hadley canvased the entire nation for intriguing cases. A part of each show was to profile one notable public defender. The series was usually quieter and less violent than "Dragnet," concerned more with how the law actually works to protect the people and the innocent victims of crime.
---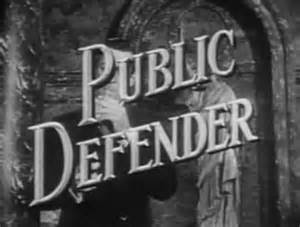 Vol. 1: Circumstantial Evidence Matthews gets a blind man to identify a killer and save an innocent man. Guest Stars: Clem Bevans, George Cleveland.
Jackpot Matthews investigates a big-time gambler responsible for a series of crimes. Guest Stars: Hillary Brooke, John Doucette.
Little Egypt A carnival dancer is accused of stealing a diamond ring. Guest Star: Marie Windsor.
Color Blind Matthews defends an innocent man sentenced to prison after being wrongly identified by a witness. Guest: James Lydon. Aka. "Until Proved Guilty."
Vol. 2: The Do-Gooder Matthews' assistant jeopardizes his career when he defends a boy accused of nearly beating a beloved old man to death. Guest Stars: Madge Blake, Paul E. Burns, Emlen Davies, Mary Webster.
Behind Bars Matthews comes to the defense of a woman accused of murder. With Joan Camden, King Donovan.
Crash Out A convict is intimidated into a jailbreak by the man who caused him to be sentenced originally. With Mike Mazurki, Anthony Caruso.
The Clown Matthews helps a boy who commited a crime in order to gain attention from his father. Guest Stars: Robert "Bobby" Ellis, Alan Reed.
Vol. 3: Another World Matthews defends a young immigrant who killed the man blackmailing his sister into stealing secrets. Guest Stars: Tony Christian, Jan Merlin, Douglas Kennedy.
Hands Off Matthews defends a young immigrant woman accused of stealing from her "friendly" employer.
Clifford Pike Matthews defends a timid man who has confessed to murder by claiming he committed the crimes because the "voices" told him to. Is he faking? Guest Star: Robert Cornthwaite.
The Sapphire Mink Matthews helps a young woman accused of stealing a $2,000 fur coat. As he investigates, Matthews begins to smell a rat. Guest Stars: Susanne Alexander, Ann Doran.
Vol. 4: Badge of Honor A rookie police officer is accused of incompetence and Matthews tries to help him.
Let Justice Be Done Jim Prentice is forced to put personal feeling aside when he is assigned to defend Tim Conroy, charged with the murder of Sgt. Ken Ropker, a friend of Jim's.
Eight Out of 100 Bart Matthews is called upon to defend Bertha Polaski when she is accused of stealing the jewels of Hans' deceased wife. His task is made more difficult when the police feel alienated due to a recent speech of Matthews' in Chicago when he quotes statistics that 8 out of 10 cases brought by the police are proven innocent by public defenders nationally.
Behind Bars Bart Matthews is called in by the warden because he believes there may have been a miscarriage of justice resulting in Ginny Smith (Richardson) serving a life sentence for the murder of her landlady, Mrs. Bassett.
Vol. 5: Murder Photo Matthews finds a photo taken with a timer that clears an innocent man and convicts the guilty one. Guest Star: DeForest Kelly. Aka. "Snap Shot."
The Hitch Hiker Matthews aids a GI accused of hit-and-run driving.
Last Appeal Matthews has only a few hours to save an innocent man scheduled to be executed.
The Big Race A jockey refuses to throw a race and is framed on an assault charge. Aka. "The Long Shot."
Vol. 6: Brutality (3/17/1955) Bart Matthews defends a man who claims he was beaten into giving a confession to a robbery by a police department lieutenant.
The Stepfather (4/14/1955) A police captain seeks the assistance of the public defender when his 16-year-old stepson becomes involved in a crime.
End of the Line (4/28/1955 An elderly Public Defender determines to keep busy during the weeks until his retirement comes through. He puts himself at great odds to keep a man from being sent to prison. Bart Matthews helps him.
Destiny (10/28/1954) The Public Defender's deputy almost wrecks his marriage when he insists on defending a 15-year old boy accused of assault and murder.
Vol. 7: Hot Rod (11/4/1954) This case concentrates on the prejudices against teenage hot rodders and the fate of one boy who is unjustly blamed for a crash.
The Hijacked Truck (11/18/1954) A truck driver refuses to discuss the hijacking of his vehicle.
The Director (2/3/1955) A one-time movie director is accused of assault and robbery.
Case of the Parolee (3/11/1954) Matthews tries to aid an ex-convict suspected of robbing his boss.
Vol. 8: The Stepchild (5/27/1954) A woman is charged with child beating. But the public defender finds that it's a case of juvenile delinquency instead.
A Modern Fagan (6/24/1954) Matthews tries to trap the mastermind behind a gang of young criminals.
Out of the Past (7/8/1954) Matthews defends man on a 20-year-old hit-and-run charge.
Call in the Night (7/15/1954) Matthews aids a teenage girl involved in a hit-and-run case.
Crash-Out (10/21/1954) A con talked into getting involved in a jailbreak by the prisoner who got him in trouble in the first place.
---