Cafe Roxy Free Sampler DVD!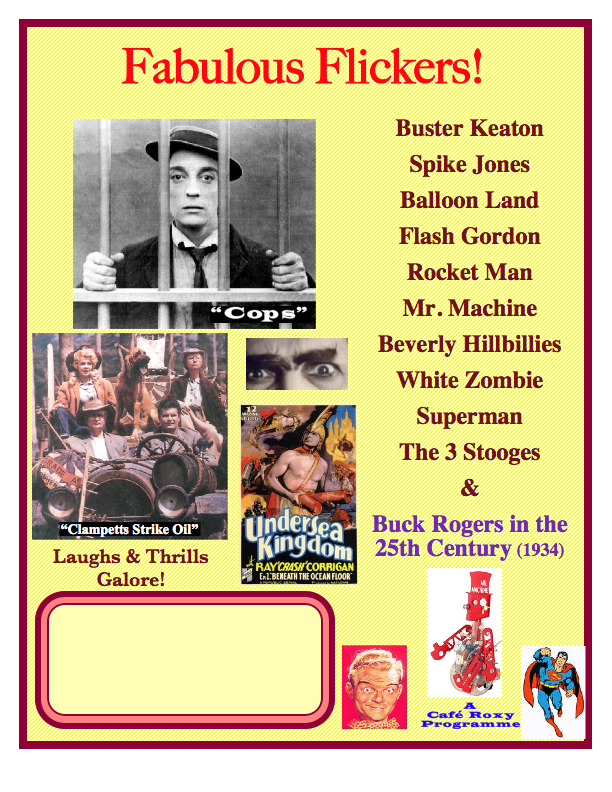 Test this free program on your audience. Free movies for them and the Sampler DVD is free to you. You can pay for future shows, but first let's make sure your audience enjoys watching films in your place. Will your regulars return for an evening film show? How about a weekend brunch with family movies? How will they respond to cartoons, serials, horror, mystery, music, silent comedy and campy cult films? Will they laugh at "The Beverly Hillbillies" today? Try it and find out! Whatever they like, Cafe Roxy can supply more!
Just email your request and I will send the Sampler DVD, which contains all the films advertised in this poster. You can drag the poster to your desk top, open it full size, print it out and fill in your name, time and playdate in the open area, or post to your own website. If you talk up the coming show with your regular customers, and prominently display the poster a week in advance, that may be all the advertising you need! If you are already set up for live music, consider live piano accompaniment for Buster Keaton's COPS. (This "silent" comedy does come with an organ track.)
The Sampler Show concludes with "Buck Rogers in the 25th Century," which has been viewed 60,000 times on Youtube! It's incredibly... amateurish. Well, watch it if you dare or read more about this unique film!
---
---
---
Ron Hall
President, Festival Films
phone or fax: 952-470-2172
email: fesfilms@aol.com
Cafe Roxy Sampler © 2010 by Festival Films.
---
Return to Cafe Roxy Home