Musicals -- A-Pictures
All films are available on economical DVD-R format and Mpeg2 video files.
Black Tights (1960) Color, 120m. Cyd Charisse, Zizi Jeanmarie, Moira Shearer. Four dramatic choreography dance numbers.
Dixiana (1930) Part color, 100m. Bebe Daniels, Bert Wheeler, Robert Woolsey. Two men vie for woman during Mardi Gras in old New Orleans.
Doll Face (1945) 79m. Vivian Blaine, Dennis O'Keefe, Perry Como, Carmen Miranda. Burlesque star makes it in the big time.
The Fabulous Dorseys(1947) 89m. Dorsey Brothers, Janet Blair, Paul Whiteman. Bio of the famous Big Band leaders and their music hits.
Glorifying the American Girl (1929) 95m. Mary Eaton, Eddie Cantor, Helen Morgan. Rise of a showgirl dancer in the Ziegfeld Follies.
The Great Gabbo (1929) 95m. Erich Von Stroheim stars as a mad ventriloquist performing in a Broadway review with 6 bizarre musical numbers.
Happy Go Lovely (1951) 98m. David Niven, Vera-Ellen, Cesar Romero. Rich but stodgy bachelor gets involved with musical troupe.
The Inspector General (1949) Color, 102m. Danny Kaye, Walter Slezak, Barbara Bates. Stooge impersonates inspector general.
Pied Piper of Hamelin (1957) Color, 87m. Van Johnson, Claude Rains. Magical musical piper rids town of rats.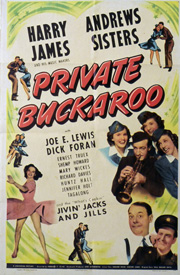 Private Buckaroo (1942) 69m. Andrew Sisters, Dick Foran. Musical showcase for army enlistment.
Road to Bali (1952) Color, 90m. Bob Hope, Bing Crosby, Dorothy Lamour The boys run away to the South Seas.
Royal Wedding (1951) Color, 93m. Fred Astaire, Jane Powell, Sarah Churchill, Keenan Wynn. Dance act goes to London during royal wedding period.
Second Chorus (1940) 83m. Fred Astaire, Paulette Goddard, Artie Shaw, Burgess Meredith. Competitive pair get jobs with Artie Shaw's band.
Something to Sing about (1936) 82m. James Cagney, William Fawley, Evelyn Daw. NY bandleader goes to Hollywood to get into films his way.
Stagedoor Canteen (1943) 132m. Katharine Hepburn, Judith Anderson, Kenny Baker and dozens of Hollywood stars in musical review to entertain soldiers going off to War.
The Stork Club (1945) 98m. Betty Hutton sings in New York's famous night club. With Barry Fitzgerald.
Swing Parade (1946) 74m. aka "Swing Parade of 1946." Gale Storm as a struggling young singer falls for a nightclub owner whose father, a millionaire, is trying to shut it down. Featuring The Three Stooges as waiters.
This Is the Army (1943) Color, 121m. Ronald Reagan, George Murphy, Joan Leslie in all-star music review to entertain the troops.
Till the Clouds Roll By (1946) Color, 121m. Robert Walker, Van Heflin, Judy Garland, Frank Sinatra, June Allyson. Bio-pic of famed producer/composer Jerome Kern.
---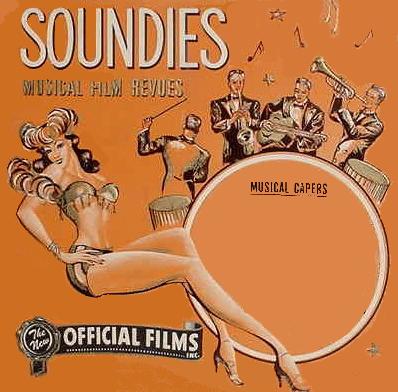 Musical Soundies
Soundies were musical shorts made in the 1940s for video juke boxes called Panorams. The Panorams played in bars, cafes and similar gathering places. They played musical movies from 16mm films inside. Most importantly, Soundies preserved musical performances by Cab Calloway, Louis Armstrong, Jimmy Dorsey, the Mills Brothers, Billy Eckstine, Gene Krupa, Nat King Cole, Stan Kenton and hundreds of others.
Festival Films offers DVDs of Soundies and other musical numbers from public domain films. Click HERE for the listing. Also avaiable on Mpeg2 video files.
---
Bobby Breen Musicals
Breaking the Ice (1938) 79m. Bobby Breen, Charles Ruggles, Dolores Costello. Young boy singer Bobby Breen in ice skating setting.
Escape to Paradise (1939) 60m. Bobby Breen, Marla Shelton, Pedro de Cordoba. Tourist in South America finds love and Bobby Breen.
Fisherman's Wharf (1939) 72m. Bobby Breen, Leo Carillo, Henry Armetta. Italians in San Francisco, songs by young Mr. Breen.
Hawaii Calls (1938) 91m. Bobby Breen, Ned Sparks, Warren Hull. Bobby sings for passage to Hawaii, and sings when he gets there.
Let's Sing Again (1936) 70m. Bobby Breen, Henry Armetta, George Houston. Orphan Bobby gets chance to sing soprano in New York.
Way Down South (1939) 61m. Bobby Breen, Alan Mowbray, Ralph Morgan. In old south, plantation left to young son.
---
Black Heritage Musicals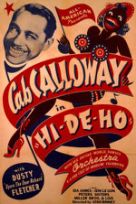 Boarding House Blues (1948) 87m. Dusty Fletcher, Jackie Moms Mabley, Marcellus Wilson Director: Josh Binney. Harlem boarders put on a show to save home.
Duke Is the Tops, The (1938) (aka Bronze Venus) 76m. Lena Horne, Ralph Cooper. Ralph sponsors Lena in show business; she rise while he falls.
Hi De Ho (1947) 64m. Cab Calloway, Ida James, Jeni Le Gon. Jealousy, night clubs, gangsters and music.
Killer Diller (1948) 70m. Nat King Cole, Dusty Fletcher, George Wiltshire.
Moon over Harlem (1939) 75m. Bud Harris, Cora Green, Ozinetta Wilcox. Life, love, tragedy in a Harlem tenement.
Murder with Music (1941) 65m. Bob Howard, Nellie Hill. Murder in a night club setting with lots of music.
Paradise in Harlem (1939) 70m. Edna Mae Wilson, Frank L. Wilson, Mamie Smith. Between music, a comedian witnesses a mob murder.
Reet, Petite and Gone (1947) 75m. Louis Jordan, June Richmond, Milton Woods. Dying rich man attempts to matchmake for his son.
Rhythm and Blues Revue (1955) 70m. Nat King Cole, Sarah Vaughan, Cab Calloway, many others in all-music review taken from "Showtime at the Apollo" TV series.
Showtime at the Apollo (1955) 79m. Musical variety show filmed in New York's Apollo Theater with many stars: Nipsey Russell, Duke Ellington, the Clovers, Herb Jeffries, Dinah Washington, Count Basie, Lionel Hampton, etc. 3 separate episodes of the 1954 TV show.
Sepia Cinderella (1947) Starring: Billy Daniels, Sheila Guyse, Hilda Offley Director: Arthur H. Leonard B&w. 67 min.
---
And still more!
Bing Crosby Edsel Show, The (1957) 58m. Bing Crosby, Frank Sinatra, Bob Hope, Louis Armstrong, Rosemary Clooney and the all new Edsel car unveiled to the public for the first time.
Bing Crosby Oldsmobile Show (1959) 59m. Bing Crosby, Frank Sinatra, Peggy Lee in another all-star TV special.
Bing Crosby Timex Special 50m. Bing Crosby, Frank Sinatra, Dean Martin, Mitzi Gaynor. Music variety special.
Breakfast in Hollywood (1946) 90m. Tom Brenneman, Bonita Granville, Beulah Bondi. Film version of popular radio show that had a live audience.
Calendar Girl (1947) 80m. Jane Frazee, William Marshall, James Ellison. Songwriter opposes his girlfriend becoming artist's model.
Delightfully Dangerous (1945) 92m. Jane Powell, Ralph Bellamy, Constance Moore. Girl dreams of singing career while older sister is a stage star.
Fiesta (1943) Antonio Moreno, Armida, Anne Ayars in 40 min. color featurette from Hal Roach Studio. Plus on DVD 3 two-reel musicals: the first 3-strip Technicolor film La Cucaracha (1934), Lillian Roth musical short Masks and Memories (1934) and Ruth Etting in Melody in May (1936).
I Dream of Jeanie (1952) 90m. Bill Shirley, Ray Middleton, Muriel Lawrence. Bio of song writer Stephen Foster.
Meet the Boyfriend (1937) 54m. Robert Paige, Carol Hughes. Pop singer Tony Paige decides to wed Swedish actress.
Minstrel Man, The (1944) 70m. Benny Fields, Gladys George, Roscoe Karns. Story of performer in a minstrel show.
New Faces of 1952 (Letterbox/Wide Screen) (1953) 99m. Eartha Kitt, Ronny Graham, Robert Clary. Direct filming of Broadway music-comedy review show.
Reaching for the Moon (1931) 66m. Musical Comedy with Douglas Fairbanks, Bebe Daniels and Bing Crosby.
Rhythm in the Clouds. 70m. Patricia Ellis, Warren Hull. Struggling songwriter moves into apartment when owner away.
Road to Hollywood (1947) 54m. Bing Crosby story told in segments from 4 early-30s Mack Sennett Shorts.
Rock, Rock, Rock! (1956) 85m. La Vern Baker, Chuck Berry, Tuesday Weld. Many rock 'n roll groups perform including Moonglows, Flamingos, La Vern Baker, Frankie Lymon.
Sitting on the Moon (1936) 63m. Roger Pryor, Grace Bradley, William Newell. Two hit songwriters fall in love with ex-film star and friend.
Sunny (1941) 96m. Anna Neagle, Ray Bolger, John Carroll. Circus performer falls in love with wealthy son.
Swing Hostess (1944) 73m. Martha Tilton, Charles Collins, Iris Adrian. Out of work band singer gets back into the business.
Vagabond Lover (1929) 65m. Rudy Vallee. Amateur musician impersonates a big band leader.