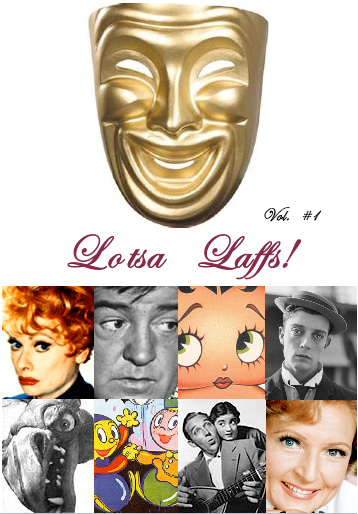 ---
Lotsa Laffs! DVD Series
Nothing cures the blues better than a good laugh... with an audience! The "Lotsa Laffs!" series presents highlights and hijinks from the funniest TV and movie comics of all time: Milton Berle, Lucy, Spike Jones, Bob Hope and Bing Crosby, Joe E. Brown, The Andrews Sisters, The East Side Kids, Ozzie & Harriet, Groucho Marx, Betty White, W.C. Fields, Our Gang, Jack Benny, Buster Keaton, Charlie Chaplin and cartoons galore!
Lotsa Laffs! is perfect for cafés, sports bars, hospital laughing rooms, country clubs and retirement communities -- wherever and whenever folks need a hearty laugh out loud! 3 to 10 minute segments are guaranteed to put a smile on your face and a crack in your funny bone! A Bouncing Ball sing-along concludes each first hour session of non-stop laughs.
As a bonus for later viewing, or to complete a two-hour marathon of mirth, each DVD also contains two classic TV comedy shows.
Lotsa Laffs! Vol. #1
Laurel and Hardy car wreck joke!
"In My Merry Oldsmobile" Sing-Along Cartoon!
Buster Keaton as a bank teller with sticky money!
Bing Crosby in "I Remember Dear!"
"Life With Elizabeth" starring Betty White!
Trailer for the worst film ever made: "The Giant Claw!"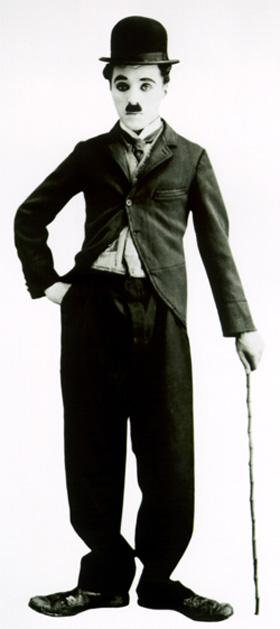 "Lucy and the Monkey" from The Lucy Show!
Abbott & Costello -- "Who's On First?"
"Helter Swelter" color Sing-Along Cartoon!
Bonus TV Shows:
"The Beverly Hillbillies" -- Premier episode: "Clampetts Strike Oil"
"The Adventures of Ozzie and Harriet": "The Duenna"
Lotsa Laffs! Vol. #2
Buster Keaton in "Cops!"
"Betty Boop in Blunderland!"
Spike Jones wild musical number!
Joe E. Brown runs amok in "Earthworm Tractor!"
Bob Hope battles a giant squid in "Road to Bali," with Bing Crosby and Dorothy Lamour!
The Andrews Sisters sing "Don't Sit Under the Apple Tree!"
Groucho Marx epic battle in "You Bet Your Life!"
Buster Keaton chased by 1,000 policemen in "Cops!"
"The Golden State" color Sing-Along Cartoon!
Bonus TV Shows:
Petticoat Junction -- First episode: "Spur Line to Shady Rest"
The Beverly Hillbillies -- Second episode: "Getting Settled"

Lotsa Laffs! Vol. #3
Popeye in "Little Swee' Pea"
Charlie Chaplin "The Rink"
Jack Benny Show with George Burns, Bing Crosby
Old Toys
Our Gang in "Waldo's Last Stand"
Rudy Vallee& Ozzie Nelson
3 Stooges color TV skit
East Side Kids: "Ghosts on the Loose"
W.C. Fields is "The Dentist"
"Old Mac Donald" color Sing-Along Cartoon!
Bonus TV Shows:
Love That Bob -- Bob Cummings meets "Rock n' Roll"
I Merried Joan -- Joan Davis in "Joan's Haircut"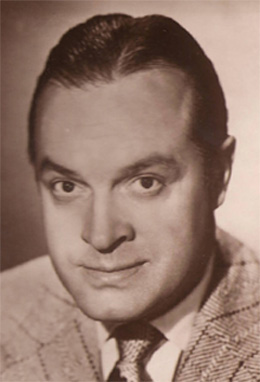 Lotsa Laffs! Vol. #4
Baby Huey in "Quack A Doodle Doo"
Art Linkletter "People Are Funny"
Bob Hope "My Favorite Brunette"
The Pinky Lee Show
Martin & Lewis in "At War With the Army"
Three Stooges: "Disorder in the Court"
Abbott & Costello "Colgate Comedy Hour"
Harold Lloyd: "Never Weaken"
The Bouncing Ball: "Strolling Thru the Park"
Bonus TV Shows:
The Lucy Show -- "Lucy and Carol in Palm Springs"
My Little Margie -- "Margie's Millionth Member"

---
Pricing for Lotsa Laffs!

Each two-hour DVD is $20.00.
We take Visa, Mastercard, Paypal and personal checks. Purchase orders are accepted, or we can simply bill any retirement, senior or health care facility.
---
Lotsa Laffs! DVDs are licensed for unlimited use within the institutions they are sold to. Public performance rights are granted for such use. All films are in the public domain, but special content of Lotsa Laffs! is © by Festival Films and may not be duplicated without permission. Television broadcast, other than closed circuit broadcast within the institution, is prohibited. Internet and other such uses are also reserved.
Please call Ron Hall at 952-470-2172 or email me at fesfilms@aol.com.