Science Fiction Movies in Public Domain
Alas, time has not been as kind to 1960's rocket ships as it has to gothic horror and film noir, but watch and wonder at what inspired awe long ago yesteryear. Some Sci-Fi posters you can use to promote your showings are at Turkeys in Space and Sci-Fi Horror Posters. We can turn other features into "Shows" on request.
Films are available in DVD-R format and as Mpeg2 video files.
---
The Amazing Transparent Man (1960) 60m. Directed by Edgar G. Ulmer. Mad scientist makes convict invisible so he will steal uranium, but the crook robs banks instead.
Astral Factor (1976) Color, 96m. Robert Foxworth. Paranormal strangler makes self invisible and escapes jail.
The Atomic Brain (aka Monstrosity) (1964) 65m. Mad scientist. Old brain into young body don't work well.
Attack of the Giant Leeches (1959) 62m. Depraved bloodsucking leeches terrorize swamp.
Battle Beyond the Sun (1960, Russian) Color, 70m. Francis Ford Coppola re-cut the Russian film. Two countries race to have the first successful landing on Mars.
Battle of the Worlds (1961) Color, 84m. Title tells the tale! With Bill Carter, Claude Rains.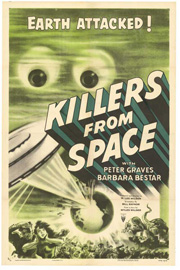 The Beast of Yucca Flats (1961) 54m. Tor Johnson victim of atomic blast!
The Brain Machine (1977) Color, 82m. James Best. Volunteers in a mind-reading experiment that goes horribly wrong.
Disappearance of Flight 412 (1974) Color, 73m. Glenn Ford, Bradford Dillman. Two fighter planes sight UFOs and mysteriously vanish.
Doomsday Machine (1972) Color, 82m. Bobby Van, Ruta Lee. Red China builds a doomsday machine to destroy Earth.
Embryo (1976) Color, 104m. Rock Hudson, Barbara Carrera. Scientist accelerates a fetus into an adult in a few days.
Frozen Alive (1964) 75m. Mark Stevens. Scientist experiments with putting himself into suspended animation.
Idaho Transfer (1973) Color, 85m. A crew of young researchers escape into the future to avoid the shutdown of their project. They find that some type of 'eco-crisis' disaster has de-populated the area around their lab (in rural Idaho) and maybe the world.
In the Year 2889 (1967) Color, 80m. Mutants and cannibals rule the world in the year 2889 after a nuclear war has destroyed the world.
The Incredible Petrified World (1957) 64m. Exploring inner earth, with John Carradine.
Killers from Space (1954) 71m. Aliens with hooded sweat suits, mittens, striped belts and ping-pong ball eyes menace nuclear scientist Peter Graves.
The Last Man on Earth (1964) 86m. Vincent Price stars as... guess who? But there's still a bunch of zombies around.
The Last Woman on Earth(1960) 71m. 3 survivors on an island, one of them a girl....
The Lost World (1925) 64m., silent film with music track. Wallace Beery, Bessie Love. Scientists discover lost world with dinosaurs.
Monster From the Ocean Floor (1954) 64m. Giant, one-eyed amoeba rises from ocean. Woman an marine biologist attempt to destroy it.
Night of the Blood Beast (1958) 63m. John Baer. Astronaut killed on return to earth, but his body seeds an alien monster.
The Phantom Planet (1961) 82m. Astronaut crash-lands on invisible asteroid and is shrunk down.
Prisoners of the Lost Universe (1983) Color, 95m. Richard Hatch. In a parallel universe, 3 must use modern methods against a feudal warlord.
Santa Claus Conquers the Martians (1964) Color, 81m. Camp classic for Christmas.
Star Odyssey (1979) Color, 103m. Aliens head to earth to enslave humans. Scientist....
Teenagers from Outer Space (1959) 86m. Lone alien teenager tries to save planet Earth.
They Came from Beyond Space (1967) Color, 85m. Unlucky aliens crash on moon, try to coerce earthlings to repair ship.
Track of the Moon Beast (1976) Color, 81m. Man struck by meteorite turns into lizard beast at night.
Unknown World (1951) 74m. Scientists explore deep underground to find haven from contamination.
Voyage to the Planet of Prehistoric Women (1968) Color, 80m. Update of 1962 Russian film Planet of Storms.
Voyage to the Prehistoric Planet (1965) Color, 74m. This time with Basil Rathbone.
Warriors of the Wasteland (1983, Italy) Color, 90m. In a post-apocalyptic future, a group of weary survivors is faced with a relentless onslaught from a gang of roving bandits.
The Wasp Woman (1959) 63m. Susan Cabot in a Roger Corman film. A scientist develops a youth formula for a cosmetics queen from jelly taken from queen wasps....
---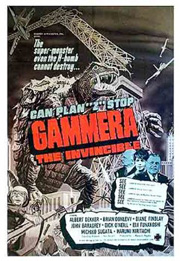 Japanese Invasion!
Monster from a Prehistoric Planet (1967) Color, 90m. Japanese monster flick. Baby reptile taken from island. Parents come!
Warning from Space (1956) 88m. The citizens of Tokyo panic when they see UFOs, but the aliens have come to warn of a meteor.
Yongary, Monster from the Deep (1967) Color, 78m. A prehistoric beast rises from the sea to terrorize the Orient. Starring Japanese actors and stuntmen in suits.
Gamera
Giant flying turtle monster Gamera is a friend to children and protector of planet earth.
Attack of the Monsters (1965) Color, 80m. Gamera fights alien monsters on a distant planet. Aka. "Gamera Vs. Guiron."
Destroy All Planets (1968) Color, 91m. Gamera returns to fight awesome space creatures on a mysterious planet.
Gamera the invincible (1965) 86m. A giant fire-breathing prehistoric monster is resurrected by a nuclear bomb blast. First in the series, with Brian Donlevy.
Starman
Starman, "the creature made of the strongest steel," fights monsters, chases flying saucers, and defeats evil-minded aliens in four deliriously surreal mixes of science fiction, surprisingly moody photography, and wild superhero action!
Atomic Rulers of the World (1964) 76m. The Earth is threatened by space invaders. Starman comes to the rescue.
Attack from Space (1965) 76m. Japanese superhero, Starman, rescues the earth from menacing alien monsters.
Evil Brain from Outer Space (1965) 76m. Earth is attacked by extraterrestrial monsters and Superhero Starman come to the rescue of humanity.
Invaders from Space (1964) 76m. From the Emerald Planet in the Marpet Galaxy comes a messenger to warn Earth of an impending invasion of Slamander Men.
---
Adventure Serials
Since there are relatively few Science-Fiction films in public domain, we list these multi-chapter serials that have sci-fi elements
Flash Gordon Conquers the Universe (1940) 12 Chapter serial. Buster Crabbe as Flash battles Ming the Merciless -- Charles Middleton!
The Lost City (1935) Kane Richmond treks into jungle to stop mad scientist.
The Phantom Empire
(1935) Gene Autry battles the super scientific city of Murania deep underground.
The Phantom Creeps
(1939) Bela Lugosi invents super robot and explosive to conquer the world.
S.O.S. Coastguard (1937) Bela Lugosi is mad inventor with super weapon.
Undersea Kingdom
(1936) 226m. 12 chapter Republic serial Starring: Ray 'Crash' Corrigan, Lois Wilde, Monte Blue. Robots, death rays and more in the undersea kingdom of Atlatis.
---
Rocky Jones, Space Ranger
Each mini-feature that tells a complete story is composed of 3 episodes of the TV series (1954-1955) starring Richard Crane, Scotty Beckett and Sally Mansfield. 75m. each.
Crash of the Moons
Beyond the Moon
Menace from Outer Space
Manhunt in Space
The Gypsy Moon
Silver Needle in the Sky
---
Flash Gordon TV!
14 episodes of the 1950s TV Series starring Steve Holland, Irene Champlin and Joseph Nash.
Vol. 1:
Planet of Death -- First show in the series.
Akim the Terrible
The Claim Jumpers
The Breath of Death

Vol. 2:
Return of the Androids
The Lure of Light
Deadline at Noon
Race Against Time

Vol. 3:
The Witch of Neptune
The Brain Machine
Struggle to the End
Saboteurs from Space

Vol. 4:
Forbidden Experiment
Subworld Revenge
Plus ROCKY JONES in "Escape to Space" and "Kip's War."
SCi-Fi/Horror Trailers 2 hours of Coming Attractions from the Universal Horror classics, The Blob, Children of the Damned, 7th Voyage of Sinbad, It Came from Outer Space, Mole People and dozens more!