Exclusive Releases
Here are a few unique films we have sold since the prehistoric days of VHS, mixed in with, well...
THREE STEPS NORTH
(1951) After a prison sentence an American GI stationed in Italy (Lloyd Bridges) discovers that his hidden loot has disappeared and goes searching for it. Recent film transfer. $14.95
ATROCITIES OF THE ORIENT
(1948) A docu-drama recreating the rape and plundering conducted by WWII Japanese troops against the Phillipine people. A curious mixture of documentary and exploitation, with shots of Japanese soldiers ripping shirts off young women. Not our proudest release, but a recent film transfer that does not seem to be around much. $14.95
TOO HOT TO HANDLE
(1950 or thereabouts!) Documentary-like filming of an actual burlesque show with bad comics, unattractive chorus girls (6) and striptease speciality acts by Dixie Evans and Jean Carter. Don't know where this came from but the quality is excellent! Bonus Film: A Virgin in Hollywood (1953) 63m. A young female newspaper reporter is assigned by her editor to investigate the seamier side of Hollywood. $14.95
MISTRESS OF ATLANTIS
(Germany, 1932) 78 min. Directed by G.W. Pabst. The English language version of "L'Atlantide" stars Brigitte Helm as the queen of lost Atlantis, discovered by French legionairres deep in the Sahara Desert. Cold and evil Antinea, with her giant statue and tame leopards, enslaves men to her love. $19.95.
Further information.
---
The Silent Era
PIONEER CINEMA
119 min., organ track. Collection of landmark early shorts from the Lumiere Brothers, Edison Company, Emil Cohl, Melies, Blackton, Porter and others. Includes The Great Train Robbery, Trip to the Moon, Dream of a Rarebit Fiend and El Espectro Rojo. $59.95
PIONEER ANIMATION
119 min., music track. The documentary The Magic Lantern sets the stage, followed by cartoons from Winsor McKay, Raoul Barre, Walt Disney, Max Fleischer, Walter Lantz, and starring Felix the Cat, Krazy Kat, Koko the Clown, Bobby Bumps, Oswald the Rabbit, etc. $39.95
THE STUDENT OF PRAGUE
(Germany, 1926) Silent tale of the supernatural reunites the two stars from "Cabinet of Dr. Caligari" -- Conrad Veidt is an impoverished student who sells his soul to the devil, played by Werner Krauss. Organ track by David Knudtsen. $29.95
D.W. GRIFFITH SHORTS
(1909-1913) 86 min., organ score. Those Darn Hats, An Unseen Enemy, Lonedale Operator, Musketeers of Pig Alley, The Lonely Villa, New York Hat and The Yaqui Cur. $29.95
TWINKLETOES
(1926) 65 min., music score. Rare Colleen Moore drama. $29.95
HAROLD LLOYD SHORTS, VOL. 5
Number Please -- 1920
Get Out and Get Under -- 1920
Why Pick on Me? -- 1918
Bumping Into Broadway -- 1919
Captain Kidds' Kids -- 1919
Ask Father -- 1919
Pay Your Dues -- 1919
119 min., pipe organ track -- $29.95
---
From Italy: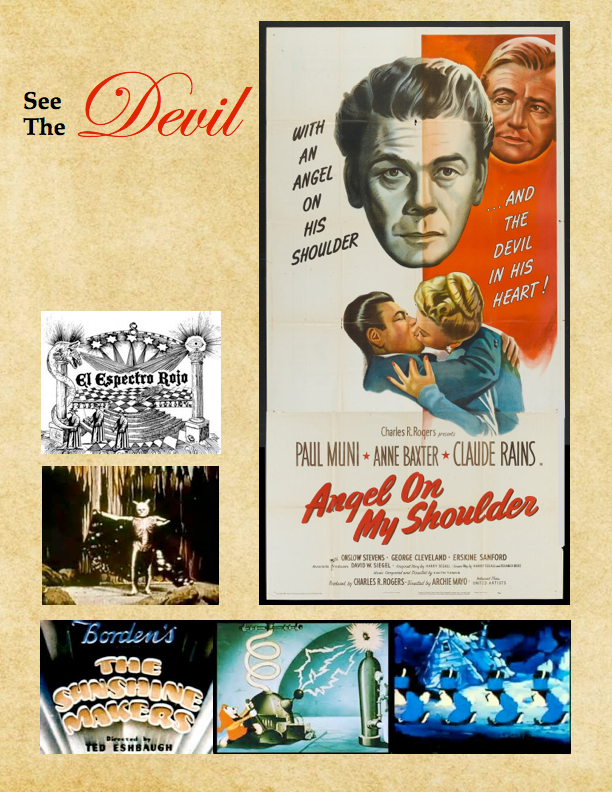 Angel in a Taxi (1958, Italy) 87m. English dubbed version. Delightful Italian comedy about a six-year-old orphan boy who runs away to find his mother, who he believes is a ballerina star whose picture he saw in a newspaper. The great director Vittorio DeSica plays 3 roles (as God) who tries to bring the lost souls together.
Love and Larceny (1959, Italy) 92m. English dubbed. Vittorio Gassman has never been more carefree and devious as a creative swindler who works all the rackets and invents new one. You won't believe how he stages a fake wedding to bilk a jeweler or impersonates an army general right on the base to get a banker's down payment on a big but fake contract. Directed by Dino Risi who re-teamed with Gassman on "Scent of a Woman" in 1974.
Gospel According to St. Matthew (1964, Italy) 130 min. Available either subtitled or dubbed. Director Pier Paolo Pasolini's celebrated story about the life of Christ stars Enrique Irazoqui as Jesus. Filmed in the actual locations.
THE MAN WITH A CROSS "L'Uomo Dalla Croce"
(Italy, 1943) 75 min., subtitles. Rossellini's third feature. On the Russian front during the summer of 1942, a saintly Italian chaplain aids a group of soldiers and peasants in a small village under Italian and Russian artillery fire. $29.95
RETURN OF THE PILOT "Un Pilota Ritorna"
(Italy, 1942) 87 min. In Italian with NO English subtitles. Roberto Rossellini's second feature is about an Italian pilot interned in a British POW camp. This extremely rare film is easy enough to follow even without subtitles. $29.95
---
From Other Countries:
ARSENAL
(USSR, 1929) 94 min., music track. D: Alexander Dovzhenko. Excellent restored version. Brilliant Russian film about their war of 1914: misery in the countryside, horrors at the front, revolution and strike. $29.95
FEVER MOUNTS AT EL PAO
(Mexico, 1959) 97 min., dubbed in English. D: Luis Bunuel. Gerard Philipe is a high-minded but cowardly official who becomes corrupted when he assumes power. $39.95
THE GENERAL LINE "The Old and the New"
(USSR, 1929) 94 min., music track. D: Sergei Eisenstein. Excellent restored version. A cooperative is organized in a typical Russian village where farming conditions are poor. $29.95
THE PHANTOM CARRIAGE
(Sweden, 1920) 90min., music track. Victor Sjostrom's eerie fantasy film. $29.95
SHATTERED
(Germany, 1921) 64 min., organ track. &quotModern tragedy" about the destruction of a railroad family when the young daughter is seduced by an inspector. Directed by Lupu Pick. $39.95
---
Avant-Garde & The Surreal
AMERICAN AVANT-GARDE SHORTS
Four Classic experimental films made in the USA: Dream of a Rarebit Fiend (1906) by Edwin S. Porter; Salome (1922) with Nazimova; Fall of the House of Usher (1928) by Watson and Weber; Lot in Sodom (1933) by Watson and Weber. $39.95
THE CRAZY RAY and ENTR'ACTE
(France, 1925) 60 min., music track. Two early surreal classics by Clair. In Crazy Ray a scientist makes time stand still in Paris. Entr'acte is totally bizarre, and funny! $39.95
EARLY AUTEUR FILMS
Shorts made by great directors early in their careers: J-L Godard's "All the Boys Are Named Patrick"; Alberto Cavalcanti's "Rien Que Les Heures"; Roman Polanski's "Two Men and a Wardrobe" and "Fat and the Lean"; Truffaut's "Les Mistons"; Orson Welles' "Hearts of Age"; Antonioni's "N.U." $59.95