Best of the Best!
If a TV station, film society or movie theater wants to try public domain films, they often ask which ones go over best with audiences today? Here are recommendations for 3 features in each genre. Some are available as "programs" with shorts and cartoons.
It was tough picking just three in each category, so be sure to browse every single page!
For larger collections of the BEST public domain feature films, check out our GOLD and SILVER Collections of 50 films each.
---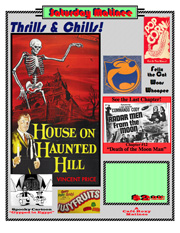 Horrors Beyond Imagination!
The House on Haunted Hill
(1959) 75m. Eccentric millionaire Fredrick Loren and his wife invite 5 people to the House on Haunted Hill. If they survive the night they will each get $10,000. Scrams and plot twists! Some don't make it.
Night of the Living Dead
(1968) 96m. In George Romero's trend setting fright film the dead come back to life and eat the living. Several people barricade themselves inside a rural house in an attempt to survive the night. Outside are hordes of relentless, shambling zombies who can only be killed by a blow to the head. The two nude shots can easily be cut for television!
White Zombie
(1932) 69m. Haitian warlock Bela Lugosi, in a truly eerie role that tops even Dracula, transforms a young bride into a zombie. The Café Roxy version comes with Buster Keaton's "Haunted House!"
---
Action! Adventure!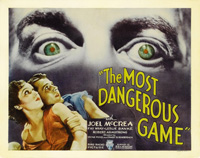 The Magic Sword
(1960) Color, 80m. Evil Basil Rathbone vs. St. George who must slay that dragon. Nice color, monsters, a quest, beautiful maiden and more to challenge the hero!
The Most Dangerous Game
(1932) 70m. The insane hunter Zaroff stalks Fay Wray and Joel McCrea on the same jungle set used for "King Kong." The Roxy Matinee version includes Betty Boop, Superman, Popeye, "Balloon Land" and a chapter of "Radar Men from the Moon!"
The Son of Monte Cristo
(1940) 92m. Dashing Louis Hayward masquerades as a foppish banker and a masked freedom fighter to rescue distressed Joan Bennett from evil George Sanders. Great sets, sword fights and derring-do!
---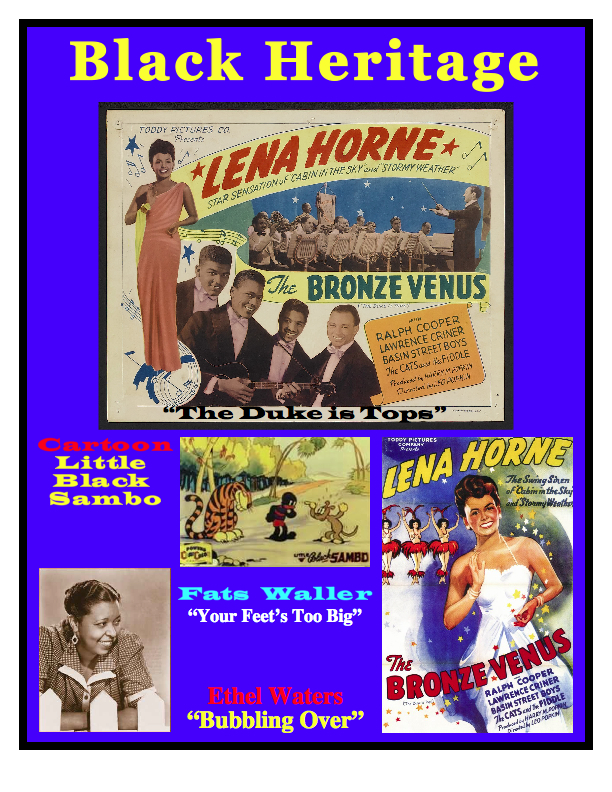 Black Heritage Films
The Duke Is Tops
(1938) 73 min. Lena Horne plays a night club singer who gets a chance at Broadway. Lena is billed second after Ralph Cooper, but when she became famous the film was re-released as "Bronze Venus" starring her! Includes Horne's 1944 short "Boogie-Woogie Dream" and the cartoon "Inki and the Minah Bird" (1943) with a black native boy.
Hi De Ho
(1947) 64 min. Cab Calloway is a band leader pressured to work in a gangster bar. Plus a collection of musical "Soundies" starring Cab Calloway, Louis Armstrong, the Mills Brothers, Fats Waller and Nat King Cole.
Jivin' in Be-Bop
(1946) 58 min. In an all-musical stage variety show, Dizzie Gillespie and his musical friends have a ball. Includes the racist cartoons "Hittin' the Trail for Hallelujah Land" (1931) and "Uncle Tom and Little Eva" (1932), presented as historical examples of stereotypes that were once acceptable entertainment by both white and black audiences.
---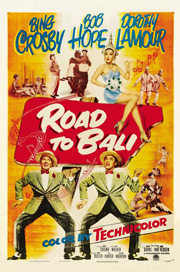 Comedy for Kids (of all ages)
The Flying Deuces
(1939) 65m. Stan Laurel and Oliver Hardy join the Foreign Legion so Ollie can forget his love life, but they meet up with Jimmy Finlayson and Charles Middleton. Comes with shorts by Abbott and Costello, the Three Stooges, Our Gang and Felix the Cat!
Jack and the Beanstalk
(1952) Color, 78m. Abbott and Costello spin their take on the famous tale with music and laughs galore.
The Road to Bali
(1952) Color, 90m. Bob Hope, Bing Crosby and Dorothy Lamour sing, joke, and wrestle octopi and gorillas in the South Seas.
Comedy for Sophisti-Cats
His Girl Friday
(1940) 92m. Cary Grant tries to win back his ex-wife Rosalind Russell during the newspaper scoop of the century! Madcap version of "The Front Page" comedy hit play, directed with overlapping dialog by the great Howard Hawks.
My Man Godfrey
(1936) 95 min. William Powell is a waterfront bum taken in by socialite Carol Lombard, but Godfrey turns the tables when his new family needs help.
The Smallest Show on Earth
(1957, British) 80m. Try a bit of madcap British humour as a young couple inherits a decrepit movie theater. Watch for Peter Sellers and Margaret Rutherford as relics who run the place.
---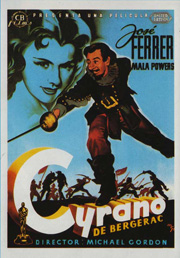 Drama Classics
Cyrano de Bergerac
(1950) 112m. Oscar-winning performance by Jose Ferrer as Rostand's tragic 17th century lover renowned for his nose but longing for the love of a beautiful lady.
Our Town
(1940) 90m. Thornton Wilder's play about life in small-town America is brought to the screen with William Holden and Martha Scott as yount couple.
Rain
(1932) 90m. Somerset Maugham's tawdry South Seas tale. Joan Crawford is trollop Sadie Thompson and the target of preacher Walter Huston's reform.
Love Stories
Algiers
(1938) 99m. Tourist Hedy Lamarr visits the Casbah in Algiers and encounters debonair gangster Charles Boyer. Their torid romance endangers him should he leave to meet her.
The Last Time I Saw Paris
(1954) Color, 115m. Elizabeth Taylor and Van Johnson play two struggling lovers in the reckless gaiety of post-World War-II Paris.
Love Affair
(1939) 87m. Irene Dunne and Charles Boyer meet on shipboard. Their plans to continue the romance meet tragedy when an accident prevents her meeting him atop the Empire State Building. The original "Affair to Remember!"
---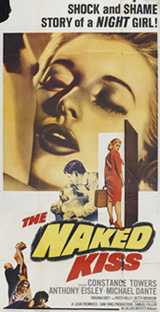 Film Noir
Detour
(1945) 68m. Classic Edgar G. Ulmer B-pic. Innocent hitch-hiker Tom Neal is sucked into a tightening net of film noir trouble. He went searching for love... but Fate forced a DETOUR to Revelry... Violence... Mystery!
D.O.A.
(1950) 83m. "Dead On Arrival." Edmond O'Brien wakes up with more than just a hangover. Doctors tell him he's been given a "luminous toxin" with no antidote and has, at most, a week to live! Not knowing who did it or why, he embarks on a frantic odyssey to find his own murderer. Directed by Rudolph Maté.
The Naked Kiss
(1964) 92m. Constance Towers is a prostitute trying to start fresh in a small town, but she will be the witness of a shocking event that will threaten her happiness and mental health. Hard-hitting grime directed by Sam Fuller.
---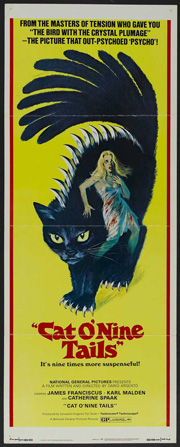 Mystery!
And Then There Were None
(1945) 98m. Agatha Christie mystery. Ten people dye one by one on a lonely island. Will any survive? And whodunnit?
The Bat
(1959) 80m. A hooded murderer known as "The Bat" seeks treasure in an old house. With Vincent Price as a prime suspect and Agnes Moorhead.
Cat O' Nine Tails
(1971) Color, 112m. Violent murders are investigated by blind witness, Karl Malden, and reporter played by James Franciscus. Italian gem directed by Dario Argento.
Detectives!
Sherlock Holmes in Dressed to Kill
(1946) 71m. Basil Rathbone and Nigel Bruce. With TV episode "Case of the Baker Street Nursemaids."
Dick Tracy Meets Gruesome
(1947) 65m. Ralph Byrd pursues master criminal Gruesome, played by Boris Karloff! With "Joker" episode of Dick Tracy TV.
The Kennel Murder Case
(1933) 73m. Excellent S.S. Van Dyne mystery starring William Powell as detective Philo Vance, who must solve a locked room murder. Deftly directed at Warner Bros. by Michael Curtiz. With Mary Astor.
---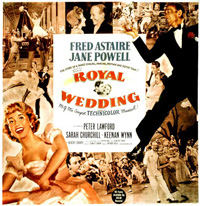 Musicals!
The Fabulous Dorseys
(1947) 89m. Semi-true biopic of the feuding Dorsey Brothers and hwo they got back together (to make this movie?!) With Janet Blair, Paul Whiteman and laods of terrific 1940s swing music with the Dorseys and their orchestras.
Royal Wedding
(1951) Color, 93m. Entertainers Fred Astaire and Jane Powell head to England to entertain at the Queen's coronation, but meet romance along the way.
Stagedoor Canteen
(1943) 132m. Story of Hollywood's Stagedoor Canteen for service men serves as a fascinating excuse for appearances by Hollywood stars Katharine Hepburn, Hugh Herbert, Edgar Bergen, Harpo Marx, Tallulah Bankhead and many more, plus musical numbers by Peggy Lee, Benny Goodman, Xavier Cugat, Kay Kyser, Guy Lombardo and the list goes on!
---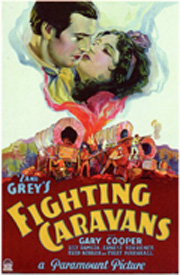 A-Westerns!
Angel and the Badman
(1947) 100m. Badman John Wayne is nursed back to health by Mormon girl Gail Russell. Will the Duke reform before marshal Harry Carey arrests him?
Fighting Caravans
(1931) 80 min. Zane Grey presents the epic saga of a wagon train trekking westward. Gary Cooper leads the train as he encounters Indians, bad weather, betrayal and romance.
One-Eyed Jacks
(1961) Color, 141 min. Rio (Marlon Brando) escapes from prison and hunts down his former partner (Karl Malden) who betrayed him for revenge, but the rat is now a sheriff. Directed by Brando in epic style.
B-Westerns!
Bells of San Angelo
(1947) Color, 78m. Roy Rogers, Trigger, Dale Evans and Andy Devine in a charming, tune-filled western romp in Cine-Color. Along the Mexican border, Roy joins Western novelist Dale in a search for smugglers. They discover a silver mine.
The Big Show
(1936) 70m. Gene Autry plays a snotty cowboy movie star and also his amiable stunt double who can sing as well. Good Gene impersonates bad Gene at the Texas Centennial and runs into girls, gangsters and songs.
The Three Mesquiteers
Get a double feature on DVD starring Republic's western trio played by Robert Livingston, Ray Corrigan and Max Terhune: An archeology treasure hunt in "Riders of the Whistling Skull" (1937) and poaching in a national park in "Heart of the Rockies" (1937).
---