The Gold Collection
The 50 most popular, most classic Hollywood Action, Crime, Film Noir, Western, Horror and Dramatic feature films in the Festival Films Library. Available as a package on DVD, Mpeg2 video files or on Broadcast DVCam formats. Price depends on format desired.
The SILVER Collection contains 50 more of the best Comedy Classics in the Festival Films Library.
See Movie Trailers to some of the Gold & Silver Collection COLOR Films!
Movie Trailers to some Gold & Silver Collection Black & White Films!
---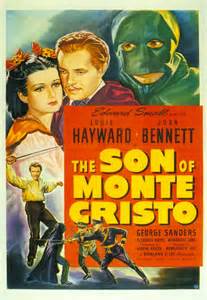 Action Films
Bird of Paradise (1932) 80m. Joel McCrea, Dolores del Rio. A sailor falls for a beautiful island girl who may become a sacrifice to an erupting volcano.
Captain Kidd (1945) 89m. Randolph Scott vs blackgard brigand Charles Laughton.
Forced Landing (1941) 67m. Richard Arlen, Eva Gabor, J. Carroll Naish. A Pacific Islands dictator must compete with a military pilot for a woman's affection, and underhandedly dispatches him on a suicide mission.
I Live On Danger (1942) 73m. Chester Morris, Jean Parker. Eddie Nelson is wrongly accused of murder, and journalist Jeff Morrell and Nelson's sister, Susan Richards, fight to prove his innocence.
The Jungle Book (1942) Color, 109m. Sabu stars in Kipling's classic adventure tale.
Lure of the Islands (1942) 62m. Margie Hart, Gale Storm, Robert Lowrey. FBI agent meets native girl on Nazi-Jap run island.
The Magic Sword
(1960) Color, 80m. Evil Basil Rathbone vs. St. George who must slay that dragon. Nice color, monsters, a quest, beautiful maiden and more to challenge the hero!
The Most Dangerous Game
(1932) 70m. The insane hunter Zaroff stalks Fay Wray and Joel McCrea on the jungle set used for "King Kong."
New Adventures of Tarzan (1935) 75m. Bruce Bennett as the ape man helps secure secret of the Green Goddess statue deep in jungles of Guatemala. Feature version of the 12-chapter serial.
The Son of Monte Cristo
(1940) 92m. Dashing Louis Hayward masquerades as a foppish banker and a masked freedom fighter to rescue distressed Joan Bennett from evil George Sanders. Great sets, sword fights and derring-do!
Sundown (1943) 90m. Gene Tierney, George Sanders. Englishmen fighting Nazis in Africa discover an exotic mystery woman living among the natives and enlist her aid in overcoming the Germans.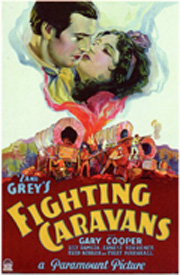 Westerns
Angel and the Badman
(1947) 100m. Badman John Wayne is nursed back to health by Mormon girl Gail Russell. Will the Duke reform before marshal Harry Carey arrests him?
Bells of San Angelo
(1947) Color, 78m. Roy Rogers, Trigger, Dale Evans and Andy Devine in a charming, tune-filled western romp filmed in Trucolor. Along the Mexican border, Roy joins Western novelist Dale in a search for smugglers. They discover a silver mine.
The Big Show
(1936) 70m. Gene Autry plays a snotty cowboy movie star and also his amiable stunt double who can sing as well. Good Gene impersonates bad Gene at the Texas Centennial and runs into girls, gangsters and songs.
Deadly Companions
(1961) Color, 93m. Maureen O'Hara, Brian Keith, Steve Cochran. Ex-army officer accidentally kills a woman's son, tries to make up for it by escorting the funeral procession through dangerous Indian territory.
McLintock!
(1963) 127m. John Wayne, Maureen O'Hara. Wealthy rancher G.W. McLintock uses his power and influence in the territory to keep the peace between farmers, ranchers, land-grabbers, Indians and corrupt government officials.
Mohawk
(1956) Color, 80m. Scott Brady, Rita Gam. In 1700s New York, a Boston artist working in the remote Fort Alden is torn between his love for 2 women and thrown into the middle of a Mohawk-Iroquois-American war.
One-Eyed Jacks
(1961) Color, 141m. Rio (Marlon Brando) escapes from prison and hunts down his former partner (Karl Malden) who betrayed him for revenge, but the rat is now a sheriff. Directed by Brando in epic style.
Rage at Dawn
(1955) Color, 87m. Randolph Scott, Forrest Tucker. A special agent from Chicago is sent out west to bring in the notorious Reno brothers.
Santa Fe Trail
(1940) 110m. Errol Flynn, Ronald Reagan, Olivia de Havilland. The story of Jeb Stuart, his romance with Kit Carson Holliday, friendship with George Custer and battles against John Brown in the days leading up to the outbreak of the American Civil War.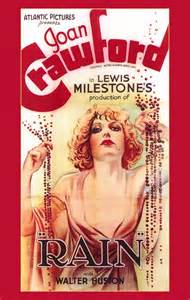 Dramatic & Film Noir Classics
Carnival Story
(1954) Color, 98m. High-diver Lyle Bettger takes young Anne Baxter on to teach her the ropes, but a romantic triangle develops.
Cause for Alarm
(1951) 72m. Loretta Young. Invalid husband claims wife is trying to kill him, and then he dies.
Cyrano de Bergerac
(1950) 112m. Oscar-winning performance by Jose Ferrer as Rostand's tragic 17th century lover renowned for his nose but longing for the love of a beautiful lady.
Detour
(1945) 68m. Classic Edgar G. Ulmer B-pic. Innocent hitch-hiker Tom Neal is sucked into a tightening net of film noir trouble. He went searching for love... but Fate forced a DETOUR to Revelry... Violence... Mystery!
D.O.A.
(1950) 83m. "Dead On Arrival." Edmond O'Brien wakes up with more than just a hangover. Doctors tell him he's been given a "luminous toxin" with no antidote and has, at most, a week to live! Not knowing who did it or why, he embarks on a frantic odyssey to find his own murderer.
Dr. Kildare's Strange Case
(1940) 76m. Lew Ayres stars as Dr. Kildare, who tries to cure mental patient.
The Great Dan Patch
(1949) 94m. Dennis O'Keefe and Gail Russell in true story of the famous harness-race horse.
King of the Circus (This Woman is Mine)
(1935) 88m. Gregory Ratoff. Circus lion tamer enamored of girl ward grown up.
The Last Time I Saw Paris
(1954) Color, 115m. Elizabeth Taylor and Van Johnson play two struggling lovers in the reckless gaiety of post-World War-II Paris.
Man with the Golden Arm
(1955) 119m. Frank Sinatra, Kim Novak. Junkie deals with demoralizing drug addiction.
Meet John Doe
(1941) 123m. Naive Gary Cooper is chosen the average American man for a goodwill drive that benefits a corrupt politician.
Our Town
(1940) 90m. Thornton Wilder's play about life in small-town America is brought to the screen with William Holden and Martha Scott as yount couple.
Rain
(1932) 90m. Somerset Maugham's tawdry South Seas tale. Joan Crawford is trollop Sadie Thompson and the target of preacher Walter Huston's reform.
Snows of Kilimanjaro
(1952) Color, 117m. Hemingway adventure with Gregory Peck, Susan Hayward.
The Stranger
(1946) 95m. Orson Welles is an escaped Nazi war criminal hiding in small town and about to marry Loretta Young until E.G. Robinson tracks him down. Directed by Welles.
Horror Films
The Brain That Wouldn't Die
(1959) 81m. Mad scientist keeps talking head alive. Cult "Horror" film for being laughably horrible!
Carnival of Souls
(1962) 74m. Candace Hilligoss. Ghost story about a troubled woman who survives car accident.
Horror Express
(1972, Britian-Spain) Color, 88m. Christopher Lee and Peter Cushing battle ancient monster on board train through Manchuria.
The House on Haunted Hill
(1959) 75m. Eccentric millionaire Fredrick Loren (Vincent Price) and his wife invite 5 people to the House on Haunted Hill. If they survive the night they will each get $10,000. Screams and plot twists! Some don't make it.
Night of the Living Dead
(1968) 96m. In George Romero's trend setting fright film the dead come back to life and eat the living. Several people barricade themselves inside a rural house in an attempt to survive the night. Outside are hordes of relentless, shambling zombies who can only be killed by a blow to the head. The two nude shots can easily be cut for television!
The Terror
(1963) Color, 81m. Boris Karloff menaces Jack Nicholson. A young officer in Napoleon's army pursues a mysterious woman to the castle of an elderly Baron.
The Vampire Bat
(1933) 71m. Mad scientist Lionel Atwill vs. Fay Wray and Melvyn Douglas. Have vampires returned?
White Zombie
(1932) 69m. Haitian warlock Bela Lugosi, in a truly eerie role that tops even Dracula, transforms a young bride into a zombie.
Mystery!
And Then There Were None
(1945) 98m. Agatha Christie mystery. Ten people die one by one on a lonely island. Will any survive? And whodunnit?
The Bat
(1959) 80m. A hooded murderer known as "The Bat" seeks treasure in an old house. With Vincent Price as a prime suspect and Agnes Moorhead.
Dick Tracy Meets Gruesome
(1947) 65m. Ralph Byrd pursues master criminal Gruesome, played by Boris Karloff!
The Kennel Murder Case
(1933) 73m. Excellent S.S. Van Dyne mystery starring William Powell as detective Philo Vance, who must solve a locked room murder. Deftly directed at Warner Bros. by Michael Curtiz. With Mary Astor.
Mr. Moto's Last Warning
(1939) 71m. Peter Lorre, John Carradine, George Sanders. International sleuth Moto thwarts a ruthless band of foreign agents who try to mine the entrance to the Suez Canal and blame the British.
Sherlock Holmes in Dressed to Kill
(1946) 71m. Basil Rathbone and Nigel Bruce. With TV episode "Case of the Baker Street Nursemaids."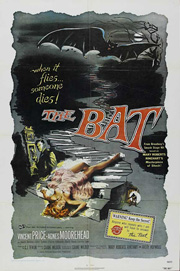 The Thirteenth Guest
(1932) 69m. Ginger Rogers, Lyle Talbott get involved in murder mystery.
---