Black Heritage Films
From the 1920s thru the mid-1950s many films were made with all African-American casts for distribution to black cinemas and all-black audiences. These inexpensive but heartfelt little gems spanned all genres -- musical, dramatic, western, comedy and even horror -- and give a fascinating peak today inside a culture and world that has been largely overlooked by history.
Some Black features, cartoons, shorts and musical Soundies from the 1940s have been put together into Black Heritage Programs for theaters and film societies.
All films are available in Mpeg2, Mpeg4 or DVD-R format.
VINTAGE Black Features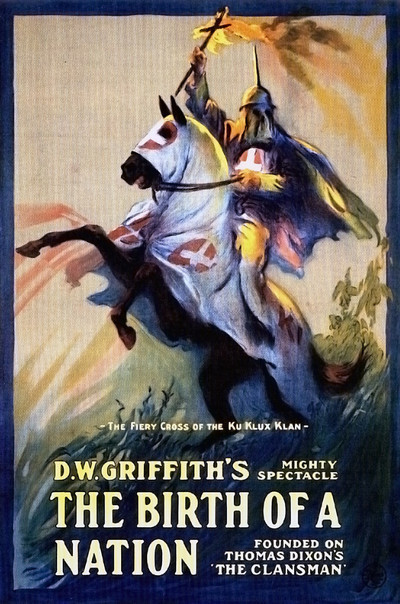 The Birth of a Nation
(1915) Silent classic with music score. D.W. Griffith's controversial Civil War epic. The Stoneman family finds its friendship with the Camerons affected by the Civil War, both fighting in opposite armies. The development of the war in their lives plays through to Lincoln's assassination and the birth of the Ku Klux Klan.
Beware
(1946) 53 min. Band leader Louis Jordan brought back to help struggling Ware College. Music-filled romp.
The Blood of Jesus
(1941) 57 min. Spencer Williams film about an atheist who accidentally shoots his Baptist wife, who must fight the Devil for her soul. Old Time Religion Special Program!
Boarding House Blues
(1948) 86 min. Moms Mabley and Dusty Fletcher. Tenants of a Harlem boarding house put on a show to save their home.
Boy! What a Girl!
(1947) 70 min. Tim Moore, Elwood Smith, Duke Williams. A couple of theatrical producers try to get backing for their musical show.
The Bronze Buckaroo
(1939) 58 min. Herb Jeffries sings and shoots in a black cast western. With "Bubbling Over" musical short.
The Devil's Daughter
(1939) 59 min. Nina Mae McKinney runs afoul of voodoo in Jamaica.
Dirty Gertie from Harlem
(1946) 65 min. Francine Everett, Don Wilson. A sexy, enticing dancer from Harlem makes things happen in a sleepy Caribbean island resort.
The Duke Is Tops (aka Bronze Venus)
(1938) 63 min. Lena Horne plays a night club singer who gets a chance at Broadway. One of our Special Programs with "Little Black Sambo" cartoon, Fats Waller Soundie and Ethel Waters in "Bubbling Over."
Gang War
(1940) 63 min. Ralph Cooper in gangster film set in Harlem.
Go Down Death (1940) 56 min. Myra D. Hemmings, Samuel H. James. A bar owner attempts to discredit the new preacher with whom he is feuding by framing him with a photograph showing him drinking with women with bad reputations. Old Time Religion Special Program!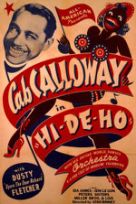 Hi De Ho
(1947) 64 min. Cab Calloway is a band leader pressured to work in a gangster bar. Special Program with 2 Mills Brothers Soundies, Amos 'n Andy cartoon and Duke Ellington's "Symphony in Black" with Billie Holiday.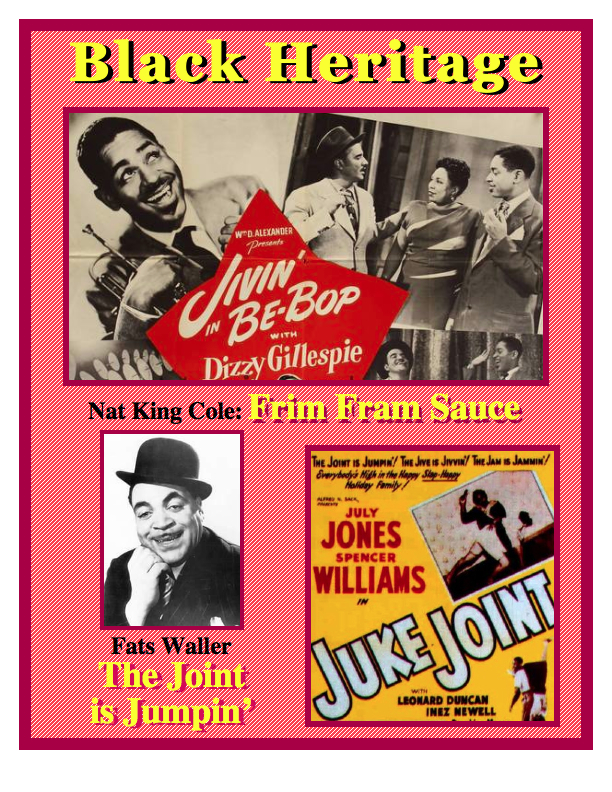 Jivin' in Be-Bop
(1946) 58 min. Dizzie Gillespie and his musical friends have a ball.
Juke Joint (1947) 58 min. Spencer Williams is a con man who poses as a Hollywood acto to advance the fortunes of a small town beauty contest. Plus "The Joint is Jumpin' " by Fats Waller and "Frim Fram Sauce" by Nat King Cole in a Special Program!
Midnight Shadow


(1939) 54 min. In a quiet, all-black Oklahoma community live the Wilsons, whose pretty daughter Margaret is courted by awkward Buster and suave stage mentalist Prince Alihabad. On one busy night, Mr. Wilson shows his valuables to Alihabad, who plans to elope with Margaret; a mysterious man hangs around while another burglarizes the house; and someone murders Mr. Wilson! Will the killer be caught by the police, or by bumbling correspondence-school detective Junior Lingley?
Moon Over Harlem
(1939) 68 min. A girl's mother marries a philanderer, who then pursues the daughter. When caught, the mother throws her out into the world of Broadway shows. Harlem Gangsters Special Program!
Murder in Harlem
(1935) 96 min. A black night watchman at a chemical factory finds the body of a murdered white woman. After he reports it, he finds himself accused of the murder. Directed by Oscar Micheaux.
Murder on Lenox Avenue
(1941) 65 min. Mamie Smith, Alec Lovejoy. Dramatic events in a Harlem apartment house. Pa Wilkins is chosen by the Better Business League to replace their ousted, crooked leader Marshall.
Murder with Music
(1941) 57 min. Night club singer Nelle Hill has many suitors -- an escaped convict, a piano player and a newspaper man. One is killed. Plus Cab Calloway sings "We the Cats Shall Hep Ya (1945). Harlem Murder Spree Special Program!
Paradise in Harlem
(1939) 85 min. Crime drama centered on a club singer who aspires to be a great dramatic actor.
Reet, Petite and Gone
(1947) 67 min. Bandleader Louis Jordan stars in a dual role. With "Cab Calloway's Jitterbug Party," "Scrub Me Mama" Cartoon and Louis Armstrong Soundie in a Special Program!
Rock 'N' Roll Revue and Rhythm & Blues Revue
(1955) Two one-hour compilations of black performers on stage: Dinah Washington, Mantan Moreland, Duke Ellington, Nat King Cole, Sarah Vaughn, Lionel Hampton, Herb Jeffries, etc.
Sepia Cinderella (1947) with Billy Daniels and Sheila Guyse. A struggling band leader's rise to fame after overcoming many obstacles, including a bad-girl vs. good-girl situation.
Showtime at the Apollo
(1954) 80 min. Musical variety show filmed in New York's Apollo Theater with many stars: Nipsey Russell, Duke Ellington, the Clovers, Herb Jeffries, Dinah Washington, Count Basie, Lionel Hampton, etc. 3 separate episodes of the 1954 TV show.
Son of Ingagi
(1940) 61 min., only fair quality. Spencer Williams in haunted house horror film.
Souls of Sin
(1949) 64 min. Unsuccessful gambler 'Dollar Bill' Burton lives in a crummy New York basement room with old friend Bob and a new roommate, friendly blues singer 'Alabama' Lee. But, tired of being broke, Dollar Bill gets more steady employment...doing illegal errands for gangster Bad Boy George. The now prosperous Bill ignores pretty, adoring Etta and takes up with sultry singer Regina. Will Bill's way of life catch up with him? Will his upright friends be more successful in the end? All-black cast.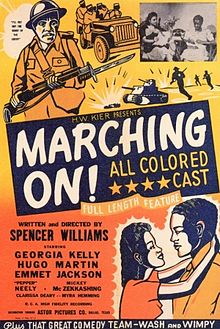 Spirit of Youth
(1938) 66 min. Boxer Joe Louis stars in the story of the rise of boxer Joe Thomas, which paralleled the life of Joe Louis.
Where's My Man Tonight? aka. "Marching On"
(1943) 63 min. The film focuses on a young African American who continues his family's tradition of military service when he is drafted into the United States Army during World War II. Despite complications that arise during his basic training, including his jealousy following his girlfriend's flirtatious attention to his sergeant, the young soldier becomes a hero when he locates Japanese saboteurs operating a radio station outside of his military base.
---
Showcasing Black Actors
The following films feature famous black actors in films with white actors.
Check and Double Check
(1930) 80 min. Radio's Amos 'N Andy (white actors Freeman Gosden and Charles Correll in black face) in a feature comedy. With Duke Ellington.
The Emperor Jones
(1933) 72 min. Paul Robeson plays a porter who escapes from a chain gang to become king of a Caribbean island. Based on the play by Eugene O'Neil. Special Program with "Uncle Tom and Little Eva" cartoon, Delta Rhythm Boys "Take the A Train" and Bessie Smith in "St. Louis Blues."
The Jackie Robinson Story
(1950) 76 min. Jackie Robinson stars in own biography as first black baseball player in majors.
Judge Priest
(1934) 80 min. Will Rogers comedy is a showcase for black comedian Stepin Fetchit.
The Joe Louis Story
(1953) 88 min. Coley Wallace in biography of the Heavyweight champ.
Topper Returns
(1941) Rochester is featured in this mystery-comedy about Cosmo Topper (Roland Young) helping ghost Joan Blondell find her own killer.
Mantan Moreland Co-Starring Features:
Freckles Comes Home
(1942) Gale Storm, Johnny Downs, Mantan Moreland. Two pals encounter an obstinate hick town sheriff who accuses them of murder.
Law of the Jungle
(1942) Arline Judge, Mantan Moreland. Nazis hide among jungle natives in this classic Monogram thriller.
The Gang's All Here
(1941) Frankie Darro, Mantan Moreland comedy/crime B-picture.
Irish Luck
(1939) Frankie Darro, Mantan Moreland. An amateur detective teams up with a frightened bell-hop to solve a series of hotel murders.
King of the Zombies
(1941) 67 min. Dick Purcell, Joan Woodbury, Mantan Moreland. Fiendish Mad doctor creates Zombies for the Axis. Mantan Moreland turns this chiller into a hilariously funny film.
Let's Go Collegiate
(1941) Frankie Darro & Mantan Moreland in a college musical.
Mr. Washington Goes to Town
(1941) 55m. Mantan Moreland and F.E. Miller in the very first all-black comedy feature. While reading the newspaper in his jail cell during his stint as a "guest of the county", Wallingford reads a story that his cellmate, Schenectady, has inherited a hotel from an uncle who has recently died. Upon hearing the news, Schenectady falls asleep and dreams of what kind of life he'll lead now that he owns a hotel. It turns out he has a surprise in store.
Up In the Air
(1940) Frankie Darro, Mantan Moreland in mystery-comedy set in radio station.
---
Cavalcade of Black Musical Shorts
Bessie Smith in "St. Louis Blues"
Lena Horne in "Boogie-Woogie Dream"
Ethel Waters in "Bubbling Over"
Duke Ellington in "Symphony in Black"
Cab Calloway's "Jitterbug Party"
"Murder in Swingtime"
"Mr. Adam's Bomb"
"Open the Door Richard"
Fats Waller "Ain't Misbehaving"
Louis Armstrong "Shine"
The Mills Brothers, Dorothy Dandridge: "Paper Doll"
SOUNDIES and More Black Musical Shorts
Rare, restored musical "Soundies" that were played on special juke boxes
in the 1940s called Panoram machines:
Fats Waller - "Ain't Misbehavin' " (1941), "Joint is Jumping" and "Your Feet's Too Big"
Louis Armstrong - "Shine" (1942) and "Swinging on Nothing"
Nat King Cole & Ida James: "Is You Is or Is You Ain't My Baby?" (1944),
Nat King Cole: "Calypso Girl" and "Frim Fram Sauce"
Cab Calloway - "Minnie the Moocher" (1942), "Skunk Song" and "We the Cats Shall Hep Ya"
Mills Bros. - "Cielito Lindo" (1944), "Paper Doll" and "Up a Lazy River"
Billy Eckstine - "Prisoner of Love" (1946)
Count Basie - "Take Me Back Baby" (1941)
Bojangles Robinson: "Let's Scuffle:
Delta Rhythm Boys: "Dry Bones" and "Take the A Train"
Hilda Rogers: "I Can't Give You Anything but Love"
Maxine Sullivan: "Some of these Days"
Dorothy Dandridge: "Cow Cow Boogie"
The Three Chefs - "Breakfast in Rhythm" (1943)
Billie Holiday and Coleman Hawkins: extended jazz piece early 1950s TV
Black Jazz Legends & Bonus Jazz
Two all musical Black Jazz Programs with posters to promote your showings! Rare musical Soundies by Billy Eckstine, Nat King Cole, Fats Waller, Count Basie, Louis Armstrong, Cab Calloway and more, plus "Scrub Me Mama" color cartoon, episode of "Showtime at the Apollo" and "Rock 'n Roll Revue" wth dozens of stars. (Includes many of the best musical shorts from the above collections.)
---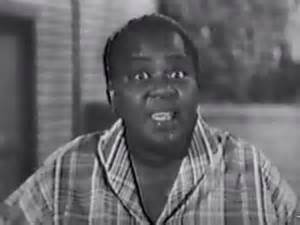 Black Actors on Early Television
The Beulah Show (1950-1953) First television series to feature black actors. Beulah is a Negro domestic in a white family who pulls the weekly family situations together with more common sense than all of the others. The role of Beulah was played by 3 distinguished black women: Ethel Waters, Hattie McDaniel and Louise Beavers.
New Arrival 6/10/1952
Louise Beavers as Beulah. Beulah draws her own conclusions when she see young Johnny with a baby buggy and Mrs. Henderson tells her that she has a secret from her husband. Beulah then plans a baby shower. Second Wedding 5/20/1952
Louise Beavers as Beulah. Oriole convinces Beulah that the Hendersons are headed for divorce.
Beulah Goes Gardening 8/12/1952
Hattie McDaniel as Beulah. Miss First of the Henderson household, volunteers to doctor Henry's pet rose bush; Beulah becomes distressed and the Henderson's impressed, as the plant changes size, color, shape and everything under her mysterious ministrations.
Bill the Babysitter
Ethel Waters as Beulah #1, with Dooley Wilson as Bill and Butterfly McQueen as Oriole. Bill becomes a babysitter when the Hendersons take out a would-be client of Harry's.
The Waltz */5/1952
Hattie McDaniel as Beulah. Mr. and Mrs. Henderson are worried about son Donnie's social skills. He just doesn't seem to be able to get a handle on how to dance, and the big dance class party is approaching. Beulah and Bill fix that by teaching him to dance--not the stuffy dances he's learning in class, but jive.
Willie Best
Willie was a popular black comedian who had featured roles in the early TV situation comedy Trouble with Father (1950-1955) starring Stu Erwin.
Black Saturday When the neighbors get a dishwasher, June becomes jealous so Stu decides to build her a dishwasher from of a do-it-yourself kit with help of handyman Willie.
Stu's Holiday Refusing to pay a plumber, Stu Insists on handling a leaky pipe himself, placing the Erwin household on a flood alert.
Father Picks A Queen A conflict of interest arises when Stu is chosen to judge a beauty competition that Joyce has entered.
A Quiet Place Stu takes June to hotel (where Willie is a waiter) for a needed rest that turns into disaster.
Willie was also featured in many episodes of My Little Margie (1952-1955) starring Gale Storm and Charles Farrell.
A Horse for Vern Somehow Vern gets a horse in his apartment!
Margie's Recipe Margie fixes special dinner and sings opera.
My Little Bookie Margie becomes betting bookie to aid finances.
Young Vern Margie helps Vern look and feel younger.
---
Blacks in the Military
US government films about the black soldier in World War-2.
THE NEGRO SOLDIER A baptist minister addresses his congregation with a rousing account of the outstanding contributions of blacks to American arms and society from revolutionary times to the present. He urges his congregants to contribute to the current fight to preserve freedom. 1944.
THE NAVY STEWARD This fascinating study describes the duties and essential role played by the navy steward in America's maritime war effort. 1955.
THE NEGRO SAILOR A newspaper reporter follows "Bill Johnson" from induction, through basic training and ultimately, actual combat in this stirring call to arms, urging African-Americans to throw their might behind the battle to preserve democracy in the raging global conflict. 1945.
NEGRO COLLEGES IN WAR TIME 1943 Documentary short film detailing the work on American black college campuses in response to the call for military recruits and trained workers. With George Washington Carver.
---
1929 Black Comedy Shorts
4 Rare comedy shorts produced by Al Christie. Spencer Williams (later Andy in "Amos 'n Andy" on TV) appears in each.
"Framing of the Shrew" - Downtrodden husband stars divorce proceedings.
"Melancholy Dame" - A nightclub owner's wife, jealous of his attentions to his star singer, schemes to get her fired.
"Music Hath Harms" - Roscoe claims to be champion horn player, but he can't play a bit. When he enters a contest a friend hides under the stage to make the music.
"Oft in the Silly Night" - A chauffeur falls in love with the daughter of his employer.
---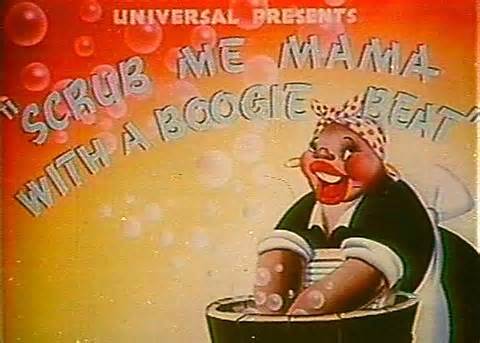 Black Cartoons
Any Bonds Today Bugs and Porky sing in blackface.
Big Man From the North Black boy Bosko is Mountie.
The Talk-Ink Kid Bosko in first Warners cartoon.
Box Car Blues Bosko on runaway train car.
Bosko the Doughboy Bosko in trenches in W. War-2.
Congo Jazz Bosko hunts animals in the jungle.
Sinkin' in the Bathtub Bosko and Honey take car ride.
Bosko Shipwrecked Bosko pursued by cannibals!
A Coy Decoy Daffy Duck. Book covers come to life.
Early Worm Gets the Bird Black Mammy bird and her young ones.
Porky's Preview Porky draws cartoon with black-faced Al Jolson.
Hittin' the Trail for Hallelujah Land - Piggy on a show boat meets Uncle Tom.
Plane Dumb - Tom and Jerry put on blackface.
Inki and the Minah Bird - Little black native hunts lion while vexed by strange bird.
Little Black Sambo - Sambo and his Mammy vs. tiger.
Rasslin' Match - Amos 'n Andy cartoon.
Scrub Me Mama With a Boogie Beat - Hot chick wakes up sleepy town.
Lion Tamer - Amos 'n Andy cartoon.
Have You Got Any Castles? - Books come to life, with many black caricatures.
Camptown Races - Animals perform minstrel show.
Uncle Tom and Little Eva - Spoof of famous story.
Silly Superstition - Lil' Eightball and his dog take on escaped zoo lion.
Jingle, Jangle, Jungle - Hijinks with natives in Africa.
Jungle Jitters - Salesman blunders into cannibal camp.

---
Black ACTION Films
The Baron
(1977, color) 89 min. Black actor tries to make his own movie with an all-black cast, but to make it he's forced to borrow money from the Mafia. Complications ensue.
The Black Brigade
(1970, color) All-black World War-II brigade with Stephen Boyd, Robert Hooks, Paul Stewart, Richard Pryor, Susan Oliver, Glynn E. Turman, Billy Dee Williams.
Black Cobra - 1
(1987, color) 85 min. Fred Williamson. A lone cop struggles to protect a female photographer from a gang of psychopathic bikers.
Black Cobra - 2
(1989, color) 94 min. Chicago cop Robert Malone (Fred Williamson) finds himself in The Philippines, ostensibly to learn the techniques of Interpol. Before he exits the Manila airport, his wallet is stolen by a pickpocket. Malone endures a testy relationship with his new colleague Kevin McCall while evidence surrounding the stolen wallet pulls both of them deeper and deeper into a web of intrigue.
Black Cobra - 3
(1990, color) 92 min. A shipment of American weapons is stolen in the Philippines. An American named Hawkins tries to find the weapons. Hawkins ends up dead. Chicago policeman Bob Malone (Fred Williamson) is called in to investigate. Along with Interpol agent Greg Duncan, Malone travels the streets of Manila, tracking down leads. Criminals always seem to know where Duncan and Malone will be, which leads them to suspect a traitor in their midst.
Black Fist
(1975, color) Aka "Bogarde." To make money, a Los Angeles street-fighter goes to work for gangsters. With Richard Lawson.
The Black Godfather
(1974, color) Rod Perry. A neighborhood hoodlum fights his way to the top of a drug-selling gang. Brief nudity and language.
The Black Six
(1974, color) Action film with Carl Eller, Mercury Morris, Willie Lanier, Ben Davidson, Gene Washington, "Mean" Joe Green.
Boot Hill
(1969, Italy, color) 87m. Spaghetti western with Terrence Hill, Bud Spencer and black actor Woody Strode. Victims of oppressive town boss Honey are offered help by an unusual alliance of gunmen and circus performers.
The Final Comedown
(1972, color) 83 min. Billy Dee Williams. Black revolutionaries take action in the white suburbs. Brief nudity.
The Gatling Gun
(1973, color) Western with Guy Stockwell, Woody Strode. Two backstabbing deserters steal a Gatling Gun from their cavalry unit to attack an Apache tribe and steal their gold.
Get Christie Love
(1974, color) Teresa Graves. A black & sassy undercover operative uses street smarts, revealing outfits and Kung-Fu to penetrate the thriving drug dealing culture in Los Angeles.
Joshua
(1975, color) 90 min. Fred Williamson. A black soldier returns from fighting for the Union in the Civil War only to find out that his mother has been murdered by a gang of white thugs. He becomes a bounty hunter, determined to track down and kill the men who killed his mother.
Lady Cocoa
(1975, color) 93 min. Foxy Lady Cocoa (Lola Falana) is out to take down her mobster boyfriend.
TNT Jackson
(1974, color) A young karate expert searches for her brother's killer in Hong Kong. Starring Jeannie Bell.
Velvet Smooth
(1976, color) 93 min. Johnnie Hill. The female head of a detective agency is hired by a crime lord to figure out who's taking his action.
Warriors of the Wasteland
(1983, Italy) Color, 90m. In a post-apocalyptic future, Fred Williamson is a mercenary who helps a group of weary survivors faced with a relentless onslaught from a gang of roving bandits. Science Fiction.
---
A Few Later Black Films
Time for Freedom
1957 USA 29 min. Civil Rights documentary with Martin Luther King Jr., Rosa Parks, Harry Belafonte and other leaders of the era.
One Tenth of a Nation
1954 USA 12 min. The story of fifteen million black Americans and their contributions to the community and the nation.
Brother from Another Planet
1984 USA 108m. Color. Joe Morton is a mute, black alien chased through Harlem by alien bounty hunters.
Firehouse
1973 USA 75m. Color. Richard Roundtree, Vince Edwards, Andrew Duggan. All-white firehouse gets first black fireman.
Jive Turkey
(1974, color) In 1956 Ohio, the head of a lucrative numbers game is pursued by both the mob and the local police.
The Mark of the Hawk
(1957, color) Sidney Poitier. The man called Obam struggles with the increasingly hostile forces facing each other in a colonial African country.
Panic in Echo Park 1977 72m. Color. Dorian Harewood, Robin Gammell. Young black MD tries to warn of deadly epidemic.
The Quiet One
(1948) Celebrated documentary. A quiet, neglected Harlem boy's wall of silence masks a drift into juvenile delinquency.
The River Niger
(1976, color) An intimate look at life in the ghetto: Johnny Williams is a house painter who moonlights as a poet, struggling to financially and emotionally support his cancer-ridden wife Mattie. With Cicely Tyson, James Earl Jones and Louis Gossett Jr.
Rock, Rock, Rock
(1956) Early Rock 'n Roll film starring Tuesday Weld, but also featuring performances by these black singers and groups: The Moonglows, The Flamingos, Frankie Lymon and the Teenagers, La Vern Baker and Chuck Berry.
To All My Friends on Shore
(1972, color) TV movie. Bill Cosby. An airport redcap works hard to get his family out of the ghetto, only to discover that his son has sickle-cell anemia.