Classic American Horror Films!
The Horror genre naturally overlaps into Sci-Fi, Mystery, Film Noir and in a few cases Comedy and Adventure. All films are available in DVD-R and Mpeg2 formats.
Visit our new Foreign Horrors page for mostly color frights from Spain, Italy and England!
Some Sci-Fi and Horror posters are at 12 Nights of Horror and Sci-Fi Horror Poster Page.
---
Monsters & Maniacs!
The Beast from Haunted Cave (1960) 64m. Robbers vs. mystery spider monster!
The Brain That Wouldn't Die (1959) 81m. Mad scientist keeps talking head alive. Cult "Horror" for many reasons!
Creature from the Haunted Sea (1961) 74m. Roger Corman monster at end of spy spoof flick.
Dementia 13 (1963) 76m. Francis Ford Coppola psycho thriller about axe maniac on island.
Giant Gila Monster (1959) 74m. Real and really big (looking) lizard menaces a Texas town and teenage heroes.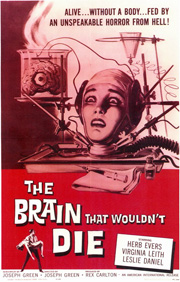 The House on Haunted Hill (1958) 75m. Vincent Price hosts haunted house night in excellent William Castle thriller!
I Bury the Living (1958) 76m. Richard Boone plays cemetary curator who finds he can cause deaths by mixing up pins on his map of grave plots.
Indestructible Man (1956) 70m. Lon Chaney Jr. is executed criminal revived to run amock!
Killer Shrews (1959) 70m. Vicious sci-fi critters loose on Texas island.
The Little Shop of Horrors (1960) 73m. Talking, man-eating plant in Roger Corman "Feed Me" comedy.
Monster Maker (1944) 65m. Mad doctor J. Carroll Naish makes monsters.
Night of the Living Dead (1968) 96m. Zombie classic by George Romero.
The Terror (1963) Color, 81m. Boris Karloff menaces Jack Nicholson.
Tormented (1960) 75m. Richard Carlson kills mistress, but her ghost returns to haunt him.
The Vampire Bat (1933) 71m. Mad scientist Lionel Atwill vs. Fay Wray.
---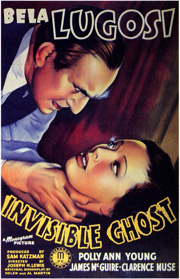 Bela Lugosi Screamathon!
The Ape Man (1943) 67m. Bela transforms self into half-human monster.
Bela Lugosi Meets a Brooklyn Gorilla (1952) 74m. Bela Lugosi in the jungle with two comedians who look like Martin and Lewis.
Black Dragons (1942) 69m. Bela is Nazi plastic surgeon who turns Jap spies into American industrialists.
Bowery at Midnight (1942) 60m. Professor Lugosi has basement full of zombies.
Chandu on the Magic Isle (1935) 68m. Feature version of the Lugosi serial "The Return of Chandu."
The Corpse Vanishes (1942) 63m. Bela Lugosi kills virgin brides, steals their bodies, & extracts gland fluid to keep his ancient wife alive and young.
The Devil Bat (1941) 69m. Evil Lugosi trains bats to kill on cue!
Ghosts on the Loose (1943) 65m. Kids vs. Nazi spy Bela Lugosi.
The Invisible Ghost (1941) 64m. Lugosi glimpses his insane wife, goes into trance and kills.
Mysterious Mr. Wong (1935) 63m. Bela Lugosi is power-mad Chinaman after sacred coins.
The Phantom Creeps (1939) 80m. Feature version of the serial. Bela is mad man with giant robot out to conquer the world. All 12 chapters of the serial are also available.
Plan Nine from Outer Space (1956) 79m. On alien's ninth attempt to conquer earth, they reanimate corpses. Bela's last few minutes of film.
Scared to Death (1947, color) 65m. Corpse tells story of how she was scared to death ... by Bela and his midget pal.
Shadow of Chinatown (1936) Bela serial available as either the 14 chapter serial or 73m. feature version.
Spooks Run Wild (1941) 65m. Kids invade spooky mansion haunted by Bela Lugosi in Dracula cape.
White Zombie (1932) 73m. Bela Lugosi in his best film as eerie Haiti zombie master.
---
More Thrills!
Amazing Mr. X, The (1948) 72m. Turhan Bey! In his eyes, the threat of terror! In his hands, the power to destroy!
Ape, The (1940) 62m. Kindly but crazy doctor Boris Karloff disguises as an ape to kill neighbors for their spinal fluid.
Bride of the Gorilla (1951) 65m. Raymond Burr. A plantation owner is plagued by a strange voodoo curse which transforms him into a gorilla.
A Bucket of Blood, A (1959) 66m. Dick Miller in Roger Corman comedy about beatnik sculptor who turns dead things into art.
Carnival of Souls (1962) 74m. Candace Hilligoss. Ghost story about a troubled woman who survives car accident.
Dead Men Walk (1943) 67m. George Zucco in vampire yarn, with Mary Carlisle, Dwight Frye.
Devil Times Five (1974) Color, 88m. Sociopathic children escape and taken in by adults on vacation.
Devil's Hand (1961) 70m. Robert Alda, Linda Christian. Man meets beautiful woman and joins satanic cult.
Devil's Messenger (1961) 71m. Lon Chaney Jr. hosts 3 episodes of the bizarre from Swedish TV.
The Devil's Partner, The (1961) 73m. Edgar Buchanan. An old man sells his soul to the devil, turns young man and uses black magic to win a woman from his rival.
Dr. Jekyll and Mr. Hyde (1955) 52m. Michael Rennie, Cedric Hardwicke in the "Climax" TV version of the tale. Plus second episode of Climax (on the DVD): Night of Execution (1955) with Vincent Price and Nina Foch.
Hands of a Stranger (1962) 85m. Paul Lukather. Pianist given new hands that came from a maniac killer!
Jesse James Meets Frankenstein's Daughter (1966) Color, 88m. The title sort of gives this one away!
King of the Zombies (1941) 65m. Dick Purcell, Joan Woodbury, Mantan Moreland crash on a voodoo island.
Man in the Attic (1953) 82m. Jack Palance. Is the mysterious new renter of an attic room really Jack the Ripper?
Maniac (1934) 51m. Superbly campy saga of a maniac who kills scientist and assumes his identity.
Mesa of Lost Women (1953) 69m. Jackie Coogan is mad scientist named Arana who creates giant spiders and dwarves in his lab on Zarpa Mesa in Mexico.
Night Tide (1961) 84m. Suspense thriller about a sailor, Dennis Hopper, who falls for a strange girl working as a mermaid in a seafront sideshow.
Revolt of the Zombies (1936) 62m. Dean Jagger plays the zombie master set on reviving Cambodian soldiers for his own evil use. m.
Ring of Terror (1962) 71m. Med student must endure morbid initiation in a morturary.
The Screaming Skull (1958) 68m. Screaming skulls and ghost haunt newly married couple.
---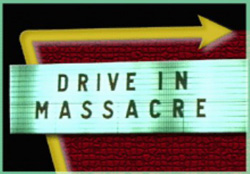 Drive-In Terrrrrors!
The Devil's Partner (1962) 73m. An old hermit makes a pact with the Devil and, in exchange for his obedience, is given restored youth and vitality.
Don't Look in the Basement (1973) Color, 92m. A new nurse arrives at a mental hospital only to discover that the head doctor has been murdered.
Drive In Massacre (1974) Color, 74m. Detectives investigate a series of grisly murders at a California drive-in theater.
Eegah! (1962) Color, 90m. Arch Hall Jr. vs. caveman in the desert.
Grave of the Vampire (1972) Color, 89m. Vampire rapes woman; her half-human child grows up and hunts down father.
Haunts (1977) Color, 98m. Small town stalked by deranged killer who uses scissors. Girl suspects her uncle.
I Eat Your Skin (1971) 84m. A cancer researcher on a remote Caribbean island discovers that by treating the natives with snake venom he can turn them into bug-eyed zombies.
Invasion of the Bee Girls (1973) Color, 86m. Aka. "Graveyard Tramps." Female insect expert gives women bee-like qualities and sending them out to kill men with sex. Gratuitous nudity!
Legacy of Blood (1978) Color, 82m. Three wicked sisters and husbands at remote inn are dispatched one by one by unknown killer.
Manos the Hands of Fate (1966) Color, 69m. A family gets lost on the road and stumbles upon a hidden, underground, devil-worshiping cult led by the fearsome Master and his servant Torgo.
Messiah of Evil (1972) Color, 90m. Young woman comes home to visit father but finds town deserted and... zombies eat people!
Moon of the Wolf (1972) Color, 74m. David Janssen TV Movie. Is a werewolf killing folks?
Night Fright (1967) Color, 66m. Sheriff of a small Texas town investigates when a serial killer starts bumping off female students at a local college, but it's a monster instead!
Scream Bloody Murder (1975) Color, 90m. Demented young man turns crazier and killier.
Sisters of Death (1977) Color, 87m. Girl killed during sorority initiation; years later -- revenge!
The Thirsty Dead (1974) Color, 88m. Beautiful young girls are kidnapped off the streets of Manila by a death cult that needs their blood to remain immortal.
Track of the Moon Beast (1976) Color, 81m. Man hit by meteorite in head turns into lizard-like monstrosity.
Undertaker and His Pals (1966) Color, 63m. Comedy/Horror. An undertaker and his two friends, who are restaurant owners, drum up business by going out on the town and killing people; the restaurant owners use parts of the bodies for their menu, and...
Werewolf of Washington (1973) Color, 90m. Dean Stockwell. REporter is bitten by a werewolf in Hungary, then sent back to Washington to cover the President.