Classic Drama, Romance, and Literature
Many other films with dramatic and romantic overtones are found in Adventure, Musicals, War and every genre.
All films are available in DVD-R format, some as the double features noted. Inquire about higher end masters such as BetaSP and DVCam.
---
Stark Drama!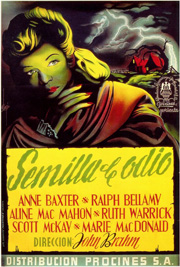 Abraham Lincoln (1930) 90m. Walter Huston is Lincoln in D.W. Griffith's last film.
Angel on My Shoulder (1946) 101m. Murdered convict Paul Muni is sent back to earth by Satan as a respected judge, then attempts to outwit him. With Anne Baxter, Claude Raines.
The Animal Kingdom (1932) 85m. Leslie Howard, Myrna Loy and marital discord.
The Big Lift (1950) 120m. Montgomery Clift in historic treatment of the Berlin air lift, filmed on location in bombed out Berlin.
The Bigamist (1953) 80m. Joan Fontaine, Ida Lupino, Edmund O'Brien marriage triangle!
The Black Book (aka Reign of Terror) (1949) 87m. Robert Cummings. Richard Basehart. French revolution intrigue as Robespierre loses his black book marking victims for the guillotine.
Blood on the Sun (1945) 98m. James Cagney works in Japan in the 1930s, but is virtually helpless to stop the trouble he smells coming.
Carnival Story (1954) Color, 98m. High-diver Lyle Bettger takes young Anne Baxter on to teach her the ropes, but a romantic triangle develops.
Cause for Alarm (1951) 72m. Loretta Young. Invalid husband claims wife trying to kill him, then dies.
Cheers for Miss Bishop (1940) 93m. Martha Scott, Edmund Gwenn. Life of a school teacher dedicated to her career.
Dr. Kildare's Strange Case (1940) 76m. Lew Ayres stars as Dr. Kildare, who tries to cure mental patient.
The Great Dan Patch (1949) 94m. Dennis O'Keefe and Gail Russell in true story of the famous harness-race horse.
The Great Gabbo (1929) 100m. Erich von Stroheim is a crazed puppeteer during Broadway musical with bizarro numbers.
Great Guy (1936) 67m. James Cagney is an inspector crusading against corruption in the meat packaging industry. With Mae Clark.
Guest in the House (1944) 121m. Anne Baxter, Ralph Bellamy in gripping melodrama about neurotic young woman in household of her betrothed.
Heartbeat (1946) 102m. Ginger Rogers, Basil Rathbone. Young woman joins pickpocket academy and falls for diplomat she is supposed to steal from.
Home Town Story (1951) 61m. Donald Crisp, Jeffrey Lynn, Marilyn Monroe (in a small, early role). A journalist takes on big business.
I Cover the Waterfront (1933) 70m. Waterfront reporter Ben Lyon romances Claudette Colbert to trap her father, Ernest Torrence, who has been smuggling Chinese immigrants.
Letter of Introduction (1938) 104m. Adolphe Menjou. An aging actor, trying to make a comeback on Broadway, is surprised when his estranged daughter shows up.
Meet John Doe (1941) 123m. Naive Gary Cooper is chosen the average American man for a goodwill drive that benefits a corrupt politician.
Our Daily Bread (1934) 71m. Landmark experiment by director King Vidor. Displaced people band together in a communal farming project during the Great Depression.
Patterns (1956) 83m. Van Heflin. Ethics and ambition at odds in NYC corporation board.
Rain (1932) 94m. Joan Crawford, Walter Huston. Prostitute finds redemption in Pago Pago.
Sin Takes a Holiday (1930) 81m. Married Constance Bennett falls in love with Basil Rathbone in Paris.
Smash-Up -- Story of a Woman (1947) 103m. Susan Hayward (Oscar nomination) is excellent as an insecure night club singer who weds a radio star, then sinks into alcoholism.
The Southerner (1945) 91m. Superb drama by the great director Jean Renoir about a farm family struggling to survive against overwhelming odds. With Zachary Scott, Betty Field.
They Made Me a Criminal (1939) 92m. John Garfield thinks he has killed someone and lams out West with the Dead End Kids, pursued by Claude Rains. Directed by Busby Berkeley.
Tulsa (1949) Color, 90m. Cattlewoman Susan Hayward enters the wildcat oil business to avenge the death of her father, but loses her values along the way.
Woman to Woman (1929) 77m. Betty Compson. Officer weds French ballerina, then gets amnesia.
---
Romance!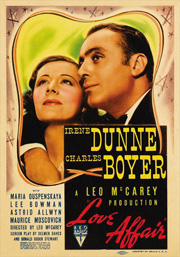 Algiers (1938) 99m. Hedy Lamarr and Charles Boyer have torrid romance in the Casbah.
Indiscretion of an American Wife (1953) 63m. American Jennifer Jones meets her Italian lover, Montgomery Clift, one last time in Rome's railway station. Directed by Vittorio De Sica.
The Last Time I saw Paris (1954) Color, 115m. Elizabeth Taylor and Van Johnson play two struggling lovers in the reckless gaiety of post-World War-II Paris.
Love Affair (1939) 87m. Irene Dunne and Charles Boyer meet on shipboard. Plans to continue the romance meet tragedy.
Made for Each Other (1939) 93m. Jimmy Stewart and Carole Lombard are a young married couple struggling with jobs, illness and lack of money.
Mr. Imperium (1951) Color, 87m. Lana Turner, Enzio Pinza romance.
Of Human Bondage (1934) 83m. The darker side of obsessive love finds Leslie Howard inexplicably pursuing an affair with vulgar waitress Bette Davis.
The Painted Hills (1945) 69m. Lassie, Paul Kelly. Dog comes to save boy's life during gold rush fever out west.
Penny Serenade (1941) 120 min. Classic tearjerker directed by George Stevens. Cary Grant and Irene Dunne, meet, love, marry and then drift apart when their unborn baby dies.
A Star is Born (1937) Color, 111 min. Star-struck Janet Gaynor gets a break in Hollywood thanks to movie star Fredric March. They fall in love and marry, but her star rises as his falls.
The Strange Woman (1946) 100m. Hedy Lamarr, George Sanders. Manipulative woman wrecks havoc in 1820's New England town.
Swing High, Swing Low (1937) 95m. Carole Lombard and Fred MacMurray fall in and out of love.
---
Adapted from Literature!
Becky Sharp (1935) Color, 84m. Miriam Hopkins. Thackeray's "Vanity Fair" story set against the Battle of Waterloo. First 3-strip Tehcnicolor feature.
Cyrano de Bergerac (1950) 112m. Oscar-winning performance by Jose Ferrer as the tragic 17th century lover renowned for his nose but longing for love of a beautiful lady.
A Farewell to Arms (1932) 78m. Gary Cooper, Helen Hayes in Hemingway WW-I classic.
Jane Eyre (1970) Color, 110m. George C. Scott stars as the brooding Rochester in Bronte's classic English tale, with Susannah York as Jane Eyre.
Little Lord Fauntleroy (1936) 98m. Young New Yorker Freddie Bartholomew suddenly finds himself a British Lord in this charming film from the classic story.
Little Men (1940) 80m. The Louisa May Alcott novel brilliantly brought to the screen with Kay Francis, Jack Oakie and Jimmy Lydon.
The Little Princess (1939) Color, 91m. Shirley Temple is orphan when her father goes to war during Victorian era.
Oliver Twist (1933) 71m. Dickie Moore is Oliver to Irving Pichel's Fagin in Dickens' classic.
Our Town (1940) 90m. Thornton Wilder's play brought to life starring William Holden, Martha Scott.
Rain (1932) 90m. Somerset Maugham's tawdry South Seas tale. Joan Crawford is trollop Sadie Thompson and the target of preacher Walter Huston's reform.
The Scarlet Letter (1934) 70m. Colleen Moore stars in Nathaniel Hawthorne classic.
Scrooge (1935) 60m. Faithful adaptation of Dickens' "A Christmas Carol" with Sir Seymour Hicks an impressive Scrooge. Bonus Christmas cartoons.
The Snows of Kilimanjaro (1952) Color, 117m. Hemingway adventure with Gregory Peck, Susan Hayward.
Street Scene (1931) 80m. Sylvia Sidney in play by Elmer Rice. Director: King Vidor
The Time of Your Life (1948) 99m. James Cagney, William Bendix, Broderick Crawford in Pulitzer-Prize winning play by William Saroyan.
Tom Brown's Schooldays (1940) 86m. Thomas Hughe's novel brought to life with Freddie Bartholomew in the title role. Life in a Victorian boy's school.
---
Tons More! Dramatic B-Pix!
Abe Lincoln of Ninth Avenue (aka Streets of New York)(1939) 69m. Jackie Cooper runs news stand in NYC while studying law.
Basketball Fix(1951) 65m. John Ireland, Marshall Thompson. College basketball star shaves points for crime guys.
Big News (1929) 66m. Robert Armstrong, Carole Lombard. Reporter with drinking problem goes after head of narcotics web.
Boy of the Streets (1937) 77m. Jackie Cooper idolizes his father, a sleazy politician.
British Intelligence (1940) 61m. Boris Karloff, Margaret Lindsay. German spymaster operates out of cabinet minister's house.
Cheating Blondes (1933) 50m. Thelma Todd framed for murder but takes identity of twin.
City Without Men (1943) 75m. Linda Darnell, Edgar Buchanan. Stories of female residents in boarding house near prison.
Flirtation (1934) 55m. Ben Alexander, Jeanette Loff. Country boy and a burlesque dancer must pretend to be married.
Headline Crasher (1937) 58m. Frankie Darro, Kane Richmond. Frankie helps people in distress and gets in trouble himself.
Heart Punch (1943) 62m. Lloyd Hughes, Marion Shilling. Boxer kills man in ring, then falls in love with sister.
Hell's House (1932) 72m. Bette Davis, Pat O'Brien, Junior Coghlan. Jimmy idolizes bootlegger Matt, and when he refuses to implicate his friend, he is sent to reform school.
High School Caesar (1960) 71m. John Ashley. Big man in high school gets into rackets.
I Live On Danger (1942) 72m. Chester Morris, Jean Parker. Journalist helps girl to prove her brother is innocent of murder.
Identity Unknown (1945) 71m. Richard Arlen. WW-2 soldier with amensia searches for his identity.
Kid Monk Baroni (1952) 79m. Leonard Nimoy is "Kid" Monk Baroni, the leader of a street gang who becomes a professional boxer to escape his life in "Little Italy" New York.
Kept Husbands (1931) 76m. Joel McCrea, Dorothy Mackaill. Steelworker marries into society and gets spoiled wife.
King of the Circus (This Woman is Mine) (1935) 88m. Gregory Ratoff. Circus lion tamer enamored of girl ward grown up.
The Lady Refuses (1931) 72m. Betty Compson, John Darrow. Father hires a woman to lure his son away from a gold digger.
Lost, Lonely and Vicious (1958) 73m. Ken Clayton. Rising male movie star preoccupied with death.
My Dog Shep (1946) 62m. Tom Neal, Flame the Dog. Orphan boy befriends stray dog and old man.
A Nation Aflame (1937) 71m. Group exploits racial tensions in a Klu Klux Klan type organization..
Peck's Bad Boy (1934) 72m. Jackie Cooper, Thomas Meighan. Visit by bratty cousin gets Bill Peck into trouble with his dad.
Police Rookie (I Take This Oath) (1940) 67m. Gordon Jones, Joyce Compton. Trials of newly sworn in police officers.
Roar of the Press (1941) 71m. Jean Parker, Wallace Ford. Reporter and new bride stumble on ring of fifth columnists.
Sins of the Children (1936) 79m. Eric Linden, Cecilia Parker. Young couple disowned by parents take up tenant farming.
State Department - File 649 (1949) Color, 87m. William Lundigan matches wits with a Chinese warlord to try to save American citizens threatened with execution.
A Stranger in Town (1943) 67m. Frank Morgan, Richard Carlson. Supreme Court judge visits corrupt town incognito on vacation.
Swamp Women (1956) Color, 67m. Marie Windsor, Beverly Garland. 3 female prisoners seek diamonds hidden in swamp.
Tango (1936) 65m. Marian Nixon, Barbara Bedford, Herman Bing. Destitute woman with child becomes tango dancer.
This Rebel Breed (1960) 93m. Rita Moreno, Mark Damon. Teenage gang war of blacks vs. whites.
Thoroughbred (1930) 58m. Wesley Barry. Race horse owner and his girl get mixed up with gamblers.
Tokyo File 212 (1951) 84m. Communists try to sabotage American war effort during Korean War.
The Torch (1950) 83m. Paulette Godard, Gilbert Roland. Revolutionary and band take over small Mexican town.
Tough to Handle (1937) 60m. Frankie Darro, Kane Richmond. Phony lottery tickets by criminal ring vs. reporter.
Trapped by Television (1936) 64m. Mary Astor, Lyle Talbot. Television inventor gets involved with gangsters.
Vengeance of the Deep (1938) 68m. Lloyd Hughes, Ann Richards. Concert pianist goes to South Seas to dive for pearls.
Violent Years, The (1956) 65m. Jean Moorhead, Barbara Weeks. Wealthy teenage girl leads girl gang to rob, steal, rape.
World Gone Mad (1933) 70m. Pat O'Brien, Louis Calhern, Evalyn Brent, Mary Brian. Reporter tries to find killer of DA who uncovered stock fraud.