Kung Fooey Brawls!
Most of these Kung Fu / Martial Arts action films were made in Hong Kong (unless noted), dubbed into English and re-titled numerous times. All films are available in the DVD-R format and MPEG2 video files.
Watch kung-fu sample film clips at this Prevu Page!
---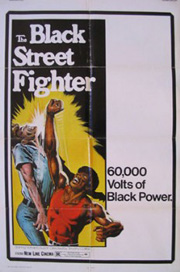 The Big Fight (1972) Color, 91m. The Japanese oppress the Chinese during WW-2, until resistance breaks out.
Dragon Princess (1979) Color, 123m. Outside of a small village in Japan, a mysterious pond is inhabited by mythic creatures. Their story is of revenge, tragedy, and the power of real love.
Four Robbers (1987) Color, 86m. A daring daylight jewelry store robbery pulled off by four masked bandits leads to mob conflict and drugs.
Get Christie Love (1974, USA) Color, 74m. Teresa Graves is tough, black police woman in feature of TV series.
Guy with the Secret Kung Fu (1981) Color, 90m. Two young rebels with unrivaled martial arts skills fight evil and corrupt local officials as well as rescue beautiful girls from bandits and thugs.
Hands of Death (1987) Color, 85m. A top-notch agent and an impressive rookie are assigned to stop an opium smuggling ring.
The Head Hunter (1983) Color, 91m. The jungle warfare in Vietnam created Hong Kong's deadliest hit man, played by Hong Kong's top action star, Chow Yun Fat.
Heros of Shaolin, Parts 1 and 2 (1979, China) Color, 92m. Complicated plot. Honor, death, revenge, etc. Details on request.
Image of Bruce Lee (1978) Color, 89m. Bruce Li is Inspector Wang, an undercover police officer working on a case to break open a stolen jewel and money-laundering ring.
The Impossible Kid (1982, Philippines) Color, 93m. Agent 00 (Weng-Weng) is assigned a case involving a group of international terrorists who are trying to get away with a fortune in ransom money.
Karate Warriors (1976, Japan) Color, 89m. Sonny Chiba in the fourth and final film in the "Street Fighter" series, where Tsurugi protects a little boy while coping with rival gangs.
Legend of the Eight Samurai (1983) Color, 134m. A princess whose clan is destroyed by an army of phantom warriors, bands together with eight masterless samurai to defeat the ghostly swordsmen. With Sonny Chiba.
The Master (1978) Color, 46m. each episode. Four episodes of TV series starring Lee Van Cleef and Timothy Van Patten:
"Max"
"Out of Step Time."
"Juggernaut"
"Rogues."
Ninja Death - 1 (1987) Color, 84m. Tiger works as a bouncer/greeter at a local Chinese brothel but his real job is as a martial arts expert trained under the watchful eye of "Master".
Ninja Death - 2 (1987) Color, 84m. Tthe continuing adventures of Tiger and "Master" as they battle the evil forces of The Grand Master.
Ninja Death - 3 Color, 85m. Finale of the adventures of Tiger and his battles against the Grand Master and his evil forces.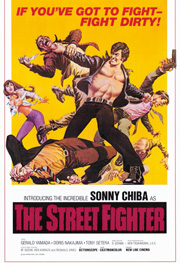 Ninja Heat (1988) Color, 84m. A man is finally released from prison after serving time for a jewelry heist and murder that he did not commit. He sets out to....
Return of the Street Fighter (1975, Japan) Color, 83m. Sonny Chiba reprises his role as the deadly martial arts mercenary Takuma Tsurugi vs. the Yakuza.
Sister Street Fighter (1974, Japan) Color, 86m. Lee Long is a martial-arts champion who the police use as an undercover agent to infiltrate a drug ring.
Street Fighter (1974) Color, 90m. Sonny Chiba fights, fights, fights!
TNT Jackson (1974, USA) Color, 72m. Diana Jackson (Jeanne Bell) is a young African-American woman who pursues brother's killers in Hong Kong.