Mysterious Mystery
Murder Most Foul! Whodunnit? These films involve crimes of murder and deception whose perpetrators are not readily apparent, so a detective must solve the case! A similar genre is Crime Films, which often lack any mystery. These are included with Film Noir.
All films are available on Mpeg2 digital files and DVD-R format. A few DVD versions include shorts such as the Holmes and Dick Tracys.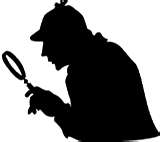 Classic Sleuths
Sherlock Holmes
Sherlock Holmes and the Secret Weapon (1942) 68m. Basil Rathbone and Nigel Bruce. With Ron Howard Holmes TV episode "Case of the Perfect Husband."
Sherlock Holmes in Dressed to Kill (1946) 71m. Basil Rathbone and Nigel Bruce. With TV episode "Case of the Baker Street Nursemaids."
Sherlock Holmes in Terror By Night (1946) 60m. Basil Rathbone and Nigel Bruce. With TV episode "Case of the Violent Suitor."
Sherlock Holmes and the Woman in Green (1945) 68m. Basil Rathbone and Nigel Bruce. With TV episode "Case of the Jolly Hangman."
Murder at the Baskervilles (1937) 67m. Aka. "Silver Blaze." Arthur Wontner as Holmes and Ian Fleming as Dr. Watson.
The Sign of Four (1932) 75m. Arthur Wontner as Sherlock Holmes. With TV episode "Case of the Night Train Riddle."
The Triumph of Sherlock Holmes (1935) 75m. Arthur Wontner as Holmes vs. Professor Moriarty. With TV episode "Case of the Cunningham Heritage."
A Study in Scarlet (1933) 72m. Reginald Owen as Holmes. With TV episode "Case of the Diamond Tooth."
---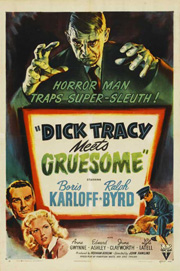 Dick Tracy
Dick Tracy, Detective (1945) 62m. Morgan Conway plays Chester Gould's comic book detective, and chases Splitface played by Mike Mazurki. With an episode of the 1950 Dick Tracy TV show.
Dick Tracy Vs. Cueball (1946) 62m. Morgan Conway again as Tracy, with Anne Jeffries. With 2 episodes of the 1950 Dick Tracy TV show.
Dick Tracy's Dilemma (1947) 60m. Ralph Byrd, Dick Tracy from the serials, stars in a feature film. With two more episodes of Dick Tracy TV.
Dick Tracy Meets Gruesome (1947) 65m. Ralph Byrd pursues master criminal Gruesome, played by Boris Karloff! With "Joker" episode of Dick Tracy TV.
---
Mr. Wong
Mr. Wong, Detective (1938) 69m. Boris Karloff stars in the first of six films he made as the oriental sleuth.
Mystery of Mr. Wong (1939) 67m. Boris Karloff and assistant Grant Withers pursue a rare gem and murder.
Mr. Wong in Chinatown (1939) 71m. Boris Karloff. Wong investigates murder of Chinese princess by a poisoned dart.
The Fatal Hour (1940) 66m. Boris Karloff. Wong helps solve murder of police officer in San Francisco.
Doomed to Die (1940) 66m. Bonds missing. Shipping tycoon murdered! Karloff on the case.
The Phantom of Chinatown (1941) 61m. Keye Luke as Mr. Wong is on the scene as archaeologist Dr. John Benton recovers a valuable ancient scroll, but is murdered.
---
Bulldog Drummond
Hugh "Bulldog" Drummond is a British adventurer who solves crimes for the police and battles super fiends, all while trying to get married.
Bulldog Drummond Comes Back (1937) 59m. John Howard as Drummond rescues his fiance from crooks. With John Barrymore.
Bulldog Drummond Escapes (1937) 67m. Ray Milland as Drummond infiltrates prison to protect lovely heiress from spies.
Bulldog Drummond in Africa (1938) 58m. John Howard, Heather Angel, H.B. Warner. Drummond goes into the jungle to save the Inspector!
Bulldog Drummond's Bride (1939) 57m. John Howard and Heather Angel. A bank-robbery in London prevents - again - the marriage of Bulldog Drummond with his girlfriend.
Bulldog Drummond's Secret Police (1939) 55m. John Howard. Ancient treasure in Drummond's home!
Bulldog Drummond's Peril (1938) 66 min. John Howard and John Barrymore. A synthetic diamond formula and murder interrupt Drummond from wedding.
Bulldog Drummond's Revenge (1937) 55m. John Howard as Drummond tracks down theft of powerful new explosives. With John Barrymore.
---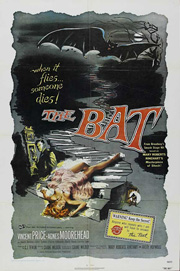 Mystery and Murder
And Then There Were None (1945) 98m. Agatha Christie mystery. Ten people die one by one on a lonely island.
The Bat (1926) 88m. Original silent version of classic mystery with spooky house, treasure, murder....
The Bat (1959) 80m. Hooded murderer seeks treasure. With Vincent Price, Agnes Moorhead.
Cat O' Nine Tails (1971, Itlay) Color, 112m. Violent murders investigated by blind Karl Malden and reporter James Franciscus. Directed by Dario Argento.
City of Missing Girls (1941) 73m. Phony art school gets girls gigs at a night spot where they are subsequently murdered, and it's up to a female reporter to help the D.A. find the killer.
The Crooked Circle (1932) 60m. Zazu Pitts, James Gleason, Ben Lyon. A group of amateur detectives sets out to expose The Crooked Circle, a secretive group of hooded occultists.
Dark Hour (1936) 64m. Two detectives sort through the suspects to solve a mystery of murder and arson.
The Death Kiss (1933) 71m. A sinister murderer does away with his victims on the set of a Hollywood spectacular while the film is being shot. With Bela Lugosi.
The Devil's Party (1938) 66m. Victor McLaglen. Four grown friends invovled in mightclub murder.
Eyes in the Night (1942) 80m. Blind detective Edward Arnold aids Donna Reed to clear Ann Harding.
Fog Island (1945) 70m. Released from prison, framed felon George Zucco seeks revenge.
The Ghost Walks (1934) 69m. June Collyer. Guests in country house during storm start dying.
Hollywood Stadium Mystery (1938) 53m. Neil Hamilton. A boxer is killed in the ring, and the only clue is a tune that a man was whistling.
The Hooded Terror (1938) 70m. British detective Sexton Blake pursues master criminal played by Tod Slaughter.
House of Danger (1934) 63m. Onslow Stevens, Janey Chandler. Man investigates mysterious death while falling in love with friend's fiancee.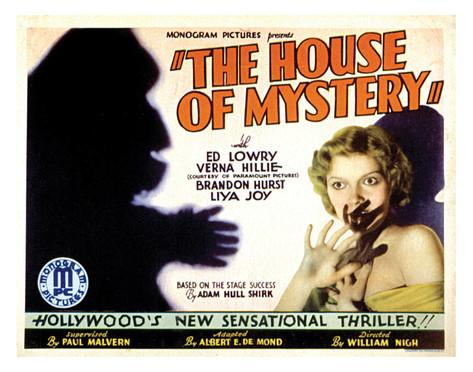 House of Mystery (1934) 62m. Curse of Kali and a gorilla invade old mansion. With Ed Lowry.
House of Secrets (1936) 69m. Leslie Fenton, Murial Evans. Two men stumble into an old mansion, and get involved with a crazed scientist, torture chambers and sinister experiments.
Inner Circle (1946) 56m. Adele Mara plays private detective's new secretary who helps solve murder mystery her boss is accused of.
Jigsaw (1949) 70m. D.A. Franchot Tone pursues murderer of his journalist friend. With cameos by Marlene Dietrich, Henry Fonda, John Garfield.
Jim Hanvey, Detective (1937) 54m. Guy Kibbee is Jim Hanvey, a genial but top-notch detective who has retired to his country home. An insurance company hires him to find a missing emerald so they won't have to pay out the $100,000...
The Kennel Murder Case (1933) 73m. William Powell as detective Philo Vance solves locked room murder. With Mary Astor.
The Lady Confesses (1949) 70m. Fiancee investigates mysterious death of her intended's first wife.
Lady of Burlesque (1943) 91m. Stripper Barbara Stanwyck traps killer in burlesque house.
Mandarin Mystery (1936) 66m. Ellery Queen recovers a priceless stamp.
Midnight Limited (1940) 62m. John Dusty King, Marhorie Reynolds. Phantom criminal works the night train from New York to Montreal.
Midnight Manhunt (1945) 63m. Competing reporters investigate murder in wax museum. Ann Savage.
Midnight Phantom (1935) 57m. Reginald Denny, Lloyd Hughes. A newly hired police chief vows to clean up a notoriously corrupt police department. When he is murdered, investigators find that there is no shortage of suspects, most of them being fellow cops.
Midnight Warning (1932) 63m. Disappearance in a hotel calls in investigator William "Stage" Boyd. With Passenger to Bali (1950) 60m. Eerie episode of Westinghouse Studio One TV.
The Moonstone (1934) 62m. David Manners. Fabulous gem stolen in old dark mansion.
Mr. Moto's Last Warning (1939) 71m. Peter Lorre as Mr. Moto thwarts a ruthless band of international agents who try to mine the entrance to the Suez Canal and blame the British.
Murder at Glen Athol (1936) 68m. Irene Ware and John Miljan investigate murder at a fancy party.
Murder in the Museum (1934) 65m. Mystery. Henry B. Walthall, John Harron. City councilman is murdered while investigating allegations of drug dealing going in a somewhat disreputable sideshow. His daughter teams up with cop to find killer.
Murder on the Campus (1933) 73m. Campus reporter Charles Starrett looks into murder in tower. With Shirley Grey.
Murder on the High Seas (1932) 60m. Natalie Moorhead, Jack Mulhall. Family fights a seductive villainess.
Mystery Liner (1934) 62m. Mystery, intrigue and murder on an ocean liner.
Nancy Drew Detective (1939) 68m. Bonita Granville is the famous teenage girl detective.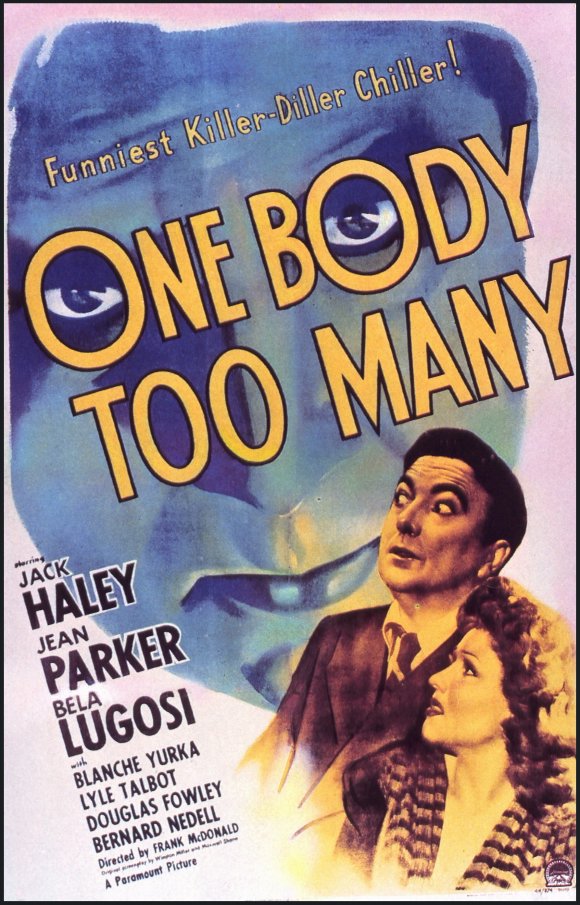 One Body Too Many (1944) 75m. Jack Haley. An insurance investigator arrives at a creepy mansion to protect a millionaire who has had death threats made against him.
One Frightened Night (1935) 66m. Mary Carlisle, Regis Toomey, Charley Grapewin in a spooky house.
The Panther's Claws (1942) 71m. Sidney Blackmer. "The Panther Claw" strikes terror in the hearts of his victims in this classic who-done-it.
The Phantom (1931) 62m. Guinn Big Boy Williams, Allene Ray. A group of people are stalked by a masked killer in an old mansion.
Phantom of 42nd St. (1945) 58m. Dave O'Brien, Jack Mulhall. A theatre critic teams up with a cop to investigate the murder of a Broadway actor.
Pilot X: Death in the Air (1936) 67m. John Carroll, Lona Andre. When aircraft are being shot down, suspects are invited to a dark mansion.
Postmark for Danger (1955) 78m. Terry Moore. A woman's painted portrait and a post card with a sketch of a woman's hand holding a Chianti bottle are the main clues used by the Scotland Yard to solve a string of murders connected to a diamond-smuggling ring.
President's Mystery (1936) 53m. Henry Wilcoxon. Millionaire plots new life identity using all his money.
Pilot X: Death in the Air (1936) 69m. Aircraft are being shot down by a black plane with a big "X" painted on the wing. The chief suspects are invited for the weekend to an old dark mansion.
The Rogue's Tavern (1936) 70m. Wallace Ford, Barbara Pepper. A mad killer is on the loose in a hotel on a dark, gloomy night.
A Scream in the Night (1935) 58m. Lon Chaney Jr. plays a detective (posing as a deformed maniac) on the trail of a famous jewel thief.
The Shadow: International Crime (1937) 64m. Rod LaRocque as mysterious crime fighter The Shadow.
The Shadow: TV Pilot: Case of the Cotton Kimono (1954) starring Tom Helmore.
The Shadow Strikes (1937) 61m. Rod LaRocque as the Shadow fights crime.
The Shadow: Invisible Avenger (1958) 57m. TV pilot starring Mark Daniels as The Shadow, who uses invisibility to combat crime.
Shadow on the Stairs (1941) 63m. Turhan Bey in suspenseful tale of murder with many suspects.
A Shot in the Dark (1935) 70 m. Charles Starrett investigates his roommate's murder on college campus.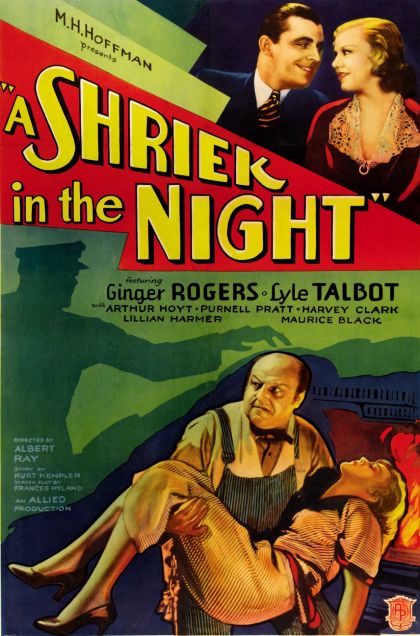 Shriek in the Night (1933) 66m. Ginger Rogers and Lyle Talbot and murder.
The Sphinx (1933) 63m. Lionel Atwill -- murderer or mute? Someone done it!
Sunset Murder Case (1938) 61m. Girl spies on night club to find father's murderer.
Svengali (1931) 81m. John Barrymore becomes obsessed with making young Marian Marsh a singing star. His secret weapon is a hypnotic spell.
The Terror (1939) 70m. Edgar Wallace mystery. Arch criminal leads rivals to spooky mansion.
The Thirteenth Guest (1932) 69m. Ginger Rogers, Lyle Talbott involved in murder mystery.
Who Killed Doc Robbin? (1948) Color, 55m. George Zucco. Kid sleuths in creepy mansion with George Zucco and a gorilla.
Yellowstone (1936) 63m. An ex-con is murdered in Yellowstone National Park while a bank robber's son is searching for the loot his father hid there 20 years before.