Action & Adventure Films
Adventures in exotic locales which do not fall into the genres of Muscle Men, Martial Arts, War or Westerns. All films are available on DVD-R format, a few as double features as noted. Please inquire about higher end formats such as BetaSP and DVCam.
High Adventure!

Adventures in Iraq (1943) 65m. Five Allied soldiers in an airplane flying to Egypt crash-land in Iraq. They are taken in by a local sheik, but soon begin to suspect that he may not be quite as friendly as he appears to be.
The Adventures of Chico (1937) 53m. Lonely Mexican boy befriends desert animals. Kind of a nature film, but with "Adventure" in the title!
Adventures of Tartu (1943) 104m, British. Robert Donat, Valerie Hobson. British soldier goes undercover as a Nazi to sabotage posion gas factory in Germany.
Air Devils (1938) 62m. Larry Blake, Dick Purcell. Two daredevil pilots go after the same girl.
Beat the Devil (1953) 89m. Humphrey Bogart, Peter Lorre, Jennfer Jones. Group of rogues hope to get rich in Africa.
Beneath the 12 Mile Reef (1953) 101m Color. Robert Wagner sponge dives. Octopus attacks!
Bird of Paradise (1932) 80m. Joel McCrea, Dolores del Rio. A sailor falls for a beautiful island girl who may become a sacrifice to an erupting volcano.
The Black Pirate (1926, silent film with music track) Color, 75m. Doublas Fairbanks Sr., Billie Dove.
Call of the Yukon (1938) 70m. Richard Arlen. A fur trader guides a writer and her animals to safety in the Yukon territory when wolves are about to attack.
Captain Calamity (1936) Color, 65m. George Houston. South Seas skipper pretends to discover a fortune but crooked seamen try to bump him off and get the non-existent treasure for themselves.
Captain Kidd (1945) 89m. Randolph Scott vs blackgard brigand Charles Laughton.
Captain Scarlett (1953) Color, 78m. Richard Greene protects citizens from the tyrannical Royalists and saves a damsel in distress.
Danger Lights (1930) 74m. Louis Wolheim, Jean Arthur. Tough railroad yard boss befriends young hobo.
Desert Escape (1940) 66m. Warren Hull, Isabel Jewell. Young med grad wrongly sent to prison, but escapes.
Desperate Cargo (1941) 62m. Ralph Byrd. Two show girls are trapped on a cruise ship while hoods try to hijack ship's cargo.
Duke of the Navy (1947) 60m. Leif Erickson, Gale Sherwood. Blonde woman leads native tribe deep in the jungle.
Flirting with Danger (1934) Robert Armstrong, Edgar Kennedy and William Cagney are dynamite mixers in South America.
Forced Landing (1941) 67m. Richard Arlen, Eva Gabor, J. Carroll Naish. A Pacific Islands dictator must compete with a military pilot for a woman's affection, and underhandedly dispatches him on a suicide mission.
Happy Landing (1934) 62m. An action-filled film with outlaws-of-the-clouds at war with the men of the U. S. Flying Service. With Ray Walker, Julie Bishop, Noah Beery.
Isle of Destiny (1940) William Gargan, Wallace Ford, June Lang. Society glamor girl/aviatrix Virginia Allerton alters her around-the-world flight by stopping on Pacific isle of Palo Pango where her brother is stationed with a detachment of U.S. Marines. Action ensues!
Legion of Missing Men (1937) 62m. Ralph Forbes, Ben Alexander. Adventures of two brothers in the Foreign Legion.
The Magic Sword (1960) Color, 80m. Evil Basil Rathbone vs. St. George who must slay that dragon.
Manfish (1956) 76m. John Bromfield, Lon Chaney. 3 deep sea divers get involved in murder while seeking treasure.
The Most Dangerous Game (1932) 70m. Mad hunter stalks Fay Wray and Joel McCrea.
Outpost in Morocco (1949) 91m. George Raft in the French Foreign Legion. Capt. Gerard, greatest lover in the Foreign Legion, is assigned to escort an emir's daughter to her father's mountain citadel, but rebellion brews!
Power Dive (1941) 69m. Richard Arlen, Jean Parker. Two test pilot brothers develop secret aircraft made of plastic.
Sinful Cargo (1936) 53m. Conrad Nagel, Eleanor Hunt. Movie producer investigated for smuggling aliens.
Son of Monte Cristo (1940) 92m. Louis Hayward, Joan Bennett, George Sanders. Count of Monte Cristo falls for besieged Zona and masquerades as a foppish banker and a masked freedom fighter to aid her.
Sundown (1943) 90m. Gene Tierney, George Sanders. Englishmen fighting Nazis in Africa discover an exotic mystery woman living among the natives and enlist her aid in overcoming the Germans.
Swamp Fire (1946) Buster Crabbe, Johnny Weismuller. 69m. Buster vs. Johnny in tough cajun bayou country.
Timber Queen (1944) 66m. Richard Arlen, June Havoc, Sheldon Leonard. World War-II flyer helps out widow of army buddy to log big timber.
Under the Red Robe (1937) 80m. Conrad Veidt, Annabella. Convicted duelist goes after leader of Huguenots.
---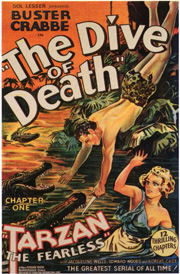 Jungle Adventures!
Tarzan's Revenge (1938) 70m. Glenn Morris as the ape man.
Tarzan the Fearless (1933) 85m. Buster Crabbe in the feature version of a 12-chapter serial that no longer survives!
Tarzan and the Trappers (1958) 70m. Gordon Scott. Tarzan deals with the villainous Schroeder, who is illegally collecting animals for zoos, only to be menaced by Schroeder's hunter brother Sikes.
New Adventures of Tarzan (1935) 75m. Bruce Bennett as the ape man helps secure secret of the Green Goddess statue deep in jungles of Guatemala. Feature version of the 12-chapter serial.
Blonde Savage (1947) 62m. An expedition into the deep jungle discovers a native tribe led by a tall white blonde woman.
Law of the Jungle (1942) 61m. Mantan Moreland. Nazis hunt down archaeologist & company in the jungle.
Drums of Africa (1947) 60m. Leif Erickson, Gale Sherwood. Blonde woman leads native tribe deep in the jungle.
In the Wake of the Bounty (1933) Australia, 67m. Errol Flynn's first film. A former member of the crew of the HMS Bounty recounts the story of the mutiny aboard ship.
The Jungle Book (1942) Color, 109m. Sabu stars in Kipling's classic tale.
Jungle Bride (1933) 63m. Charles Starrett, Anita Page. Persons shipwrecked on the coast of Africa face many jungle perils. A nice Monogram effort.
Jungle Cavalcade (1941) 76m. Frank Buck documentary clips of his many animal trapping safaris.
King Solomon's Treasure (1979) Color, 88m. David McCallum. Three adventurers into darkest Africa to find treasure.
Lure of the Islands (1942) 62m. Margie Hart, Gale Storm, Robert Lowrey. FBI agent meets native girl on Nazi-Jap run island.
Nabonga (1944) 75m. Buster Crabbe. To clear his father's name, a young man travels deep into Africa to confront a beautiful White Witch - who is guarded by a giant gorilla.
Perils of the Jungle (1953) 63m. Clyde Beatty, Phyllis Coates. An animal trainer goes to the Congo to catch lions where he finds a lady lion catcher who needs his help to catch a gorilla.
Queen of the Amazons (1947) 61m. Robert Lowery, Patricia Morison. Woman searches for husband lost in jungle with female tribe.
Sabaka (1954) Color, 77m. Boris Karloff. In India, a young elephant trainer vows revenge against the cult that killed his family and sets out alone to battle his enemy.
White Gorilla (1947) 62m. Ray Corrigan. Wacky jungle thriller with two gorillas and stock footage from a silent jungle serial.
White Huntress (1957) 62m. In the 1890's a blonde battles a giant python and unfriendly natives in the untamed African frontier.
White Orchid (1954) Color, 81m. An archeologist explores the jungles of Mexico to find and document the lost civilization of the Toltecs.
White Pongo (1945) 72m. Scientists and hunters search for an albino gorilla that could be the missing link.
---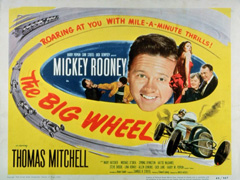 Fast Wheels!
The Big Wheel (1949) 92m. Mickey Rooney. A young man is determined to follow in his father's tracks as a race car driver, even though it caused his dad's death.
Blonde Comet (1941) 67m. Beverly Blake, the 'Blonde Comet," and the daughter of a tire-manufacturer, gets behind the wheel of a race-car, tears up the tracks and wins races.
The Choppers (1961) 56m. Arch Hall Jr. writes and stars in this thriller about a young hot-rodder who becomes involved with a gang of car thieves and a crooked salvage yard owner.
T-Bird Gang A high school student, working undercover enforcement, goes undercover to infiltrate a teen-based gang called The T-Birds.
Evel Knievel (1972) Color, 89m. George Hamilton. The famed daredevil reflects on major events in his life just before his biggest jump in this dramatized biography.
The Fast and the Furious (1955) 72m. John Ireland, Dorothy Malone. Man on the lam takes a beautiful young woman and her fast sports car hostage and slips into a cross-border sports car race to try to escape the police.
High Gear (1933) 67m. James Murray. When Mark 'High Gear' Sherrod (Murray) looses his nerve, the race car driver takes a job driving a taxi, but when he befriends a cute reporter and the young handicapped son of a deceased driver, he attempts to return to the track.
Hot Rod Girl (1956) 75m. A small town is turned upside down by illegal drag racing and out of control rebel youth.
Return of Casey Jones (1934) 67m. Charles Starrett. A young engineer is inspired by his role model, Casey Jones.
Phantom Express (1932) 70m. An innocent man trying to save train from a head-on crash with a 'ghost train' is blamed for a train derailment.
43: The Richard Petty Story (1974) Color, 83m. Darren McGavin. Story of race car driver Richard Petty.
The Wild Ride Jack Nicholson stars as a rebellious punk of the beat generation, who spends his days as an amateur dirt track driver