The Silver Collection
The 50 most popular, most classic Hollywood Comedy, Romance and Musical feature films in the Film Library Collection. Available as a package on DVD, Mpeg2 video files or on Broadcast DVCam formats. Price depends on format desired.
The GOLD Collection features 50 more classic films in the Action, Drama, Horror, Western and Crime genres.
See Movie Trailers to some of the Gold & Silver Collection COLOR Films!
Movie Trailers to some Gold & Silver Collection Black & White Films!
---
Comedy for Sophisti-Cats
Affairs of Cappy Ricks (1937) 61m. Walter Brennan is a crusty sea captain who returns home to discover his family and business in chaos.
Beat the Devil (1953) 89m. Humphrey Bogart, Peter Lorre, Jennfer Jones. Group of rogues hope to get rich in Africa.
Behave Yourself (1951) 81m. Comedy with Shelley Winters, Farley Granger and a cute dog!
Charade (1963) 113m. Cary Grant, Audrey Hepburn. Romance and suspense ensue in Paris as a woman is pursued by several men who want a fortune her murdered husband had stolen. Whom can she trust?
Father's Little Dividend (1941) 82m. Father Spencer Tracy sweats as daughter Elizabeth Taylor expects her first baby.
His Girl Friday
(1940) 92m. Cary Grant tries to win back his ex-wife Rosalind Russell during the newspaper scoop of the century! Madcap version of "The Front Page" comedy hit play, directed with overlapping dialog by the great Howard Hawks.
Love Laughs at Andy Hardy (1946) 93m Mickey Rooney, Lewis Stone. Andy goes to college after WW-II duty.
The Little Shop of Horrors (1960) 70m. Roger Corman horror spoof with the talking plant.
My Dear Secretary (1948) Starring: Kirk Douglas, Laraine Day, Keenan Wynn Director: Charles Martin B&W. 95 min.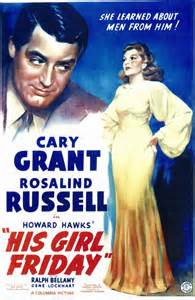 My Man Godfrey
(1936) 95 min. William Powell is a waterfront bum taken in by socialite Carol Lombard, but Godfrey turns the tables when his new family needs help.
Nothing Sacred (1937) Color, 77m. Carole Lombard vs. Fredric March!
The Rage of Paris (1938) 78m. Douglas Fairbanks Jr. and Louis Hayward battle over Danielle Darrieux.
The Stork Club (1945) 98m. Night club singer Betty Hutton befriends Barry Fitzgerald.
That Uncertain Feeling (1941) 84m. Ernst Lubitsch romp with Merle Oberon, Melvyn Douglas and Burgess Meredith.
Topper Returns (1941) 88m Roland Young helps ghost Joan Blondell catch her murderer.
---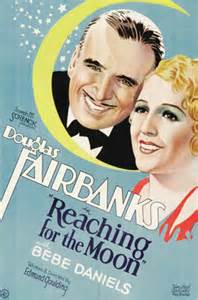 Romantic Screwballs!
The Admiral Was a Lady (1950) 87m. Edmond O'Brien, Wanda Hendrix. Ex-WAVE encounters four fun-loving, work-hating men, all of whom want to marry her.
Broadway Limited (1941) 75m. Victor McLaglen, Dennis O'Keefe. A publicity stunt staged on a train known as the Broadway Limited creates problems because of an unknown baby that was part of the stunt.
Her Favorite Patient (1945) 72m. Aka. "Bedside Manner." Beautiful doctor Ruth Hussey meets handsome patient John Carroll.
His Private Secretary (1933) 60m. John Wayne, Evalyn Knapp. Dick Wallace wants to marry a minister's grand-daughter but his father wants him in the family business.
Mr. Robinson Crusoe (1932) 71m. Douglas Fairbanks Sr. makes a bet he can survive on a deserted island.
People Are Funny (1946) 93m. Jack Haley, Ozzie Nelson, Rudy Vallee in film version of the Art Linkletter radio show.
Reaching for the Moon (1931) 67m. Douglas Fairbanks woos Bebe Daniels on a cruise.
Road Show (1941) 87m. Adolphe Menjou, Carole Landis. Rich playboy Drogo Gaines is in imminent danger of marrying a gold digger, and escapes by feigning insanity.
Texas, Brooklyn and Heaven (1948) 76m. Guy Madison, Diana Lynn. A would-be playwright and a young woman escaping from a job at a gas station meet cute and fall in love.
Three Guys Named Mike (1951) 90m. Jane Wyman dates 3 men named Mike. With Van Johnson, Howard Keel.
---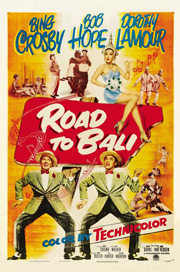 Slapstick Comedy for Kids (of all ages)
Africa Screams (1949) 80m. Bud Abbott and Lou Costello on a jungle safari.
Flying Deuces (1939) 65m. Stan Laurel and Oliver Hardy join the Foreign Legion so Ollie can forget his love life, but they meet up with Jimmy Finlayson and Charles Middleton.
The Gorilla (1939) 66m. Ritz Brothers try to solve mystery and avoid killer ape.
Jack and the Beanstalk (1952) Color, 78m. Abbott and Costello spin on the classic fairy tale with music an laughs galore.
My Favorite Brunette (1947) 87m. Bob Hope turns detective to save Dorothy Lamour.
Parlor, Bedroom and Bath (1931) 75m. Buster Keaton becomes entangled in a rich man's scheme to marry off his aggressive sister-in-law.
The Road to Bali
(1952) Color, 90m. Bob Hope, Bing Crosby and Dorothy Lamour sing, joke, and wrestle octopi and gorillas in the South Seas.
The Sin of Harold Diddlebock (1947) 90m. Harold Lloyd cuts loose in middle age.
Speak Easily (1932) 80m. Buster Keaton, Jimmy Durante, Thelma Todd -- putting on a show.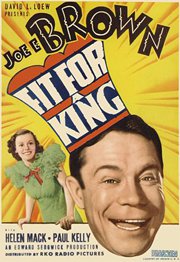 Joe E. Brown in --
Earthworm Tractors (1936) 68m. Joe E. Brown is a go-getter but no-nothing salesman of tractors.
Fit for a King (1937) 73m. Joe E. Brown is a reporter who falls in love with a crown princess and exposes an assassination plot.
Riding On Air (1937) 58m. Two small-town newspaper reporters are both after a local girl and the real story about a mysterious device.
When's Your Birthday? (1937) 76m. Joe E. is a mild-mannered astrologer who becomes a prizefighter.
Bert Wheeler and Robert Woolsey in --
Dixiana (1930) 98m. Wheeler & Woolsey, Bebe Daniels in period comedy set during Mardi Gras, with color sequence.
Half Shot at Sunrise (1930) 78m. Wheeler and Woolsey are two soldiers AWOL in Paris.
Hook, Line and Sinker (1930) 75m. Comics Wheeler and Woolsey play fast-talking salesmen who help an innocent young hotel operator.
---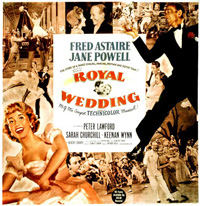 Musical Comedies!
The Fabulous Dorseys(1947) 89m. Dorsey Brothers, Janet Blair, Paul Whiteman. Bio of the famous Big Band leaders and their music hits.
The Inspector General (1949) Color, 102m. Danny Kaye, Walter Slezak, Barbara Bates. Stooge impersonates inspector general.
Perils of Pauline, The (1947) Color, 94m. Betty Hutton in musical comedy as silent movie heroine Pearl White.
Private Buckaroo (1942) 69m. Andrew Sisters, Dick Foran. Musical showcase for army enlistment.
Royal Wedding
(1951) Color, 93m. Entertainers Fred Astaire and Jane Powell head to England to entertain at the Queen's coronation, but meet romance along the way.
Second Chorus (1940) 83m. Fred Astaire, Paulette Goddard, Artie Shaw, Burgess Meredith. Competitive pair get jobs with Artie Shaw's band.
Swing Parade (1946) 74m. aka "Swing Parade of 1946." Gale Storm as a struggling young singer falls for a nightclub owner whose father, a millionaire, is trying to shut it down. Featuring The Three Stooges as waiters.
---
Comedy Sound Shorts
Shirley Temple Festival (1930's)
Fabulous and funny Shirley Shorts from the early 1930s before her feature film career:
War Babies (9m/1932)
Kid In Africa (8m/1933)
Dora's Dunking Donuts (20m/1933)
Pardon My Pups (18m/1934)
Merrily Yours (21m/1933)
Glad Rags to Riches (10m/1933)
Polly Tix in Washington (10m/1933)
Kiddin' Hollywood (10m/1933)
Bing Crosby at Mack Sennett (1930's)
Bing Crosby's first starring comedies were made for Mack Sennett:
I Surrender Dear (22m/1931)
One More Chance (20m/1931)
Dream House (19m/1932)
Billboard Girl (21m/1932)
Blue of the Night (16m/1933)
Sing, Bing, Sing (13m/1933)
Our Gang Talkie Shorts
BEAR SHOOTERS (20m/1930) Jackie, Chubby, Farina and the Gang go camping, but run into poachers and a bear.
SCHOOL'S OUT (21m/1930) The Gang thinks Miss Crabtree's brother is a suitor and set out to discourage him.
OUR GANG FOLLIES OF 1938 (22m/1938) While the Gang puts on a show in a barn, Alfalfa dreams he is an opera singer.
WALDO'S LAST STAND (11m/1940) Spanky, Darla and the Little Rascals put on a show to sell Waldo's lemonade.
Three Stooges Festival
Disorder in the Court (17m/1936)
Sing a Song of Six Pants (17m/1947)
The Brideless Groom (17m/1947)
Malice in the Palace (16m/1949)
3 Stooges Pilot TV show (21m/1949)
Live-action Color Stooges Skits. (26m/1962)
W.C. Fields Festival
"The Golf Specialist" (21m/1930)
"Fatal Glass of Beer" (19m/1933)
"The Dentist" (22m/1932)
---