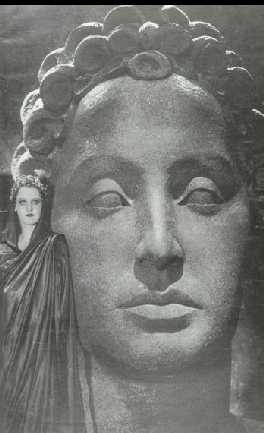 "Mistress of Atlantis"
Exclusive Video Release
(Germany, 1932) 78 min. Directed by G.W. Pabst. From the novel "L'Atlantide" by Pierre Benoit. Copied from the only known archive print. Cast: Brigitte Helm, Tela Tschai, Gustav Diessl, John Stuart. English language version made at the same time as the German and French versions.
Very rare "Lost" adventure film from the great director G.W. Pabst. Brigitte Helm, the legendary beauty from Fritz Lang's "Metropolis," stars as Antinea, the Mistress of Atlantis, the lost empire that yet survives in the Sahara Desert. Frigid Antinea is surrounded by her leopards, a giant stone statue of her face and a harem of hapless men ready to die for her. Antinea! The valleys echo her name in the African desert where her lovers dance round her throne in the Sahara.
Available now. VHS. $59.95. Free shipping and handling in the USA and Canada.
---
A brief history of "L'Atlantide"
The novel by Pierre Benoit was first filmed in 1921 in France by director Jacques Feyder. At the time it was the most expensive French film ever, but it went on to great commercial success in France and abroad.
Germany's most accomplished director, G.W. Pabst (Joyless Street, Pandora's Box, The Threepenny Opera, etc.), re-made it in 1932 as "Die Herrin von Atlantis" with Brigitte Helm. French and English versions were made at the same time on the same sets. Helm re-shot her scenes speaking French and then English. Some of the other actors also repeated their roles though some substitutes were made because of the language. The English language version (not dubbed) is the one being offered.
Here is How to order