Fun B-Films from the 1930s-40s-50s in all genres.
Most of these are not listed elsewhere on the website in the genres of comedy, crime, mystery, prison, fast wheels, etc. It's a real grab bag united by the factors of being short, inexpensive and unpretentious. They often played as double features in neighborhood theaters, but audiences enjoyed them then ... and today.
All Fabulous B-Flicks on this page are available on Mpeg2 digital format @ discount price of $10 each. Click HERE. to watch trailers for many of them to check content and quality. Other recently added B-Films may be found at Pre-Code Hollywood.
---
1930s
Atlantic Flight (1937) 60m. Drama/Romance. Dick Merrill. Atlantic Flight was designed as a vehicle for Dick Merrill, a real-life pilot then very much in the news because of his record-breaking flights.
Bad Boy (1939) 66m. Drama/Crime. Johnny Downs joins architecture firm in the big city, but falls into gambling and other woes.
Bank Alarm (1937) 61m. Crime. Conrad Nagel, Eleanor Hunt. An investigator tries to find a gang responsible for a rash of bank robberies. What he doesn't know is that his sister is the girlfriend of the gang's ringleader.
Beggars in Ermine (1934) 71m. Drama. Lionel Atwill. John Dawson loses control of his factory when he is crippled in an accident caused by a rival. Destitute, he travels the country organizing the homeless to help him regain control of his steel mill.
Blake of Scotland Yard (1937) 71m. Drama/Action. Ralplh Byrd. FEature version of an adventure serial in which Blake battles the "Scorpion" over possession of a 'death ray' machine.
Brilliant Marriage (1936) 65m. Romance. Joan Marsh, Ray Walker. The daughter of rich socialites meets a French woman at a party. The woman reveals that the girl is adopted and that her birth mother was a murderer. Ashamed, the girl runs away from home and falls for the wrong man.
Crashing Thru Danger (1936) 62m. Drama. Ray Walker, Sally Blane. Three electric-company linemen--Torchy, Slim and Eddie--are constantly reprimanded by their supervisor, "Pop" Foster, for their behavior, which is a bit too "happy-go-lucky" for Pop's tastes.
Crimson Romance (1934) 59m. WW-I, Ben Lyon, Erich von Stroheim. German immigrant in America is forced from his job by anti-German hysteria before the first world war, he and his friend Bob Wilson leave America and join the German air force.
Danger Ahead (1935) 59m. Action/Drama. Lawrence Gray, Sheila Bromley. An armored car from the Maxwell Company goes missing with a gold shipment, Bob Hill the missing driver is main suspect.
Danger on the Air (1938) 66m. Mystery. Nan Grey, Donald Woods. Caesar Kluck, soft-drink magnate, is found dead in the office of a big radio-broadcasting company. Benjamin Franklin Butts, a sound engineer, discovers that Kluck met his death from cyanogen gas, administered in some mysterious fashion.
Daughter of the Tong (1939) 54m. Evelyn Brent, Grant Withers. Detective vs. female leader of oriental crime ring.
Go-Get-Em Haines (1936) 57m. Action/Crime. William Boyd. Reporter Steve Haines (Boyd), on the trail of a business tycoon, follows his subject onto an ocean liner and gets wound up in a cruise full of intrigue, romance and murder.
The Gold Racket (1937) 65m. Conrad Nagel, Eleanor Hunt. Federal agent and female reporter vs. gang smuggling gold in from Mexico.
Harmony Lane (1935) 83m. Musical Biography of composer Stephen Foster starring Douglass Montgomery. Contains scenes of minstrel shows.
Heroes in Blue (1939) 56m. Action/Drama. Dick Purcell. Gangster Moran gives Joe Murphy several thousand dollars to bet on a horse race, the horse wins and Joe takes off with the money. Moran informs Mike Murphy, Joe's father, that no harm will ...
House of Secrets (1936) 69m. Mystery. Muriel Evans, Leslie Fenton. Two men stumble into an old mansion, and get involved with a crazed scientist, torture chambers and sinister medical experiments.
I'll Name the Murderer (1936) 69m. Mystery. Ralph Forbes, Marion Shilling. When a nightclub singer is murdered, a local gossip columnist begins his own investigation.
King of the Newsboys (1938) 69m. Drama. Lew Ayres, Helen Mack. A poor young man's girlfriend leaves him for a gangster, who has the money and power she wants and the young man doesn't have. Determined to show her that he can be a success--and how much of a mistake she made by leaving him--he starts up a newspaper distribution business that is soon the biggest in the city.
Lady Luck (1936) 64m. Mystery/Comedy. William Bakewell, Patricia Farr. A female movie-star wannabe holds a winning ticket for a race won by champion racehorse, Lady Luck. Things get complicated for her when a slimy sportsman is found shot to death, the murder weapon in the hand of the starlet.
Live Wire (1935) 59m. Action/Romance. Richard Talmadge. A sailor finds an ancient vase on an uncharted island. He is later hired by archaeologists to lead them back to the island. They discover the temples of a lost civilization.
Long Shot (1939) 68m. Race track Drama. Gordon Jones, Marsha Hunt. Henry Sharon is about to be ruined financially by rival stable owner Lew Ralston when he gets an idea to fake his own death. His prize horse Certified Check is bequeathed to niece Martha, a young woman Ralston had hoped to marry.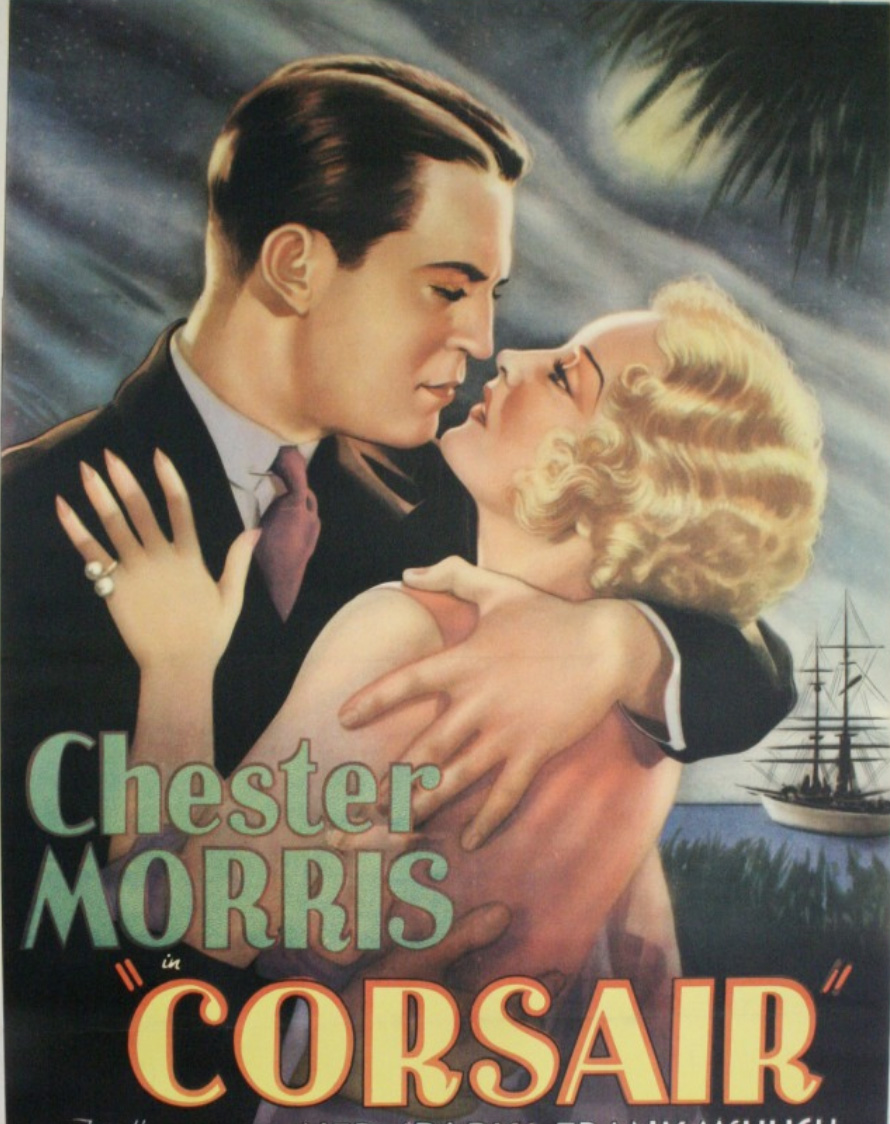 Midnight Phantom (1935) 57m. Mystery. Reginald Denny, Claudia Dell. A newly hired police chief vows to clean up a notoriously corrupt police department. When he is murdered, investigators find that there is no shortage of suspects, most of them being fellow cops.
New Adventures of Tarzan (1935) 71m. Jungle Adventure. Herman Brix. Feature version of the 1935 serial made up from an extended first chapter and resolution to that cliffhanger.
Tarzan and the Green Goddess (1935) 71m. Jungle Adventure. Herman Brix. Second feature version of "New Adventures of Tarzan" compiled from chapters 2-12.
The Outer Gate (1937) 63m. Prison/Crime. Ralph Morgan. Bob Terry is in love with Lois Borden the daughter of his employer, John Borden. When some bonds are missing from the office, Bob is accused and because of Borden's strong sense of obligation to his stockholders, Bob is railroaded to prison.
Paradise Express (1937) 53m. Action/Crime. Grant Withers. A small railroad is being squeezed out of business by the tactics of a trucking company owned by gangsters.
Roaring Roads (1935) 56m. Action/Romance. Young man will race car in the Big Race for girlfriend, but must battles gangsters.
Should a Girl Marry? (1939) 60m. Crime/Drama. Anne Nagel, Warren Hull. Woman blackmailed over revelation she was born in prison.
Taming the Wild (1936) 57m. Comedy/Crime. Rod La Rocque, Maxine Doyle. Madcap society girl June Bolton has a talent for trouble. Trying to evade a subpoena in connection with one of her misadventures, she winds up in jail and has to be bailed out by the family attorney.
Thru Traffic (aka Speed Devils) (1935) 60m. Action/Drama. Paul Kelly. Rival race-car drivers, and both crash in a big race and decide to give up racing and become partners in an auto-repair business.
Tomorrow's Youth (1934) 61m. Drama. Dickie Moore, Martha Sleeper. A look at how his parents' divorce affects the life of a young boy.
Under the Big Top (1938) 59m. Drama/Romance. Marjorie Main, Anne Nagel. A pretty young circus trapeze artist is pushed by her domineering aunt to be the best aerialist in the world. When she begins to fall for one of the two men in her act, her mother ...
What Becomes of the Children? (1936) 57m. Joan Marsh, Robert Frazer. How divorce badly affects children.
Yellowstone (1936) 63m. Action/Crime. Henry Hunter, Andy Devine. Murder and intrigue in Yellowstone Park.
Youth on Parole (1937) 53m. Crime/Romance. Marian Marsh, Gordon Oliver. Two strangers, a man and a woman, are framed for a jewel robbery and thrown in jail. After they get out, they join forces to track down the real thieves.
---
1940s-50s
Chained for Life (1952) 70m. Drama/Exploitation. Real life Siamese twins Violet and Daisy Hilton (from "Freaks"). A Siamese twin kills the husband who left her. The courts have to decide if she is convicted of murder, how can they punish her sister, who had nothing to do with the crime?
Dangerous Passage (1944) 57m. Film Noir. Robert Lowery, Phyllis Brooks. Joe Beck leaves Central America so that he can return to Texas and collect a large inheritance, but he picks a dangerous ship on which to travel.
Desirable Lady (aka A Fig Leaf for Eve) (1944) 69m. Drama. Jan Wiley. An "exotic dancer" is thrown in jail for "lewd activity." She later discovers the raid was set up by her boss to get publicity.
For You I Die (1947) 75m. Film Noir/Crime. Cathy Downs, Paul Langton. A young convict,Johnny Coulter, serving as a trustee and with only a year remaining on his sentence, is forced to participate in a prison break by one of the hardened criminals.
Hat Box Mystery (1947) 43m. Mystery. Tom Neal, Allen Jenkins. Detective's assistant is given a camera concealed in a hat box and assigned to take a picture of a woman. A gun is accidentally hidden in the box and the woman is killed. Susan is charged with murder.
The Last Alarm (1940) 61m. Action/Crime. Warren Hull, Polly Ann Young. Retired fireman and insurance investigator hunt arsonist.
Million Dollar Weekend (1948) 72m. Film Noir. Gene Raymond, Osa Massen. Nicholas Lawrence, a young stockbroker, embezzles a million dollars worth of cash and stock, planning to flee to Shanghai. En route, he meets Cynthia Strong, who is fleeing Los Angeles after the suspicious death of her husband.
Road to Happiness (1941) 74m. Drama/Romance. John Boles, Mona Barrie. Jeff Carter, a singer down on his luck, turns to radio acting as a means of supporting his young son Danny.
Song for Miss Julie (1945) 61m. Musical/Romance. Shirley Ross. A Broadway writing team visits the granddaughter and great-great-granddaughters of a songwriter for his life story. An old diary holds interesting stories....
Speed to Spare (1948) 58m. Drama/Romance. Richard Arlen, Jean Rogers. Stunt driver Cliff Jordan takes a job with his old pal Jerry McGee, branch manager of an express trucking firm. Jerry is married to Mary, Cliff's former girl friend.
Sun Sets at Dawn (1950) 72m. Film Noir/Prison. Sally Parr, Patrick Waltz. A young man is wrongly convicted and sentenced to be executed. Reporters covering the execution relate the story, each from his own perspective.
Time Table (1956) 81m. Crime Drama. Mark Stevens. In Arizona, a train's baggage car is robbed of a large payroll, prompting an investigation led by a railroad official-insurance investigator team.
Waterfront (1944) 64m. Drama/War. John Carradine, J. Carrol Naish. A Nazi spy passes himself off as an optometrist in San Francisco's waterfront district. Someone robs him of his codebook, and he must get it back.