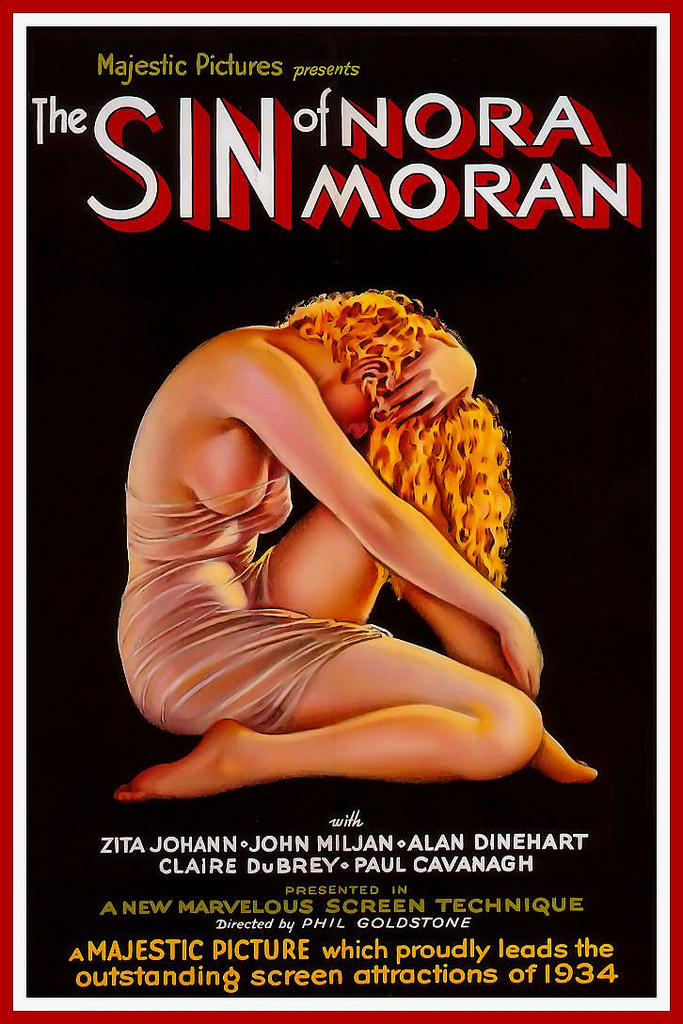 Pre-Code Hollywood (1929-1934)
Pre-Code Hollywood refers to the brief era in the American film industry between the widespread adoption of sound in pictures in 1929 and the enforcement of the Motion Picture Production Code censorship guidelines, popularly known as the "Hays Code", in mid-1934. Not all are that "naughty," but certainly a "nice" collection of uninhibited cinema.
Many are "B" films about one hour running time that were produced by long-forgotten studios like Grand National, Victory, Chesterfield, Remington and Mascot. Genres range from Mystery, Romance, Comedy and Crime to Jungle, Boxing, Prison and Chain Gangs.
All Pre-Code films are available on Mpeg2 digital format @ discount price of $10 each. Watch prevus of many of them right HERE.
---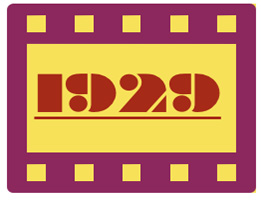 Big News (1929) 67m. Comedy/Mystery. Robert Armstrong, Carole Lombard. A reporter's marriage is jeopardized by his drinking and he finds himself accused of a murder he didn't commit.
The Dance of Life (1929) 112m. Hal Skelly, Nancy Carroll. A vaudeville comic and a pretty young dancer aren't having much luck in their separate careers, so they decide to combine their acts. In order to save money on the road, they get married. Not a "B" film, this lengthy drama featured one of the most popular actresses of the era, Nancy Carroll.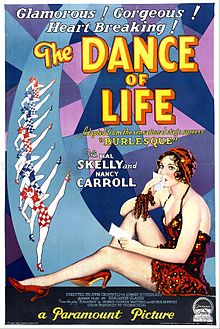 Glorifying the American Girl (1929) 95m. Mary Eaton, with guest appearances by Eddie Cantor, Helen Morgan and Rudy Vallee. The rise of a showgirl, Gloria Hughes, culminating in a Ziegfeld extravaganza "Glorifying the American Girl".
The Great Gabbo (1929) 96m. Drama/Musical. Erich von Stroheim, Betty Compson. An insanely, egocentric ventriloquist, even though he is possessed by his wooden dummy, is in love with a dancer who is in love with another. The dummy gives advice to the ventriloquist. Directed by James Cruze.
Phantom in the House (1929) 58m. Crime/Mystery. Ricardo Cortez, Nancy Welford. An inventor takes the blame for a killing his wife committed and serves a long prison sentence. Upon his release he returns, he returns as a 'family friend,' hoping to get to know his now-grown daughter who thinks he is dead.
Vagabond Lover (1929) 65m. Comedy/Musical. Rudy Vallee, Sally Blaine, Marie Dressler. A zany musical about an amateur musician in search of work who impersonates a big band leader.
Woman to Woman (1929) 78m. Drama. Betty Compson, George Barraud. An amnesiac WW-2 officer weds a barren socialite and adopts his son by a French ballerina he met in Paris.
---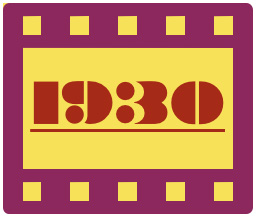 Borrowed Wives (1930) 62m. Comedy. Rex Lease, Vera Reynolds. Peter has to be married by midnight or else his inheritance goes to his uncle... Who happens to live in a "haunted house."
Danger Lights (1930) 74m. Adventure/Drama. Louis Wolheim, Jean Arthur, Robert Armstrong. Head railroad man Dan is as ugly as he is honorable. When he spots a drifter who'd hopped a freight held up by a landslide, Dan offers the man a job; then he finds the man was a railroader, too, and takes him under his wing.
Dixiana (1930) 100m. Comedy/Musical. Wheeler & Woolsey, Bebe Daniels in period comedy set during Mardi Gras, with color sequence. Excellent example of a filmed version of a hit Broadway musical.
Framed (1930) 65m. Crime/Drama. Evelyn Brent, Rose Manning, the daughter of a racketeer who has just been killed, along with a policeman, in a shoot-out is undergoing a hard third-degree grilling from Police Inspector "Butch" McArthur, and she leaves with a desire for revenge against McArthur.
The Silver Horde (1930) 76m. Adventure/Drama. Joel McCrea, Evelyn Brent. Boyd Emerson loves the wealthy Mildred Wayland, but so does Boyd's unscrupulous rival in the Yukon salmon fisheries, Frederick Marsh. The two battle for Mildred's hand and for control of the thriving fishing business.
Sin Takes a Holiday (1930) 80m. Comedy. Constance Bennett, Basil Rathbone. Dowdy Sylvia accepts her boss' marriage proposal, even though he only asked her to avoid marriage to another woman. As a wealthy wife, Sylvia changes from ugly duckling to uninhibited swan and even contemplates having an affair with a man she meets during a trip to Paris.
---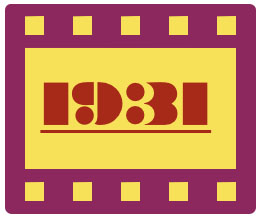 Behind Office Doors (1931) 82m. Mary Astor, Robert Ames, Ricardo Cortez. Secretary taken for granted until rival wants her.
Chinatown After Dark (1931) 55m. Crime/Drama. Carmel Myers, Rex Lease. he female head of a criminal gang in Chinatown is after a valuable jewel, and lets nothing stand in her way of finding it.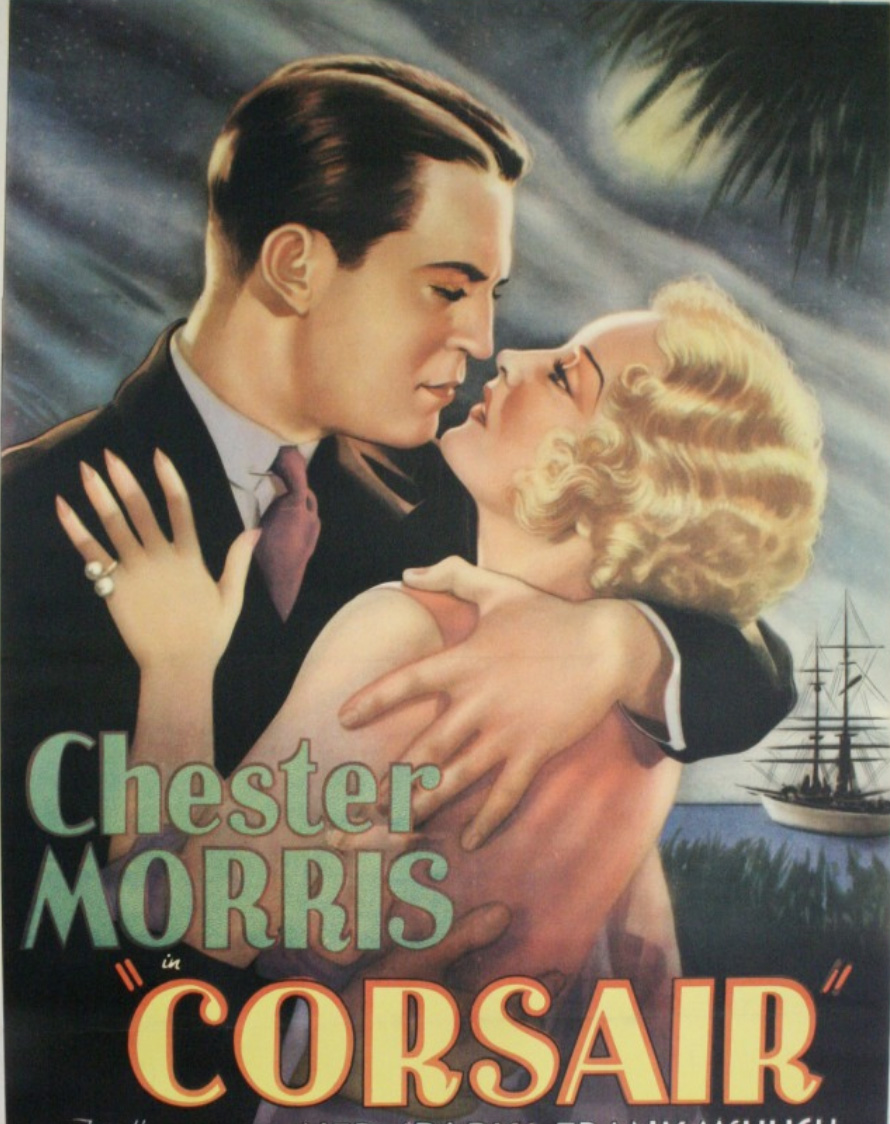 Corsair (1931) 74m. Adventure. Chester Morris, Thelma Todd. A stock market broker plans to liven up his boring life by taking up piracy on the high seas. Directed by Roland West.
Grief Street (1931) 64m. Barbara Kent, John Holland. Crime/Mystery. Alvin Merle, a womanizing Broadway matinée idol, is found strangled in his dressing room. The door is locked from the inside and there is no possible other way into the room. Merle is having an affair with his leading lady, while his wife, actress Ethel Wynn, appearing in another play in a theater around the corner, is doing the same with Frank Murray, the stage manager on Merle's play.
Kept Husbands (1931) 76m. Drama. Clara Kimball Young, Joel McCrea, Dorothy Mackail. Daughter of a wealthy family decides to marry a poor working man.
Millie (1931) 85m. Drama. Helen Twelvetrees. Millie's life begins to crumble when she finds out her husband is having an affair.
Other Men's Women (1931) 70m. Drama. Mary Astor, Ralph Graves, Regis Toomey. Events take an unhappy turn for two Bill and Jack, two locomotive engineers, after Bill is attracted to his best friend's wife.
The Phantom (1931) 62m. Horror/Mystery. Guinn Big Boy Williams, Allene Ray. A group of people are stalked by a masked killer in an old mansion.
Reaching for the Moon (1931) 67m. Comedy/Musical. Douglas Fairbanks, Bebe Daniels, Bing Crosby.Wall Street wizard, Larry Day, new to the ways of love, is coached by his valet. He follows Vivian Benton on an ocean liner, where cocktails, laced with a "love potion," work their magic. .
Svengali (1931) 81m. Drama/Horror. John Barrymore, Marian Marsh. Hypnotist possesses singing voice of woman he lusts after.
---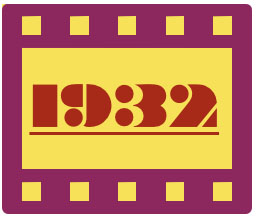 I Cheating Blondes (1933) 50m. Mystery. Thelma Todd in a dual role, Mae Busch. A reporter sets out to prove that his girlfriend was framed and sent to prison.
The Crooked Circle(1932) 60m. Comedy/Mystery. Zasu Pitts, James Gleason, Ben Lyon. A group of amateur detectives sets out to expose The Crooked Circle, a secretive group of hooded occultists.
Cross-Examination (1932) 62m. Drama/Mystery. H.B. Warner, Sally Blane. Defense attorney fights to save life of boy accused of murdering his own father.
Honor of the Press (1932) 61m. Crime/Drama. Edward L. Nugent, Dorothy Gulliver. Cub reporter Daniel Greely gets a job on a big city newspaper. A string of robberies occur and the owner of the paper blames the police for not rounding up the crooks. Daniel discovers that a coded message in the newspaper's editor's box tips the crooks about each robbery.
Klondike (1932) 67m. Adventure/Drama. Thelma Todd, Lyle Talbot. Solid little Monogram drama with very original story and denouement. Lyle Talbot, who would appear in anything, even a notorious Edward Wood picture, stars with considerable intelligence and sincerity. Hard-working Thelma Todd has a serious role and both leads are appealing together.
Manhattan Tower(1932) 66m. Drama. Mary Brian, Irene Rich. The lives of a number of the workers and executives in a Manhattan skyscraper are affected by the actions of a philandering and crooked company boss.
Officer 13 (1932) 60m. Crime/Drama. Monte Blue, Lila Lee, Mickey Rooney. When a motorcycle policeman's partner is deliberately run off the road and killed by a member of a syndicate he quits the force and vows to bring the killer to justice.
The Stoker (1932) 70m. Monte Blue saves beautiful girl from murderous bandit in Nicaragua.
They Never Come Back(1932) 62m. Action/Crime. Regis Toomey, Dorothy Sebastian. Prizefighter Jimmy Nolan, facing an opportunity to get a championship fight, is knocked out when he sustains what is apparently a permanent injury to his arm. From there, Nolan's path leads downhill. He is drawn into a romance with a nightclub entertainer, then is framed on a theft charge by a jealous suitor. After his prison term, Nolan makes a spectacular comeback...
Thirteenth Guest (1932) 69m. Mystery. Ginger Rogers, Lyle Talbot. 13 years before the movie opens, there was a dinner party, at which the 13th guest failed to show up. The master of the manner has died, and left the bulk of his estate to this 13th guest, but nobody knows who that is. Now someone is murdering the remaining guests, and placing their dead bodies at the table, in the same seat they had occupied 13 years before.
Those We Love (1932) 72m. Mary Astor, Kenneth MacKenna. Young author marries the first woman who buys his new book..
---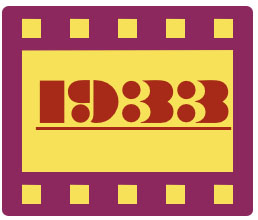 Alimony Madness (1933) 66m. Helen Chandler, Leon Ames. Man's wife is put on trial for murder of his first wife. Coghlan.
The Big Chance (1933) 60m. Action/Drama. John Darrow, Merna Kennedy, Mickey Rooney. Frankie, a young prizefighter, wins a fixed boxing match as part of a crime boss's plan to have him build up a following and then have him throw a championship fight. Later, while training, Frankie meets Mary as she is going to church with her family and begins a romance with her.
Corruption (1933) 60m. Action/Crime. Evalyn Knapp, Preston Foster. A young lawyer is elected mayor of the city and promises to rid it of the corruption it's famous for. The problem is that most of the corruption he's vowed to eliminate is caused by the crooked political machine that helped elect him.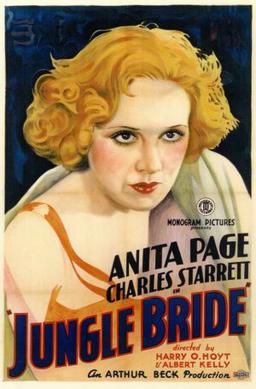 Goodbye Love (1933) 65m. Comedy. Charlie Ruggles, Verree Teasdale. A sexy golddigger lands who she thinks is a wealthy big-game hunter from a royal family. What she doesn't know is that not only is he not wealthy, nor a big-game hunter nor from a royal family, but he's only a butler. Complications ensue as he tries to keep up the pretense.
High Gear (1933) 62m. Action/Crime. James Murray, Joan Marsh. When Mark 'High Gear' Sherrod (Murray) looses his nerve, the race car driver takes a job driving a taxi, but when he befriends a cute reporter and the young handicapped son of a deceased driver, he attempts to return to the track.
His Double Life (1933) 68m. Comedy. Roland Young, Lillian Gish. A celebrated artist is also a social recluse. When his valet dies of a sudden illness, a mix-up leads to the body being identified as his. The timid artist then assumes the identity of his former servant, and finds a wife.
I Cover the Waterfront (1933) 73m. Drama. Ben Lyon, Claudette Colbert, Ernest Torrence. An investigative reporter romances a suspected smuggler's daughter.
Jungle Bride(1933) 63m. Adventure/Drama. Anita Page, Charles Starrett. A young woman believes that an actor committed the murder for which her brother has been imprisoned, and she gets her fiancé--a newspaper reporter--to accompany her in following the suspected killer aboard a ship headed for South America. While they're at sea, disaster strikes and the ship is sunk. The three of them, plus the actor's friend, are washed up on a deserted island. Complications ensue.
The Kennel Murder Case (1933) 73m. Mystery. William Powell, Mary Astor. Philo Vance investigates the locked-room murder of a prominent and much-hated collector whose broken Chinese vase provides an important clue.
Murder on the Campus (1933) 70m. Mystery. Shirley Grey, Charles Starrett. A popular young student finds herself accused of a series of murders that have occurred on the college campus. Her boyfriend, a reporter for the local newspaper, knows she didn't do it, and sets out to prove her innocence and catch the real killer.
Oliver Twist (1933) 70m. Drama. Dickie Moore, Irving Pichel. An orphan boy in 1830's London is abused in a workhouse, then falls into the clutches of a gang of thieves led by Fagin.
Sensation Hunters (1933) 71m. StoryDrama. Arline Judge, Preston Foster. A gaggle of seasoned showgirls board a luxury liner bound for jobs in Panama and the "newbie" among them falls for one of the passengers but it's a rocky road to love for a good girl stranded in the tropics...
A Shriek in the Night (1933) 67m. Mystery. Ginger Rogers, Lyle Talbot. Pat Morgan and Ted Kord are rival newspaper reporters always trying to outscoop each other. They join together to solve a series of murders being committed in an apartment building.
A Study in Scarlet (1933) 72m. Mystery. Reginald Owen. In London, a secret society led by lawyer Thaddeus Merrydew collects the assets of deceased members and divides them among the remaining members. Society members start dropping like flies. Sherlock Holmes....
Sin of Nora Moran (1933) 64m. Crime/Drama. Zita Johann, John Miljan. Nora Moran, a young woman with a difficult and tragic past, is sentenced to die for a murder that she did not commit. She could easily reveal the truth and save her own life, if only it would not damage the lives, careers and reputations of those whom she loves. (Her real SIN was posing for the sexiest movie poster of the 1930s!)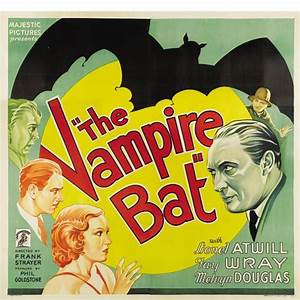 Skyway (1933) 69m. Action/Comedy. Ray Walker, Kathryn Crawford. A cocky young pilot, at the urging of his girlfriend, takes a nice, "safe" job at the bank where her father is president.
The Sphinx (1933) 63m. Mystery. Lionel Atwill. A man known to be a mute is suspected of committing a murder, as he was noticed at the scene. However, witnesses saw and heard him talking as he was leaving the scene of the crime.
The Vampire Bat (1933) 60m. Horror. Fay Wray, Lionel Atwill, Melvyn Douglas. When corpses drained of blood begin to show up in a European village, vampirism is suspected to be responsible.
World Gone Mad (1933) 71m. Crime/Mystery. Evalyn Brent, Pat O'Brien. A district attorney and a reporter try to find the killer of a D.A. who uncovered a massive stock fraud.
---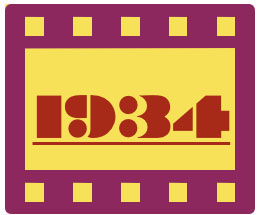 The Beast of Borneo (1934) 61m. Adventure. Mae Stuart, John Preston. A crazed scientist needs primates to conduct experiments to prove his own theory of evolution, so he organizes an expedition into the jungles of Borneo to capture the animals he needs.
The Ghost Walks (1934) 64m. Mystery. John Miljon, June Collyer. During a stormy night at an old dark mansion, people who claim to see ghosts roaming the halls are later found murdered.
Flirting with Danger (1934) 71m. Adventure/Comedy. Robert Armstrong, Edgar Kennedy, William Cagney. Three brash and cocky powder mixers are sent to South America to work at a dynamite plant there.
Happy Landing (1934) 62m. Adventure. Ray Walker, Julie Bishop. An action-filled film with outlaws-of-the-clouds at war with the men of the U. S. Flying Service. A young pilot, Nick Ferris, fights to track down a dangerous gang of smugglers and clear his name of a stigma.
House of Danger (1934) 64m. Mystery. Onslow Stevens, Janet Chandler. To protect a young woman's life, a man pretends to be her injured friend so he can investigate a murder and capture the killers.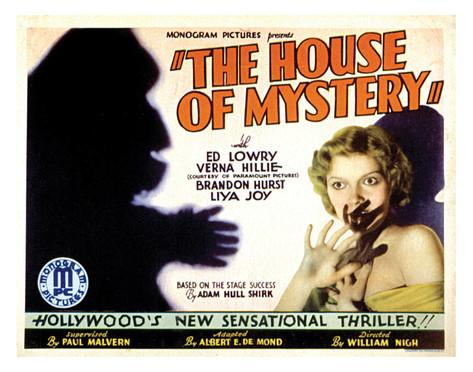 House of Mystery (1934) 62m. Mystery. Ed Lowry, Verna Hillie. An ancient curse and a killer ape lurk inside an old dark mansion.
King Kelly of the USA (1934) 66m. Comedy. Guy Robertson, Edgar Kennedy. A theatrical troupe headed by a flashy showman finds itself in the tiny--and bankrupt--kingdom of Belgardia. The showman falls in love with the daughter of the dotty king, who has promised her to another.
Maniac (1934) 51m. Horror. Camp classic. A former vaudevillian gifted at impersonation assists a mad scientist in reanimating corpses and soon goes mad himself.
Money Means Nothing (1934) 64m. Comedy. Wallace Ford, Edgar Kennedy. Wealthy Manhattan girl and a struggling Brooklyn boy meet and fall in love. She marries him against the wishes of her family, believing that love can solve everything, but she soon wonders if she made the right choice.
Murder in the Clouds (1934) 61m. Adventure/Mystery. Lyle Talbot, Ann Dvorak. Bob "three star" is the hotshot pilot for Trans America Lines. His girlfriend is a stewardess for the airlines. Tom Wagner, her younger brother has just started flying for the line. Tom and Bob are to fly on a secret mission to carry a scientist with a new high explosive mixture to Washington...
Moonstone (1934) 47m. Mystery. David Manners, Phyllis Barry. A valuable gem from India is stolen in an old dark mansion and it is up to Scotland Yard inspector Charles Irwin to find out who did it among all the suspects who were in the house.
Murder in the Museum (1934) 65m. Mystery. Henry B. Walthall, John Harron. When a city councilman is murdered while investigating allegations of drug dealing going on a a somewhat disreputable sideshow, the daughter of the chief suspect teams up with a newspaper reporter to find the real killer.
Mystery Liner (1934) 62m. Mystery. Noah Beery, Astrid Alwyn. Mystery, intrigue and murder on an ocean liner.
Night Alarm (1934) 61m. Drama/Romance. Bruce Cabot, Judith Allen. Reporter investigates serial arsonist.
Of Human Bondage (1934) 83m. Drama. Bette Davis, Leslie Howard. Young man inextricably falls for a sleazy waitress, who may destroy them both.
Palooka (1934) 86m. Comedy. Jimmy Durante, Lupe Velez, Stu Erwin. Knobby discovers young hunk Palooka and trains him to fight the reigning champ.
Peck's Bad Boy (1934) 72m. Drama. Jackie Cooper, Thomas Meighan. Young boy Bill Peck adores his father and tries to be good, but the arrival of Bill's cousin Horace upsets Bill's plans. Horace's brattish ways result in Bill rather than Horace getting in trouble.
Road to Ruin (1934) 65m. Exploitation. A young girl gets involved with a crowd that smokes marijuana, drinks and has sex. She winds up an alcoholic, pregnant drug addict and is forced to get an abortion.
Woman in the Shadows (Dark) (1934) 69m. Ralph Bellamy, Fay Wray. Paroled prisoner fears he has killed a man.
Woman Unafraid (1934) 57m. Lucile Gleason. Policewoman tries to turn around the lives of young women with shady pasts.
Young and Beautiful (1934) 68m. Comedy/Musical. William Haines, Judith Allen, Wampas Baby Stars. Publicity man for Superba Pictures uses his publicity skills in an attempt to make his fiancée June Dale the most famous movie star in the world. But in doing so, he forgets that women want to be attended to for themselves, not as objects of fame.