Annie Oakley
(1954-1957) A fictionalized account of the life of legendary Wild West sharpshooter Annie Oakley. Set in the quiet western town of Diablo, Annie and her little brother Tagg made sure that outlaws who moseyed into town kept on going. Often at her side was friend, suitor and deputy sheriff Lofty Craig with whom she often showed off her shooting prowess. Cast: Gail Davis, Brad johnson, Jimmy Hawkins.
---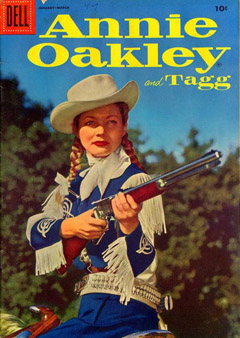 Vol. 1: Annie Finds Strange Treasure 3-6-1954. When Annie tries to save an old prospector from an attack by outlaws, they think she knows the location of his cache of gold.
The Hardrock Trail 4-3-1954. When a gunfighter comes to Diablo to get revenge on the sheriff for sending him to prison, Annie sneaks the aging sheriff out of town.
Annie Calls Her Shots 2-13-1954. A man gets out of prison and returns to Diablo, blaming the town for falsely convicting him.
The Dude Stagecoach 1-30-1954. A spoiled heiress seems powerless to prevent a crooked rancher from taking over Diablo's troubled stagecoach line.
Vol. 2: Annie and the Lily Maid 3-27-1954. Annie is suspicious of a young woman who comes to town to claim her recently murdered uncle's ranch.
Gunplay 1-23-1954. An outlaw poses as a marshal to break his brother out of jail.
Sharpshooting Annie 6-12-1954. Annie goes after a mysterious masked outlaw whose latest victim is a traveling circus.
Justice Guns 4-17-1954. Annie's mentor, a proud but aging marshal, is provoked into a hopeless shootout with a gunman.
Vol. 3: Ambush Canyon 2-6-1954. When a mine owner is murdered, Annie tries to help his adopted daughter, a young Indian girl.
Annie Trusts a Convict 1-16-1954. Annie and Tagg find a young escaped prisoner and help him prove he is innocent.
Annie and the Leprechans 9-2-1956. When a man discovers gold on his land, his greedy neighbor hires a gunfighter to get rid of him.
Shadow at Sonoma 9-23-1956. Lofty masquerades as a gunman to expose an outlaw plot, but then has to challenge Annie in a shooting match.
Vol. 4: Annie and the Chinese Puzzle 2-13-1955. Annie befriends a Chinese laundryman whose difficulties are compounded when he is framed for murder by a man anxious to acquire his property.
Dude's Decision 2-10-1957. The Grangers are unaware that the charming young man from Boston, who has come to look over their ranch, is an outlaw planning to purchase it with the money from his first holdup.
Annie's Desert Adventure 4-24-1954. Annie thinks that an ex-con suspected of the recent robbery of a gold shipment has been framed.
Escape from Diablo 8-7-1954. While trying to solve a robbery, Tagg is captured by the bandits.
Vol. 5: Dilemma at Diablo 9-9-1956. A young man returns to Diablo to practice medicine after his father put him through medical school.
The Reckless Press 10-7-1956. While everyone is distracted by a wedding, outlaws rob the bank.
Bull's Eye 5-29-1954. A chemist poisons the waterholes on a wild game preserve in a scheme to take over the land. This was the pilot episode for the series.
Annie Gets Her Man 4-10-1954. Annie and Lofty figure out how to use marked bullets to identify a bank robber.
Vol. 6: Treasure Map 12-30-1956. When a history buff thinks he has discovered a map to the location of Spanish treasure, outlaws become interested.
Flint and Steel 10-14-1956. Settlers are being threatened if they refuse to sell their land for half of what it's worth.
Grubstake Bank 12-16-1956. A stranger seems to be unduly interested when an old prospector who has struck it rich makes plans to open a new bank that will specialize in loaning grubstake money to other prospectors.
Desperate Men 2-24-57. Annie and Lofty try to locate a desperate outlaw wanted for the murder of a lawman, but Tagg is more interested in trying to find a prospective husband for a shy schoolteacher.
Vol. 7: Dutch Gunmaker 2-17-57. A Dutch gunsmith shows Annie the new rifle he has developed for the army of his adopted country, but word of it spreads and outlaws become interested.
Dead Man's Bluff 3-20-55. When the citizens make a run on the town's failing bank, the banker tries to cover up his counterfeiting.
Annie Rings the Bell 11-25-1956. Annie becomes a boxing promoter to raise money for a new school, but then outlaws break out of jail and try to steal the funds that have been collected.
Annie Rides Navajo Trail 11-18-56. Annie disguises herself as an Indian so that she can attend a tribal meeting and prevent the wronged Navahos from declaring war.
Vol. 8: Annie & Twisted Trails 6-24-56. Annie tries to help a girl whose father is overly protective, since his wife left him years earlier to be with a rodeo cowboy.
Annie & Texas Sandman 5-8-54. A retired gunman trying to live a peaceful life in Diablo is threatened by the brothers of a man he killed.
Annie & Six O' Spades 7-31-54. When a young sharpshooter challenges Annie to a shootout, Tagg takes his slingshot....
Annie & Brass Collar 1-9-54. Stationmaster Dan Haywood is being blamed for a series of train robberies. Annie and Sheriff Craig try to find the real culprits.
Vol. 9: Western Privateer 9-30-56. A man and his son are suspected of being responsible for the death of a popular old man who they accompanied on a treasure hunt.
Valley of Shadows 3-20-54. When a girl is blinded in the murder of her father, Annie tries to help her identify the killer.
Amateur Outlaw 12-9-56. Some of the county's more bigoted citizens are up in arms when an Indian inherits the stage line with the mail franchise from his former patron.
The Tomboy 7-17-54. Tagg is initially dubious about the arrival of Lofty's young niece, until he finds that she is a tomboy with interests similar to his.
Vol. 10: A Tall Tale 6-17-56. When his grandson actually comes to visit him, an old prospector who has been writing to the boy with tall tales of his imaginary exploits, actually tries to live up to his tales by capturing an outlaw gang.
Sundown Stage 6-3-56. When Tagg finds an injured man with amnesia wandering outside town, Annie discovers that the man is wanted for robbery and murder.
Renegade's Return 8-19-56. An unscrupulous politician threatens to tell a man's nephew the truth about his outlaw father unless the man withdraws from the campaign.
The Reckless Press 10-7-56. While everyone is distracted by a wedding, outlaws rob the bank.
Vol. 11: Powder Rock Stampede 5-22-55. When the government opens up the Powder Rock territory, a land rush by potential homsteaders ensues.
Outlaw Mesa 6-26-54. When a young driver refuses to testify against his outlaw brother, Annie and Tagg use ventriloquism to trick him into doing the right thing.
Outlaw Brand 9-16-56. A young orphan friend of Tagg's thinks that his guardian, a former outlaw, is planning to return to a life of crime.
Joker on Horseback 6-10-56. A recent rash of robberies have been accompanied by practical jokes.
Vol. 12: Flint and Steel 10-14-56. Settlers are being threatened if they refuse to sell their land for half of what it's worth.
The Iron Smoke-Wagon 8-14-54. The arrival of a new fire engine is spoiled by a bank robbery.
Annie & Bicycle Riders 7-8-56. Bank robbers are foiled by a clerk who manages to send off their descriptions by telegraph before he dies from his wounds.
Annie & the First Phone 7-22-56. Annie tries to organize support for local settlers who have become discouraged by crop failures and Indian raids.
Vol. 13: Annie and the Outlaw's Son 7-3-54. Young rancher refuses to help stop fleeing bank robbers.
Cinder Trail 3-13-54. Cattleman tries to take over railroad so he can control shipping prices.
Indian Justice 7-29-56. Annie helps soldier accused of murdering an Indian in a land dispute.
Sugarfoot Sue 8-26-56. Daydreaming girl convinces Tagg that she has a treasure map.
Vol. 14: Robin Hood Kid 7-1-56. Masked vigilante helping settlers is framed for bank robbery.
Annie and the Miser 1-20-57. Shipment of money disappears near a shack where a miser lives.
Annie Makes a Marriage 6-19-54. Annie helps ex convict so he can marry his love.
Trigger Twins 3-6-55. Annie battles twin sisters, one with a gun and other on the dance floor.
Vol. 15: Annie Helps a Drifter 6-6-54. Annie helps young man she feels has been framed for murder.
The Front Trail 11-11-56. Annie tries to help disgraced marshall whose son runs gambling hall.
Gal for Grandma 2-20-54. Grandson arrives in town, but is spurned by wealthy elderly invalid.
Tuffy 2-3-57 Orphaned boy asks help to find a ghost town.
Vol. 16: Annie Takes a Chance 5-8-55. Judge threatened by brother of man he has just sentenced to death.
Alias Annie Oakley 7-10-55. An impostor impersonating Annie goes on a crime spree.
Outlaw Mesa 6-26-55. Man refuses to testify against outlaw brother is tricked by ventriloquism.
Diablo Doctor 3-3-55. Annie helps town doctor regain confidence after not saving life of his father.
VOL. 17 Annie and the Silver Ace 2-27-54. When a likable young man opens a new gambling casino in Diablo, he incurs the wrath of Annie and Lofty and also the owner of an established casino. Annie and the Mystery Woman 4-06-54. Dance hall queen, Lil Benton is the eyewitness in a murder trial and hides out in Diablo after being threatened by the killer. Annie Meets Some Tenderfeet 5-15-54. A new banker comes to town, taking care of his sister and her son "Stinky" who gets along famously with Tagg. When Lingard finds out about the new banker he finds a new way to scam him out of the banks cash. Annie Joins the Cavalry 5-22-54. A cavalry regiment is attacked and almost wiped out and it looks like Hopi Indians, only they are a peaceful tribe and there are rustlers that led Annie to think otherwise.
Vol. 18: The Runaways 7-24-54. Annie allows Tagg and his friend to spend night in a ghost town, unaware that outlaws are using it for a hideout. Annie Breaks an Alibi 2-27-55. With the help of her brother Tagg and Lofty Craig, Annie battles two greedy cousins, neither of them satisfied with sharing the estate they inherited. Annie and the Junior Pioneers 3-27-55. Tag joins the rodeo and makes friends with Lonny, a former juvenile delinquent who is being helped by the local Junior Pioneers Club. After his older brother escapes from jail, Tag stumbles across him unexpectedly. Hard Luck Ranch 4-3-55. Outlaws threaten a wheelchair-bound former rodeo star and his wife.
VOL. 19 Thunder Hill 4-10-55. A hard-pressed ranch family is being terrorized by a gang who wants their ranch. When it turns out that the land has an Indian burial ground called "Thunder Hill", which the government is willing to buy at any cost to return to the natives. Sure Shot Annie 4-17-55. Beautiful woman robs the bank while putting blame on a young cashier. Annie and the Widow's Might 4-24-55. Annie aids a widow and her young son who are being pressured to sell their property. Trouble Shooter 5-1-55. Local rancher hires and ex-convict whose outlaw brother is trying to keep him from going straight.
Vol. 20: Annie and the Higher Court 5-15-55. Annie,Tagg and Lofty learn that a crooked banker has offered a bribe to Diablo's financially strapped judge if he will acquit the banker's arrested accomplice. Annie and the Lacemaker 7-15-56. Two women arrive in town, each claiming the estate of a murdered barber. Showdown at Diablo 8-5-56. Deputy Sheriff Lofty refuses to face down a ruthless gunfighter who once saved his life. The Mississippi Kid 8-12-56. Tenderfoot comes to town to live with his sister and prove himself.
Vol. 21: Tagg Oakley, Sheriff 10-21-56. When Tagg becomes temporary sheriff during National Boys Week, he unwittingly helps an outlaw. The Waco Kid 10-28-56. An old firend of Annie's is suspected of being a notorious outlaw. Saga of Clement O'Toole 11-4-56. Annie tries to help innocent man who is mistaken for his outlaw double. Santa Claus Wears a Gun 12-2-56. Annie aids aging circus sharpshooter Snowy Kringle when he is arrested for stealing an army payroll.
---