The Beverly Hillbillies
(1962-1971) A nouveau riche family of hillbillies moves to Beverly Hills, refuses to conform and shakes up privileged society. Cast: Buddy Ebsen, Irene Ryan, Donna Douglas, Max Baer Jr.
---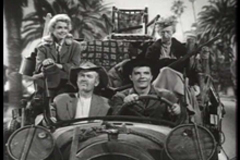 Vol. 1:
1) The Clampett's Strike Oil Sep. 26, 1962. In the first episode Jed Clampett strikes oil, sells his land and moves to a 35 room mansion in Beverly Hills.
2) Getting Settled Oct. 3, 1962. When they arrive at their new mansion they are mistaken for backwoods servants.
3) Meanwhile, Back at the Cabin Oct. 10, 1962. The Clampetts find that the comforts of the mansion do not always compare with the comforts of their shack back home.
4) The Clampetts Meet Mrs. Drysdale Oct. 17, 1962. When Mr. Drysdale describes Mrs. Drysdale as being a hypochondriac, the Clampetts assume she must be a drunk.
Vol. 2:
5) Jed Buys Stock Oct. 24, 1962. When Drysdale suggest buying good stock, Jed quickly buys some cows, pigs and chickens. Meanwhile, Granny has plans to sober up Mrs. Drysdale, who the family believes is a lush.
6) Trick or Treat Oct. 31, 1962. The Clampetts are feeling homesick. They are mostly all alone in Beverly Hills, and none of their neighbors are visiting them. So they decide to go visit their new neighbors. Little do they know, it is Halloween, a holiday they have never heard of.
7) The Servants Nov. 7, 1962. Drysdale attempts another step insocial renovation of the Clampetts by lending them his servants.
8) Jethro Goes to School Nov. 14, 1962. A private school teacher is shocked to learn that her new fifth grade student is Jethro.
Vol. 3:
9) Elly's First Date Nov. 21, 1962. Elly May is set up with Sonny Drysdale, who is at first unsure about it until he sees her by the pool. At the mansion, Elly is learning about courting and sparking. When they meet, the date ends very soon, after Sonny tries to kiss Elly's hand, but she thinks he is trying to bite her.
10) Pygmalion and Elly Nov. 28, 1962. Sonny Drysdale plays Pygmalion and Julius Caesar as he resumes his courtship of Elly May.
11) Elly Races Jethrine Dec. 5, 1962. Will Sonny propose to Elly? Can Pearl marry her daughter off? Utter confusion ensues.
12) The Great Feud Dec. 12, 1962. Sonny jilts Elly and the Clampetts load their shootin' irons for a match with the Drysdales.
Vol. 4:
13) Home For Christmas Jan. 16, 1963. The Clampetts take their first plane ride for a Christmas visit back home with Cousin Pearl.
14) No Place Like Home Dec. 26, 1962. Home for Christmas, the Clampetts help Pearl woo Mr. Brewster, a big oil company executive.
15) Jed Rescues Pearl Jan. 2, 1963. Pearl attempts to snag Mr. Brewster until he makes a ridiculous public announcement.
16) Back to Californy Jan. 9, 1963. Jed is confronted with too many cooks when he invites Pearl and Jethrine to Beverly Hills.
Vol. 5:
17) Jed's Dilemma Jan. 16, 1963. Jed takes the family on a sight seeing tour of Beverly Hills to cool a feud between Granny and Pearl.
18) Jed Saves Drysdale's Marriage Jan. 23, 1963. Drysdale's marriage is threatened when he gets a new housekeeper while his wife is away.
19) Elly's Animals Jan. 30, 1963. Police and Elly's animals converge on the Clampett estate when Pearl starts giving yodeling lessons.
20) Jed Throws a Wing Ding Feb. 6, 1963. Two of Pearl's ardent suitors come to visit her in Beverly Hills.
Vol. 6:
21) Jed Plays Solomon Feb. 13, 1963. Granny's plan to stop Pearl's yodeling backfires when the police come and find her still.
22) Duke Steals a Wife Feb. 20, 1963. Duke, Jed's bloodhound, becomes matchmaker for his master and Mlle. Denise, a glamorous Frenchwoman.
23) Jed Buys the Freeway Feb. 27, 1963. A confidence man tries to sell Jed the Hollywood Bowl and and Freeway.
24) Jed Becomes a Banker March 6, 1963. Jed is made a bank vice president so he can compete in an interbank skeet shoot.
Vol. 7:
25) The Family Tree March 13, 1963. An expert on American history finds evidence that Jed's family preceded the Mayflower to America.
26) Jed Cuts the Family Tree March 20, 1963. Mrs. Smith Standish is spending more time with the Clampetts, desperate to find out if the Clampetts did in fact precede the 'Mayflower.'
27) Granny's Spring Tonic March 27, 1963. It's Spring Tonic time, and Granny hands it around to the family, giving Jed a double dose. While at the bank, Gloria transforms herself from a plain secretary to a gorgeous one, with her sights set on Jed.
28) Jed Pays His Income Tax April 3, 1963. Granny thinks a man from the IRS is a revenuer and chases him off with her gun.
Vol. 8:
29) The Clampetts and the Dodgers April 10, 1963. Leo Durocher wants to sign Jethro as a pitcher on the Dodgers.
30) Duke Becomes a Father April 17, 1963. Jed falls for a beautiful Beverly Hills matron.
31) The Clampetts Entertain April 24, 1963. Drysdale comes up for a raise when he lands the Clampett account.
32) The Clampetts in Court May 1, 1963. As the Clampetts are going to the bank, a car bumps into them. When the Johnsons in the car learn how much money the Clampetts have, they decide to sue them.
Vol. 9:
33) The Clampetts Get Psychoanalyzed May 8, 1963. An unlucky psychiatrist somehow winds up with Jethro as a patient.
34) The Psychiatrist Gets Clampetted May 15, 1963. The psychiatrist shows an interest in Granny's mountain remedies.
35) Elly Becomes a Secretary May 22, 1963. The Clampetts offer to help out at Drysdale's bank.
36) Jethro's Friend May 29, 1963. The Clampetts show Jethro's friend how tohave some fun.
Vol. 10:
37) Jed Gets the Misery Sep. 25, 1963. Jed is feeling poorly, and the family is worried about him. To make Elly feel better, Jed reveals that he is faking an illness to please Granny. When Drysdale hears of this, he decides to help out to and fakes sick as well.
38) Hair Raising Holiday Oct. 2, 1963. A doctor blows the whistle on Granny's mountain- medicine practice.
39) Granny's Garden Oct. 9, 1963. Granny wants to plough the front lawn of the mansion to grow vegetables.
40) Elly Starts to School Oct. 16, 1963. Elly May is preparing for her first day of the Willows, a finishing school Mrs. Drysdale recommended where she hopes the girls will offend Elly and run the Clampetts out of town.
Vol. 11:
41) The Clampett Look Oct. 23, 1963. A new fashion -- "The Clampett Look" -- comes to Beverly Hills.
42) Jethro's First Love Oct. 30, 1963. Jethro falls in love with a stripper named Chickadee Laverne and takes her home to meet the family.
43) Chickadee Returns Nov. 6, 1963. Chickadee (Barbara Nichols) returns with a new act.
44) The Clampetts are Overdrawn Nov. 13, 1963. Jed's bank statement is switched with an unemployed actor with a similar name.
Vol. 12:
45) The Clampetts Go Hollywood Nov. 20, 1963. Jake and Opal Clampett are continuing to stay at the Clampett mansion. Jethro and Elly both decide they want to get in the movie business, and the two get help from Jake and Opal.
46) Turkey Day Nov. 27, 1963. Mrs. Drysdale's turkey escapes into the Clampett household and finds a home.
47) The Garden Party Dec. 4, 1963. Mrs. Drysdale is having a garden party and tells the Clampetts not to attend. However, they misunderstand and think she wants them to come.
48) Elly Needs a Maw Dec. 11, 1963. Jed visits the bank to tell Drysdale that he plans to go back home to look for a wife so Elly May can finally have a mother. Drysdale tries to think of a bride for Jed, and when Mrs. Fenwick visits, he decides that she would be perfect.
Vol. 13:
49) The Clampetts Get Culture Dec. 18, 1963. The Clampetts are having no success with getting acquainted with their neighbors. But they change their minds when they finally get the friendly treatment they were looking for - carolers Drysdale and wife, Jane, Mrs. Potts, and Janet Trego.
50) Christmas at the Clampetts Dec. 25, 1963. It is Christmas time, and the Clampetts receive beautiful gifts from the Drysdales, including a boat and a television set. However, they mistake the gifts for other things, the TV set for a washing machine, etc.
51) A Man for Elly Jan. 1, 1964. Granny loves one TV Western star, Quirt Manly, and Granny already has him set up for Elly May, because she knows he is probably the only who can tame the vine-swinging girl.
52) The Giant Jackrabbit Jan. 8, 1964. A kangaroo invades the world of the Clampetts, but Granny thinks it's a big rabbit.
Vol. 14:
53) The Girl From Home Jan. 15, 1964. An old beau shows up to marry Jethro for his money.
54) Lafe Lingers On Jan. 22, 1964. Lafe Crick returns to the Clampett mansion looking to get rich off of Jed's money. He tries to get a job at the bank guarding Jed's money, only to get a few million of it. Granny has her doubts.
55) The Race for the Queen Feb. 5, 1964. Bob Cummings plays himself and must judge a beauty contest.
---