Buffalo Bill Jr.
(1955-1956) Young western hero, played by Dick Jones, rides the range with his kid sister Calamity.
---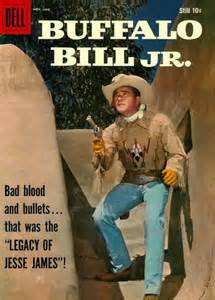 Vol. 1: The Black Ghost Bill and Calamity must expose a lovely young woman who is scheming with a notorious outlaw to take over her uncle's property.
The Rain Wagon Bill brings a traveling rainmaker to Wileyville to counter a destructive drought, then has to capture a masked bandit who uses the rainmaker's experiments to cover his theft of the express office.
Trail of the Killer While Bill and everyone else in Wileyville are out hunting for Billy the Kid, he shows up in town and Calamity recognizes him.
Tough Tenderfoot A feud between an immigrant Scotsman and his visiting cousin helps Bill solve a lawyer's murder.
Vol. 2: Boomer's Blunders Bill and Calamity try to keep Judge Ben and a friend of his from being cheated out of valuable land.
Fugitive from Injustice Bill comes to the aid of Pepito, a starving 10-year-old boy, who is being stalked by murderous horse-thieves.
Grave of the Monsters Buffalo Bill Jr. and his Navaho blood brother White Eagle expose a crooked archaeologist and his cohorts who are trying to take pocession of sacred Indian reservation land.
Legacy of Jesse James Survivors of Jesse James old outlaw gang try to recover his hidden loot with a pieces of a torn treasure map.
Vol. 3: Pawnee Stampede Government land commissioner is killed by henchman of the area Indian agent, but why?
Runaway Renegade Bill and Calamity try to prove the innocence of a young boy's father who is accused of murdering the sheriff.
Fight for Texas The Texas Rangers want permission to cross into Mexico to capture some outlaws.
Death of Johnny Ringo While Bill is out helping some Cavalry troops find a missing messenger, outlaw Johnny Ringo comes to town and captures Calamity and the Judge.
Vol. 4: Rails Westward Bill, Calamity and Judge Ben unwittingly become involved in a scheme to sell a worthless stagecoach line to a stranger in town.
Fight for Geronimo In this first episode. Bill, Calamity, and the Judge try to frustrate a plot to free the desperate Apache chief Geronimo as he is being transferred to a federal prison.
Red Hawk Bill comes to the aid of an old man and his adopted Indian son when a corrupt stage line owner tries to take over their silver hauling contract.
Empire Pass Bill and Calamity try to help an honest railroad man fight his crooked rival in a fight over a right of way.
---