Bonanza
(1959-1972) Cast: Lorne Greene, Pernell Roberts, Dan Blocker, Michael Landon. Ben Cartwright and his three sons (by three wives) ride herd over the sprawling Ponderosa spread in 1860s Nevada in one of the most handsomely mounted and beloved series of all time. The first TV Western to be shown in color, it ran for 14 seasons.
---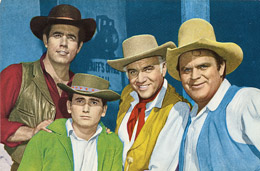 Vol. #1 The Avenger March 19, 1960. Ben and Adam are accused and found guilty of murder and await their hanging. Joe and Hoss try to get a stay of execution. A stranger arrives....
The Last Trophy March 26, 1960. Adam leads two old friends on a hunting trip, but they are taken captive by a renegade Indian band.
Vol. #2 The Courtship Jan. 7, 1961. On a trip to Sacramento Hoss meets and falls in love with Helen Layton, who is the widow of an old friend of Ben's. Hoss brings her back to the Ponderosa unaware of her past.
The Abduction Oct. 29, 1960. While visiting a travelling carnival in Virginia City, Hoss and Joe find themselves involved in a kidnapping and murder.
Vol. #3 The Mill Oct. 1, 1960. Ben and his sons build a flour mill to help an old friend make some money, but he is paralyzed and in peril of losing all his money playing cards.
Bitter Water April 9, 1960. A neigbor hates the Cartwrights and causes dissension with lies.
Vol. #4 Dark Star April 23, 1960. Little Joe falls in love with a gypsy girl who has been ostracized by her own people because they believe she is a witch.
The Spitfire Jan. 14, 1961. Little Joe is forced to kill a man who started a fire on the Ponderosa. He takes responsibility for the man's duaghter, unaware inlaws are on the way to exact revenge.
Vol. #5 The Hopefuls Oct. 8, 1960. While in Virginia City Adam meets and fall in love with a Quaker girl. He accompanies her wagon train west but is faced with action that offends her morals.
Denver McKee Oct. 15, 1960. The Cartwrights investigate a series of killings and robberies at nearby mines with the help of neighbor Denver McKee and his daughter.
Vol. #6 The Gunmen Jan. 23, 1960. While traveling through a small Texas town, Little Joe and Hoss are mistaken for the gunslinging Slade Brothers who have been hired to kill a man.
The Fear Merchants Jan. 30, 1960. In Virginia City the Cartwrights protect a young Chinese man who has been accused of murder. A mayor candidate uses the situation to further his cause.
Vol. #7 Escape to Ponderosa March 5, 1960. Three men who escaped from an army prison take refuge at the Ponderosa from an unlikable commanding officer.
The Ape Dec. 17, 1960. In Virginia City Hoss befriends a strong but dimwitted man called Arnie who can't control his temper. Hoss gets him a job at the Ponderosa.
Vol. #8 Death at Dawn April 30, 1960. The Cartwrights help the sheriff bring a murderer to trial but are opposed by the murderer's boss.
The Blood Line Dec. 31, 1960. After killing a man in self defense, Ben feels he is responsible to look after the man's son returning from Boston, but he only wants revenge.
Vol. #9 Blood on the Land Feb. 13, 1960. A sheepherder crosses the Ponderosa with his large flock of sheep. Ben wants to use force while Adam advises a more peaceful solution.
Badge Without Honor Sep. 24, 1960. A hired killer poses as Deputy Marshal to take a friend of Ben's to Sacramento for a trial, really meaning to kill him.
Vol. #10 Desert Justice Feb. 20, 1960. A Ponderosa ranch hand is arrested and taken away for trial. Adam and Hoss go along.
Day of Reckoning Oct. 22, 1960. Ben gives an Indian couple some land to start a farm after they save his life, but a racist neighbor makes trouble.
Vol. #11 Breed of Violence Nov. 5, 1960. A sheriff's daughter runs away with a no good bandit, who takes Joe and Hoss captive.
The Last Viking Hoss' Uncle Gunnar arrives at the Ponderosa on a visit, bringing more than just memories with him.
Vol. #12 The Spanish Grant Feb. 6, 1960. A Spanish heiress arrives to claim land under The Spanish Land Grant and part is on the Ponderosa.
The Stranger Feb. 27, 1960. Ben plans to be the first governor of Nevada when a police inspector arrives with a warrant for his arrest for a murder 20 years ago.
Vol. #13 The Trail Gang Nov. 26, 1960. Ben and Hoss are herding cattle home when they run across a town that won't let them through.
The Savage Dec. 3, 1960. Adam comes across a white woman living as an Indian. She nurses him to health when he is wounded and he falls in love.
Vol. #14 Showdown Sep. 10, 1960. The Cartwrights unknowingly hire a bank robber to work at the Ponderosa. Only Joe is suspicious.
The Mission Sep. 17, 1960. Hoss helps an army troop transport gold, but the troop's former scout plans to steal it.
Vol. #15 San Francisco April 2, 1960. After a long cattle drive, Ben, Hoss and Little Joe visit San Francisco. Their ranch hands and Ben soon disappear.
Silent Thunder Dec. 10, 1960. Little Joe teaches a deaf-mute mountain girl sign language, and mistakes his kindness for love.
Vol. #16 Feet of Clay April 16, 1960. The Cartwrights look after a young boy whose mother has just died, but the boy's convict father has other ideas.
Plus two episode of Bat Masterson (1959-1961) NBC TV Series starring Gene Barry as the dude lawman who uses his wits and his cane to disarm opponents. These are the only two public domain episodes that were not renewed.
---