Adventures of Champion
The Adventures of Champion ran for one season on CBS from 1955 to 1956. A total of 26 half-hour episodes were produced by Armand Schaefer for Gene Autry's Flying A Productions and directed by serial and western veterans George Archainbaud, Ford Beebe and John English. Familiar cowboy faces abound including Roy Barcroft, Glenn Strange, George J. Lewis and Francis McDonald.
12-year-old Barry Curtis plays Ricky North, who lives on Uncle Sandy's ranch in the American Southwest near a herd of wild horses led by the wild stallion Champion. Champ only allows his friend Ricky to ride him bareback. The german shepherd Rebel helps his two pals survive their weekly adventures. The characters of Ricky, Rebel, Champ and Sandy originated in a 1949-'50 radio serial that became a comic book for Dell from 1951 to 1955, so young fans were familiar with the premise long before the TV series.
Gene Autry used a number of horses to play Champion over the years. This fine animal was referred to as TV Champ and appeared with Gene in his 1950-'56 television series and in personal appearances at the time. No reference is made that Champion is Gene Autry's horse.
---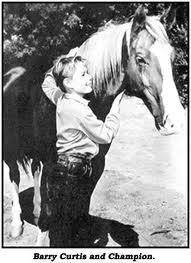 Vol. 1: "The Saddle Tramp" Enter Will Calhoun, famous trapper, indian fighter and teller of tall tales. Ricky believes every tale but they are mainly talk. Rustlers terrorizing the area force Will into action to save Ricky when Sandy is laid up.
"Crossroad Trail" Ricky visits The Colonel for a few days, just when his grandson Josh is tempted to commit robbery by two ranch hands (one played by Lee Van Cleef). Which trail will Josh take at this crossroad in his life? Rebel and Champ come to the rescue when Ricky takes a bad fall and goes blind.
"Salted Ground" Ricky saves a young girl Sally when her wagon runs away. Sally's gullible father is about to invest in a gold mine. Ricky runs into two prospectors firing gold dust into rocks. Could they be salting a mine?
"The Medicine Man Mystery" Ricky visits a medicine show wagon run by ventriloquist Dr. Terwilliger and his dummy Wilbur. A jewel thief traveling as an assistant hides loot inside Wilbur and later kidnaps the dummy when he makes a getaway.
Vol. 2: "Lost River" When drought devastates the valley, Champion searches desperately for a new source of water to save his herd of wild horses. Meanwhile Ricky and Sandy help an elderly woman keep her ranch from an unscrupulous foreman who uses the drought to buy ranches cheap.
"Renegade Stallion" Two crooks kill a prospector for his gold find and stampede the wild herd of horses over the body to disguise their crime, but Champ knows the truth. The outlaws try to claim he is a wild killer and have him shot.
"Canyon of Wanted Men" Champion turns a stampede of his herd set by bad guys trying to label the wild horses trouble so they can step in and sell them. Ricky, Sandy and Rebel size up the con and set out to find proof. In the cast are veteran western actors Tristram Coffin and George J. Lewis.
"Challenge of the West" Ricky brings a hungry friend home for dinner because Les' father is in prison. Sandy has a large sum of money in his safe, that isn't safe very long when Les' father breaks jail and shows up with a meaner hombre, Duke, who forces Les to steal.
Vol. 3: "The Outlaw's Secret"
The stagecoach bringing the new minister to town is robbed. The posse wounds the outlaw leader, who Ricky later finds in a cabin and fetches the preacher to help. The dying man almost confesses that the bank owner stole the money.
"Hangman's Noose"
Ricky has an elderly friend, Trem Holt, who loves animals. Crooks discover oil on Trem's land and plot to get rid of him so they can buy the property. When Holt is unjustly accused of murder a lynch mob soon forms. Champ and Rebel turn detective to clear their friend.
"King of the Rodeo"
Two men come to Wild Horse Canyon looking for a new rodeo attraction and capture Champion! Ricky finds him in the rodeo and enters a contest to win "Dynamite" if anyone can ride him, which he does with ease. The crooks renege and take off again with the stallion.
"A Bugle for Ricky"
A retired cavalry sergeant welcomes his son home, only to be disappointed that he has given up his commission to be a veterinarian. The sergeant must reconcile with his son while bringing bank robbers to justice. Ricky's bugle and a good horse vet figure in the climax.
Vol. 4: "The Stone Heart"
Crooks break a con out of prison against his will and then shoot him when he hides counterfeit printing plates. Ricky finds the injured man, protects him and fetches his sister, but the two outlaws are still after the plates.
"The Deer Hunters"
Champ takes Ricky to a trapped fawn, encounters the trappers and is saved by an animal activist. The conflict with the trappers escalates as the railroad refuses to stop buying venison to feed workers. A game preserve may be the answer
"Johnny Hands Up"
The new marshal saves Ricky from a mountain lion, but appears to be a coward during a bank robbery when his new guns are not loaded. Later he meets with the gang leader because his father had been one of their gunmen. He gets a last chance to make good when Ricky gets captured trailing the gang
"Black Kachina"
An indian medicine man finds a sacred "kachina" that tells him to war on the white man. The chief advises Sandy to bring in the cavalry, but the army sends a paleontologist instead. Ricky and the professor explore a lost cave to avert war.
Vol. 5: "Rails West"
Gold prospectors pretend they are surveying for a railroad through Wild Horse Valley to cover their activities. The rail magnate McNab (Roy Barcroft) is an innocent dupe in the plan. The crooks kidnap Champion so Sandy and Ricky will be sidetracked, then try to blow up a mine with McNab inside
"Andrew and the Deadly Double"
Ricky's friend Mary Jane expects the uncle she has never seen to take custody of her, but the man who arrives is a fake put in by a crooked lawyer so he can sell the ranch for cash. Champ, Rebel, Ricky and Sandy rescue the real uncle but Mary Jane is still in deadly danger.
"Bad Men of the Valley"
Champ witnesses a bushwhacking by four outlaws, who rob the bank the next day. The robbers run across Ricky's new neighbor who is a former convict trying to go straight. He teams up with Champ and Ricky to pursue the culprits.
"The Return of Red Cloud"
The local indian tribe is starving and may go on the warpath. Champ saves the chief's son Red Cloud from an ambush. Red Cloud is determined to seek white man's justice against a crooked indian agent, but he is arrested on a trumped up murder charge. Can Champ and Ricky clear him before the indians attack?
Vol. 6: "Brand of the Lawless"
In this sequel to "Hangman's Noose," Trem Holt, now wealthy from the oil on his land, is about to marry a fine lady named Belle. Her outlaw brother needs money and abducts her. Ricky and Sandy search for Belle when she is late for her wedding.
"The Die-Hards"
Rebel loses an encounter with a porcupine just as the new doctor is driving past. The doctor is son of a confederate Civil War general and meets heavy prejudice for his roots. When his chief critic (Roy Barcroft) gets wounded on a posse, will the war be finally forgotten?
"Calhoun Rides Again"
Champ captures an escaping bank robber but an old friend of Ricky's from the "Saddle Tramp" episode, tall tale spinner Will Calhoun, takes credit. Sandy advises Will to buy a ranch and settle down. While looking the place over Will and Ricky discover the stolen money and are captured by the bandits.
---