The Cisco Kid
(1950-1956) The Cisco Kid and his English-mangling sidekick Pancho travel the old west in the grand tradition of the Lone Ranger, righting wrongs and fighting injustice wherever they find it. Starring Duncan Renaldo as Cisco and Leo Carillo as Pancho. All episodes are in color as originally filmed, although the color quality varies between shows.
---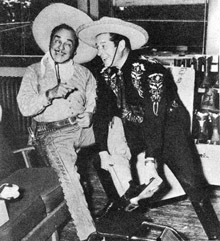 Vol. 1: Phoney Sheriff 2/6/1951. Cisco and Pancho have their cattle stolen by a gang posing as a sheriff's posse.
Stolen Bonds 9/10/1951. A young woman has her identity papers stolen, so a false woman can claim her uncle's estate.
The Old Bum 1/9/1951. Cisco and Pancho are suspicious of an old man who steals their horses, then poses as a wealthy ranchowner.
Oil Land 10/10/1950. Cisco and Poncho are suspected of murdering a rancher who has just discovered oil on his property.
Vol. 2: Confession for Money 1/2/1951. A man confesses to a crime he did not commit and the real murderer is released.
Freight Land Feud 1/27/1951. Cisco mediates a feud between two rival freight lines.
Lynching 12/12/1950. Poncho and Cisco try to prevent a mob from lynching the prospective son-in-law of a mine owner when the man is found murdered.
Newspaper Crusaders 12/19/1950. Cisco and Pancho come to the aid of a young newspaper crusader and his sister.
Vol. 3: Buried Treasure 2/19/1952. A museum curator tells Cisco a story about his ancestor, Jeanne LaFitte. Cisco is then mistaken for LaFitte in a story about treasure.
Haven for Heavies 1/13/1951. Cisco tracks his man to a town filled with noted outlaws who roam the streets freely.
Pancho Hostage 1/16/1951. Outlaws hold Pancho to force Cisco to release their leader from jail.
Dog Story 12/26/1950. A slain prospector's dog gets Cisco and Pancho to help bring the killers to justice.
Medicine Flats 10/17/1950. Cisco and Pancho pretend to be wanted for killing a sheriff in order to join a gang of rustlers.
Vol. 4: Performance Bond 9/3/1951. Crooks fake a gold mine to extort a performance bond from a freight hauling company.
Chain Lightning 10/14/1950. Jim Brent is released from prison and is out to get revenge on the men who sent him there including Cisco and Poncho.
Railroad Land Rush 10/28/1950. Cisco and Poncho are on the trail of a con man who murdered a railroad detective who was on to his phoney land scheme.
The Will 10/31/1950. Pancho and Cisco try to help a young freight wagon driver who was recently released from prison prove he was innocent.
Vol. 5: Medicine Man Show 10/8/1951. Cisco and Pancho disguise as a medicine manshow to catch gun smuggling to indians..
The Bates Story 11/12/1951. Cisco and Pancho are captured by two prison escapees who take their clothes and horses and rob a bank..
Jewelry Hold Up 2/5/1952. Bandits rob a jewelry store and mail the loot to themselves. Pancho and Cisco meet the mail carrier en route.
Quarter Horse 1/29/1952. A friend of Cisco's is lured into a fixed horse race.
Vol. 6: Hidden Valley 12/11/1951. Cisco and Pancho, enroute to visit Mama Maria, lose their way in a sandstorm and recover in a beautiful hidden valley from which they are told they may never leave.
Cattle Rustling 9/19/1950. Cisco is called in to catch rustlers, but they frame him for murder before he can reach the territory.
The Big Switch 9/26/1950. Man springs a crook on his way to prison because he resembles a kidnapped businessman. Cisco is blamed.
Boomerang 9/5/1950. Pancho and the Cisco Kid are wanted by the law. A real estate broker hired two men to impersonate them and rob the Mesa Verde Bank. First show in the series.
Vol. 7: Convict Story 10/3/1950. An escaped convict steals Poncho's horse and clothes while he is taking a swim. He then goes after the mine owner he says framed him.
Ghost Story 10/15/1951. A secret panel and passage in a house allows two smugglers to appear to be ghosts.
Quicksilver Murder 2/12/1952. Theft of quicksilver leads to the mysterious murder of a mine owner and false accusations. Cisco steps in to solve the murder and free the suspects.
Vigilante Story 12/4/1951. A gang of masked vigilantes commits crimes. Who is the leader?
Vol. 8: Ghost Town 2/12/1952. Cisco, Pancho and a girl struggle into a ghost town seeking water, find mystery instead.
Uncle Disinherits Niece 2/13/1951. Upset uncle changes will. Crooked lawyer bumps him off and takes ranch. Niece's boyfriend blamed. Yo, Cisco!
Renegade Son 11/21/1950. Cisco and Pancho break a young woman out of jail. She is blamed for her uncle's death, or she would get the inheritance. A renegade son is involved, of course.
Water Rights 2/20/1951. Money for a public water works project is stolen. Cisco comes across the robbery in progress, is tricked and then blamed for it.
---