Dusty's Trail
(1973-1974) Syndicated TV series set in the 1800s about a small group of travelers separated from their wagon train who become lost, starring Bob Denver as Dusty, the assistant to the leader of a wagon train, and Forrest Tucker as Mr. Callahan, his irascible boss. Four episodes were released as the feature "Wackiest Wagon Train in the West."
---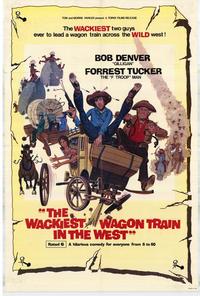 Vol. 1: Horse of Another Color 9/25/1973. Dusty acquires a wild horse without a brand, but it still has an irate owner.
Treasure of C. Harry Motley 10/2/1973. Dusty finds a map for a treasure and wants to share it. Complications ensue.
Duel for Daphne 10/9/1973. Adventures in Indian country with a traded for headdress and misunderstandings.
Love Means ... Bananas 10/16/1973. A gorilla that has escaped from a traveling circus invades the camp and captures Betsy. Dusty and Andy and Mr Callahan have to think of ways to get her out of the cave the gorilla has put her in.
Vol. 2: Then There Were Seven 10/23/1973. The gang gets mixed up with two bandits, one of whom has a bullet in him.
Half Moon 11/13/1973. An Indian chief thinks Dusty is his long-lost son and kidnaps him to resume life with the Indians.
Here Come the Grooms 11/20/1973. Two hillbillies kidnap Dusty and Callahan to become husbands for their ugly sisters in a shotgun wedding.
Magician 12/4/1973. The group encounters a traveling magician who keeps them amused with his tricks while his assistant steals all their valuables.
Vol. 3: Androcles and the Bear 12/11/1973. A grizzly bear follows Dusty back to camp after he pulls a thorn from its foot.
My Fair Callahan 12/18/1973. When they rescue a young woman of high social standing who was lost on the trail, Dusty falls in love with her and tries to transform himself into a gentleman.
Brookhaven, USA 12/25/1973. Dusty and the gang stumble upon the town of Puddle Flats. Because it has water they try turning it into a metropolis.
Wizard of Ooze 1/8/1974. Mixup with a volcano, plus Dusty and Callahan get amnesia.
Vol. 4: Phony Express 1/15/1974. Dusty helps a wounded courier take a pouch to a nearby fort.
Nothing to Crow About 1/22/1974. When a terrible storm approaches, the travelers try to find a map to a safe canyon.
Witch's Trail 2/12/1974. Dusty bring a girl back to camp, but when strange things start to happen they think she must be a witch.
The Cavalry is Coming 2/26/1974. A Cavalry officer arrives, claiming that Andy is a deserter who stole an army payroll.
John J. Callahan 2/19/1974. Callahan will win $500 in a boxing match if he can last 5 minutes against the Champ.
---