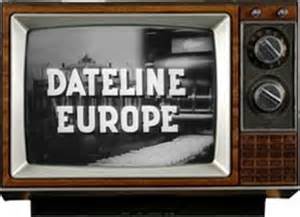 Foreign Intrigue
(1951-1955) European mystery-adventure series that was syndicated under various titles: Foreign Intrigue, Dateline Europe, Overseas Adventure and Cross Current. Episodes starred Jerome Thor, James Daly and Gerald Mohr as foreign correspondents for "Consolidated News." Stories relate to their attempts to infiltrate and expose espionage rings. Produced by Sheldon Reynolds, who made the very popular 1954 Sherlock Holmes series starring Ronald Howard.
---
Vol. 1: The Traitor 6/25/1951 Jerome Thor. Robert Cannon investigates a man who is hunted by the police and hated by everyone.
The Bridge 8/13/1951 James Daly. Michael Powers comes to the aid of an underground agent trying to escape from a totalitarian state.
Double Exposure 2/12/1951 James Daly. Michael Powers finds his vacation in Sweden is upset when a fellow bus passenger disappears and is found slain.
The Prophet 10/9/1950 James Daly. Subversives use a blind storekeeper's prophesies to overthrow a government. Michael Powers thinks its strange that the predictions only cover political matters.
Vol. 2: Flea Market Jerome Thor. Foreign correspondent Robert Cannon checks into a fashionable Parisian hotel and finds and unexpected letter with a $10 bill enclosed waiting for him.
Diamond Bullet Jerome Thor. Robert Cannon discovers that he is allergic to diamonds when they are in the hands of an explosive model.
Sleepy Village Jerome Thor. Robert Cannon is summond to an isolated village in Europe by two former circus performers, a clown and a midget. Cannon is led to the bedside of a dying man by the midget, but when he returns he finds another family occupying the shack.
Delores Gerald Mohr. Christopher Storm and his newspaper pal Tony Forest, start playing detective when they learn of a strange and interesting coincidence. The three former fiancees of a lady circus owner have met with death under the big top. Helping Chris is a circus elephant.
Vol. 3: Confidence Game Gerald Mohr. Christopher Storm aids one of his guests when he gets involved in an innocent card game with a group of gangsters which results in murder. Chris discovers a wallet lost and quickly returned establishes the identity of the victim of an international racket
Disaster Relief James Daly. Michael Powers becomes suspicious when a disaster relief shipment is hurried through customs.
Hall of Justice James Daly. Newly found democratic justice is put to the test as a powerful war criminal is tried for his crimes.
Linetski Forest Jerome Thor. Robert Cannon is about to report on an International tribunal's deliberations of a reported massacre of prisoners. They fail to uncover any evidence, but a nurse gives Robert Cannon a clue to hidden evidence.
Vol. 4: Missing Official James Daly. Michael Powers is about to interview a government official when he learns that the man has disappeared.
Waterfront Story James Daly. Powers investigates smuggling and disappearance of fellow agent.
International Spies James Daly. In Paris, a fellow correspondent of Michael Powers is kidnapped to save him, Powers deliberately walks into a trap set by an international spy ring.
Secret File USA: "Mission Haensel" Robert Alda. Morgan goes to East Germany to free kidnapped boy.
---
Secret File U.S.A.
(1955) American intelligence agent WilliamThompson, played by Robert Alda, goes on missions deep behind enemy lines to gather information about threats to American security and protect American diplomats abroad.
Mission Assassin Major Morgan diffuses bomb at peace summit in Italy.
Mission Chopin Concert pianist assists in catching dangerous enemy agent.
Mission Firebird Morgan must halt building of nuclear powered aircraft.
Mission M Morgan investigates international gangster being held at customs in an airport.
---
---