FURY (1955)
Narrator: This is the range country where the pounding hooves of untamed horses still thunder in mountains, meadows and canyons. Every herd has its own leader, but there is only one Fury - Fury, King of the Wild Stallions. And here in the wild west of today, hard-riding men still battle the open range for a living - men like Jim Newton (Peter Graves), owner of the Broken Wheel Ranch and Pete, his top hand, who says he cut his teeth on a branding iron.
---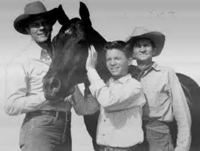 Vol. 1: "Joey Finds a Friend" 10/15/1955 Fury is the story of Joey, an orphan boy befriended by widowed horse rancher Jim Newton. At the Broken Wheel Ranch, Joey makes friends with the wild stallion, Fury.
"Killer Stallion" 10/22/1955 Many of Jim's horses are discovered dead. Fury becomes a prime suspect.
"The Horse Coper" 10/29/1955 Joey runs away from the ranch, and takes Fury with him.
"Joey Goes Hunting" 11/5/1955 Joey is proud of his new rifle, until it is stolen by an escaped prisoner.
Vol. 2: "Scorched Earth" 11/12/1955 Father and son hunter find themselves caught in a fire, despite a prior warning from Junior Ranger Joey to be careful with their campfire.
"Joey's Dame Trouble" 11/19/1955 Joey's first experience with love comes in dealing with Fury's attraction to a mare.
"Joey and the Gypsies" 11/26/1955 Fury turns up missing and a gypsy camp is suspected.
"Joey's Father" 12/3/1955 A stranger shows up claiming to be Joey's father.
Vol. 3: "Joey Saves the Day"
12/10/1955 Money disappears from the bunkhouse, and all signs point to Joey.
"The 4-H Story"
12/17/1955 Joey is reluctant to participate in a search for a missing lamb.
"Junior Rodeo"
12/24/1955 At a Junior Rodeo, a competing entrant underhandedly switches horses with Joey.
"Ghost Town"
12/31/1955 Two robbers have hidden loot in an abandoned town and when Joey and his friend go on a make-believe treasure hunt they find the stolen money and run into trouble with the crooks.
Vol. 4: "The Hobo"
1/7/1956 Jim ponders his next move when he learns he gave a job to an outlaw.
"Tungsten Queen"
1/14/1956 An injured mine owner recuperates at the Broken Wheel Ranch courtesy of Jim Newton.
"Joey Sees it Through"
1/21/1956 Joey helps a young girl adapt to her new stepfather.
"Stolen Fury"
1/28/1956 Pete and Joey are held hostage by cattle rustlers. With Roy Barcroft.
Vol. 5: "The Choice"
2/4/1956 In order to pay for Joey's operation, Jim must sell Fury.
"Boy Scout Story"
2/11/1956 Joey tries to get his friend to join the Boy Scouts.
"Search for Joey"
2/18/1956 The search is on for a rabid dog that bit Joey.
"The Miracle"
2/25/1956 Jim invites an injured rodeo champion to recuperate at the ranch.
Vol. 6: "The Test"
3/3/1956 Things get really bad when Joey is accused of cheating in school.
"Fury Runs to Win"
3/10/1956 A neighbor tries to win Fury in a crooked horse race.
"The Baby"
4/7/1956 Joey Finds an abandoned baby.
---