Groucho Marx in "You Bet Your Life"
You Bet Your Life is an American quiz show that aired on both radio and television, hosted by Groucho Marx of the Marx Brothers, with announcer and assistant George Fenneman. The show debuted on ABC Radio in October 1947, then moved to CBS Radio in September 1949 before making the transition to NBC-TV in October 1950. It ran through the 1961 season and in re-runs for many years thereafter.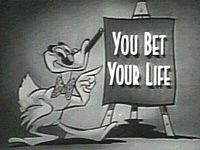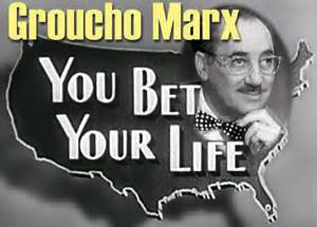 ---
We have 49 different public domain episodes on DVD or Mpeg2 video files. Most have the original DeSoto opening and closing credits.
You Bet Your Life Episodes
Identified by the secret word and names of the first guests.
Secret word is Chair ... Constance Watt and Pat Deleone
Secret word is chair-2 ... Burt Steward, Edgar R. Hill (a woman)
Secret word is chair-3 ... Kathleen Qualen, Crash Corrigan (out of synch)
Secret word is clock ... Ann Reardon, Bill Eddy
Secret word is door ... Nina Kramer, Clarence Allen
Secret word is door-2 ... Helen Swartz, Issac Cashtan
Secret word is food ... Barbara Schmidt, Mario Del Ray
Secret word is food-2 ... Heidi Eigeman, Heidi Florerie
Secret word is foot ... Joe Eggbert, Esther Bradley
Secret word is grass ... Solidor Crocket and Charles Snow
Secret word is hand ... Ann Rawl, Henry Jacoby
Secret word is hand-4 ... Barbara Gan, Edgar Higgins
Secret word is head ... Jan Dietrich, John Roese
Secret word is house ... Oola Anderson, Charles O'Brien Osborne
Secret word is money ... Joan Phillips, Monte Montana
Secret word is money-2 ... Lois Bootson, Antonio Capasola
Secret word is name ... Mae Bezzel, CS Forester (author)
Secret word is nose ... Cornelia Hendricks, Romane Fielding
Secret word is nose-2 ... Kathy Smith, Alan Tiyoo
Secret word is room ... Beverly Adlen, John Charles Thomas (singer)
Secret word is room-2 ... Susan Miller, Bill Pearson
Secret word is shoe ... Peggy O'Kelly, John Paul Staff (army guy)
Secret word is shoe-2 ... Charlie Heimstra and daughter
Secret word is skin ... Steve Wayne, Audrey Kaufman
Secret word is voice ... Mamie Masara, Albert Hibbs
Secret word is voice-2 ... Geraline Tyler, Brad Andres
Secret word is voice-3 ... Joanne and Hal Keen
Secret word is wall ... Coreen Dressler, Elmer Rich
Secret word is water ... Collette and Sgt Sylvester Nelson
---
These additional episodes were added later:
Secret word is book ... Marian Badger, Jose Flores
Secret word is dollar ... Norma Hacker, John W. Hughes
Secret word is food-3 ... Rita Chalmers, Jules Charmbow
Secret word is grass-2 ... Val Christianson, Kathy Gabriel
Secret word is hand-6 ... Barbara Gant, Edgar Higgins
Secret word is hat ... Dr. Primateva..?, Jeff Barnheart
Secret word is house-3 ... Ray Bradbury, Latitia Holloway
Secret word is name-2 ... Michael and Gretchen Wayne
Secret word is paper ... Otto and Lynn Joy Pettijohn
Secret word is picture ... Sharon Herel, Ted Determan
Secret word is room-3 ... Ann Katz, Ed Gafney
Secret word is room-4 ... Bettye Halle, Dr. Charles Kemp
Secret word is smile ... Laurna Young, Andre Ronee
Secret word is smile-2 ... Halo Meadows, Maurice Kirshner
Secret word is smile-3 ... Lily Zomato, Dan Gerber
Secret word is street ... John Lovering and wife
Secret word is street-2 ... Dr. Giovanni, Menchel Cline
Secret word is tree ... Guy Hatfield and wife
Secret word is tree-2 ... Zale Perry, Bill Rudder
Secret word is tree-3 ... Marian Myron, Edward Rodemaker
PILOT SHOW ... 54 minutes long, unedited