The Adventures of Jim Bowie
(1956-1958) Set in the Louisiana Territory around 1830, wealthy planter Jim Bowie (Scott Forbes) encounters many famous people in New Orleans or the backwoods, relying for protection on the knife he supposedly invented after his regular one broke in a fight with a grizzly.
---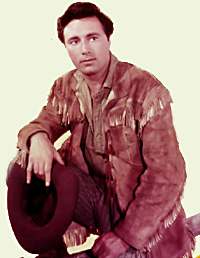 Vol. 1: The Birth of the Blade (Sep. 7, 1956) First show in the series explains how Jim Bowie came to invent his famous Bowie knife.
The Squatter (Sep. 14, 1956) Jim tries to talk a neighbor out of throwing penniless German squatters off her land.
An Adventure with Audubon (Sep. 21, 1956) Bowie assists the legendary painter / naturalist escape French forces that are hunting him.
Trapline (Oct. 5, 1956) A fur company is trying to keep the Cajun fur trappers from selling to Jim Bowie.
Vol. 2: Jim Bowie Comes Home (Oct. 26, 1956) Returning from a trip, Jim discovers the town near his home has been taken over by hoodlums.
The Secessionists (Nov. 9, 1956) A friend of Jim's tries to talk a group of French planters out of seceding fromt he Union.
The Land Jumpers (Nov. 16, 1956) When Jim and his brother try to sell land, a Frenchman shows up claiming to have the title.
The Select Females (Nov. 23, 1956) The head mistress of a school for young ladies tells Jim one has been kidnapped.
Vol. 3: Jim Bowie's Slave (Nov. 30, 1956) Bowie comes to the aid of a former slave he had freed, but who is being sold again.
The Outlaw Kingdom (Dec. 7, 1956) Bowie goes after a gang of river pirates who have stolen his cargo.
Monsieur Francois (Dec. 28, 1956) Jim comes to the aid of a French boy and his aunty, who are victims of confidence men.
Osceola (Jan. 18, 1957) Bowie aids native Seminoles, who the army is trying to move to a bad tract of land.
Vol. 4: Jim Bowie in Jackson Assassination (March 15, 1957) Bowie is duped into helping a group that is plotting to kill the President.
Gone to Texas (May 24, 1957) When Bowie crosses the border into Texas he finds someone is trying to kill him.
The Swordsman (Dec. 14, 1956) Jim travels to New Orleans to purchase an estate, but he gets himself in trouble when he's distracted by a beautiful woman.
Return of the Alciblade (Dec. 21, 1956) An expensive gift that Jim bought for his mother for Christmas is stolen, and he sets off after it.
Vol. 5: Deputy Sheriff (Sep. 28, 1956) Jim volunteers to be a temporary deputy sheriff in order to guard a prisoner.
Broomstick Wedding (Oct. 12, 1956) A horse trade leads an angry farmer to mistakenly believe that Jim "dishonored" his daughter.
Natchez Trace (Oct. 19, 1956) A group on their way to Natchez ask Jim to protect them against a bandit who preys on travelers headed there.
Ghost of Jean Battoo (Nov. 2, 1956) Jim runs into an old woman who threatens to unleash the ghost of an infamous Louisiana pirate against villagers if they don't pay.
---