Judge Roy Bean
Western set in the Texas town of Langtry, named after Lillie Langtry. When storekeeper Roy Bean becomes fed up with the lawlessness in the town, he establishes himself as a judge and introduces a system of law and order.
Episodes of Judge Roy Bean were shot in color but originally broadcast in black and white. Consequently, some of these are in color while others are b/w. The visual quality varies a great deal. We only offer them as Mpeg2 video files.
---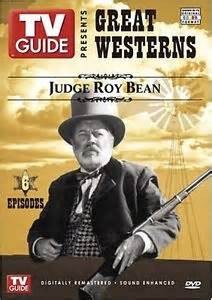 Bad Medicine
Judge Roy goes after twin brothers who have confused the authorities by giving each other alibis for their holdups.
Black Jack
The Judge pursues a notorious train robber who escaped from prison and murdered the fence who betrayed him.
Border Raiders
The Judge an Jeff Taggert are on the trail of a murauding band of Apaches being led by a white man.
Checkmate
Judge Roy is almost fooled by the phony death and funeral of a wanted killer who was wounded while trying to steal a payroll.
Citizen Romeo
The judge learns of a scheme to smuggle guns and ammo to the Indians, and he encounters an unlikely pair of allies in his plan to break it up: an organ grinder and his monkey.
Connie Comes to Town
Judge Roy helps out a respected rancher who is being blackmailed by three crooks claiming to be newspapermen.
The Defense Rests
When his deputy Jeff is arrested and accused of a robbery, Judge Roy tries to prove the young man's innocence.
Deliver the Body

The Elopers

Eyes of Texas
Judge Roy temporarily looses his sight but still manages to uncover a plot to steal Indian reservation land.
Family Ties

The Fugitive

Hidden Truth
Judge Roy tries to clear an ex-convict who is innocently involved in a murder and robbery.
Horse Thief
The townspeople are angry when a local rancher is in jail accused of stealing horses, and the judge tries to keep things calm so they don't turn into a lynch mob.
Judge of Pecos Valley
The Judge nabs a train robber and hands him over to the Texas Rangers for trial.
The Judge's Dilemma
Judge Roy launches a campaign against swindlers who are trying to take control of Langtry.
Letty Leaves Town
Letty decides to leave Langtry as she believes her tomboyish ways are overshadowing her femininity.
Katchina Doll
Judge Roy tries to help the residents of a Mexican Indian village recover their sacred idol, which has been stolen by outlaws.
Letty Leaves Town
Letty decides to leave Langtry as she believes her tomboyish ways are overshadowing her femininity.
Luck O' the Irish

Murder in Langtry
Judge Roy steps in when his deputy, Jeff Taggart is framed for the murder of a horse trader who had cheated him in a business deal.
Outlaw's Son
Judge Bean helps the son of an outlaw choose between right and wrong after his father is murdered.
The Reformer
Judge Roy locks horns with a fanatical female reformer who is determined to remake Langtry to her liking.
The Runaway
A young boy thinks his father is "yellow" because he takes abuse from his boss in order to provide for the family. The boy runs away, and it's up Jeff and Roy to renew the boy's faith in his father.
Sunburnt Gold
Judge Roy goes after criminals who are trying to make their stolen gold coins look like raw gold nuggets.
The Travelers