Martin Kane, Private Eye
(1949-54) This live NBC detective series starred William Gargan, Lloyd Nolan or William Tracy in the title role. The name was shortened in August 1953 to "Martin Kane" and coincided with Kane no longer hanging out in the tobacco shop.
---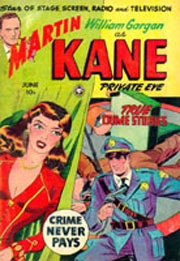 Vol. 1:
The District Attorney Killer (3/1/1951) A man sentenced to die clears another of a crime he didn't commit, before pulling a gun and killing the DA, saying the gun was given to him by the defense attorney. Kane goes to work as the case becomes more complex. William Gargan stars.
Altered Will (3/24/1951) A wealthy inventor is shot and killed, with the killer trying to make it appear to be burglery, but things just don't add up. William Gargan stars.
A Jockey is Murdered (1951) Kane tries to protect a jockey who expects to pay off a debt to the mob after riding a big race. Lloyd Nolan stars.
A Crooner is Murdered (3/1/1951) A popular band leader is shot dead, and Kane wades through the potential suspects: a dancer, a press agent, a music arranger, and the club owner, all of whom had motive and opportunity. Lloyd Nolan stars.
Vol. 2:
Subway Robbery (3/1/1951) Mr. Miller is robbed of his life savings on the subway. The money was in a paper bag and another man stumbled against him and switched bags—but how did the other man know he was carrying money in the first place? Kane is brought in on the case by a friend who owns the house where Miller lived. Lee Tracy stars. With original commercials. Original air date June 11, 1953.
Kane in Bermuda (3/24/1951) Kane travels to Bermuda to guard a $100,000 crown and a beauty contest winner who has been seeing another woman's husband. Kane is asked to warn her off, but she ignores him and turns up dead. Lee Tracy stars. Guest Star: Eva Marie Saint. With original commercials. Original air date June 25, 1953.
Fortune Teller Warning (1951) A naive man is told by a fortune teller to beware of evil. Later, his life savings are stolen from his pocket, and Kane once again has several suspects to choose from. William Gargan stars. Original air date May 31, 1951. With original commercials.
Corpse in a Trunk (3/1/1951) Three destitute sisters live in an old house left to them by their father, on which the bank has foreclosed. After a visit, their lawyer is butchered and packed away in a trunk. Into this peaceful home stumble Capt. Burke, Sgt. Ross, and Martin Kane. William Gargan stars. Original air date June 28, 1951.
Vol. 3:
Eyewitness Resurfaces (3/1/1951) Stars Lee Tracy as Kane.
Milk Bottle Burglar (1951)
Face of the Inventor (1951) William Gargan as Kane.
Trouble on Board (3/1/1951) Lee Tracy. Masquerading as a sailor, Kane investigates the disappearance of a young crew member and discovers the activities of a drug ring.
Vol. 4:
Martin Kane in two adventures:
The Black Pearls (3/27/1952) With Lloyd Nolan as Kane.
The Comic Strip Killer (4/23/1953) With Lee Tracy as Martin Kane.
Plus an episode of Michael Shayne -- "Murder in Wonderland" (12/30/1960). (1960-61) This Miami detective series stars Richard Denning.
---