Adventures of Kit Carson
(1951-1955) Kit Carson and El Toro, his Mexican sidekick, roamed the Wild West, traveling from Wyoming to Texas during the 1880s, chasing desperadoes, tracking wild game, drinking coffee by their campfire, and delighting youthful audiences. Starring Bill Williams at Kit Carson and Don Diamond as El Toro.
---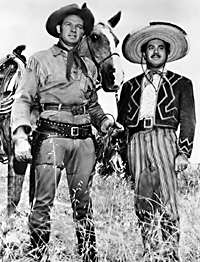 Vol. 1: Feud in San Felipe When his uncle dies, leaving a fortune in jewels, El Toro's family is split into two warring factions. 12/29/1951
Trouble in Tuscarora Kit is hired to investigate a series of bank robberies that have been secretly planned by the bank president. 9/27/1952
Bad Man of Brisco Kit Carson and El Toro try to stop postal robberies. 12/15/1951
Broken Spur A band of teenagers help Kit Carson and his friend El Toro round up a gang of ruthless criminals. 12/27/1952
Vol. 2: Thunder Over Inyo Returning from a trip, Kit meets El Toro at a cabin. While there they encounter a lost little girl, a band of wild Piute indians, and a trio of claim jumpers. 11/8/1952
Border City Kit and El Toro separate while on their way to the town of Border City. their mission is to find out who's been smuggling wanted outlaws from the U.S. across the border into Mexico. 10/18/1952
Widow of Indian Wells Kit and El Toro are sent by the U.S. territorial commissioner to the town of Indian Wells to learn the identity of the bandits who have been terrorizing the surrounding area. 8/22/1953
The Golden Trap The owner of a new frontier supply shop overcharges for prospecting gear and his henchmen stage fake discoveries to feed the gold fever. When the marshal is murdered, Kit cannot ignore their thievery. 1/5/1952
Vol. 3: The Teton Tornado Kit's suspicions are aroused when a slow horse wins a race. 12/8/1951
Hideout Kit and El Toro intervene in the forced auction of a ranch. 12/20/1952
Trail to Fort Hazard Kit barely escapes lynching by a wild mob that accuses him of stealing horses. 8/30/1952
Road to Monterey 8/25/1951. Kit escorts Senator Folwer, his ex-commanding officer in the army to Monterey, after an attempt is made on his life. Meanwhile, El Toro tries to re-kindle an old flame.
Vol. 4: Ventura Feud A bitter land dispute ends in murder and El Toro becomes the prime suspect. 1/3/1953
Ticket to Mexico 11/24/1951 Kit and El Toro try to catch the thief of the winning ticket to the Mexican state lottery.
Spoilers of California Kit and El Toro go after landsharks who are robbing ranchers. 12/22/1951
Roaring Challenge The seacoast town of San Limas is besieged by cholera, and El Toro is asked for his help in arresting the spread of the disease. 10/25/1952
Vol. 5: Range Master Kit's in danger when he investigates the murder of a foreman. 11/1/1952
Pledge to Danger Kit's challenge: find a widow's daughter. 11/15/1952
Outlaw Paradise 9/13/1952 Boone Williams, the Curly-Haired Kid, has been released from prison and prepares to carry out threats he's made against Kit Carson and Judge Trumbull, the men who he blames for putting him in prison.
The Murango Story Kit tries to obtain an orphan's inheritance for her. 9/8/1951
Vol. 6: Law of the Frontier Kit's suspicions are aroused by an outlaw posing as a sheriff. 10/13/1951
Fury at Red Gulch 10/27/1951 Kit and El Toro rescue a newspaper editor falsely accused of murder and help him capture the real villain, the town's gambling house owner.
Enemies of the West Kit must deliver a condemned man's pardon despite attempts to delay him. 9/22/1951
Desperate Sheriff A young sheriff friend of Kit and El Toro asks them for help to guard a famous bank robber that he captured, and who is being held in a hotel room. 11/10/1951
Vol. 7: Border Corsairs Kit Carson and El Toro must find a wealthy Mexican ranch owner who's in hiding and deliver to him an important land grant document from the governor of California. 1/12/1952
Return of Trigger Dawson A bandit breaks jail to blackmail his former wife. 12/1/1951
Mask of the Vigilantes Kit Carson becomes acting marshal during an election, but one of the town's citizens plans to disrupt the voteing, to his advantage, by forming a group of vigilantes.
Highway to Doom Kit searches for a hideout in the middle of a quiet town. 12/13/1952