The Adventures of Sir Lancelot
(1956-'57. Made in England) All 30 episodes of the single season. Stars William Russell as Sir Lancelot. In all of Arthurian legend, the most famous of the Knights of the Round Table is undoubtedly Sir Lancelot. This series, painstakingly researched by Oxford University, re-creates some of the notable exploits of the famous knight, as well as the deeds of the other members of King Arthur's court.
Although the series is listed as black and white, a number of episodes are mysteriously in gorgeous color.
---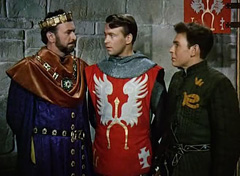 Vol. 1 The Knight with the Red Plume (9/15/1956) Sir Lancelot desires to become a Knight of the Round Table, but he has to prove his mettle by going through a series of tough and strenuous tests.
The Ferocious Fathers (9/23/1956) Lancelot helps Urgan the Strong drive off the besieging forces of Sir Melius the Mighty. In gratitude, Urgan offers his daughter Igrane in marriage to Lancelot.
The Queen's Knight (9/29/1956) Sir Mordred, King Arthur's cousin, kidnaps Queen Guenevere. In exchange for her safe return, Mordred and his father, King Pell, demand that Arthur turn over his kingdom to them.
The Outcast (10/6/1956) When Lancelot requests that this squire be given training in order to become a Knight of the Round Table, he is surprised by the strong opposition he meets.
Vol. 2: Winged Victory (10/13/1956) Lancelot and his squire Brian are sent by King Arthur to carry a secret battle plan to Prince Boudwin, whose castle is under siege by King Mark. However, the two are soon captured by King Mark, who tries to get them to reveal the plan.
Sir Bliant (10/20/1956) Although King Arthur has managed to arrange a truce between the battling Sir Bliant and Sir Rolf, Bliant's three sons break it by kidnapping Rolf's three daughters. Desperate to get his daughters back, Rolf comes to Arthur for help.
The Pirates (10/27/1956) king Arthur and his forces set out to capture a band of pirates that are said to be hiding out in a town on the coast. In reality the pirates aren't in the town but are not far from the castle, waiting for Arthur to leave so they can sack it.
The Magic Sword (11/3/1956) A knight wants to rescue a lady imprisoned by her brother, but believes he is too cowardly to do so on his own. He comes to King Arthur for help and advice on how to be brave and courageous. Merlin has a trick up his sleeve for giving the youth the confidence he needs to rescue the girl.
Vol. 3: Lancelot's Banishment (11/10/1956) King Arthur banishes Lancelot from the kingdom because he believes that Lancelot made a false accusation against King Marhaus. Outside the kingdom, however, Lancelot runs into Marhaus and uncovers an evil plot.
The Roman Wall (11/17/1956) Sir Lancelot and his squire Brian go to the aid of King Boltan, who swears that ghosts have abducted his daughter.
Knight Errant (2/9/1957) After their father dies, two sisters inherit his tiny impoverished kingdom. Their guardian is eager to set up a rich marriage for the older girl, but she is not willing.
Double Identity (2/16/1957) Sir Richard of Taunton is attacked and beaten by three men and left for dead. His uncle plans to substitute his son, Richard's double, and gain control of the family estate. Lancelot is suspicious and starts investigating.
Vol 4: The Lady Lilith (2/23/1957) The Lady Lilith has been running the castle of Goodhue since it was left to her when she was 14 years old. But now Sir Liones petitions for a ruling at the court of King Arthur, quoting the law that no property can be inherited by a woman - which sets King Arthur a difficult choice to make. He suggests that the best solution would be for Sir Liones to marry the Lady, but that is not possible.
The Bridge (3/2/1957) While preparing for knighthood, Squire Brian uncovers a plot by King Marhaus. The king plans to break a treaty and take over a village.
The Ugly Duckling (3/9/1957) While on a visit to castle Lamorack, Sir Lancelot and Merlin try to help their host when he receives a note threatening his daughter's life. Merlin learns that the note is false, and written by the girl herself in a bid for attention. Later the girl disappears. Another notes arrives and this time it's genuine.
Knights Choice (3/16/1957) After the death of a knight of the Round Table, a young man enters a tournament that will decide who will fill the vacancy. But the other knights object to the young contestant because of his shabby appearance. Sir Lancelot intercedes for him.
Vol. 5: The Missing Princess (3/23/1957) When a king breaks a treaty between his country and a tribe of women, his sister is taken hostage. Sir Lancelot sets forth to rescue the princess.
The Mortaise Fair (4/6/1957) While visiting Mortaise Castle, Queen Guinevere is presented with a priceless jewel from the Rajah of Kaipur. Shortly afterward there is a fire, and during the excitement the jewel is stolen.
The Thieves (4/13/1957) King Arthur and Sir Lancelot disguise themselves as thieves in order to test the validity of a statement by Lancelot. The knight believes that the thieves of the kingdom are thieves only because they are starving.
The Prince of Limerick (4/20/1957) A prince in love with King Anguish's daughter Kathleen is banished from the court because he possesses nothing but the ability to write rhymes. Sir Lancelot, hearing of the young couple's plight, travels to Anguish's court to help them.
Vol. 6: Caledon (11/24/1956) While Sir Lancelot is on a mission for King Arthur, he is robbed and his horse is killed by a group of wild warriors.
Theft of Excalibur (12/1/1956) On St. Stephen's Day, King Arthur and his knights traditionally change places for one day with the court squires. During the day, one of the "squires-for-a-day" steals the Sword of Excalibur.
The Black Castle (12/15/1956) A young knight's prospective father-in-law has been kidnapped and is being held prisoner. Sir Lancelot agrees to help the knight rescue the man.
Shepherd's War (12/22/1956) A band of renegade knights is preying on the shepherds in the area. Sir Lancelot decides to champion the shepherds' cause, and masquerades as a shepherd to teach them how to fight the knights off.
The Magic Book (12/29/1956) Sir Lancelot volunteers to defend an abbey and its occupants from invading Danes.
Vol. 7: The Ruby of Radnor (1/5/1957) As a punishment because he rebels at working with Merlin's pigeons, Squire Brian is sent on an errand to deliver a crate of pigeons to a neighboring castle. En route, he becomes involved with a gang of thieves who stole the precious Ruby of Radnor.
The Lesser Breed (1/12/1957) King Arthur learns that a nearby village is being terrorized by a horrible monster. Sir Lancelot is sent to investigate. He discovers that the monster is really a Viking boat, and that it's the Vikings who are doing the terrorizing.
Witches Brew (1/19/1957) A woman claiming mystical powers has convinced King Bors of Sagitaw that she is working evil against him. Sir Lancelot enlists Merlin's aid against her powers.
Sir Crustabread (1/26/1957) King Arthur gives Sir Lancelot a new name and sends him off to champion a lady who is being forced into marrying an unscrupulous man.
Maid of Somerset (2/2/1957) A young girl asks Sir Lancelot's aid. An evil monarch, King Meliot, is selling the young men of the village of Cheddar into slavery.
---