The Lawless Years
(1959) Follows Barney Ruditsky (played by James Gregory), a plainclothes police detective in New York City during the 1920's. The show was loosely based on the real life Ruditsky who was a New York police officer during the period.
---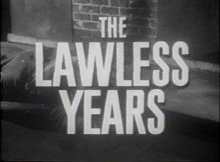 Vol. 1: The Billy Grimes Story 12/3/1959 Co-Starring Walter Sande. Ruditsky is marked for death by a person or persons unknown. A drug addicted member of a recently busted numbers racket might hold the key to the mystery.
The Joe Angelo Story 11/19/1959 Co-Starring Arthur Batanides. Trucker Joe Angelo is beaten severely by gangsters when he refuses to cooperate with them.
The Big Man 11/12/1959 Co-Starring John Vivyan. Gangster Louis Otto was once Ruditsky's childhood friend. Now he's wanted for the murder of one of his underlings.
The Billy Boy "Rockabye" Creel Story 11/5/1959 Co-Starring Johnny Seven. Gangland boss Bobo Konig puts a $50,000.00 bounty out on psychotic gunman Billy Boy Creel. Creel then goes underground. Ruditsky then tried to find Creel before Bobo's killers do.
Vol. 2: The Art Harris Story 10/15/1959 Co-Starring John Beradino. Ruditsky goes after Art Harris who has muscled his way into the political scene in order to protect his organized crime interests.
Big Greeny Story 10/8/1959 Co-Starring Jack Kruschen and John Vivyan. When a garment factory owner is murdered the trail leads to the notorious Lepke Buchalter who sends the hit man responsible, Big Greeny, to Los Angeles to hide out under the auspices of the equally notorious Bugsy Siegal.
The Al Brown Story 10/1/1959 Co-Starring Jack Weston. Hoodlum Al Brown destroys a blind man's shop and this puts Ruditsky on his trail. But it will be under another name that Brown becomes infamous.
The Prantera Story 9/3/1959 Co-Starring Robert Strauss. A crooked lawyer schemes to gain control of the rackets with the aide of former underworld czar Nick Prantera who's now become a Bowery bum. But Prantera doesn't have any intention of playing second fiddle.
Vol 3: The Sonny Rosen Story 12/17/1959 Co-Starring Peter Brocco and Dorothy Adams. The mob kidnaps the son of a millionaire and holds him for a ransom of $100,000.00. Or did they?
The Max Gorman Story 6/25/1959 Co-Starring Robert H. Harris. Ex-convict Maxie Gorman gets a Machiavellian character named A. J. to finance his entry into the bootlegging business. The men become partners but when the money starts rolling in Maxie looks to rid himself of A.J.
The Muddy Kasoff Story 7/2/1959 Co-Starring Nita Talbot. Racketeers force Muddy Kassoff to rent cars for them but he's secretly tipping off the police.
Framed 7/16/1959 Co-Starring James Lamphier and Caroline Hughes. When Ruditsky won't take a bribe, a waterfront crime gang attempts to frame him.
Vol. 4: The Poison Ivy Story 8/27/1959 Co-Starring Frank de Kova, Ted de Corsia and Dean Stanton. Ruditsky is temporarily assigned to duty in a Brooklyn precinct in order to get the goods on a gang of young hooligans who have pulled a series of drug store robberies.
The Morrison Story 8/20/1959 Co-Starring Philip Coolidge. A judge is murdered right before a state crime committee is scheduled to look at his activities.
The Story Of Lucky Silva 8/13/1959 Co-Starring Martin Landau. Lucky Silva is a small-time hood with big ambitions. He soon rises to a position of prominence in the New York City Mafia.
The Ray Baker Story 8/6/1959 Co-Starring Stanley Adams. Racketeer Ray Baker stands accused of killing a young girl during a wild party but the confession of a dying racketeer exonerates him and implicates another mobster.
Vol. 5: Four The Hard Way 7/23/1959 Co-Starring John Vivyan. Ruditsky warns visiting gambler Big Ziggy to get out of town but he gets roped into a crooked card game by three cardsharps.
The Tony Morelli Story 7/30/1959 Co-Starring Tige Andrews. Gangster Gabby Bishop takes over waterfront operations from honest dock boss, Tony Morelli. Ruditsky then tries to persuade Morelli to fight back by revealing the expected arrival time and location of a narcotics shipment.
The Nick Joseph Story 4/16/1959 Co-Starring Vic Morrow and Jan Merlin. Nick Joseph, a young hood from the Lower East Side of Manhattan, finds his true calling when he becomes a hired killer for the notorious Murder, Inc.
The Immigrant 4/23/1959 Co-Starring Clu Gulager. Tommy Pavlock, a young immigrant teen, begins running with a gang much to the dismay of his mother. She gets Detective Ruditsky to try and set young Tommy straight.
Vol. 6: The Lion And The Mouse 5/21/1959 Co-Starring Richard Bakalyan. A small-time mobster plots revenge against the gangsters who attacked him and left him for dead.
The Dutch Schultz Story 5/14/1959 Co-Starring John Dennis and Jack Kruschen. Dutch Schultz plans to bump off special prosecutor Thomas Dewey over the objections of fellow mobsters.
The Story of Cutie Jaffe 5/7/1959 Co-Starring Robert Fuller. Cutie Jaffe is a small time Lower East Side hoodlum who gets pretensions of bigger things when he starts knocking over his brother-in-law's bootlegging trucks.
The Jane Cooper Story 4/30/1959 Co-Starring Rebecca Welles. Parolee Jane Cooper's mobster boyfriends keep meeting bad ends. The mob then nicknames her Jane the Jinx.
Vol. 7:
No Fare 5/28/1959 Co-Starring Steven Peck. The underworld bribes a police detective to withhold information in an investigation.
The Payoff 6/11/1959 Co-Starring Burt Reynolds. A bootlegger's girlfriend is murdered when she dumps him for another gang member.
The Marie Walters Story 6/18/1959 Co-Starring Barbara Stuart. When the body of a young woman is fished from the Harlem River, a woman named Marie Walters becomes the chief witness against the bootlegging gang thought responsible.
Bonus: The Shadow Pilot for a TV show.