Lights Out
Lights Out was a pioneering television effort, with Fred Coe producing four episodes on WNBT-TV in New York during 1946. Once network television began in earnest in the late forties, the series was an early success, airing on NBC from 1949-1952. Surviving copies were preserved from Kinescopes filmed off a live TV monitor in the studio, and so quality is not the best.
---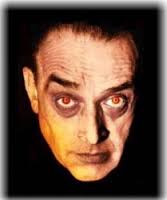 Vol. 1: The Passage Beyond 6/25/1951 The ghost of Lady Ann continues to walk down the stairs, knife in hand, and into the secret passage where she murdered her domineering husband. She vividly demonstrates her disapproval of Rodney's attempt to conduct an affair with a visiting friend of his wife.
The Man With the Watch 8/13/1951 A detective is investigating the disappearance of over 200 people. Before vanishing into thin air, each person has reported a dream involving a fat man with a bizarre watch who convinces them to join him on his planet of Aleria.
Curtain Call 2/12/1951 Off-his-rocker Kruger, a famous actor coming out of retirement for a new play with his daughter (Randel), suddenly is tormented by the ghost of his late, thought-to-be-a-suicide wife. His daughter is a triumph in her first big stage role, but can Kruger take the adulation she receives ...?
Just What Happened? 10/9/1950 When attending a psychic demonstration by a yogi, Harry Maddox meets an odd fellow with vivid dreams of flying. Carlo Melius is convinced he can employ the power of his mind to break the bounds of gravity. When he's found dead on the street below his studio window, it's Harry who's charged with pushing him to his death.
Vol. 2: I Spy! 10/15/1951 Mr. and Mrs. Potts are an eccentric elderly couple. The rooms of their house are filled with husband Henry's collections of practically everything--including caskets.
Perchance to Dream 12/17/1951 A man is spooked by deja vu when he encounters the people and the places that he's only seen in his odd dreams
The Veil 10/29/1951 with Lee J. Cobb. Ambitious defense attorney has high political aspirations. His affair with a scandalous woman will only hold him back. Calling in a favor, he has his bride-to-be removed from the picture.
The Faceless Man 8/6/1951 with Robert Sterling. Francis Carvel visits a plastic surgeon to erase a lifetime of ugliness. Now handsome, he returns to the French inn where, a year earlier, a lovely woman had spurned his affection.
Dark Image 10/8/1951 with Donald Woods. On their honeymoon, a new husband brings his bride to the ranch he grew up on. The wife is soon traumatized by the antique bedroom mirror once owned by the husband's deceased former love.
Vol. 3: Grey Reminder 10/15/1951 When an attorney starts receiving letters at home, his wife becomes suspicious. She should be-- they're from his late first wife who's vowing to return!
Beware This Woman 12/4/1950 with Veronica Lake. Beguiling Mercy Device implores Dr. Lawson to rid her home of a pesky poltergeist. After witnessing crazy shenanigans like an endlessly ringing phone and a talking skeleton, he is convinced the woman is a witch witch.
The Silent Supper 10/29/1951 with Lee J. Cobb. Dede attends the silent supper, a ritual the single Bayou women conduct to forsee their future husbands. Old voodoo woman Miss Watkins had told Dede that she'd meet her husband at the supper that night.
The Pattern 5/28/1951 Al March is tortured by his failure to have stopped the bombing of an Army barracks in 1945 Germany. Three victims have been chasing him because they died and he didn't.
The Mad Dullaghan 4/2/1951 with Glen Langan. A man finds his missing fiance in a mental hospital. She believes she's possessed a Dullaghan, a spirit of Irish folklore, that jumped to her from her late father when she kissed him farewell at his funeral.
Vol. 4: Strange Legacy 2/19/1951 with Robert Stack. After a car accident near the Chester Bay Lighthouse, Steve is taken to rest at a cottage owned by an elderly man and his lovely daughter. The daughter, Allison, informs him that a year ago that night her talented husband had died, leaving behind an unfinished piano score, an airplane model, a sculpture--and his will.
Dead Man's Coat 5/14/1951 with Basil Rathbone. By opening the grave of a recently deceased man and putting on his coat, you will supposedly be granted invisibility. A bitter man with scores to settle decides to put the superstition to the test.
And Adam Begot 7/2/1951 with Kent Smith. The car carrying cultured Geoffrey, brutish Claude and eligible Kay swerves off a cliff and into a mysterious valley. Surprised by the weird vegetation and climate, they come to believe they've traveled back in time 50,000 years.
The Upstairs Floor 1951 with John Forsythe. A husband rents the same upstairs apartment where he and his late wife once lived. Despite his claims of being married, the elderly landlady feels that something is not quite right.
The Devil in Glencairn 7/16/1951 with Richard Carlson. Steenie, the best piper in all of Scotland, is about to be evicted if he doesn't pay his owed rent. After selling his pipes to raise the money, a mysterious stranger appears, ready with a deal.
---