Lock Up
(1959-61) True crime cases of real-life public defender Herbert Maris, who was based in Philadelphia and starring MacDonald Carey. 78 episodes were produced. Available in Mpeg2 or Mpeg4 digital format, or 4 episodes per DVD Volume.
---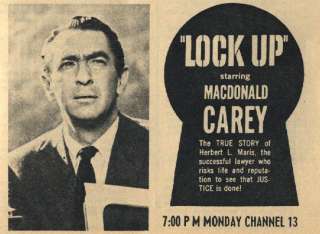 The Beau and Arrow Case 10/22/1960. Dr. Von Heisinger, a psychologist, is killed with an arrow.
Case of Joe Slade 9/24/1960. The clerk at a hunting lodge is accused of murder because he was having an affair with the victim's wife. Aka. "Against the Law."
The Case of Nan Havens 6/10/1961. Nan Havens is accused of espionage. A piece of microfilm was found in her car. Aka. "Photo Finish."
A Change of Heart 10/10/1959. An eyewitness testifies that a young man killed his former sweetheart. Herb Maris takes the case to prove that no crime was committed at all.
Death and Taxes 4/2/1960. Circumstantial evidence point to a rich oil man as the murderer of a girl he met on a spree and asked to marry. With Buddy Ebsen.
Face of Innocence 5/27/1961. Maris finds an envelope full of money and is drawn into a case involving robbery and murder.
Flying High 10/15/1960. A murdered stewardess's roommate is on the spot when all other suspects have airtight alibis.
Frame Up 10/29/1960. The body of a notorious gangster is found in a gift shop run by an ex-convict.
Framed Ex-Con 12/12/1959. A former criminal trying to go straight is besieged by two criminals who threaten to implicate him in the theft of a huge sum of money.
The Frame 4/30/1960. Herb Maris is certain that his policeman friend is being framed for murder by a local gangster.
The French Affair Maris goes to Paris - but finds his prospective client murdered. The police pick up a suspect, but Herb doesn't think he's the killer.
Girls Wanted 12/31/1960. A young girl gives Maris a clue in an employment agency racket.
His Brother's Keeper A riff develops between Maris and Lt. Weston when Herb agrees to help on the investigation of a policeman accused of dereliction of duty.
His Father's Footsteps 1/16/1960. Circumstantial evidence points to a teenage boy as the guilty party in a shooting. The youth's father hires Herbert Maristo defend his son.
Like Father, Like Son 3/4/1961. A man whose safe has been looted accuses his grandson of the theft, claiming that only the two of them knew the safe's combination.
Mind Over Murder 5/21/1960. A zoologist is accused of poisoning his employer.
Murder is a Gamble 3/26/1960. A husband is held as his wife's murderer in what seems to be a love triangle crime.
Never Bet the Odds 1/30/1960. When a prizefighter bets against himself, lawyer Maris' suspicions are aroused.
Planter's Death 3/18/1961. Maris looked forward to a quiet vacation in the West Indies, But his plans change when a plantation owner is murdered.
Price of Charity 1/23/1960. A fancy suit of clothes aids lawyer Herb Maris in his attempt to clear a G.I. of a murder charge.
Poker Club 3/12/1960. An elderly Shakespearean actor is held for the murder of a theatrical producer. With John Carradine.
Presumption of Guilt 11/7/1959. While serving a prison sentence, a gang leader is stabbed. An inmate who is innocent of the murder is convicted of the crime and awaits doom in the death house.
Red Confetti 3/11/1961. A series of hit and run accidents has baffled the police. It is not until the Eighth accident occurs that Maris finds a clue.
Sentenced to Die 6/4/1960. The wife of a man convicted of murdering his former employer pleads with Herb Maris to re-examine the case. With Angie Dickinson.
Society Doctor 11/26/1960. Dr. William Stanhope is accused of murdering his wife.
Stake Out 9/26/1959. Herb Maris undertakes the defense of a reformed ex-con accused of murdering a policeman. First episode in the series.
Top Secret 11/19/1960. Attorney Herb Maris comes to the defense of a scientist-undercover agent who is accused of irregularity in the handling of top secret information.
Wildcatter 4/15/1961. A man is accused of stealing a fortune in securities from his former boss, a rich oilman.
With Malice for One 12/5/1959. An immigrant becomes the victim of prejudice and the object of a murder charge.

---