The Lone Ranger
(1949-1957) The lone surviving Texas Ranger who was nursed back to health by the Indian Tonto rides with him, on Silver and Scout, throughout the West, doing good while living off a silver mine which supplies him with income and bullets. Starring Clayton Moore and Jay Silverheels.
---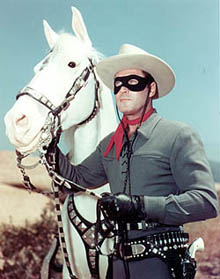 Vol. 1: 1) ENTER THE LONE RANGER 9/15/1949 First episode in the TV series. Six Texas Rangers, led by Captain Dan Reid, are ambushed in a canyon by the outlaw, Butch Cavendish and his gang. One ranger, Reid's brother John, survives the attack. He is found and nursed back to health by an old friend from his childhood, an indian scout named Tonto. The younger Reid fashions a mask from his slain brother's vest, and becomes the Lone Ranger.
2) THE LONE RANGER FIGHTS ON 9/22/1949 Part 2 of the Lone Ranger origin reveals how the masked man finds his horse, Silver; and how he came to use silver bullets. Tonto is sent into town to "fetch the sherrif" for the first time. Skeptical at first, the local sherrif is later convinced the Lone Ranger is on the side of law and order.
3) THE LONE RANGER TRIUMPHS 9/29/1949 The conclusion of the Lone Ranger origin story. After rescuing sherrif "Two Gun" Taylor, and Doc Drummond from Butch Cavendish, the Ranger learns his arch ememy has been killing off important men in the town of Colby, and replacing them with members of his gang.
4) THE LEGION OF OLD TIMERS The Lone Ranger utilizes a group of old ranch hands to help out an Easterner who's being cheated out of his property by some scoundrels.
5) A MESSAGE FROM ABE 2/7/1957 The only color Lone Ranger episode that was not renewed. The Lone Ranger and Tonto visit an outlaw who has paid his debt to society, and is now troubled by a need for money to care for his sick wife.
Vol. 2: 1) RUSTLER'S HIDEOUT 10/13/1949 The Lone Ranger infiltrates a gang who are holding hostage the son of one of a group of ranchers who captured the gang's leader.
2) WAR HORSE 10/20/1949 A greedy hunter plans to steal Chief Lame Bear's famous war horse, Red Cloud, but ends up taking the chief's son as well.
3) PETE AND PEDRO 10/27/1949 The Lone Ranger tries to convince a couple of no-accounts to come to the aid of a young girl in danger of losing her land to a neighbor.
4) THE RENEGADES 1/3/1949 Some Army deserters and a crooked Indian Agent plan to kill Tonto and his Indian Chief friend Chief Swift Eagle.
Vol. 3: 1) THE TENDERFEET 11/10/1949 Claim jumping and murder are blamed on a pair of greenhorn brothers from the East who strike it rich.
2) HIGH HEELS 11/17/1949 A proud little man uses high-heeled boots to give him greater physical stature, but a troublemaker plays on his sensitivity.
3) SIX GUN'S LEGACY 11/24/1949 Outlaws stop a stagecoach and shoot the passengers in order to impersonate a young Easterner.
4) RETURN OF THE CONVICT 12/1/1949 After serving a prison term for a crime he didn't commit, a man returns home bitter and determined to learn the truth from the witnesses that testified falsely against him.
Vol. 4: 1) FINDER'S KEEPERS 12/8/1949 Framed into robbing as bank by a pair of outlaws, a man goes after the buried loot, but his two ex-partners have other plans for him.
2) THE MASKED RIDER 12/15/1949 The Lone Ranger poses as an outlaw called "The Masked Rider" to infiltrate the Nelson gang and to rescue Nancy Barton who has run away with the leader.
3) OLD JOE'S SISTER 12/22/1949 Biff Baker and Cactus Gleason escape from jail using the old stomach ache gag. They go to Joe Peter's cabin and Biff kils both Joe and Cactus. Biff takes over Peters identity. Joe Peters has a sister coming to live with him after not seeing him for 30 years.
4) CANNONBALL McKAY 12/29/1949 Cannonball McKay has taken on Clem Jones as an assistant stage driver. Clem is recently out of prison and no one can figure out why Cannonball is helping Clem. Doc Tate gives Clem $10 to deliver a letter to the next town. Meanwhile, Doc Tate and his henchmen rob the Well Fargo office and manage to pin it on Clem.
---