My Little Margie
(1952-1955) "My Little Margie" is the story of Margie Albright (played by Gale Storm), the vivacious, irrepressible, 21-year-old daughter of Vernon Albright (played by former silent screen star, Charles Farrell), a widowed executive at the NYC investment-counseling firm of Honeywell & Todd.
---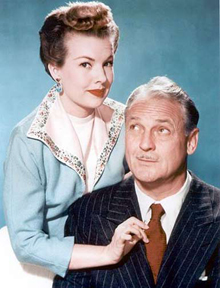 Vol. 1: What's Cooking? 12/2/1953. Margie invites Mr. Honeywell and a prospective client to dinner. She lets Freddie, who now has a job selling cookware, make the dinner. What she doesn't know is that Vern's client is a competitor of Freddie's company.
Meet Mr. Murphy 12/30/1953. Margie agrees to babysit for a chimpanzee that belongs to one of Vern's clients. Vern, not realizing who the chimp belongs to, pays Freddie to kidnap it. When Margie learns of the plan, she tells Freddie to go ahead with it to teach Vern a lesson.
Trapped Freddy 3/12/1953. Vern promises Margie a new car if she won't see Freddie for one month. Unaware that Freddie is already there, Margie agrees, then must try to hide him from Vern.
Buried Treasure 4/2/1953. When the Albrights buy a run-down country house, Vern tries to keep Margie occupied by planting a phony treasure map.
Vol. 2: To Health With Yoga 4/30/1953. Margie tries to meet the author of a book on yoga by telling some fibs that keep growing.
A Horse on Vern 5/14/1953. Margie gets a job as a newspaper reporter but runs into some trouble over a missing horse.
Vern's New Girlfriend 6/4/1953. Margie tries to prevent a gold-digging blonde from hooking her father.
Delinquent Margie 6/18/1953. Mrs. Odetts enlists the help of Margie and Vern to get $6000 dollars out of her trust fund so she can buy a hot rod car.
Vol. 3: Margie Sings Opera 6/30/1952. Margie gets an opera singer to perform at a party to impress one of Vern's clients. When the singer cancels, Margie must replace him by disguising herself as the male singer.
Insurance 7/28/1952. When Vern's doctor tells him he needs to get in better shape for his insurance he does so by walking instead of going by car and cutting back on meals. So Margie thinks her father has money problems.
Vern's Chums 9/8/1952. Margie invites Freddie's parents to dinner to try and drum up some investment business for Vern. Vern thinks it must mean Margie and Freddie are considering marriage.
Margie's New Boyfriend 3/16/1955.
Vol. 4: Miss Whoozis 1/5/1955 Margie gets a job modeling clothes for a fashion designer. When she wants to date the photographer, she breaches her contract by posing for another campaign.
Unexpected Guest 1/19/1955 When Mr. Honeywell lends the Albright's apartment to a client and then Margie and Vern return unexpectedly, they pretend to be the maid and butler.
Star of Khyber 9/22/1954 Margie tries to help a private detective find a maharaja's stolent jewel, but only succeeds in making everyone think she's involved in the theft.
Honeyboy Honeywell 4/21/1954 Convinced Mr. Honeywell would be a better boss if he were married, Margie gets him a date at lonely hearts club.
Vol. 5: Hawaii Story 2/23/1955. When a client of Vern's prefers younger men, Margie has to pretend she is 12 years old.
Margie & the Shah 5/12/1954. Despite Vern's objections, Margie is determined to meet Vern's old fraternity brother, the Shah of Zena...even if it means sneaking into his hotel room.
Vern's Winter Vacation 11/24/1954 Margie poses as Freddie's bride after he wins a trip to Palm Beach by using a phony story.
Papa & Mambo 4/20/1955. Mr. Honeywell has promised Vern that he will step down and give Vern the presidency of the company, but when the time comes, he's not ready to retire. He says that if Vern gets a contract with an important client, he will step down, but if Mr. Honeywell himself gets it, he will remain president.
Vol. 6: San Francisco Story 12/1/1954. In San Francisco, Vern's rival tricks Margie into interfering in a Chinese family fued, not realizing one of the men is Vern's client.
Margie's Millionth Member 12/23/1953. The set and costumes used in the "My Little Margie" episode "Margie's Millionth Member" are from "Rocky Jones Space Ranger!"
Corpus Delecti 3/23/1955. Freddie has a new job working for a private eye and when he and Margie find a murderer's diary in an old trunk they decide to investigate. The trail ends up leading them to one of Vern's clients.
Margie Baby Sits 2/17/1954. Margie and Vern babysit for client's grandson who happens to be an obnoxious brat. What Margie doesn't realize is that the old lady neighbor who is helping them amuse the child is actually a thief.
Vol. 7: Margie's Phantom Lover 10/28/1953. Vern and Mr. Honeywell make Margie believe she has a secret admirer to keep her from entering an auto race. When Margie tries to find out who the secret admirer is, Vern's new client gets involved.
Vern's Mother-In-Law 2/2/1955. Vern tells the story of how he married Margie's mother and was hired by Honeywell & Todd.
The Missing Link 10/25/1952. When Margie is conned into buying the contract of a has-been wrestler she tries to make back her money by claiming she and Freddie are big game hunters who have returned from the wilderness with the missing link.
Hillbilly Margie 9/22/1954. When a group of mountain folk inherit stock in Honeywell & Todd, Margie and Vern must pose as hillbillies to get it back.
Vol. 8: Reverse Psychology 6/9/1952. In the pilot episode, Vern and Margie both try to use reverse psychology to bring the other around to approving of their respective paramours, Freddie and Roberta.
A Friend for Roberta 6/16/1952. Margie furtively arranges a cocktail party with an actor Roberta admires and a producer hoping Roberta transfers her affections to the actor.
Costume Party 7/14/1952. Margie and Honeywell use the attendance of a rival for Roberta's affections at a masquerade ball to coerce Vern to go to the event which he shuns but is important to the business.
The Contract 9/1/1952. Margie and her father both have two dates for the same evening and all in their small apartment.
Vol. 9: Margie Plays Detective 7/21/1952. In order to get Vern to take her on a trip to Havana, Margie promises to be on her best behavior. Events conspire to ruin her plan as all kinds of problems pop up throwing the Albright apartment into chaos.
Efficiency Expert8/18/1952. Vern wants Margie to date someone with ambition so in retaliation she starts dating Mr. Honeywell's nephew, an obnoxious efficiency expert, who Vern dislikes.
Radioactive Margie 6/23/1952. Margie writes a fake letter saying there is uranium on some property Freddie has inherited so Vern will give him a job. Vern finds out what she did and turns the tables by making Margie think their is uranium behind their apartment building.
Margie's Sister Sally 7/7/1952. Vern sets Margie up on a date with a client's son. Margie sees a photo of a little boy so she disguises herself as an 11-year-old girl. When her date shows up she discovers the photo was an old one and the client's son is a handsome young man. Now in order to date him she must pretend to be her own older sister.
---