Medic
(1954-1956) Highlights the personal and professional lives of a group of doctors and surgeons headed by Dr. Konrad Styner (Richard Boone). One of the first medical shows on TV that paid strict attention to detail, and heralded at the time for its sometimes unflinching look at the operations and medical procedures performed by doctors.
---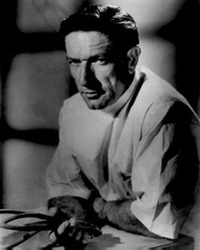 Vol. 1: Breath of Life (1/24/1955) Dr. Robert Parker sets aside all he has worked for when he succumbs to an acute case of polio and must be confined in an iron lung.
Vagrant Heart, Vagrant Cup (10/11/1954) A married woman with two children goes on yet another alcoholic binge. When her husband finally locates her, extensive medical care is required to save her life, as well as psychological counseling.
Just Like Your Father (1/23/1956) An elderly judge collapses and is diagnosed with a pancreatic tumor.
Candle of Hope (11/7/1955) A childless young Greek Orthodox couple seek treatment for infertility.
Vol. 2: Dr. Impossible (2/28/1955) Four doctors in the late 1800's experiment with cocaine as an anesthetic using themselves as the test subjects.
To Search for Truth (2/27/1956) Alexis is accidently shot with a shotgun and his stomach wound refuses to heal and close. Dr. William Beaumont wants to take advantage of this and makes an agreement with Alexis to conduct experiments on him.
Till The Song is Done...Till The Dance is Gone (7/9/1956) Mary Elizabeth Berry, just turned seventeen, is forced to restrict her activities because she has a bad valve in her heart. When she suffers an attack at a school dance, she is rushed to the hospital.
Walk With Lions (9/12/1955) After struggling with a loss of stamina, excessive thirst, and vomiting, an 18-year old boy falls into a coma, and is diagnosed as being severely diabetic.
Vol. 3: General Practitioner (6/13/1955) Dr. Canfield is a family physician with a troubled marriage trying to balance the needs and demands of his patients with those of his family .
Wild Intruder (12/6/1954) A young and healthy woman is diagnosed with breast cancer only a week before her wedding. Surgery must be performed as soon as possible. She becomes depressed and contemplates suicide.
My Brother Joe (10/25/1954) A father has a car accident leaving his 10 year old son in a coma. As a team of specialists attempts to save the boy's life, his family tries to deal with the anger and guilt.
Break Through the Bars (3/14/1955) Henry Fisher is depressed and starts to act strangely. He's not eating or sleeping and is having trouble at work. After a particularly stressful day at work, he snaps and really starts doing odd things and ends up in the hospital.
Vol. 4: Awaken To Spring (3/26/1956) The issue of euthanasia is dramatized in this episode.
Flash of Darkness (2/14/1955) Doctor Styner and other members of the mobile first aid unit must deal with the aftermath of a nuclear attack on a major city.
White is the Color (9/13/1954) Beverly Garland is a pregnant woman fights leukemia, hoping to live long enough to give birth to her child. With Lee Marvin.
She Walks in Beauty(8/6/1956) Parents of a 12-year old girl who has a clubfoot are unable to convince the girl she should have an operation to correct the condition.
Vol. 5: I Climb the Stairs 9/27/1954. This story deals with cardiology, the science of the human heart, and concerns a 19 year old Annie Schrader, a young heart-disease victim.
My Very Good Friend Albert 11/29/1954. A musician suffers from otosclerosis (hardening of the ear), which results in about one-third loss of hearing.
Red Christmas 12/20/1954. The story begins at an office Christmas party, and ends in the operating room of a hospital, where a young girl's eyesight is endangered.
Boy in the Storm 1/3/1955. The story of a 17-year-old boy who suffers from epilepsy. Guest star Dennis Hopper.
Vol. 6: Time to Be Alive 1/31/1955. A young boy suffers from hemophilia (uncontrollable bleeding) falls while recuperating from a treatment.
Mercy Wears an Apron 2/21/1955. A former movie star who is a paraplegic must be rehabilitated both physically and mentally.
Death is a Red Balloon 3/21/1955. A young housewife learns that she will have to undergo a dangerous operation because of a rare structural defect in a cerebral artery.
The World So High 12/26/1955. An Army doctor parachutes from a plane eight miles above the earth to test the effects of high altitude on the human body.
Vol. 7: All My Mothers, All My Fathers 3/28/1955 Six-year-old Patricia has spent nearly all her life in the hospital, where the doctors and nurses have cared for her. She was brought there when, as a baby, she was found abandoned.
Physician, Heal Thyself 4/11/1955. A routine checkup reveals that two young resident doctors are victims of TB. Since the disease is still in the early stages, a cure is possible, and one doctor follows medical advice.
My Child's Keeper 4/25/1955. While playing, two children find a cigarette lighter and accidentally set fire to the kitchen curtains. The younger child dies, and the mother blames the playmate.
Lifeline 5/16/1955. A Navy hospital-ship surgeon saves the life of a young seaman, the only survivor from an explosion aboard a cruiser.
Vol. 8: Never Comes Sunday 5/23/1955. A young girl, retarded mentally because of a permanent injury to the brain cells, presents a problem to her family. They are confused as to how to treat her deformity.
Walk With Lions 9/12/1955. A would-be artist, who earns his living as a boxer, learns he has diabetes. Even with successful insulin treatment, this means the end of his ring career. (This episode is also in Volume #2.)
And There Was Darkness, And There Was Light, Part 1 9/26/1955. Depressed after the birth of her fourth child, a young mother has an overwhelming urge to destroy the infant. Part one of the story concerns the start of the illness and its recognition by the doctor, the family and the mother.
And There Was Darkness, And There Was Light, Part 2 10/3/1955. A woman who tried to do away with her newborn infant submits to treatment at a mental institution.
Vol. 9: If Tomorrow Be Sad 2/6/1956. A successful photographer's model is told she is a victim of multiple sclerosis. Her unsympathetic husband decides he now wants a divorce.
Wall of Silence 4/18/1955. On his way home from work a middle-aged newspaperman is attacked. A severe injury to his brain necessitates his re-learning how to read and write.
Don't Count the Stars 4/9/1956. A young man beginning a career as a singer alienates his friends by using them to further his own cause. When he learns he must undergo surgery for cancer of the larynx, he feels there is no reason to on living.
The Good Samaritan5/21/1956. As a result of an automobile accident, a woman suffers partial paralysis. Her husband is convinced Dr. Styner is guilty of malpractice and brings suit against him.
Vol. 10: All the Lonely Nights 9/5/1955. A young schoolteacher refuses to be operated on for a painful and serious disease of the digestive tract.
When Mama Says Jump 10/31/1955. A teenaged boy's case of acute acne is aggravated be a domineering mother.
Glass of Fear 11/28/1955. Hypochondria is the theme this week. A successful cartoonist imagines he suffers from many ailments.
Pray Judgement12/5/1955. A sister agrees to babysit for a young couple out for the evening. When they return the infant apparently has died of suffocation.
Vol. 11: Reach of a Giant - Part 1 6/11/1956. A man with a bad spinal condition due to arthritis turns against his wife. He wants to face his affliction alone and forces her to leave.
Reach of a Giant - Part 2 11/18/1956. An arthritic spinal condition almost causes the breakup of a marriage when the man turns against his wife in his suffering.
Homecoming 2/13/1956. One of the rare cases of complete cure, a man who once suffered from leprosy returns home after long confinement in a hospital.
Inconstant Heart 4/23/1956. Although resigned to the fact that he had an incurable heart ailment, a man is badgered by his wife into going to a doctor.
Vol. 12: Laughter is a Boy 9/20/1954. Young John Koslo is handicapped with a speech impediment because he was born with a cleft palate.
To the Great, a Most Seldom Gift 5/14/1956. A young man in the garment business hides from his co-workers the fact that he is suffering from an ulcer.
A Time for Sleep 1/2/1956. The story of the contribution of the anesthesiologist to medicine. An elderly woman must undergo a thyroid operation.
The Laughter and the Weeping1/15/1956. A young boy gives up college in order to support his bedridden father. He turns to professional wrestling, and later must undergo plastic surgery.
---