Meet Corliss Archer
(1954) Pert blond teenager Corliss Archer (Ann Baker) must balance her life at school, her lovable but goofy boyfriend Dexter and her well-meaning but clueless parents.
---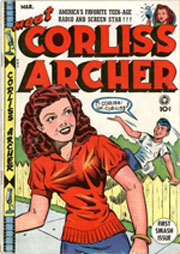 Vol. 1: No Clothes for the Party Corliss and Dexter plan to go to a big party, but must work up the nerve to ask the Archer's for a tux and an evening wrap, both of which are in danger around Dex.
Harry, Child Psychiatrist Harry and Mr. Franklyn try to teach Corliss and Dex the value of money, and promise to match dollar for dollar everything the kids can earn.
Dexter the Director Dexter is directing the school parent/student play. Corliss is the lead but to get Harry he tells him Judge Peters is appearing. To get the Judge he gives the lead to Lucy Peters and, well, you get the idea!
Dexter's Surprise Party After seeing Mr. Archer hiding a package and misunderstanding a business call, Corliss and Dexter decide he's a kleptomaniac.
Vol. 2: Algebra Problem 10/14/1958. Corliss and Dex are struggling with a tough algebra problem. Their parents smugly think they can find the answer, and soon everyone is working on the problem with no solution in sight!
Quaranteened Corliss has the measles, which makes Mr. Archer happy, because that means a whole week without Dexter; until Dex is quarantined along with her!
Phone Fumble There's only one phone number in the Archer household - not enough when there's a teenager inthe home. The phone is constantly in use, and Mr. Archer keeps missing important business calls.
Dexter's Job Dex's father makes a deal with him: get a job, keep it a week, and he will buy a new muffler for his car.
Vol. 3: Harry's Cold Harry has a bad cold and Janet makes him stay in bed, and everyone leaves him alone except Dex.
Dexter the Helper Clumsy Dexter breaks the window of Corliss' bedroom with his model airplane. As if that weren't enough to get Mr. Archer flustered, there's also a large beehive outside the window, and these pests eventually take over the Archer household.
Best Policy The Archers and Dex decide that being totally honest with each other will be productive.
Harry's Diet Harry Archer bets everyone that he can lose five pounds in five days and wear his old cutaway suit to a friend's wedding. Disaster is just around the corner.
Vol. 4: Vase That Came to Dinner Mrs. Archer buys a vase that is supposed to be rare, and with good reason--it's incredibly ugly. The vase winds up causing trouble between the Archers and their neighbors.
Corliss the Cheerleader When Dexter finds that Corliss is being pursued by a rival who wants her to be a cheerleader, he winds up asking Mr. Archer for advice about what to do.
Archers Get a Maid Harry decides Janet needs help so he hires a maid, who is very unpleasant and not what they expected.
Dexter Becomes a Man Dex thinks he is an adult, so he starts his own business; babysitting. Now its all work, work, work.
Vol. 5: Dexter's Masquerade Contest After a nice evening at the charity masquerade Dexter gets stuck in his knight-in-shining-armor costume and they have to call a tow truck to get him out of it.
Male Ego When Harry and Dexter find out that Corliss and Janet let them win games so they will feel good, Harry decides that he and Dexter can even the score.
Money Matters The Archers decide they are spending too much money and have to cut back.
New Neighbors When the Wilsons move next door to the Archer's everything goes wrong, leading the Wilson's to believe the Archer's are nuts and the Archer's to think the Wilson's are dangerous. Guest Star: Tris Coffin.
Vol. 6: Harry and Soap Opera Queen Corliss and Dex are addicted to a TV soap opera which drives Harry crazy because he can't watch his show. The Archer's buy another set for the kids and for Janet. And Harry? He still can't watch what he wants. Maybe that soap isn't so bad...
Date for Doris Corliss and Dexter try to get a date for Doris, an unattractive school friend. No one will take her so Corliss and her mother give Doris a beauty makeover.
Friends Forever Corliss and Dexter have to put things right after a misunderstanding threatens their parents' freindship. Guest Star: Tristram Coffin.
Boat Builders Corliss and Dexter try to build a boat from a kit all by themselves, but their meddling fathers hinder instead of help, and eventually ruin the finished product.
Vol. 7: Miffy's Overnight Painting The Franklyn's are having their house painted and the Archer's invite them to stay at their house. You know, sometimes even best friends shouldn't be together for very long.
Pain in the Neck Harry reads a psychiatric book and decides his stiff neck is caused by everyone else's problems.
President of Garden Club The Archers and Franklyns have a falling out when Janet and Mary are both nominated for president of their club.
Fortune Teller Dexter has everyone visiting a swami who tells their future, with Harry the only skeptic.
Vol. 8: Harry the Dictator Harry becomes upset after hearing Corliss' essay on family life which names the father as a dictator. Harry declares a democracy, majority rules, but he keeps losing the vote.
Harry Gives Advice Dexter and the guys donate their allowances to charity for a month, meaning no money for dates. Harry tells Corliss that the girls should take the guys out and pay for the date,
Dexter Borrows Harry's Car Dexter's loud jalopy, desperately in need of a muffler, rattles Mr. Archer's nerves.
Harry the Photographer Unimpressed with Bill's new camera, Harry digs out his father's old camera, which Dex destroys.
Vol. 9: Personality Test Corliss is unhappy because a personality test shows that she and Dex are not compatible, but Harry has a solution.
Janet Goes to College Harry convinces Janet to take some college classes, so she and Mary sign up, leaving all the housework for Corliss and Dexter.
Harry Tells Dex How it Is After Corliss and Dex have a fight, Harry and Janet tell Dex about before they were married and how they handled each other. Their stories don't quite match.
Christmas Gifts While making presents for everyone, Corliss and Dexter manage to destroy Harry's decorations and the Archer's Christmas tree, while Janet searches for her gift which Harry has hidden.
---